"This is the bike I'd ride out of hell." —Nick Beaulieu
It's simple, it's clean, it's tight as hell and built to ride through it. Nick Beaulieu of Forever Two Wheels Maine built this bike in his shop in one month for the Hot Bike Tour, and he ended up taking home first prize in the Street Chopper Build-Off—for damn good reason.
Time spent doesn't earn you prizes—style and execution do. The people of the Hot Bike Tour spoke, and they saw beauty in the simplicity of War Bird. Two up, two out, narrow six-over springer with no front brake—the stance is aggressive but rideable, and Nick rode this thing as much as he could with us on the tour.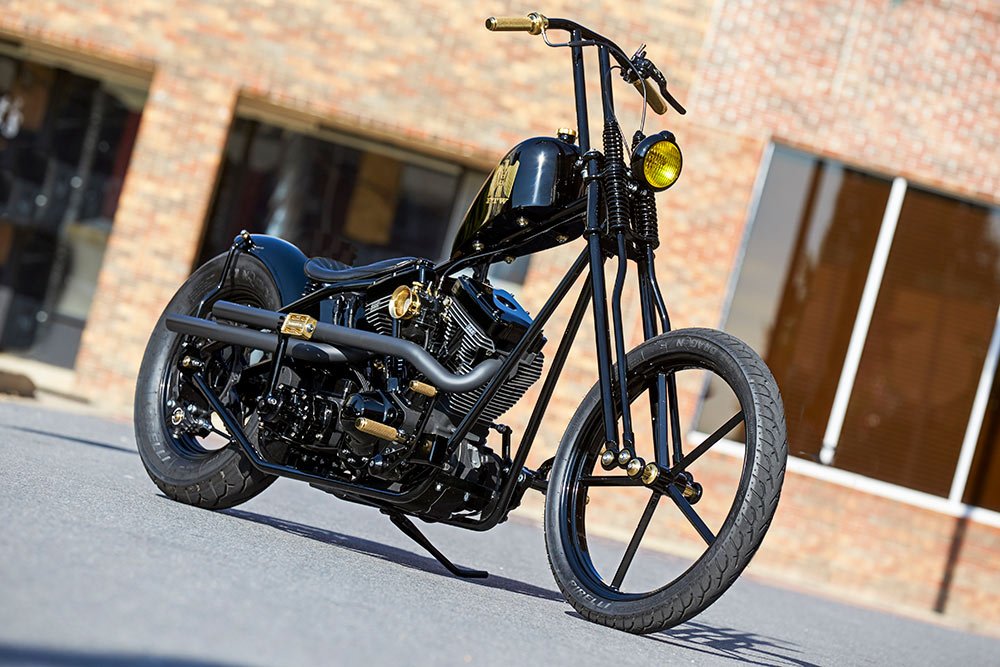 This chop goes to show that you don't have to overwork it to get results. Doing it right and paying attention to every little detail is more important than engraving every surface or a $10K paint job.
| Spec Sheet | |
| --- | --- |
| Owner | Zach Williams |
| Shop | Forever Two Wheels |
| Shop Phone | (207) 807-1332 |
| Shop Website | forevertwowheelsmaine.com |
| Year/Make/Model | 2017/FTW War Bird |
| Fabrication | Nick Beaulieu, Kevin Babineau |
| Build Time | 1 month |
| | |
| Engine | |
| Year/Type/Size | H-D Evo/111 in. |
| Builder | S&S |
| Cases | S&S |
| Cylinders | S&S |
| Heads | S&S |
| Rocker Boxes | S&S |
| Cam(s) | S&S |
| Carburetor | S&S |
| Air Cleaner | Speed |
| Exhaust | Forever Two Wheels |
| | |
| Transmission | |
| Year/Type | Baker Frankentranny |
| Gears | 6-speed |
| Clutch | BDC |
| Primary Drive | BDC |
| | |
| Frame | |
| Year/Type | 2017/FTW |
| Rake/Stretch | 2 up, 2 out |
| | |
| Suspension | |
| Front End | Acme Choppers |
| Length | 6 over |
| | |
| Wheels, Tires, and Brakes | |
| Front | |
| Builder/Size | 21-in. Led Sled Invader |
| Tire/Size | 21-in. Pirelli Night Dragons |
| Rear | |
| Builder/Size | 16-in. Led Sled Invader |
| Tire/Size | 16-in. MT90B Pirelli Night Dragons |
| Caliper | Performance Machine |
| Rotor | Lyndall |
| Sprocket | Lyndall |
| | |
| Finish/Paint | |
| Manufacturer Ray Tourigny, Rayz Rod and Custom | |
| Color | Gloss Black |
| Graphics | War Bird, Glenn Halliday GH Design Co. |
| Polishing | Tristan Smith |
| Powdercoating | Cobra Powder Coating |
| | |
| Accessories | |
| Rear Fender | Cooper Smithing Co. |
| Gas Tank | FTW/Throttle Addiction |
| Handlebars | FTW |
| Grips | Speed Dealer Customs |
| Hand Controls | Brembo |
| Foot Controls | Speed Dealer Customs |
| Pegs | Speed Dealer Customs |
| Headlight | Throttle Addiction |
| Taillight | FTW |
| License Mount | Kevin Babineau |
| Seat | HardDrive |