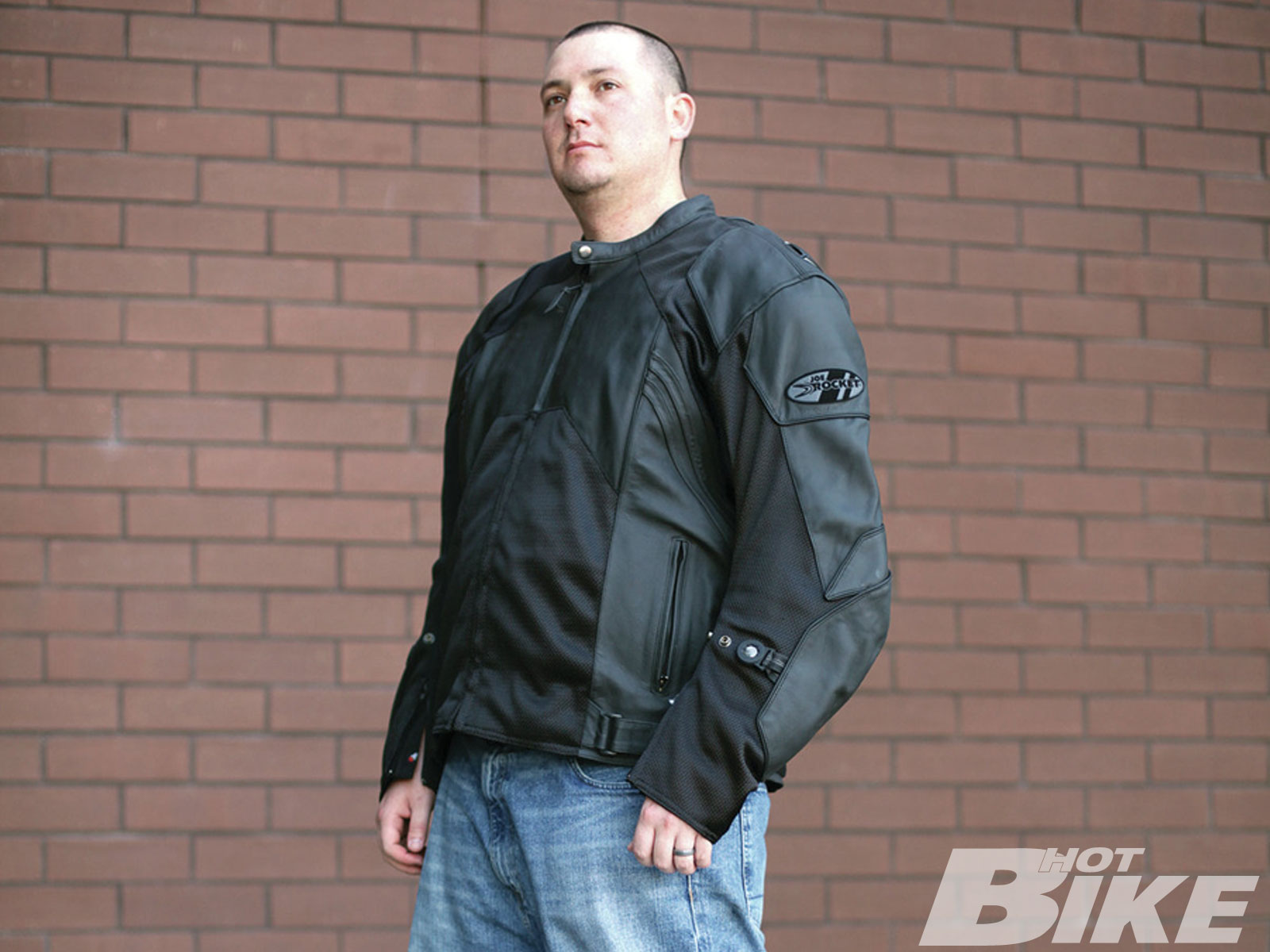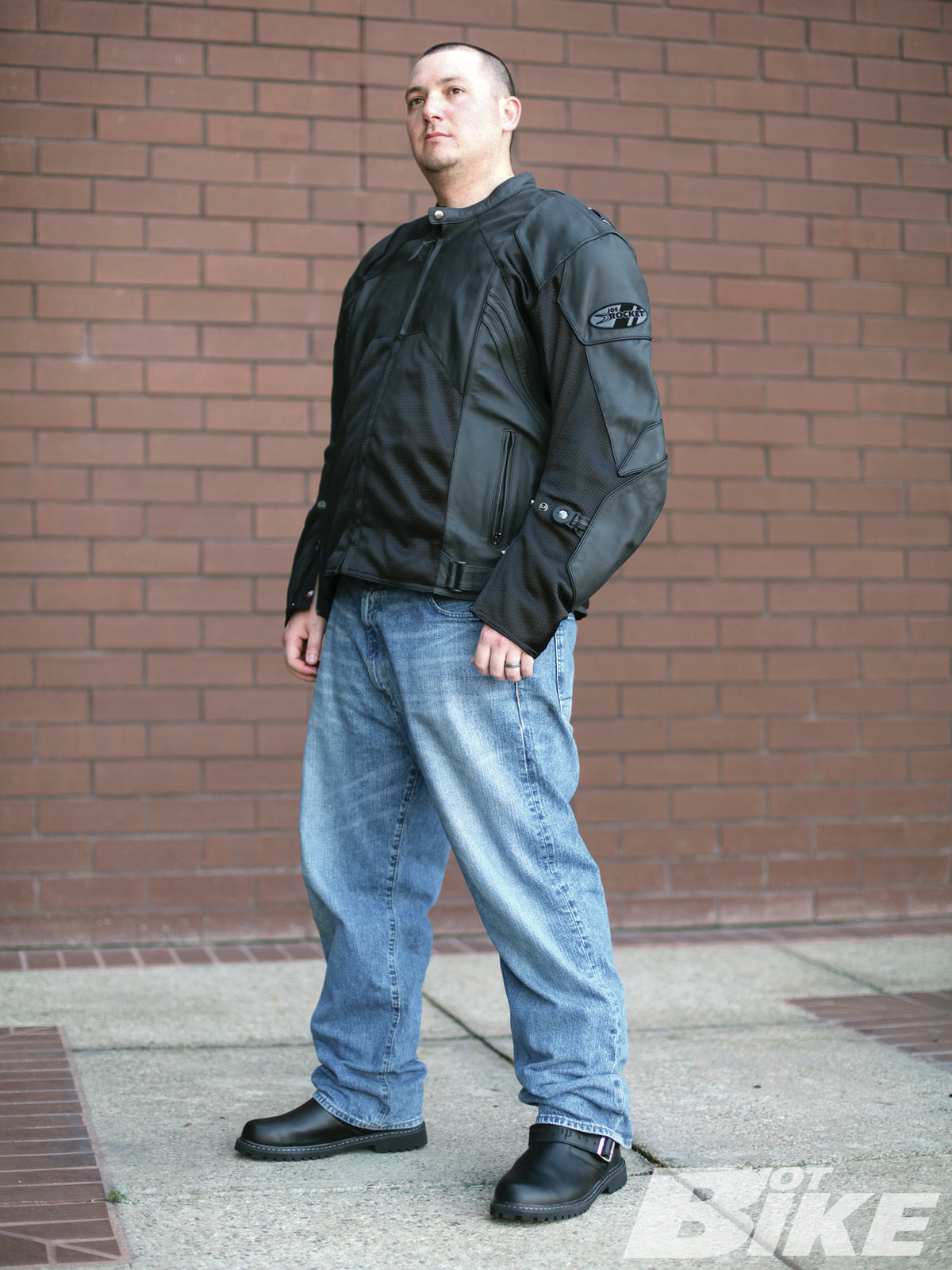 After graduating my New Rider MSF course (see "Born to Ride?" page 44) rocking a modest long-sleeve shirt and pair of Nike boots (yes, Nike makes boots), the guys at the HOT BIKE offices thought it might be useful to hook me up with some proper riding gear. Enter the Joe Rocket Radar "Dark" Jacket ($299.99) and Power Trip's PT100 Waterproof Boot ($119.99).
Though my course-approved long-sleeve shirt didn't provide any protection to speak of, it obviously breathed a whole lot better than I imagine most legitimate riding gear does. Much to my delight, Joe Rocket's Radar "Dark" Jacket provides ample breathability with its FullFlex System, a mesh liner that feels more "LeBron James" than "Fonzi." Coupled with the hybrid leather/textile shell, I'm able to stay relatively sweat-free even in the dead "chill" of Southern California's 75-degree winter temps. The Radar "Dark" also features C.E.-approved armor, hump-free classic back profile, injection molded shoulder intake vents, and a tidy six-point SureFit custom adjustment system to keep me safe and looking good around town.
If you're into coats with dozens of secret pockets within secret pockets, you may want to look elsewhere. If you're like me and are perfectly content with your basic hand pockets and one inner pocket, then this jacket has you covered.
I'm known as a bit of a sneaker freak around the office, thus the Nikes, but when it comes to the PT100 boot, it's a whole different ballgame. With its water-resistant 1.8 to 2mm leather outer, waterproof Drytech liner, and (you guessed it) waterproof gusset, the order of the day is rugged outdoor protection. I haven't worn footwear this tall since the last time I went snowboarding, but that seems apropos considering those boots were made to keep fresh powder away from my little piggies, and Power Trips' moccasins are made to keep out all manner of nature's wrath one can encounter on two-wheels.
As rough and rugged as the PT100's are though, take care not to overly tax the adjustable metallic buckles. Though the leather is thick and tough, two buckles snapped on the pair sent to us after some moderate force was applied simply to tighten the calf and ankle straps. You may want to break in the leather or even oil the straps a bit just to get them pliable enough to adjust without putting undue strain on the buckle. All in all, a small quibble considering how much protection these boots provide your metatarsals.
A low-profile toe box, slip-resistant sole, and double-stitching throughout are other nice features these boots boast, but something that really stands out is the removable insole. Your typical lowest-common-denominator insoles sold with most shoes usually don't cut it for my gimpy hooves, so I often replace them with premium aftermarket offerings to help stave off bouts of plantar fasciitis. As simple a feature as it may sound, not all footwear I've encountered makes customizing your insoles a simple proposition, so Power Trip scores points here. HB
Radar "Dark" Jacket
Pros
• Breathable FullFlex mesh liner
• Upper-body protection without sacrificing comfort
Cons
• Only three basic pockets (two outside, one inside) for the pro-pocket crowd
PT100 Boots
Pros
• Solid, rugged feel
• Removable insoles
Cons
• Metallic strap buckles conducive to snapping when tightened against brand-new stiff leather.
Power Trip
(208) 932-0303 | power-trip.com
Joe Rocket
(208) 932-0303 | joerocket.com