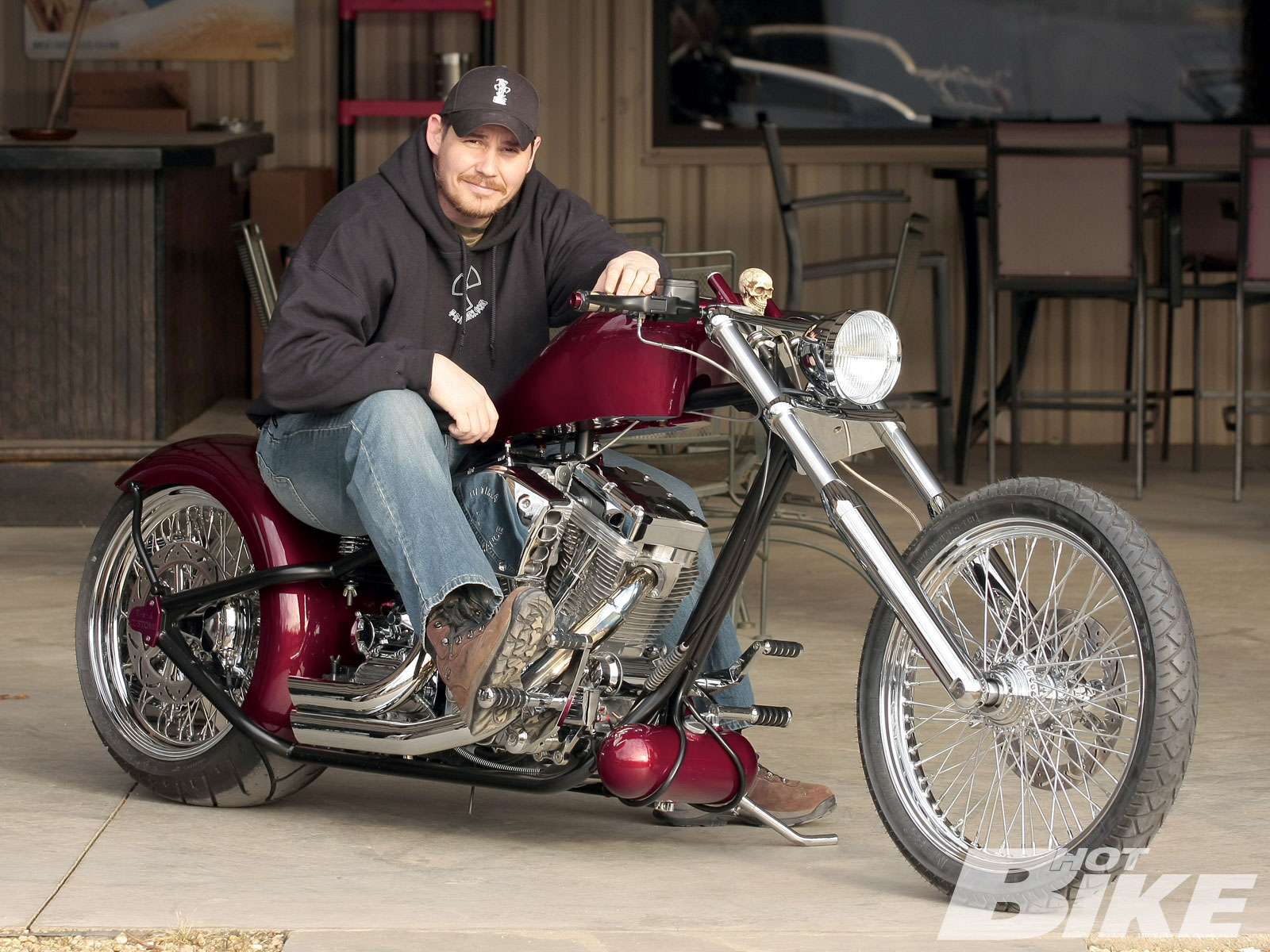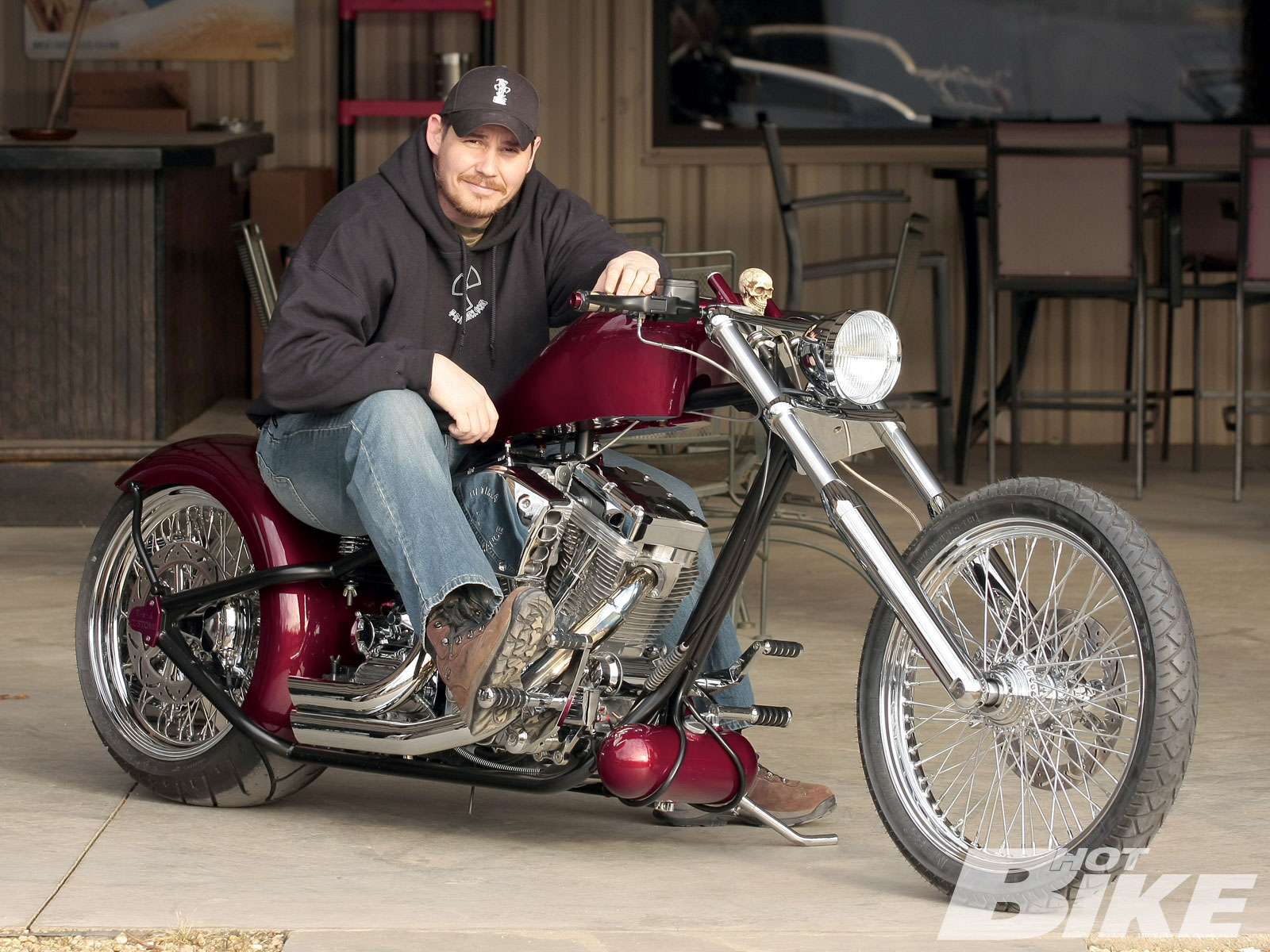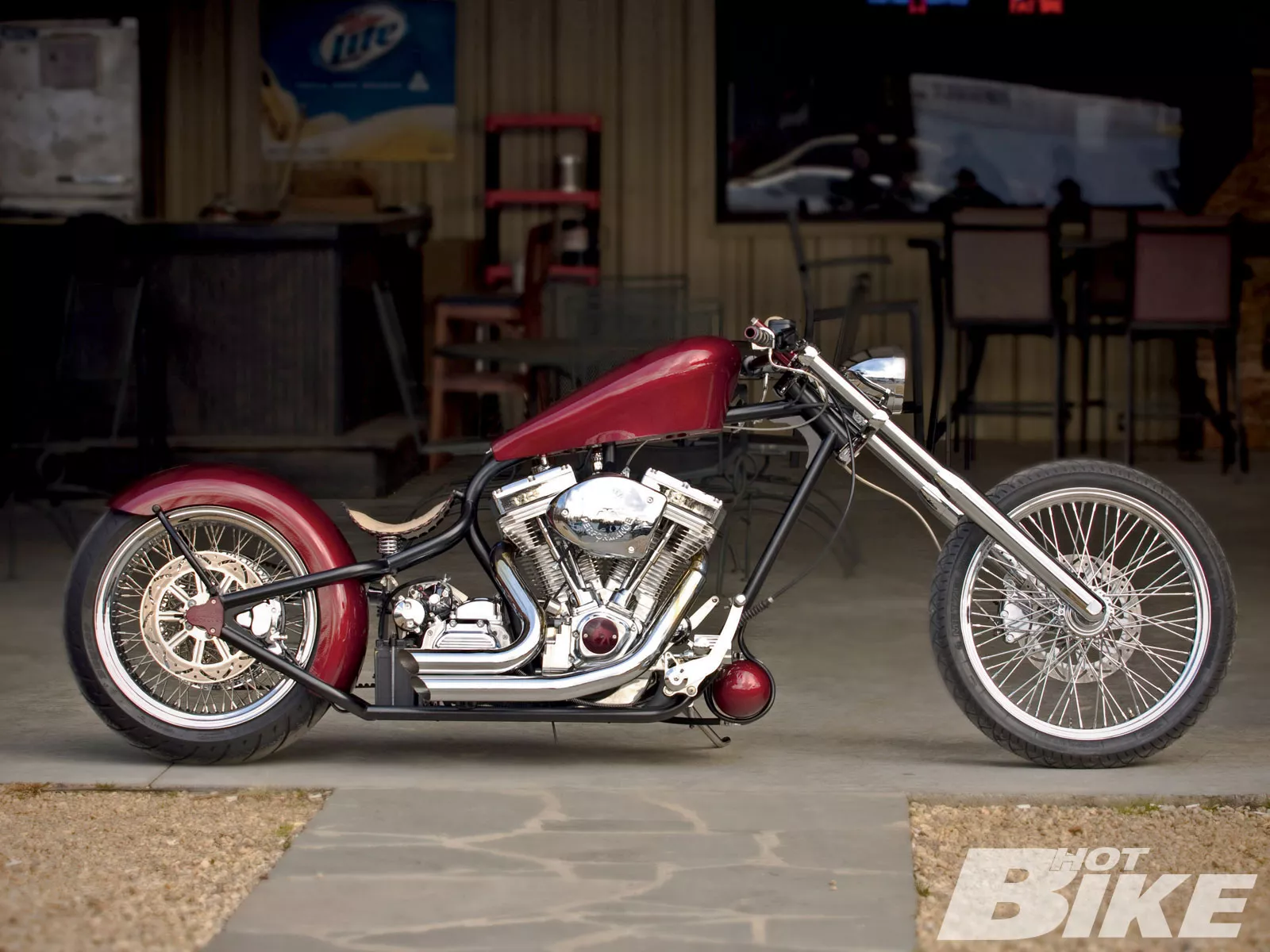 Tom Russell, owner and builder at North Carolina's T-n-A Customs, is an enthusiastic guy who loves to build and ride motorcycles. Tom's affable personality and exuberance for motorcycles shines through the first time you talk to the man. He strives to create bikes like the pro-street-styled drop seat rigid on the pages before you. "I build bikes that you can ride hard and not have to worry about polishing for eight hours every week." Tom's pedigree for bike building started at an early age, as he learned bikes from the inside from to his father.
Tom's dad was his inspiration growing up as he watched him work day in and day out as a motorcycle mechanic. His work ethic combined with his love of motorcycles attracted Tom to bikes at a very early age. When he asked his dad's advice for starting his own business, Tom's dad was short and sweet, "Do it, love it, but don't become a mechanic." Tom wanted to build bikes, not be the one stop oil-change shop. He took his dad's advice and builds bikes because of his love of the sport and life in general. He says he'll build you whatever you like and then he'll help you with questions you may have, but you need to learn to wrench on your own bike. Tom, like many of us, believes there's no better way to learn your bike than to wipe it down and check the nuts and bolts weekly. Do that enough, and you will feel loose bolts, wiggling washers, eventually you're bound to be missing a bolt or two. That is how you learn every nook and porthole on your bike.
This bike, Gluttony, is based around a Twisted Choppers drop seat rigid frame that Tom bought off Ebay for $600 bucks. He had the frame sitting in the back of his garage while he built another bike. Fate then stepped in and changed his agenda. A friend, who came by to look at the first bike he was building, saw the frame and told him immediately he wanted the bike. Since money talks and bull crap walks, Tom said, "Let's do it!" The build began to evolve directly around his friend, Jim. The bike was completely paid for before the build even started.
Using an Ultima 100ci powerplant, Tom gave this bike some "go" to go along with the "show." "I don't believe a motorcycle should cost over 20 grand, period." Tom's company, T-n-A Customs, has been putting out bikes since 2008 with a moderate amount of success. Winning shows and appearing in magazines usually takes years, even decades in some cases. Tom's been successful with his bikes since the beginning.
"I used some money to get the business going, but I have almost zero overhead. I walk several steps to work, and then build a bike that the customer wants. Wrench it, ride it, and get out on the road. That's my mantra."
When asked about the comfort, he swears the drop seat frame and spring seat hugs your backside like a glove. The faster you accelerate, the deeper the pocket becomes holding you in the bike. When we queried about the oil bag being mounted on the front of the bike, Tom just laughed stating he gets that one all the time. While it appears low to the ground, the ground clearance is set so you can ride as aggressively as you would dare.
Tom isn't just another motorcycle builder though, he is also a member of our armed forces defending our country. Recently wounded in action, I had the opportunity to personally thank Tom for his selfless sacrifice and tell him "thank you" from all of the staff here at HOT BIKE. We are proud to have another soldier churning out custom bikes in his garage while still working a full-time job during the day. Tom's case is just a bit different, as he's a soldier 24-7. Thank you again Tom, from all of us.
| | |
| --- | --- |
| SPECIFICATIONS | |
| BIKE OWNER | Jim Rice |
| SHOP NAME | T-n-A Customs |
| SHOP PHONE | (910) 574-2742 |
| SHOP WEBSITE | t-n-acustoms.com |
| YEAR/MAKE/MODEL | 09/Dropseat Hardtail |
| FABRICATION | T-n-A Customs |
| ASSEMBLY | T-n-A Customs |
| BUILD TIME | Two months |
| | |
| --- | --- |
| ENGINE | |
| YEAR/MANUFACTURER | 09 Ultima |
| TYPE/SIZE | Evo/100ci |
| BUILDER | Ultima |
| CASES | Ultima |
| CYLINDERS | Ultima |
| HEADS | Ultima |
| ROCKER BOXES | Ultima |
| CARB | Mikuni |
| AIR CLEANER | Ultima |
| EXHAUST | T-n-A Customs |
| | |
| --- | --- |
| TRANSMISSION | |
| YEAR/MANUFACTURER/TYPE | Ultima six-speed |
| CASE | Ultima |
| CLUTCH | Ultima |
| PRIMARY DRIVE | Ultima 3-inch Open Belt |
| | |
| --- | --- |
| FRAME | |
| YEAR/MANUFACTURER | Twisted Choppers Drop Seat |
| RAKE | 45 degrees |
| STRETCH | 5 inches out |
| | |
| --- | --- |
| SUSPENSION | |
| MANUFACTURER FRONT | Ultima |
| LENGTH | 5 inches over |
| TRIPLE TREES | Ultima |
| MANUFACTURER REAR | Its a rigid |
| SWINGARM | None |
| | |
| --- | --- |
| WHEELS, TIRES, AND BRAKES | |
| MANUFACTURER FRONT/TYPE | DNA/Spoke |
| SIZE-HEIGHT/WIDTH | 21×3 |
| TIRE/SIZE | Metzeler/90/90-21 |
| CALIPER | DNA |
| ROTOR | DNA |
| MANUFACTURER REAR/TYPE | DNA/Spoke |
| SIZE-HEIGHT/WIDTH | 18×8.5 |
| TIRE/SIZE | Dunlop/18/250 |
| CALIPER | DNA |
| ROTOR | DNA |
| | |
| --- | --- |
| FINISH/PAINT | |
| COLOR | Sparkle Burgundy |
| PAINTER | FinalTouchPowdercoating.com |
| | |
| --- | --- |
| ACCESSORIES | |
| REAR FENDER | T-n-A Customs |
| FENDER STRUTS | T-n-A Customs |
| GAS TANK & CAP | T-n-A Customs |
| OIL TANK | T-n-A Customs |
| HANDLEBARS | T-n-A Customs |
| HAND CONTROLS | T-n-A Customs |
| FOOT CONTROLS | T-n-A Customs |
| FOOTPEGS | T-n-A Customs |
| HEADLIGHT | Midwest |
| TAILLIGHT | Midwest |
| LICENSE MOUNT | T-n-A Customs |
| SEAT | T-n-A Customs |