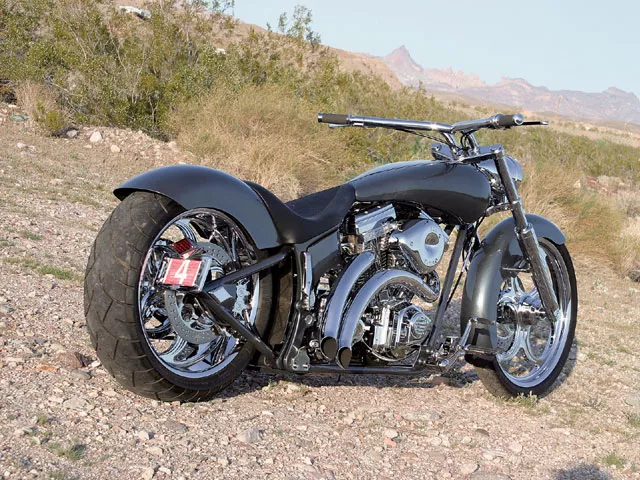 For most new guys who want a custom motorcycle, planning usually starts with a stack of magazines, a parts list, and a budget. Casey Coughlin of Canyon Lake, CA, was no different. Casey had several ideas about the way he wanted his first custom bike to look. With a stack of old Hot Bike mags, a long parts list, and a sizable budget, he was prepared to build the bike in his own garage, so like most he started buying parts from the catalogs and hitting the swap meets.
About a month into this parts collection, Casey stood in his garage, surrounded by the piles of parts he had amassed, and realized he was in over his head. All the things he had seen on TV and read in magazines were not going to show him how to build an entire bike. Realizing he needed expert help, Casey contacted a friend who knew of a little shop called So-Cal Custom Cycles out in Redlands, CA. At the time, the shop was in full swing, turning out very clean, custom bikes one at a time. It sounded like just the sort of shop Casey wanted to hook up with. He called So-Cal and talked with owner Brandon Walend. Casey told Brandon what he had gotten himself into and what he hoped to create out of his garage-full of parts. Shortly after the call ended, Casey loaded up his truck with all the parts he had collected and headed out to Redlands.
Casey and Brandon unloaded the truck and put everything on a lift, starting with the frame. As soon as Brandon saw the frame, he knew something was wrong. He took out a measuring tape to check if it was what Casey thought it was (a good deal). After making a few more checks, Brandon then placed it in his jig-only to find that the neck was not just off-center, but the motor mounts were wrong as well. It turned out that the transmission plate wasn't right, either. After that disappointing discovery, anything not in a sealed package was placed in a box marked "swap meet parts," and then the two started a new parts list.
Getting a new frame wore on Casey's mind until Brandon called Diamond Chassis and told Irwin, one of its staff members, about their plans. The next day Casey picked up a DC Softail frame with 41 degrees of rake in the neck and 4 inches added to the backbone. A set of RPM chrome shocks was bolted to the swingarm to help smooth out the bumps. Casey picked up a Pro-One frontend with ball-milled lowers, 2-inch-under tubes, and 3-degree raked trees to keep the lines nice and low. One thing that Brandon kept out of the swap-meet box were the wheels. A set of Biohazard wheels from Weld Racing was slid into place: a 21×3-incher up front and an 18×5.5-incher out back. Both wheels were wrapped in Metzeler rubber-with the rear measuring 200mm.
Once Casey saw the layout of the bike, he got a serious reality check on how much work actually goes into a build. It was then that Brandon asked if Casey wanted to upgrade the motor he had already bought. He had purchased a cast-finished 80ci Harley motor that was a steal of a deal, but unfortunately it just would not look right or pull the power Casey wanted. By this point, Casey knew it was best to trust Brandon's advice pretty much without question. Brandon called his motorman Robbie McCaa to build a fully polished 96ci tire-eater. Robbie started with a set of Ultima cases and filled them with Carolina Flywheels and rods, then added Ross pistons and a set of Robbie's own custom-made billet heads. To feed fuel to the beast, an S&S; Super E carburetor was bolted in place, while a set of WCC Hell Bents would handle the exhaust. To transfer power to the rear wheel, a six-speed polished Accessories Unlimited transmission was placed just behind the motor, and the two were linked by a BDL 3-inch belt drive.
The plan was to powdercoat everything all one color-one that Casey had already picked out. So the frame and all the sheetmetal-a Russ Wernimont front fender, DC rear fender, and gas tank-were sent over to Concept Powder Coating for a special mix of light and dark grays that produced the dark charcoal color. It was a gray that Casey had been envisioning in his head since he starting thumbing through magazines. Once everything was back in Brandon's hands, he called Casey for help with the final assembly. It was finally time for Casey to start getting some shop time with his bike. The two worked diligently on getting the bike done in time for the Laughlin River Run.
Brandon made a one-off set of handlebars and risers as Casey bolted up the PM hand and foot controls, along with a set of matching passenger pegs. Brandon then fabricated a custom seat pan and shipped it out to High End to get covered in gray stingray skin. The two wired up the bike as the seat was getting finished. After all their joint efforts, the bike came together just in time for a few break-in miles before the trip across the desert.
Shortly after the build, Brandon had to close the doors at So-Cal due to a crazy one-eyed landlord who pushed the rent so high that everyone moved out. Longtime friend and fellow shop owner Kyle Kirkmen called Brandon, asking if he wanted to merge their two shops and work with the crew at Lucky 7 Choppers in Rancho Cucamonga, CA. Brandon agreed and now runs the shop with all the freedom to do what he loves-build cool customs one at a time.
| | |
| --- | --- |
| SPEC SHEET | |
| GENERAL | |
| OWNER | CASEY COUGHLIN |
| SHOP | SO-CAL CUSTOM |
| **PHONE ** | (909) 948-2332 |
| WEBSITE | WWW.LUCKY7CHOPPERS.COM |
| YEAR/MAKE/MODEL | '04/PRO-STREET CUSTOM |
| FABRICATION | BRANDON WALEND |
| ASSEMBLY | BRANDON WALEND |
| BUILD TIME | SIX MONTHS |
| | |
| --- | --- |
| ENGINE | |
| **YEAR/TYPE/SIZE ** | '04/EVO/96CI |
| BUILDER | ROBBIE MCCAA/RPM |
| CASES | ULTIMA |
| FLYWHEELS | CAROLINA FLYWHEELS |
| RODS | CAROLINA FLYWHEELS |
| PISTONS | ROSS RACING |
| CYLINDERS | RPM |
| HEADS | RPM |
| VALVES | RPM |
| ROCKERS | S&S |
| ROCKER BOXES | S&S |
| PUSHRODS | S&S |
| PUSHROD TUBES | S&S |
| **CAM ** | RPM |
| LIFTERS | S&S |
| CARBURETOR | S&S |
| AIR CLEANER | S&S |
| IGNITION | SPYKE |
| **EXHAUST ** | WEST COAST CHOPPERS |
| | |
| --- | --- |
| TRANSMISSION | |
| **YEAR/TYPE ** | '04 SIX-SPEED |
| CASE | ACCESSORIES UNLIMITED |
| GEARS | ACCESSORIES UNLIMITED |
| CLUTCH | BDL |
| PRIMARY DRIVE | BDL |
| | |
| --- | --- |
| FRAME | |
| YEAR/TYPE | **'04 DIAMOND CHASSIS ** |
| RAKE | 41 DEGREES |
| STRETCH | 4 INCHES OUT |
| | |
| --- | --- |
| SUSPENSION | |
| **FRONT ** | Pro-One |
| LENGTH | 2 inches under |
| TRIPLE-TREES | Pro-One |
| REAR | |
| SWINGARM | Diamond Chassis |
| SHOCKS | RPM |
| | |
| --- | --- |
| WHEELS, TIRES, AND BRAKES | |
| FRONT | |
| BUILDER/SIZE | WELD RACING WHEEL 21X3 |
| TIRE/SIZE | METZELER 21X90X90 |
| CALIPER | PM |
| ROTOR | PM |
| REAR | |
| BUILDER/SIZE | WELD RACING WHEEL |
| TIRE/SIZE | METZELER 18X200MM |
| CALIPER | PM |
| ROTOR | PM |
| | |
| --- | --- |
| FINISH/PAINT | |
| COLOR | GRAY |
| PAINTER | CONCEPT POWDER COATING |
| MOLDING | CONCEPT POWDER COATING |
| PLATING/POLISHING | RPM |
| POWDERCOATING | CONCEPT POWDER COATING |
| | |
| --- | --- |
| ACCESSORIES | |
| **FRONT FENDER ** | RUSS WERNIMONT |
| **REAR FENDER ** | DIAMOND CHASSIS |
| **FENDER STRUTS ** | INTERNAL/DIAMOND CHASSIS |
| **GAS TANK ** | DIAMOND CHASSIS/S.C.C. |
| **OIL TANK ** | DIAMOND CHASSIS |
| **HANDLEBARS ** | BRANDON WALEND |
| **RISERS ** | BRANDON WALEND |
| **HAND CONTROLS ** | PM |
| **FOOT CONTROLS ** | PM |
| **FOOTPEGS ** | PM |
| **HEADLIGHT ** | HEADWINDS |
| **TAILLIGHT ** | RPM |
| **LICENSE MOUNT ** | RPM |
| **SEAT ** | HIGH END |