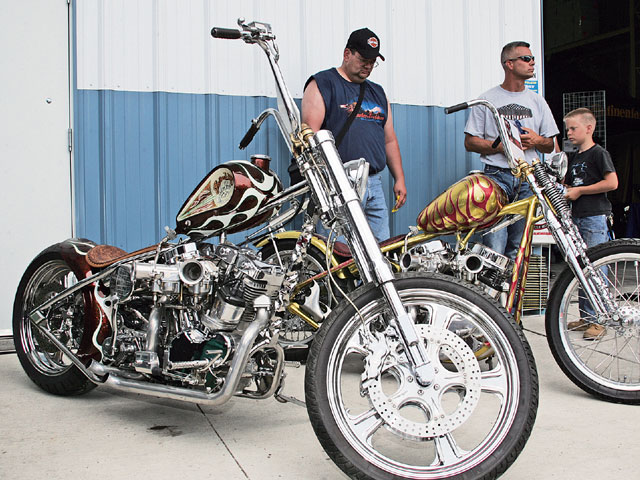 The American V-Twin industry is ever-changing; fads come and go, fashions cycle through on a semi-regular basis, and the type of bikes we ride seem to morph from one style to another from year to year. But there is one thing we can all count on to remain constant: J&P; Cycles. For the past 27 years, J&P; has been a major player in the parts business. It makes no difference whether you're looking for a part for your vintage motorcycle, everyday rider, or a complete build list for a ground-up custom-the crew at J&P; are the go-to guys.
What began as J. Parham Enterprises back in 1979 has turned into one of the American V-Twin Cinderella stories. If you had asked John or Jill Parham back then what their business might look like in a quarter of a century, chances are they would never have thought the company would make it that far. Armed with passion, hard work, and a love for all things two-wheeled, the couple has turned the fledgling parts supplier into one of the most respected names in the business.
In the spirit of old-fashioned American values, John, Jill, and their 200-plus employees have been making an effort to say "thank you" each summer to all the folks they have had the pleasure to serve over the years. This "thank you" takes the form of a huge open house where J&P; opens up its doors to all.
This year's event was held at J&P;'s headquarters, which are located in Anamosa, IA. More than 10,000 riders attended the free event held on June 24, 2006. This was a marked increase from the approximately 8,000 folks who showed up at last year's open house. Attendees were treated to a wealth of entertaining options at J&P;'s facility. Outside in the parking lot were big rigs sporting the logos of some of the biggest names in the American V-Twin industry.
Companies such as Samson Exhaust, Kryakyn, Drag Specialties, Arlen Ness, S&S; Cycle, JIMS, Mustang, Progressive Suspension, Pro-One, Custom Chrome, and many others were on hand, showing off their latest products. In a part of the country that sometimes gets forgotten by the big players in the industry, the Parhams do their best to get many big industry names to come out and support the open house.
Adding to the excitement of the day were many other activities, including a motorcycle stunt featuring Morgan "Sam" Storm and the American Motor Drome Thrill Arena, dyno drag racing, a ride-in bike show, biker rodeo, and a silent auction that raised $4,200 for Anamosa's National Motorcycle Museum, which is located just minutes from J&P.; With so many people visiting J&P;, you can just imagine how many riders were finding their way to the museum while they were in town. And if that wasn't enough to keep you busy, you could hang out with noted author Biker Billy and experience the sensations as he "cooked with fire." Mixed with the aroma of 10,000 free hamburgers cooking on the grill was great rock-and-roll music emanating from the speakers as the day rolled on.
In typical Midwest fashion, the beautiful blue skies quickly turned to thunder clouds busting loose with huge raindrops that sent the crowd running for cover. As quickly as it appeared, the rain was gone, and the sun was back out just in time to present the awards for the bike show. Don't miss out on next year's event-mark your calendar for June 23, 2007, and head to Anamosa. You'll be glad you did.