Brainstorming with friends around a fire pit at Cuatro Casas surf hostel in Baja last November, our crazy idea sounded great at the time. We were down there riding dirt bikes, surfing and watching the Baja 1000 a hundred miles south of Ensenada, Mexico. Of course, after enough beers, we started dreaming up ways to participate in the legendary off-road event personally. I've volunteered for pit-crew duties in previous Baja races since 1983, and have even done a few seasons behind the wheel in VW-powered Class 11 and Class 12 buggies. I'm no pro by any means, but my dusty Baja roots run deep. As we drank and smoked around the fire, everyone agreed that since Biltwell specializes in chopper parts and riding gear, racing a custom two-wheeler made the most sense. Because a traditional dirt bike wouldn't be relevant to the bulk of our customers, the idea of an off-road Sportster started to make sense too. Biltwell staffers Otto and Westy were the first guys to take my bait.
Our friend Chris Moeller at S&M Bikes—a legendary BMX dirt jumper and skilled vintage motocross racer in his own right—agreed to split the entry fee in exchange for time in the saddle. With our four-man race team assembled, we headed back to Biltwell headquarters with a rough plan to do the improbable: race to the tip of Baja on an American V-twin motorcycle. Project Frijole 883 was in high gear.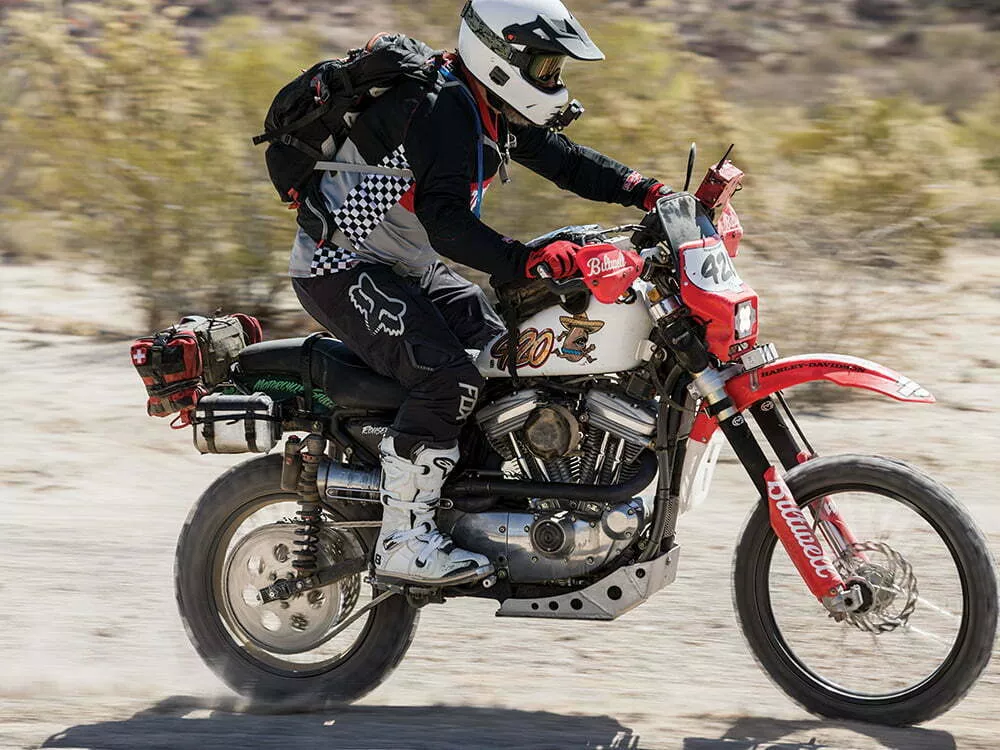 The Race Of Not-So Gentlemen
The National Off-Road Racing Association Mexican 1000 is a point-to-point off-road rally that snakes down the entire length of the Baja Peninsula from Ensenada to San Jose del Cabo. It's 1,000 miles—not kilometers!—of off-road racing, plus another 300 miles of poorly paved transit stages, that runs the gamut from washboard ranch roads to deep sand washes, rocky ascents, technical water crossings, dreaded silt beds and many miles of whoops created by 800 hp trophy trucks in the Baja 1000. NORRA's format differs from the Baja 1000 in that it includes five days of racing with timed checkpoints at the beginning and end of key stages. This format breaks the race up into smaller chunks, which we agreed might improve our chances of success since we could work on the bike every night between stages. Of course, this multiday format also complicates logistics by throwing pit stops, rider changes, overnight accommodations and other time- and money-sucks into the mix. Get everything right, and one week later, you and a dozen co-riders, chase-truck drivers, friends and volunteers get to party in Cabo for a night or two before traversing a landscape twice the length of Florida north to the San Diego border and civilization. Like I said—this had the potential to be a very bad idea.
Rouser-Built
Our good friend "Rouser" Rob Galan lives a surfer's dream in Panama and Costa Rica for most of the year but works in the Biltwell shop every winter to cover his nut in paradise. In 2017, Rob's usual three-month swing grew into eight months with the Frijole 883 project. Rob is a certified Harley mechanic and a certified nut job who loves dirt bikes and Toyota 4x4s. He's ridden and driven through nearly every square inch of Central America and is just the right mix of creative H-D chopper guy and off-road adventurist. Before the project started, everyone on our team agreed to some basic parameters: Keep the stock frame, swingarm, tank and rear fender—the Frijole had to look like a Harley. Rob worked for months, and as the Frijole took shape, we did test runs in the wash behind the shop in Temecula.
Once it was a runner, we took it to an infamous off-road test spot in Barstow for a real shakedown. We wanted to keep it an 883 for pure reliability—this bike had to run on notoriously crappy Mexican gas and stay cool when lugged through sand washes for days on end. That stock 883 mill would barely spin the dirt-bike-size 18-inch rear wheel, so we went through a variety of custom sprockets, finally landing on the pizza-size 65-tooth. Biltwell product manager and Frijole team rider Erik "Westy" Westergaard worked with Precision Concepts to get our Honda CRF250 forks dialed, and relied on UTV suspension guru Doug Roll for swingarm mods and custom Elka shocks. The first round of suspension was subpar, and the 500-pound bike bucked like a burro with a cactus in its butt. Westy wadded it up at speed on our second test session and reinforced what we already knew—silly ideas often have consequences.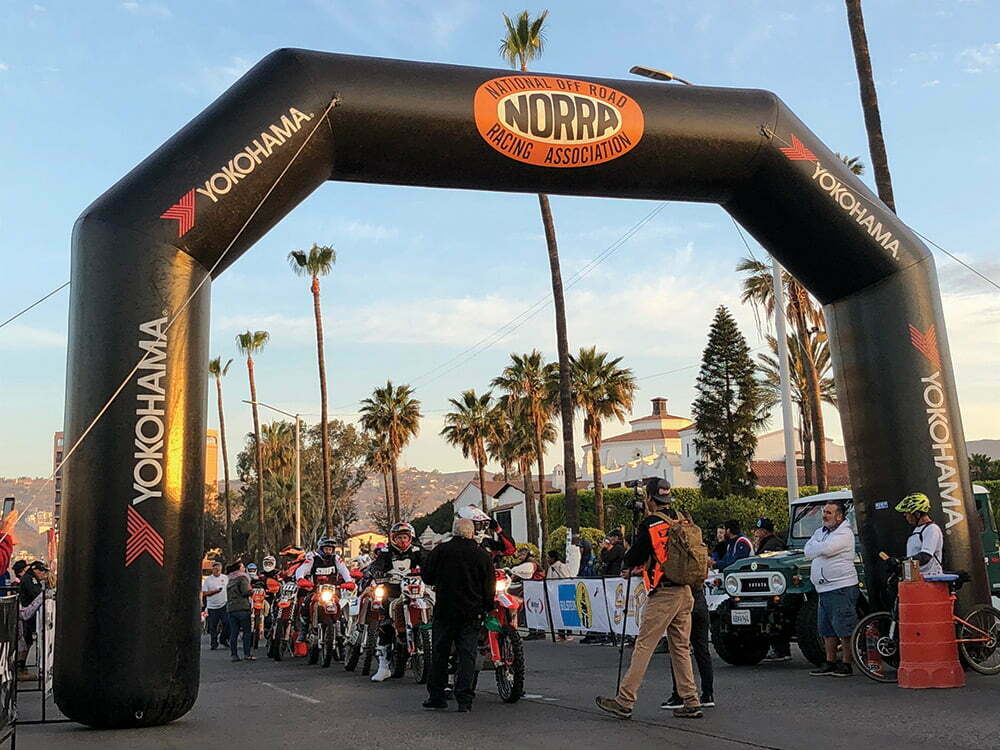 Heading To Battle
Logistics for our Frijole 883 assault made it feel like we were invading Mexico, not racing there. We built and bought enough spare parts to rebuild nearly everything on the bike should the need arise. I was sure we'd have at least one all-nighter if one of us ran out of talent during the race or if the bike sucked in some legendary Baja silt, so one week before the race, we bought a backup bike and pulled the motor to have a spare, just in case. We ended up destroying more parts in testing than we did in the race, which is exactly how testing is supposed to work. We ruined one rear wheel but finished the day thanks to using Nitro mousse instead of inner tubes. We swapped a rear sprocket on night four since the teeth were just about gone at the end of that day. Rob tightened spokes, adjusted the chain, double-checked fasteners, adjusted the clutch and primary, changed engine oil, and replaced air filters every night. His attention to detail and insane work ethic made this possible. While we crashed the bike several times, there was never a single mechanical issue, and I was really stoked that none of the custom parts we made broke or gave us problems during the beating.
None of our crew had ever raced in Baja, and my experience was so stale it almost didn't count. By the end of day one, everyone got in a groove, understood their role and worked their asses off. Due to our bike's limited fuel range, we set up pits more frequently than traditional teams. Several times, our riders had to dump their own gas from three reserve bottles stored in our tank bag and on the sides of the bike. We also used neutral tech support from a group of desert rats called Mag-7 when our chase vehicles couldn't reach the course. When I had a 200-mile stretch with no Biltwell team support on day three, I was thrilled to get a top-off from the guys at Mag-7.
---
RELATED: Harley-Davidson's New Adventure Bike, The Pan America
---
We split our four-rider crew into groups of two. Four riders might seem like a lot, and it was—most competitors in our modern bike class rode solo on sub-300-pound Honda XRs, Huskies and KTMs. With a bike as heavy as ours and one completely inappropriate for the task, splitting the 1,300 miles four ways just seemed prudent. I coldly estimated we'd have at least two injuries and any of us might have to ride farther than originally planned. Westy and I rode three days, and Otto and Moeller rode two. The mileage per rider was determined by terrain, experience and where we had access to the highway to do a rider swap. I don't think any of us felt short-changed at the end of the race; we all had our own challenges and were exhausted and satisfied when the checkered flag dropped in San Jose del Cabo.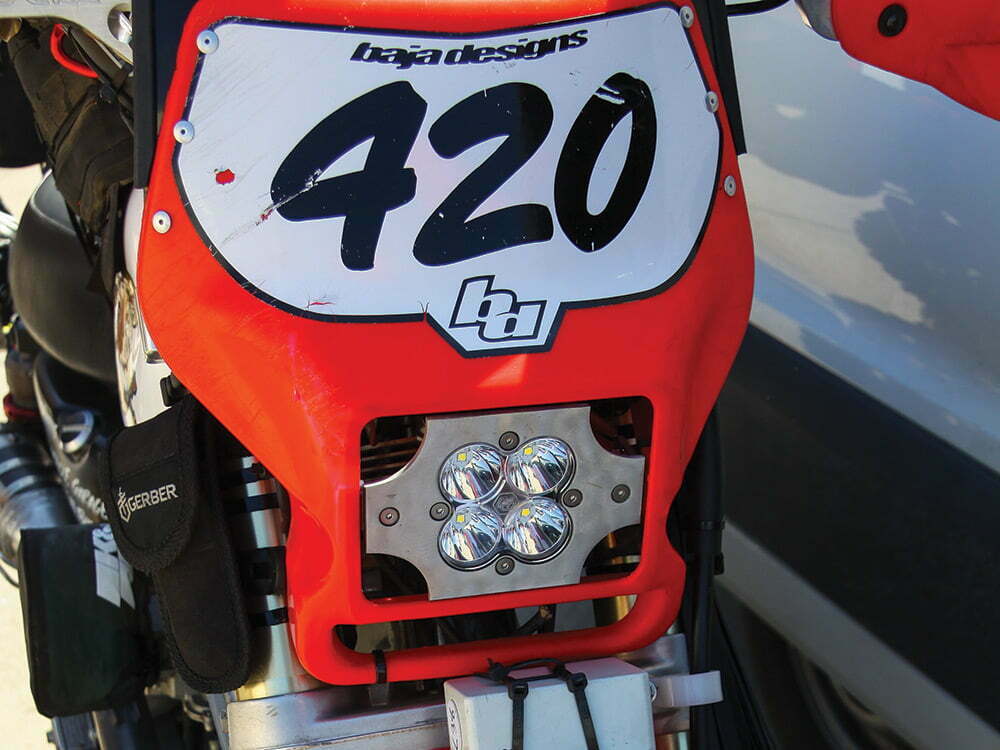 The Happiest Race On Earth
NORRA's Mexican 1000 bills itself as the "Happiest Race on Earth," and its multi­day format allows for partying every night and a less blistering pace than a single-day assault from top to bottom. Much of the course comprises popular sections of the Baja 1000, with a few brutal sections mercifully deleted. On long stretches of washboard roads that connect small fishing villages to free-range cattle ranches inland, the Frijole held its own, and we passed several more practical desert sleds from time to time. In the deep sand, our little Milwaukee tractor chugged right through with no problem. The extra weight helped with traction so long as we stayed in motion, though the front end was unpredictable in deep ruts. In early training rides, every­one on our team agreed the best tactic was to lean back, hold on and stay on the gas—the bike would do the rest. Trying to muscle a 500-pound desert hog into the perfect line was utterly impossible, and we did our fair share of overshooting berms, riding through bushes and bouncing off rocky sections. The most difficult aspect of the race was picking the bike up after a get-off. Otto made both of his days clean—not a single crash, which was totally out of character for our old friend. I crashed the most.
At least once per day, and most of the time I got the bike back up on my own, but at the end of my hardest day, in a deep gravel wash into Loreto, I had to call for help. I knew the finish line was only a couple of miles away, but the bike just pushed into the deep gravel and the bars were buried to the neck in the rocks, and no matter how hard I tried, I could not get it dug out and back on its wheels. I knew our crew was less than a mile away, so I pulled out my cellphone and begged for an assist. Seeing McGoo, Biltwell's co-founder, bashing through the wash in my truck was a glorious sight, and we got the bike back up. Of course, about a mile later, I dumped it again, and thankfully our guys were right there. The race might be the happiest on earth, but it's punctuated by sections of brutal terrain that the Harley factory never imagined its bike would encounter.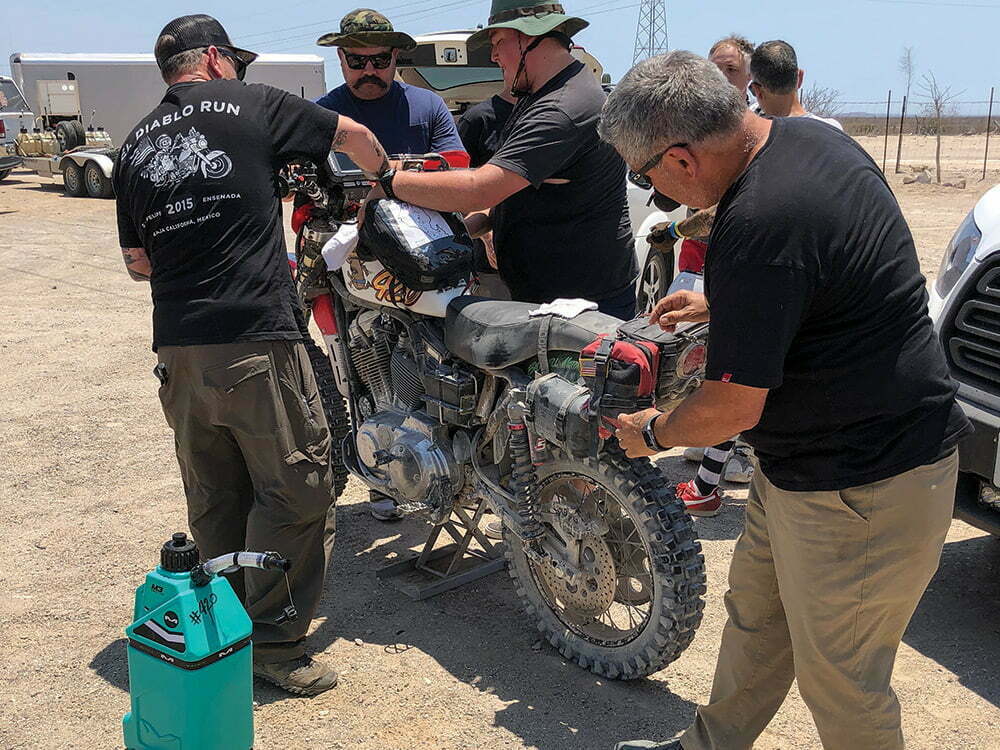 Fire In The Hole
The guys insisted that I finish the last leg of the race on day five. It was about a hundred-mile stretch for me, and the first 75 were fast and fun, weaving their way through small villages and rolling terrain from the surf town of Todos Santos southeast to San Jose del Cabo. The last 25 miles was a special stage with no GPS navigation that chicaned its way back and forth through a massive sand wash west of town. As I started that last stage, there were two V8-powered Class 1 buggies queued up just after me, so I knew they'd be passing me soon. The terrain was sandy and curvy, with tall bushes on both sides, so the cars couldn't see me until the last minute. I had been trading positions all day with John from Black Mamba Racing on the No. 43 bike, and I wanted to keep him between me and the buggies, but I couldn't quite match the speed of his XR650.
A couple of miles in, I spotted him standing next to his bike, which was on its side at the exit to another sand wash. I rode up and immediately fell over like a short-legged dork. After getting the Frijole up and stuffing it in a manzanita bush, we got his bike up and attempted to push it off the course. Remember, those buggies were coming our way any second. The sand was too deep to push the bike, and when he tried to start it, all it took was one backfire and John's leg went up in flames. He got that out, and then the air box caught fire and we started to bury it with sand. We dug like mad, but it kept bursting into flames, and at one point, the affable Aussie said, "I think she's a goner, mate!" We gave up, moved the Sportster to safety and watched it burn. I left him with a thin tarp for shade and confirmed he had water and a cellphone. He didn't want to ride in on the back of a Harley and just said, "I'll see you at the bar!" Later that day, he walked across the finish line holding the melted aluminum neck of his dirt bike, but I guess it didn't count since he didn't ride it. It was his fourth (I think?) failed attempt at the Mexican 1000, and while his team might not have completed the last 18 or so miles, they had a winning attitude, and I wouldn't doubt you'll see them out there again next year.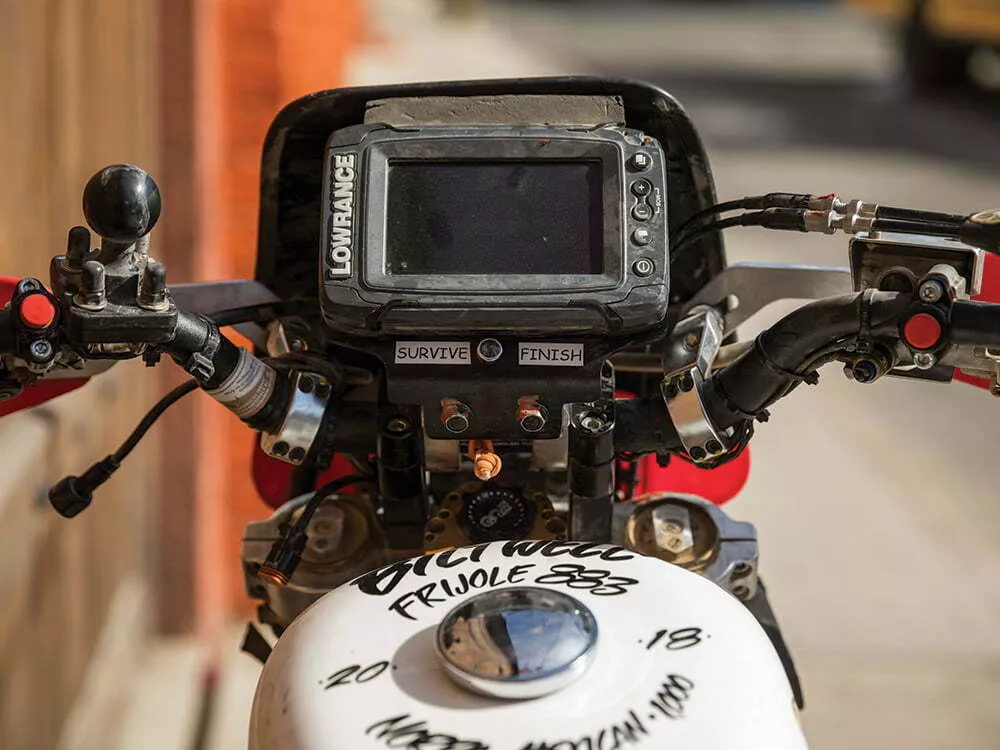 The Frijole? After watching the Honda burn, and being passed by a few cars, I popped out of the riverbed into town and pulled into a checkpoint. They wrote the time on the front fender, and I asked how long the next stage was. "You are done, man. Ride around the corner and go to the party." I pulled up right behind the winning trophy truck of Mark Post and was honestly a bit teary-eyed as I saw my wife, son and our whole crew on the sidelines, stoked that the Biltwell crew and a band of dedicated close friends had pulled off such a crazy idea.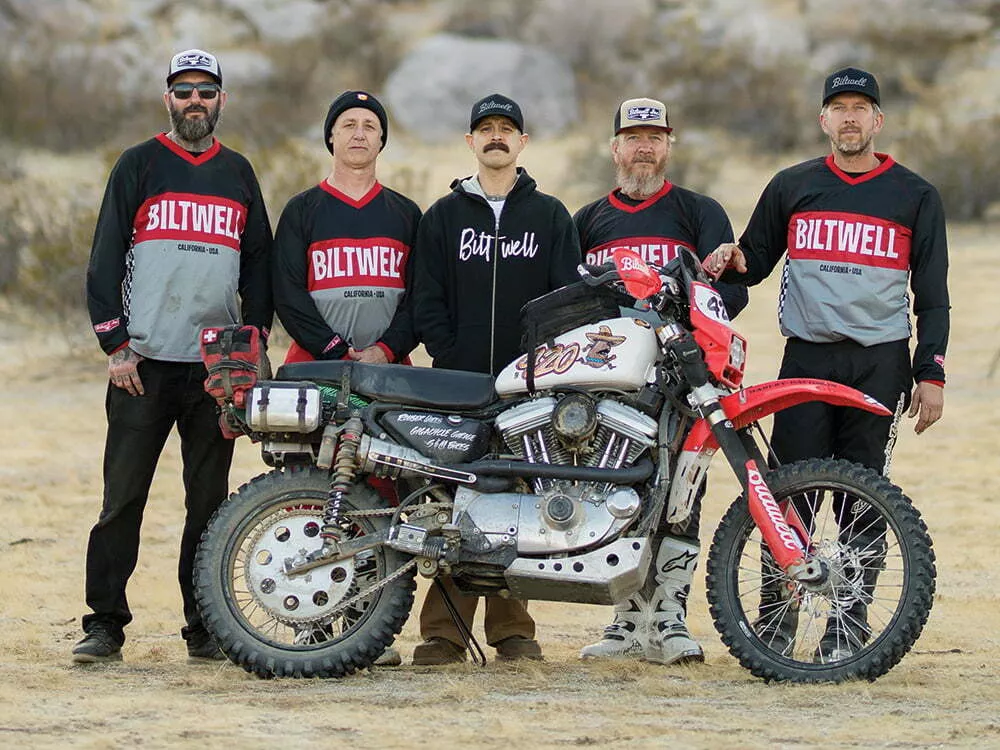 Prior to this, my desert racing experience amounted to getting my 1964 Avion camper and 1989 F250 diesel 4×4 stuck in front of some buggies in the 2017 Baja 1000 buggy class south of Ensenada. It was fireside on that same trip that Bill cooked up the idea of racing a Harley in the upcoming NORRA. I think getting our vintage rig through a deep silt bed coming into camp, with a wine spritzer in one hand and two 3-year-olds in the extra cab, demonstrated the kind of tenacity Bill was looking for in a teammate, and although I'm not a Biltwell employee like the other guys, I was asked if
I wanted to ride, and I jumped at the chance!
During my two days and roughly 400 off-road miles, the terrain included some wide-open dirt roads, lots of steep, rocky climbs and descents as well as deep silt beds, rocky riverbed crossings, and seemingly endless sandy whoops. Although we only tested in a couple of these conditions, the setup was surprisingly easy to ride in all of them. On climbs, the Harley pulled like a tractor and never stalled. Engine braking on descents really worked well. Our secret weapon, the Rekluse clutch, kept me upright in frantic silt, sand, and rocky situations. Due to the low gearing, our top speed was only 60 mph without tucking down behind the fairing, and 63 down low. Having more speed could have come in handy but might have gotten us in trouble too. At the end of some very long days, the Harley needed little more than some extra throttle to stand up and pull out of just about any situation, which was nice because when laid down, she took some coaxing to get back on two wheels.
I'm the fattest, oldest and have one of the shorter inseams on our team. I knew I was going to struggle with this bike in these conditions, but I made sure I got my share of hard sections and long days. In the six months before the race, I changed my diet dramatically and hiked a local trail with my friend Aaron three days a week, religiously. The only two days I missed were days we were testing the bike in Barstow. I dropped 25 pounds and felt great before, during and after the race. I know our guys might have thought I was crazy along the way, when we had to do something twice, three times or whatever. Test, refine, test, etc. In the end, the plan worked out.
Many moving parts contributed to our success, and one wrong decision or a stroke of bad luck could've easily been the end of the race for us. One sad illustration of this was the death of Jake Batulis on day five. Westy was one of the first guys on scene and called me at the next pit, where I radioed in the report and tried to help get medical attention out to them. I didn't know Jake, but I know his type. A strong, hardworking, independent desert racer who liked to go fast and have fun. Things can go from fun to deadly pretty quickly in the desert, and my heart aches for his family and friends. Stay strong!
When I am on a motorcycle, whether it be street or dirt, I find my thoughts wandering. If it isn't about my boys, it might be trying to work out a product design I am struggling with or stresses I am going through. No matter what, motorcycles allow me to process thoughts in a way that I cannot do via any other method. I have done a lot of closed-course racing in my life, and the mindset I am in during a race is one of absolute focus, split-second reaction, and the details of what is going on with the bike and terrain, then determining how I can improve on the next lap.
During the NORRA Mexican 1000, I found myself in a different mindset. It wasn't about working through an issue or the intensity of a closed-course battle inches from another competitor, but more like being fully engaged in the moment. The Mexican landscape was unlike any I have ever seen, and I thought to myself, "I am in the middle of the Baja Peninsula, fulfilling a racing dream and truly enjoying one of the best motorcycle rides I have ever had." I am pretty sure I even shouted "woo-hoo!" through my helmet, for only the cactus, cows, roadrunner and GoPro to hear.
Having the opportunity to be a part of such an ambitious project was a reward in itself. Being able to race it was a lifelong dream and an experience I will never forget.
Racing the NORRA 1000 on a Sportster was a fun but challenging adventure most will never get to experience. I'm stoked my boss/buddy Bill Bryant asked me to partake in something as aspirational as racing in Baja.
I don't have a ton of motocross experience, but I've ridden in Baja a fair amount and knew what to expect, so I stepped up my exercise routine a bit and tried to ride dirt more. That being said, after a pre-run with Bill and McGoo, I was a bit apprehensive. Baja on an XR400 ain't too terrible, but a 500-pound Sporty was another story.
When the race finally came, Barnacle Bill's planning and Rouser's OCD wrenching paid off. We finished each of the five days with no huge surprises and zero mechanical issues. Some riders had tougher sections or more miles to make, but all our guys stayed committed, and none tapped out early. A couple of get-offs, a couple of gas stops, some epic scenery along the route, and before we knew it, the race was over.
Thirteen hundred miles on a bike originally intended for the highway was a tough mission, but I'm proud to be a part of the team that tackled it and made it, first try. If there's a better feeling than coming around a dirt pass and seeing three locals standing on the roof of their Ford Ranger, hooting and hollering at a gringo they've never heard of, I've yet to experience it. Thanks, Biltwell, for providing an experience that I won't soon forget.
Twenty-four hours till we depart Biltwell headquarters, the moto is prepped, the van is loaded, and my coffee kit is set. I kept asking myself, "Do I have every tool I might need? Did I pack all the needed spare parts? Do I have that special bolt?" You know what I'm talking about. That one special bolt that is some odd thread pitch, a particular length. The one that holds some crucial component that the moto can't run without. The one that can kill the whole mission because it wasn't packed in the spares kit.
I couldn't let my team down; we all worked so hard leading up to race day. I knew that if I couldn't keep the moto running for five days, I would live with the burden of failing my team for the rest of my life.
As each day passed, the dust collecting on the spares bins was a sign. A sign that read: "We are succeeding in our mission." All the hours of work, testing, and prepping were paying off in how the moto was conquering the gnarly terrain of Baja. My worries subsided, and the pleasure of al pastor tacos started taking over.
F—k you, internet, we did it!
Specifications
| | |
| --- | --- |
| General | |
| Owner | Built at Biltwell headquarters in Temecula, California, by Rob "Rouser" Galan and Bill Bryant |
| Model | 2000 Harley-Davidson Sportster 883 |
| Frame | tock Harley-Davidson, rear shock mounts reinforced |
| Tank | Harley-Davidson Sportster, clearanced for stabilizer |
| Rear Fender | Chopped Harley-Davidson Sportster |
| Swingarm | Stock Harley-Davidson; gusseted and shock mounts moved by Roll Design, Fallbrook, California |
| Front | Honda CRF250 front forks, hub, brake; internals reworked by Precision Concepts, Riverside, California |
| Rear shocks | Elka, custom |
| Paint | Hot Dog Kustoms, Temecula |
| Seat | Stock Harley-Davidson seat foam by Duane Ballard; cover by MotoSeat, Temecula |
| Carb | CV, with Rouser mods |
| Air filter | Four-layer, custom |
| Stabilizer | GPR |
| Top Tree | Gigacycle |
| Rear Brake | okico four-piston, with custom Gigacycle carrier |
| Tank bag and rear gear bag | Biltwell Exfil-11 and Exfil-7 |
| Bars | ProTaper Adventurer |
| Risers | Fastway 2-inch |
| Hand Guards | Cycra |
| Gearing | PBI 65-tooth rear; 22-tooth front |
| Rocker Boxes | Buell PCV breather-style |
| Exhaust | Custom using Biltwell exhaust kit and shortened SuperTrapp |
| Oil Tank | Harley-Davidson, customized with rigid mounts, two additional mounts and screw-in oil cap |
| Shifter | Modified Honda XR400 folding, mounted in reverse (GP-style) |
| Brake pedal | Custom |
| Foot Control Mounts | Hugo Moto (modified) |
| Skid Plate | Hugo Moto (modified) |
| Pegs | Moose (modified) |
| Oil Cooler | Honda XR400 |
| Navigation | Primary: Lowrance Elite 5Ti, Secondary: iPad mini with LeadNav app, Third: iPhone with LeadNav app, Fourth: Road books from NORRA |
| Throttle, cables, tools | Motion Pro |
| Headlight/Fairing | Baja Designs Squadron Pro |
| Rear gear rack | Custom stainless steel |
Maintenance Log
Nightly
Oil and filter change, primary oil change, primary chain check/adjustment, RTV gasket on clutch and inspection cover, air filter change, catch can drain, clean and lube drive chain, adjust drive chain, lube clutch cable, check clutch cable free play, tighten spokes front and rear, top off gas, check motor mounts, check brake pads and disks, check chain slider and roller
One-Time Maintenance
Clutch adjustment on night of day 2, upper chain slider replaced on night of day 2, bled front brake on night of day 4, new rear sprocket on night of day 4, replaced chain roller bearings on night of day 3, replaced shift lever night of day 3, JB welded brake pedal peg to keep from rotating night of day 3, replaced front and rear wheel set night of day 2, replaced front wheel night of day 3, replaced rear wheel night of day 4
Parts Consumed
1 upper chain slider, 2 chain roller bearings, 1 rear sprocket, 4 air filter setups (paper element, inner foam, outer foam, and pre-charger), 1 front wheel and tire, 1 rear wheel and tire, 4 oil filters, 5 quarts gear/trans oil, 16 quarts Motul 20w-50, 1 shift lever, 1 rearview mirror (not replaced)
Mechanical Issues
Choke cable housing came "loose" and had to be held in place when closing the choke (day 4 or 5?), chain roller nut came loose on bolt but was held on by the RTV (day 3), squared one front rim pretty good (day 3), major kink in one rear wheel (day 4)