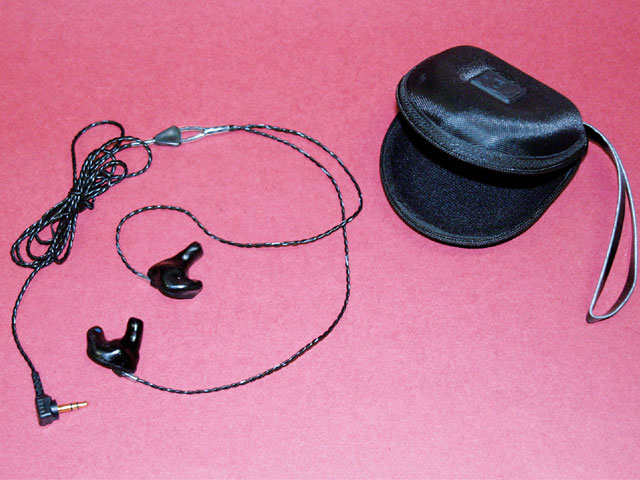 When you order a set of earphones from Hearing Dynamics, you also get a handy carrying case. For motorcycle riders, Hearing Dynamics offers two models: the HD 1000 Pro (MSRP: $220) and the HD 2000 Pro (MSRP: $250). The 1000 Pro has a frequency response of 40 Hz to 16,000 Hz that accurately represents the low, middle, and high frequencies with absolutely no distortion. The 2000 Pro has a frequency response of 20 Hz to 16,000 Hz, representing almost the entire spectrum of human hearing.
Hearing Dynamics offers several options such as various colors (clear, black, blue, red). In this clear pair, you can see the speaker driver encased in the mold. The earphones come with a standard 3.5mm stereo plug as well as a manufacturer's warranty.
We all love that deep rumble our pipes make as we bomb down he road. But when you multiply that sound by five, 10, or even 30 bikes, it becomes a stentorian chorus only a Harley lover can enjoy. Short trips are great, with everyone hammering their throttles at the flip of a green light. But when we hit the highways and the miles start to add up, that sound we once loved can quickly turn to a monotonous, ear-throbbing drone that leaves us temporarily deaf at the end of the ride.
We've all heard the horror stories of how loud pipes and music (you really need to crank up the radio to hear it when speeding down the freeway) can have long-term ill effects on our hearing. So what can you do to protect your ears when you ride? Well, there are earplugs (waxy and spongy versions), and there are music-providing headphones. But an even better solution is a combination of both earplugs and headphones. There are several companies that provide such a product, one of which is Hearing Dynamics.
Hearing Dynamics headphones feature high-quality speaker drivers encased in a soft material that is molded to fit your ear. Since the headphones are molded specifically for your ears, they provide a tight but comfortable seal that blocks outside noise. This means you can listen to your music at a safe level or ride in silence without your buddies' pipes blowing your eardrums out.
When you order the headphones, Hearing Dynamics provides a list of hearing centers in your area that can make the molds of your ears for a small fee. We went to see Curt Harmon of Better Hearing Aid Service in San Bernardino, CA. After a quick ear inspection Curt injected a liquid silicone material into the ears. In about five minutes the silicone mold had formed and was pulled out.
…Curt injected a liquid silicone material into the ears. In about five minutes the silicone mold had formed and was pulled out.
You send the molds to Hearing Dynamics, and in about three weeks the company will send you new molds with the speakers in them. The earphones fit perfectly flush in your ear, which means no struggling to keep them in when pulling on a full-face helmet. The sound quality is excellent-nice levels all around, good bass, and you don't have to crank it up to hear the tunes. But the best part is that when you have the music off, you don't have that annoying rush of air trying to blast through your ears.