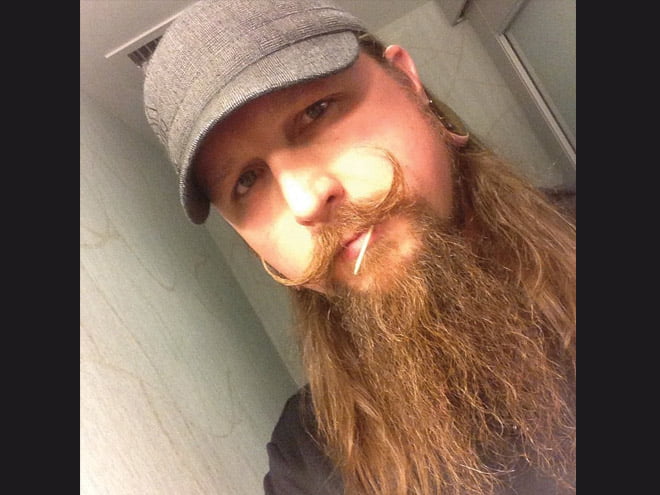 | Name: | Christopher Moos (Moosmits) |
| --- | --- |
| Shop: | Misfit Industries |
| Location: | Dallas, Texas |
| Website: | MisfitMadeMotorcycles.com |
| #Twitter/@Instagram Handles: | MisfitIndustriesMoos on IG |
Describe yourself in three words?
Misfit's Chief Imagineer
What are you currently building?
Custom Scaled Dyna, hand made chassis, Metalsport Bridge 26″ front with right side 18″ rotor with 4 piston radial mount 4 piston brembo , 18″ rear with radial mount 4 pistn brembo, Metzler tires, Chain drive, 103 out of my 2012 Road King turned 117″ Revolution Performance built motor ,Horsepower inc 58 mm throttle body, T-Max efi, wire harnesss out of a 2005 road king, 6 speed, 4″ over C&S swing arm, tracker tail, 49mm Legends Axeo and Revo-A with our short neck, softail tank with sportster pump, super moto bars,some fun 3 d printed stuff, stuff and stuff.
What was your first bike?
Um….. motorcycle?
What is your all-time favorite bike?
2012 Road King
Why did you choose to work in the motorcycle industry?
I stumbled into bikes. Been in the Rod and Kustoms industry for 20 years. It was there and a void needed to be filled so I pitched in.
What do you think the future of the motorcycle industry is?
Bikes will continue to evolve. It will always cycle just like anything else in the auto industry and still inevitably gravitate to performance and usability.
What is your greatest life achievement so far?
My kids and the relationships with them and my family will always be the greatest thing about life. Without love you are left alone. And the inclusiveness in that element creates worth. From that everything is possible.
What has been your biggest regret to date?
I don't have regrets. They have to be seen instead as lessons you can grow and continue to develop from. Learn everyday, even when it's lessons you don't want to have to experience.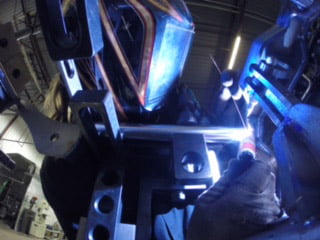 What inspires you?
I find myself looking at not just physical but gathering mentality to develop or decide on how something functions. Parts have soul if you let them and can be created that way to change someone else's life. Whether that is to save them time or make their life easier. If I create something that saves someone time and they get to go hang out with their kids or see the sunset, I've changed their life. That's a rewarding thought to have when planning on how to surface ideas.
Who are your three all-time favorite bike builders?
I really don't have favorite builders. I like a lot of stuff across many genres of bikes. Not just three people fit the bill.
Any last words?
I'm not a bike builder, I'm just a guy that likes to make stuff.