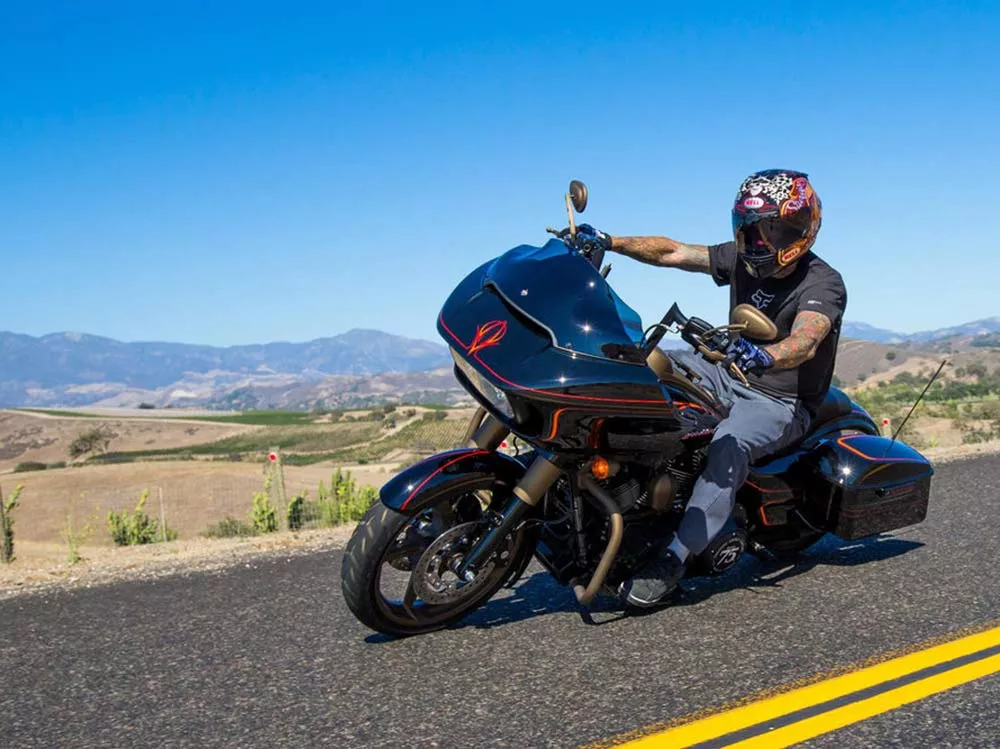 Over the last several years, Carey Hart has made a name for himself on the V-twin side of the motorcycle industry, not just for the bikes he's built but also for his Good Ride events. A champion dirt racer, he's also an excellent example of how folks who cut their mototeeth offroading are making the leap into the American street custom scene. He's one of the 2017 GEICO Hot Bike Tour Invited Builders, too. As part of our ramp-up to said Tour, we're going to running profiles on each of the lucky people creating bikes for the shindig. Carey gets to be first!
| Carey Hart | |
| --- | --- |
| Website: | GoodRideRally.com |
| #Twitter/@Instagram: | hartluck |
Describe yourself in three words? Student, idiot, wide-open. See?
I used a hyphen to make it one word.
What are you currently building?
B-17 bomber influenced 2016 Indian Springfield with a side car for my kids.
What was your first bike?
1979 rm 50 which I still own and is restored back to new.
What is your all-time favorite bike?
Favorite bike is tough, but the bike that is most special to me is my 2000 Honda 250 that I did the first backflip on. It hanging from the rafter in my shop, upside down.
Why did you choose to work in the motorcycle industry?
I've always enjoyed tinkering on motorcycles. My old man taught me, and made me maintain my bikes since I was 8 as an am racer. Throughout my career I was the only one who worked on my bikes, even as a privateer racer in the 80-90's. As retirement was approaching me a couple years ago, I started spending more time working on and customizing my vtwin bikes, as well as my wife's. One project lead to another, and here I am!
What do you think the future of the motorcycle industry is?
I think it's going in the direction of performance. I like that performance is becoming a priority over fashion. Where I came from it is all about performance and function, and that is the main purpose of my projects. I also really like that, more than ever, people are getting tools and working on their bikes themselves. Which leads to growth in aftermarket companies.
What is your greatest life achievement so far?
I'm very proud of my medals and achievements in freestyle motocross, and the championship my race team won in 2016. But my greatest achievement is that I'm a great father to my daughter Willow and son Jameson. That is the motivation behind this side car project. My kids.
What has been your biggest regret to date?
I tend to take on to much. I have a hard time saying no, and it's become a pattern. I have a tendency to take a passion, turn it into a business, get burnt out on it, and then not enjoy it. It's a cycle that has brought on way to much stress over the last 15 years of my life. I'm hoping to keep vtwin a passion.
What inspires you?
Excitement. I get excited about completing a project. That's what keeps me in my shop for hours on end. I get excited about motorcycle road trips with my buddies and my wife. And even though it is a bit stressful, I'm extremely excited hot bike tour!
Any last words?
Thanks to all of the people who give me compliments weather in person at rallies or through social media. I'm sure many people scratch their heads or don't agree with me in Vtwin. But once a motorcycle rider, always a motorcycle rider. And thanks to Bagger and Hot Bike magazine for the support.