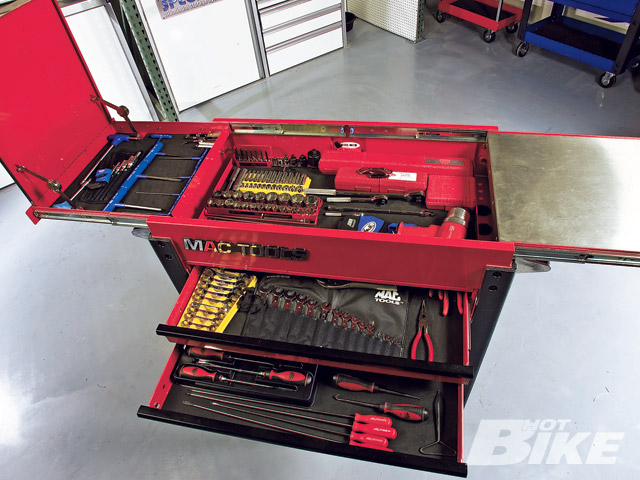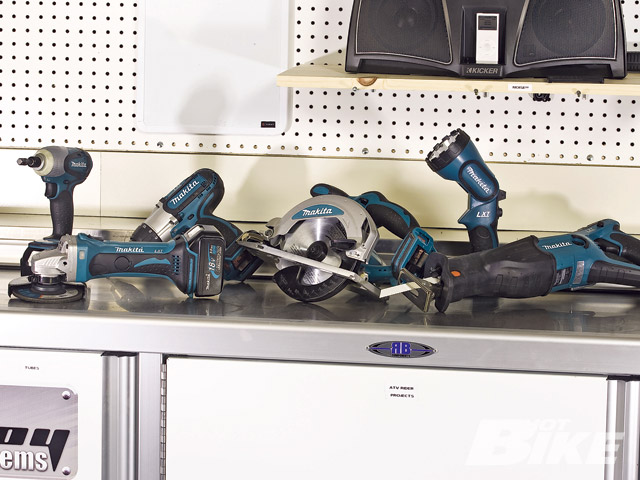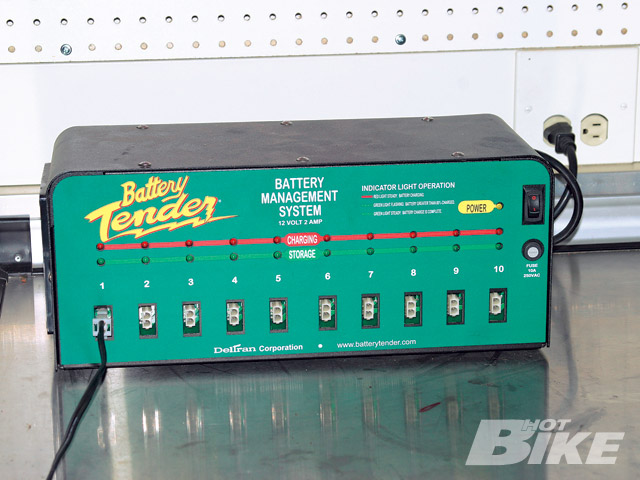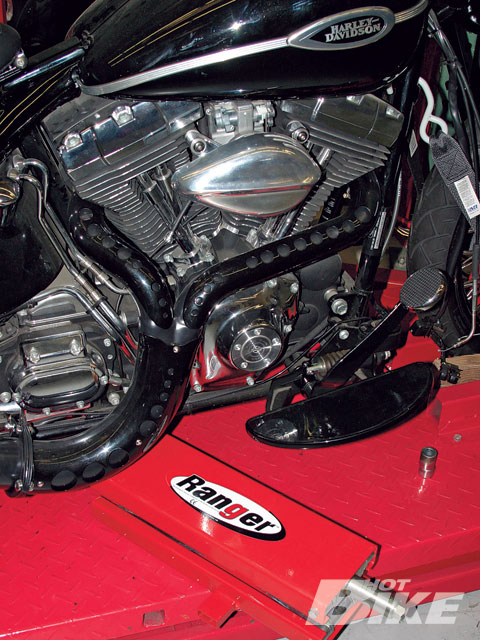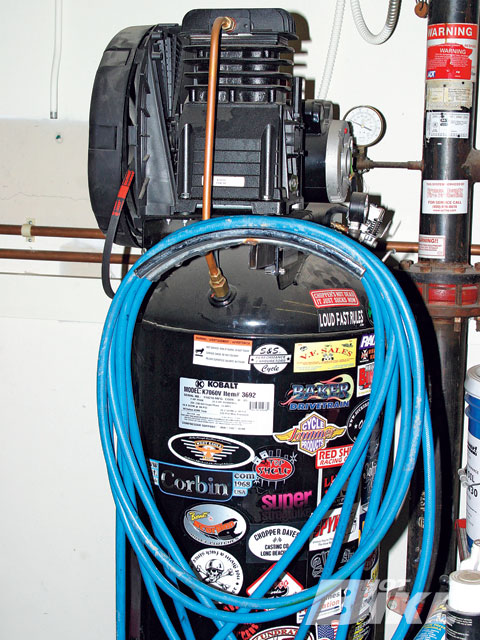 Since we like working on our bikes here at HOT BIKE, we wanted to have the best setup possible. We started with just an open warehouse floor, a mis-match of old tools, and some overhead storage shelving. Luckily the modular shelving allowed us to open up the floor space.
One of our first concerns was setting up a workspace that was easy to move around in and had plenty of storage and counter space. To handle our storage needs we turned to RB Components. Through its Spec Alloy division, the company manufactures more than 200 standardized aluminum and stainless cabinets that come in most desirable combinations. We picked out one base cabinet with a toolbox insert and three standard units that include adjustable internal shelves, all fitting in between our bays perfectly. Above the benches we hung Spec Alloy's 16-inch overhead cabinets which feature gas shock-assisted, vertically opening doors. The cabinets were simple to install directly into the wall and gave us additional overhead storage and left valuable bench space.
When it came time for the tools, we hooked up with MAC Tools. With more than 70 years in the tool-making business, its tools are professional grade and the company's 2,000-plus distributor base reaches automotive shops and mobile tool trucks around the world. We were super impressed with the company's roller carts and felt they'd be really useful since we work on multiple projects in different locations in the shop. We built up an SAE rollaway box with a full complement of wrenches, sockets and drivers, screwdrivers, pliers, and a few high-quality gizmos like snap-ring pliers, punches, and torque wrenches.
Motorcycle applications have a lot of unique, specialized, and time-saving tools. To find those tools there was one sure place to look, Motion Pro. It has all of the tools that answer the question, "How do I get that off?" From tire irons to blind bearing pullers to seal savers to chain breakers, this company pretty much has it all. Some of the stuff is plain genius and other tools are almost magical at replacing the pry-bar, hammer, and mangled parts that don't like to come apart. Motion Pro also makes T-handles.
To round out our garage with some portable power tools, we got hold of Makita's 18V LXT Lithium-Ion 6 pc. Cordless Combo Kit. It includes 44 pounds of tools (18V 1/2-inch LXT Hammer Driver-Drill, 18V 6 1/2-inch LXT Circular Saw, 18V LXT Recipro Saw, 18V LXT Impact Driver, 18V LXT 4 1/2-inch Cut-Off/Angle Grinder, 18V LXT Flashlight2 LXT Lithium-Ion 3.0Ah batteries, a 30-minute rapid charger, and a contractor bag (with wheels and telescoping handle). This kit allows us to pretty much drill, cut, grind, and put on or take off anything we may come across.
Of course we also picked up all the typical day-to-day stuff that we'd need like funnels, rags, zip ties, various tubes of silicone, gasket maker, glue, safety wire, duct tape, and all the lubricants we'll ever need.
It's amazing how much more enjoyable a simple oil change can be when you've got the right tools and adequate space. What's your garage look like? We want to see it. Email us a pic and maybe we'll put it in the magazine. [email protected] HB
SOURCES
Battery Tender
(386) 736-7900
www.batterytender.com
Kicker
(405) 624-8510
www.kicker.com
Mac Tools
(800) MacTools [622-8665]
www.mactools.com
Makita
(714) 522-8088
www.makita.com
Motion Pro
(650) 594-9600
www.motionpro.com
Ranger Garage Equipment
01782 – 411 666
www.ranger-garageequipment.com
RB Components
(714) 893-1088
www.rbcomponets.com
FEEDBACK
[email protected]