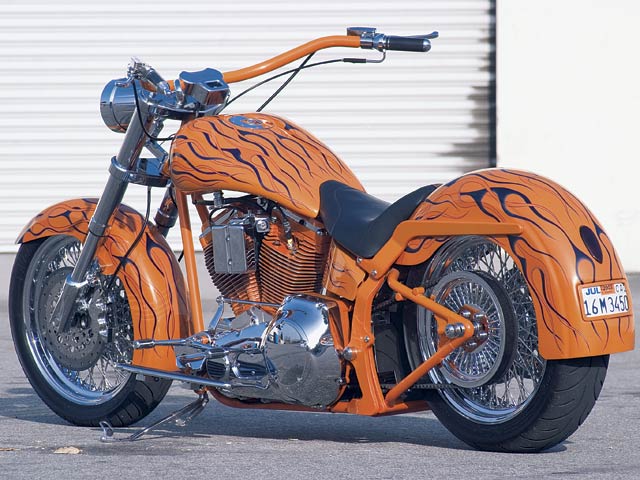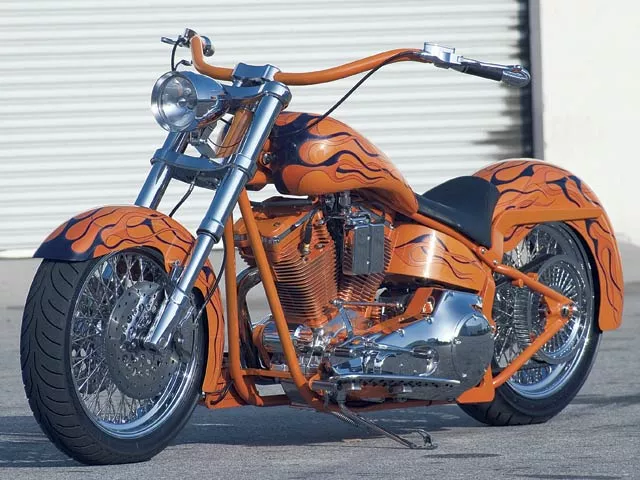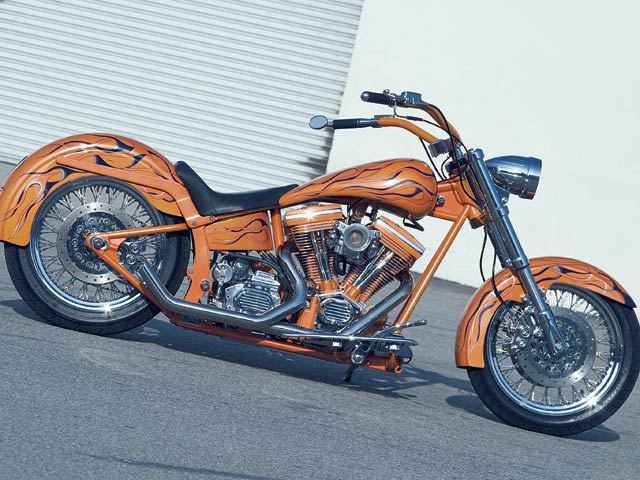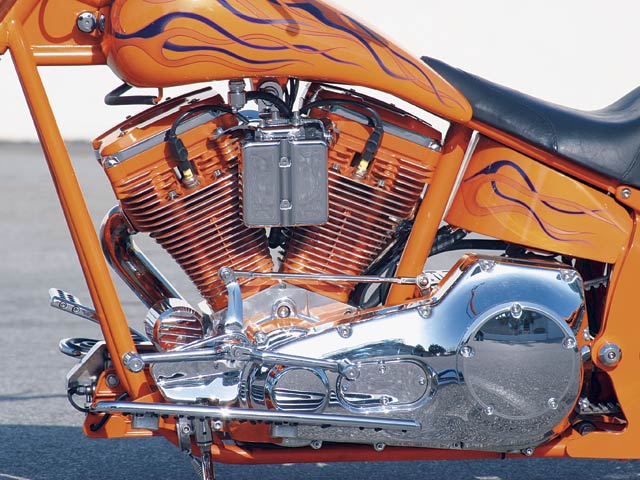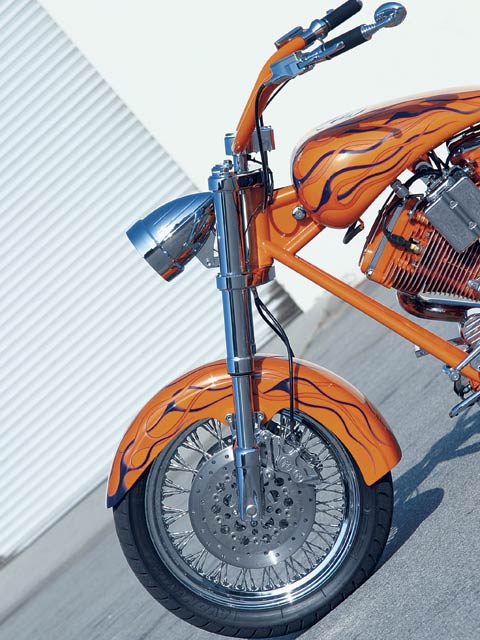 Growing up in Southern California, it was easy for Josh Soto to become fascinated by the custom culture of hot rods and classic cars, especially since his dad was into building and restoring them. Josh would spend hours hanging out in the family garage helping his dad on the latest project. As the years went on, Josh's interest grew beyond four-wheeled machines and he began messing around with Harleys. After high school, he had developed a real passion for motorcycles and wanted to turn that passion into a means of making a living because working on bikes was what he loved most. So, he enrolled in the Motorcycle Mechanics Institute of Phoenix, and after completing just about every course that was offered, he jumped on his bike and headed back to where his love for wrenching and customizing began: his parents' garage.
Over the next couple of months, Josh was continuously busy fixing and hopping-up his friends' bikes, and eventually the garage developed a name for itself as Josh's Boars Nest. Within a year, the garage was too small to handle all the work he was taking in, so Josh opened up a real shop in his hometown of Oceanside, California. Eventually, the Boars Nest became more and more popular, so Josh hired his younger brother, Ethan, to help run the shop as well as a couple of technicians to handle all the repair work. This way he could focus on building and customizing.
Once he had more time to spend releasing his creative energy, Josh decided he wanted to build a bike to cruise up and down Pacific Coast Highway to catch the attention of those who hadn't heard of his shop yet. After discussing some design ideas, Ethan made the comment that since Josh was planning on cruising the bike along PCH, maybe it should resemble the fat beach-cruiser bicycles that everyone rides along the beach, with sweeping handlebars and long fenders.
With a plan in place, Josh ordered a Daytec softail frame with stock lengths in the downtubes and backbone, and the neck rake set at 38 degrees. To accentuate the beefy beach-cruiser look, he bolted a Regency 2-over, 58mm inverted frontend to the neck. Then, a pair of Progressive Suspension adjustable shocks was set up so the bike would sit 2 inches lower out back. Next, a set of Landmark diamond-cut spoke wheels were added. The 18×3.5-inch front and 18×5.5 rear were both covered in Avon rubber, with the front carrying a 130 and the rear sporting a 180. Stopping was taken care of with dual LRB rotors and PM four-piston calipers up front, while out back, a single LRB disc and PM four-piston caliper was mounted in place.
While Josh was busy getting the roller established, his lead tech, Kerr, was helping out by assembling the motor. Knowing that he wasn't going to be taking this bike to the drag strip, Josh decided to go with a reliable 80ci mill comprised of Delkron cases, JE pistons, a Crane cam, and H-D flywheels, rods, cylinders, heads, and rocker boxes. Once Kerr had the motor together, it was set between the framerails, then an S&S; carb, a Joker air cleaner, and a Dyna ignition were installed. Josh likes to incorporate his hot rodding background into his bikes whenever possible, so he turned to hot-rod guru Rod Sexton to create a custom set of pipes. To transfer the motor's horsepower to the rear wheel, Andrews five-speed gears were set inside a Delkron case with Pro-One covers, and then an H-D primary and clutch were added.
With the mock-up almost complete, all that was left was to fit some sheetmetal to the frame. To get the beach-cruiser look he was after, Josh started with a pair of beefy, yet classically-styled Wernimont fenders. He modified the front fender by relocating the mounts and trimming the sides so the fender would cover the tire just as he wanted. Then, he made two cut outs in the tail of the rear fender so he could mount the license plate and a vintage '39 Ford taillight flush in the fender. When mounting the fender, he used Daytec fender struts to give it some extra rigidity. Next, a CCI gas tank with an aircraft-style gas cap was bolted to the backbone, then a Daytec horseshoe-style oil tank was secured in place. The last thing Josh did before tearing the bike down for paint was make the one part that would really set off the California beach cruiser theme: a set of long, flowing beach bars.
When it came to paint for his beach-comber, the frame, swingarm, handlebars, and motor were sent to Electro Tech Powder Coating for an orange powdercoat, while the sheetmetal was handed over to Richard Forelli for matching orange paint. Flashing back to his hot-rod roots again, Josh had Richard add some traditional purple pearl and tangerine pearl flames to finish the paint session off. Once all the painted parts were back at his shop, Josh and his crew wasted no time adding the finishing touches. The beach bars were secured to the frontend with Dakota Digital 2-inch risers with a built-in speedo. PM hand controls were mounted on the bars, along with a PYO mirror secured to the end of the left side. A Ness headlight and forward controls were installed, and the final piece added was a Saddleman seat.
Due to a steady flow of business, the bike took much longer to complete than expected, almost a year and a half. But once Josh took the hot-rod cruiser for its first ride along the coast and saw everyone's reaction, he knew it was definitely worth the wait.
| | |
| --- | --- |
| SPEC SHEET | |
| GENERAL | |
| OWNER | Josh Soto/Boars Nest Choppers |
| YEAR/MAKE | '03/Special construction |
| FABRICATION | Boars Nest Choppers |
| ASSEMBLY | Boars Nest Choppers |
| BUILD TIME | One and a half years |
| ENGINE | |
| SIZE/TYPE | 80ci Evo |
| CASES | Delkron |
| FLYWHEELS | H-D |
| RODS | H-D |
| PISTONS | JE |
| CYLINDERS | H-D |
| HEADS | H-D |
| CAM | Crane |
| CARB | S&S; |
| IGNITION | Dyna |
| PIPES | Rod Sexton |
| TRANSMISSION | |
| YEAR/TYPE | '03/five-speed |
| CASE | Delkron |
| GEARS | Andrews |
| CLUTCH | H-D |
| PRIMARY DRIVE | H-D |
| FRAME/SUSPENSION | |
| YEAR/TYPE | '03/Daytec |
| RAKE | 38 degrees |
| SWINGARM | Daytec |
| REAR SUSPENSION | Progressive Suspension |
| FORKS: | Regency |
| EXTENSION | 2-over |
| TRIPLE-TREES: | Regency |
| WHEELS, TIRES, AND BRAKES | |
| WHEELS | Front: Landmark |
| | Rear: Landmark |
| TIRES | Front: Avon |
| &mbsp; | Rear: Avon |
| BRAKES | Front:PM/LRB |
| | Rear:PM/LRB |
| FINISH | |
| MOLDING | Richard Forelli |
| PAINTER | Richard Forelli |
| COLOR | Candy orange |
| GRAPHICS | Purple Pearl/Tangerine Pearl |
| CHROME PLATING AND POLISHING | West Coast Plating |
| ACCESSORIES | |
| BARS | Boars Nest Choppers |
| RISERS | Dakota Digital |
| HAND CONTROLS | PM |
| HEADLIGHT | Ness |
| TAILLIGHT | '39 Ford |
| GAUGES | Dakota Digital |
| ELECTRICAL | Boars Nest Choppers |
| FUEL TANK | CCI |
| OIL TANK | Daytec |
| FRONT FENDER | Wernimont/Boars Nest Choppers |
| REAR FENDER | Wernimont/Boars Nest Choppers |
| FENDER STRUTS | Daytec |
| PEGS | Ness |
| FOOT CONTROLS | Ness |
| SEAT | Saddleman |