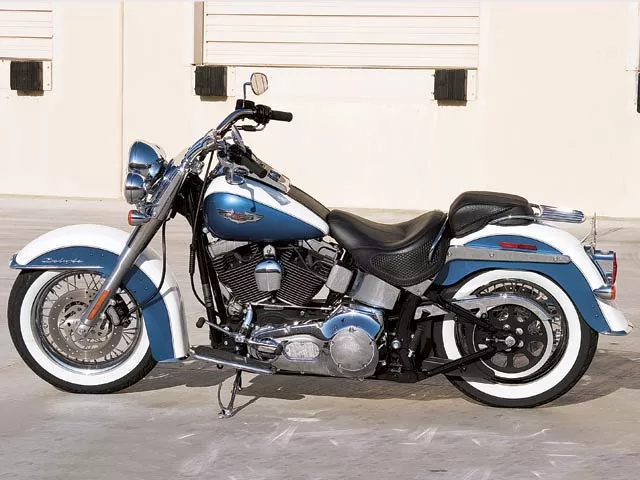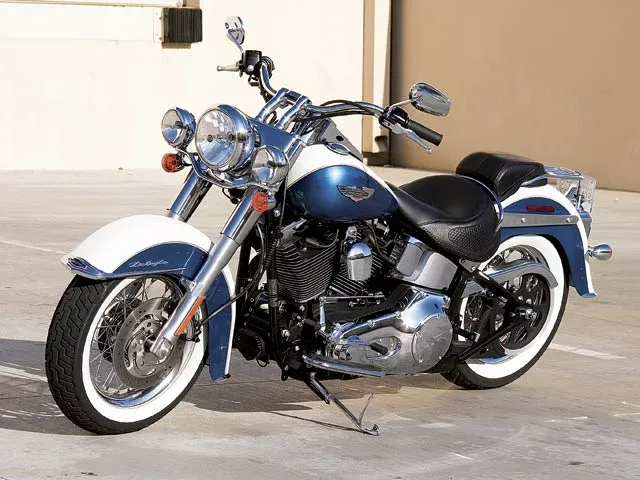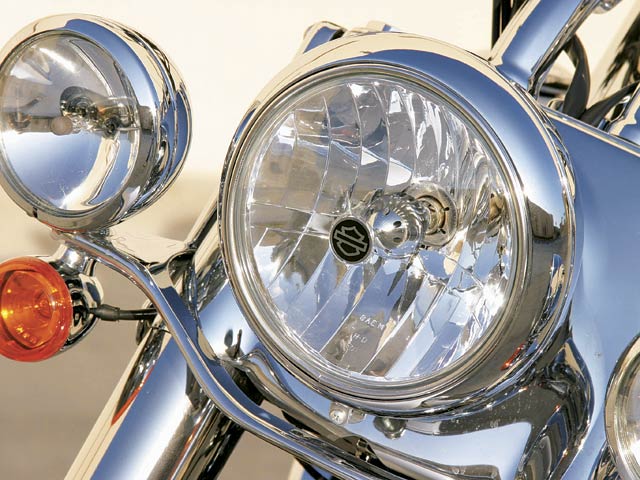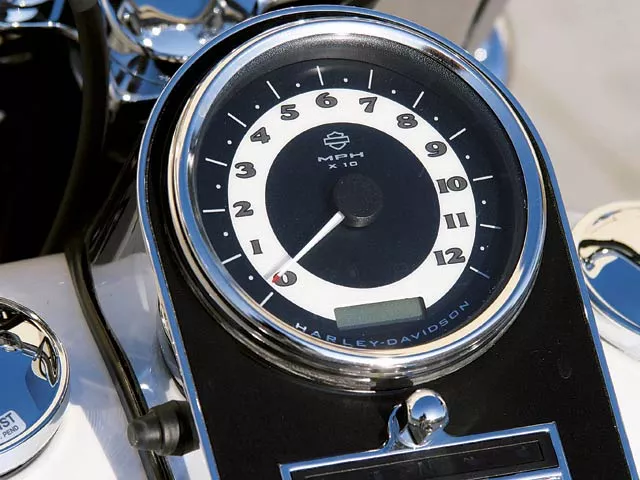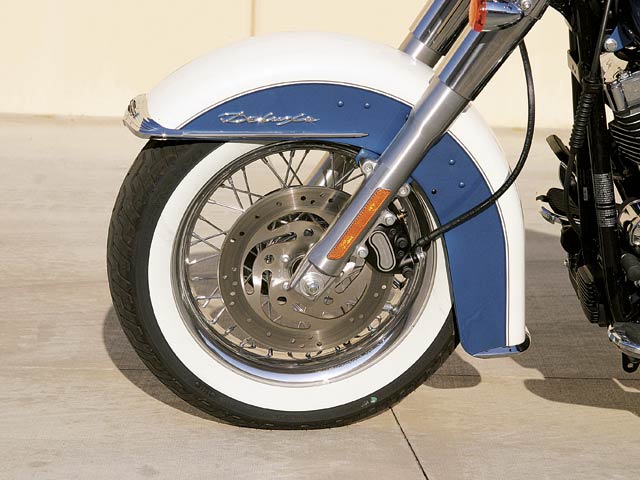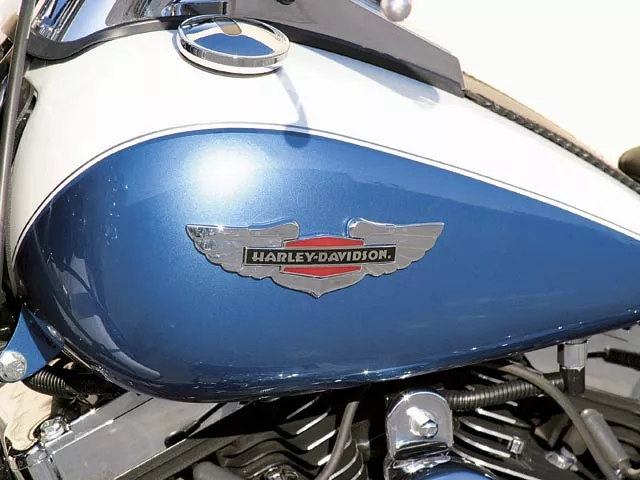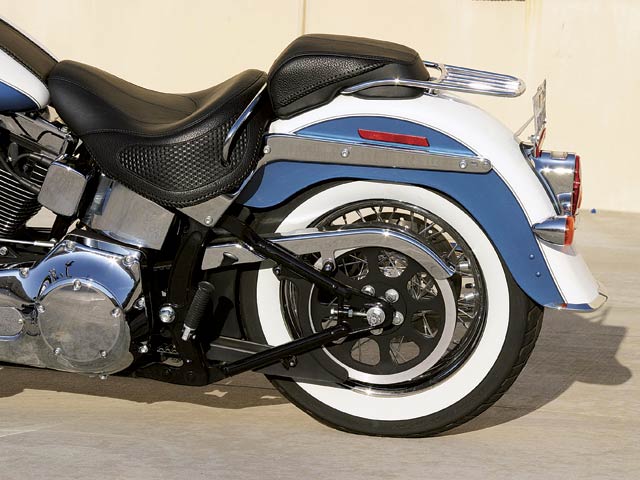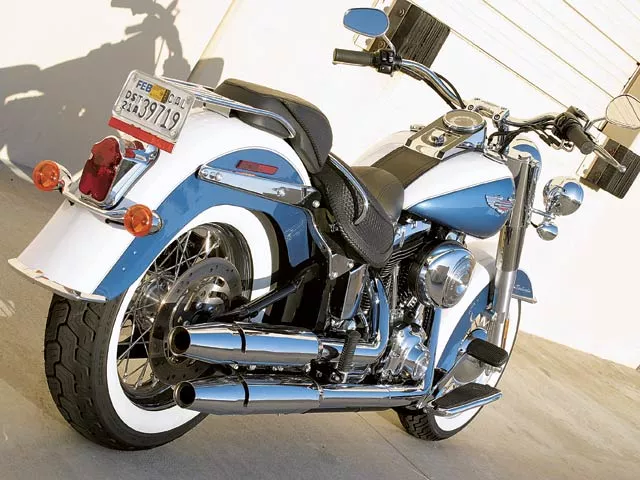 The first of the year is always our favorite time on the calendar. It means it's time for the new models to start hitting the streets and time for us to test out the new rides — as the old saying goes, "It's a tough job, but someone has to do it." We enjoy nothing more than being the first on the block to get some saddle time on the new models but hate that we have to give them back after only 30 days. We figured that since this was the first issue of 2005, what better way to jump into the new year than jumping into the saddle of Harley's newest model, the FLSTN/I Softail Deluxe.
That's right, once again the Motor Company has expanded the Softail lineup to include an all-new, classically styled Softail that's comprised of equal parts modern mechanical design and retro cool. Looking over the new Softail, it's immediately evident that Harley's goal in designing this bike was to combine nostalgic styling cues from its 100-plus years, and create a bike that would be equally appealing to old-school Harley fans as well as new-school technology buffs.
From whitewall to whitewall, the Deluxe is dressed to the hilt with classic accents, such as an FL-styled front fender dressed in polished trim, a tapered chrome luggage rack and a saddle style seat with checked side panels, and a chrome grab rail. Mounted on the rear fender right behind the seat is an easily removable passenger pillion. The 16-inch laced chrome wheels add a distinct touch of history to the bike, while the new clear lens reflector optics headlight with its small Bar and Shield cloisonne in the center of the lens offers improved lighting and a unique styling detail all in one. Keeping with the distinct lighting features, the deluxe also has an exclusive new sculptured headlight nacelle with front and rear light bars with bullet turn signals. The rear fender features a new tombstone taillight.
The Deluxe is being offered in six paint schemes, including new two-tone combinations of Glacier White/Vivid Black and Glacier White/Chopper Blue. More new styling elements include distinctive new emblems on the front fender and 5-gallon gas tank, as well as new narrowed tapered floorboards trimmed in chrome.
Sitting in the center of the frame is a rigid-mounted black powdercoated balanced Twin Cam 88 with chrome covers. Accenting the black and chrome motor is a pair of shotgun exhaust pipes and a shiny chrome oil tank. New for all '05 Softail models is a redesigned dipstick with an improved seal on the oil tank filler neck. The new design makes it possible to accurately check the oil level while the motorcycle is resting on its sidestand.
Moving onto performance, comfort, and handling, we'd like to let you see what the staff thought of the bike.
Eric
As soon as I saw the Deluxe, my first thought was, "This is a beautiful bike." I was particularly impressed with our test bike's blue and white two-tone paint scheme. The white seems to have a pearl-like affect to it that reflects hints of blue here and there. I liked the chrome accents; there were just enough that it wasn't overdone.
When it came to sitting on the bike, I wasn't particularly fond of the saddle-style seat. While it did provide a lowered seat height of just 24.5 inches — making it easy for shorter people to firmly rest their feet on the ground — I found the seat pocket to be too small and when I sat in it, it forced me to slouch. The new tapered floorboards were the right size for my 10.5's, there was just enough room to move my feet forward and backward a little bit. However, they did quickly cut into the fun when it came to trying to hit corners aggressively.
Overall, I thought the bike was a very nice ride. The pullback risers and handlebars put my arms in a very comfortable position to easily make a long trip. I thought the suspension provided a very plush ride. Even though the motor is rigid mounted, I felt minimal vibration at speed. However, a sixth gear would help reduce vibration even more. Performance-wise, the bike handled pretty well. Having spent a lot of time in the seat of an '03 Softail Standard, I was impressed that even though the Deluxe's dry weight is 676 pounds — a little heavier than the Standard — the fuel-injected motor still had the acceleration and power I was used to. I think at an MSRP of $17,380 for the two-tone version that we tested, it is well worth it, as you're getting a lot of style, history, and comfort for your buck.
Ernie
The very first thing I noticed about this bike was the classic look of the past, with the two-tone paint and big headlight and dual running lights. This bike has pullback risers and wide beach bars, along with stylish running boards. Getting the combination of style and sport was H-D's first concern, adding a tombstone taillight and chrome trim along the fenders and gas tank. The only thing that I would do is get a seat that would allow me to sit back about 4 inches, not right up on the gas tank, due to my being 6-foot, 1 inch tall. The bike has decent acceleration and power for the size of the motor and feels smooth and solid through the turns. With minimal changes, such as a seat and floorboards for better lean angle, you'd have the best of both worlds — a stylish bike that's also fun to ride.
Toph
My first impression while sitting on this bike was its smallish feel, even for me at 5-foot, 9 inches. At just 24.5 inches off the ground, the bike didn't feel as big as it is. In fact, even while riding, this chassis felt more like an old Sportster than a Softail. It handles quite nimbly, almost too easily as evidenced by the ground down floorboards.
I like how our fuel-injected model started up first click every time — no petcock, no choke, just turn the ignition and thumb the button. The TC-88B motor is smooth and quiet while being pretty peppy for a stock motor.