Indian Motorcycle released four new FTR 1200 motorcycle accessories packages at the 2018 EICMA Show in Milan, Italy, today. The Tracker, Rally, Sport, and Tour collections are a good representation of each genre, and are interchangeable so customizers can tailor their FTR 1200 projects to best suit their styles.
While the collections aren't necessarily sold as such (all items are priced individually), we feel these kits accentuate an already stellar machine into four accessory categories that really hone in on what each of these specific enthusiasts are looking for in terms of style and function. A little birdie told us to also expect a Roland Sands Design/Indian Motorcycle collection sometime in 2019 for those looking for even more accessory options.
Indian's FTR 1200 has yet to hit dealerships in the US as of now, but you can expect them to be nabbed up pretty quickly in the early part of 2019 when they do. We had the opportunity to ride Indian's new Street Tracker, and we can guarantee the FTR 1200 will be on the tips of motorcycle enthusiasts' tongues when ready to make that new bike purchase. Take a look at the bike, then start piecing your custom FTR 1200 together from any of the below items, then send us some photos when you're all done. We're curious to see what you come up with!
Tracker Collection
Want to be part of the go-fast, turn-left club? Indian's new FTR 1200 will definitely get you going in the right (I mean left) direction. Peep game on the new Tracker Collection. While they may not make you any faster, they'll definitely make your already cool bike that much cooler. Included are High-Mount Slip-On Exhaust by Akrapovic, Tracker Seat, Side Number Plates, High License Mount, Tracker Seat Base Cowl, Rally Footpegs by ProTaper, Handlebar Waffle Grips by ProTaper, Clear Turn Signals, and Accessory Mounting Kit (for mounting exhaust, number plate, rear mudguard, and bag).
Rally Collection
The FTR 1200 Rally Collection gives your stocker a leg up when taking your new bike off the beaten path. There's just something so fun about taking a perfectly good streetbike and ripping through the wilderness off road. The Rally products make it easier to do so and include a High-Mount Slip-On Exhaust by Akrapovic, Aluminum Spoke Wheel Set, Low Wind Deflector without Headlight Cowl, Front Mudguard, Aviator Seat, Rally Footpegs by ProTaper, Rear Mudguard, High License Plate Mount, Passenger Peg Footpeg Mount for High Exhaust, Aluminum Radiator Guards, Tank Covers, Rally Handlebar by ProTaper, Windshield Mount, and Accessory Mounting Kit.
Tour Collection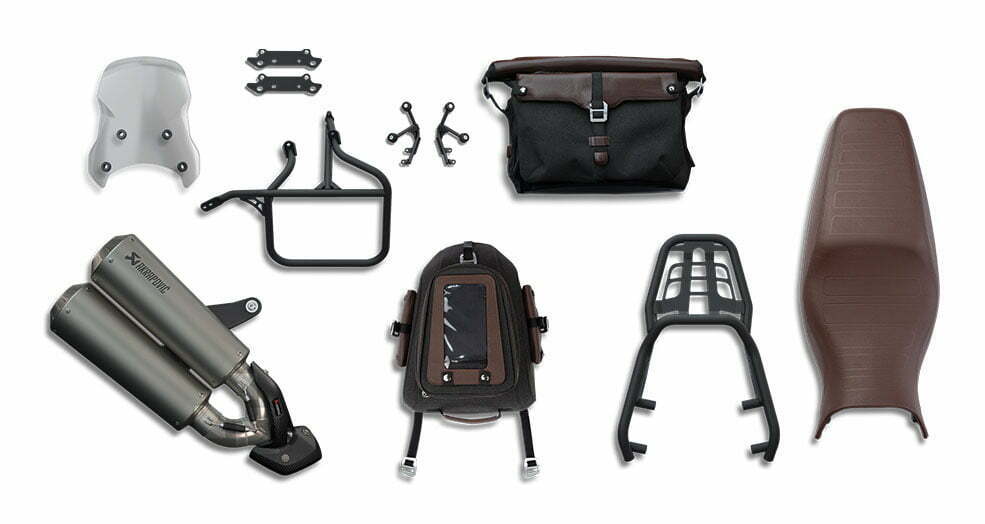 Weekend jaunts are made that much more comfortable and accessible with the FTR 1200 Tour Collection. Stow enough gear for a fun trek with the bros or gal pals, and hit the road for a memorable trip. Tour Collection accessories include a Messenger Bag, Side Bag Rack, Luggage Rack, Front Number Plate, Mid-Windshield with Headlight Cowl, Mid-Windshield without Headlight Cowl, Windshield Mount, Fork Guards, Grab Handle, Low Wind Deflector with Headlight Cowl, Tank Covers, Low-Mount Slip-On Exhaust by Akrapovic, and Accessory Mounting Kit.
Sport Collection
The FTR 1200 is already a very sporty fun machine. But a little bit goes such a long way and Indian's new Sport Collection is just that. The accessories from the Sport grouping include a Low-Mount Slip-On Exhaust by Akrapovic, Carbon-Fiber Seat Cowl, Carbon-Fiber Tank Covers, and Carbon-Fiber Front Mudguard.