The concept of curated motorcycle shows has been expanded to phenomenal success over the past decade. Born-Free, Mama Tried, The One Show, and the Handbuilt Motorcycle Show were all founded on this formula. But before these awesome moto-gatherings were even conceived, Michael Lichter had already been orchestrating the Motorcycles as Art symphony for several years. Lichter's annual showcase of custom motorcycles, moto-themed artwork, memorabilia, and photography is celebrating its 18th year in 2018 with an exhibit titled "Passion Built – Garage to Gallery" which features 38 custom motorcycles and the work of 15 artists. Before we delve into the particulars of this year's show, though, we caught up with the acclaimed photographer and dug into the roots of Motorcycles as Art to find out how it all came about.
"I hadn't exhibited any of my own work in 20 years. The last exhibit I did was in '81 in Dublin, Ireland, and that got boycotted by the League of Decency," Lichter said.
That boycott left him disenfranchised with the art world, so Lichter focused on featuring his work in Easyriders magazine and other print publications. But a visit to a show at the Guggenheim got the wheels turning again.
"In '98, I spent a whole day at the Guggenheim Museum and was really impressed. But I felt the show was really commercial and more about the industrial design of motorcycles. It focused on stock bikes even though it was historical. It did include one or two customs in the show, but it was essentially industrial design and new bikes. And I thought, boy, that didn't even scratch the surface of custom bikes, and I'd always contended that custom bikes were a form of artwork. I felt it was like a folk art," he said.
Two years after that, Lichter had an opportunity to once again show his work, this time during the Sturgis Rally in the Apex Gallery at the South Dakota School of Mines and Technology in Rapid City.
"I put together a little show on short notice, had two or three bikes in that. I invited some people to show their bikes because I thought it would look good. Jesse James came to that show and a lot of other friends. So we did the show, and then I started thinking, wow, this could have legs."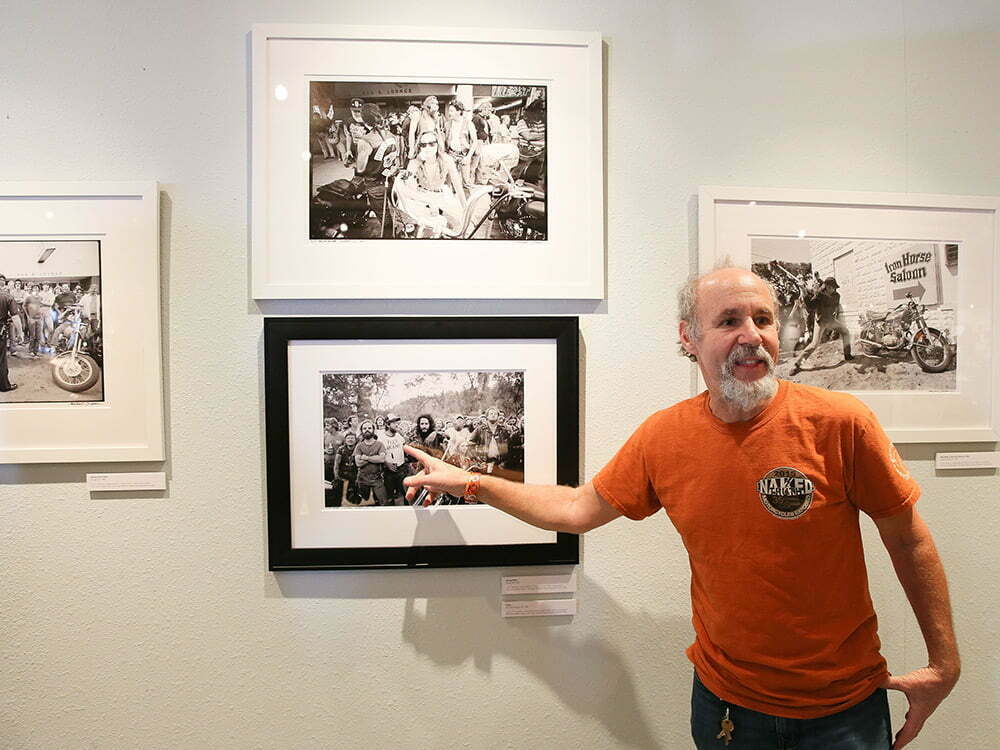 Those legs included a five-year agreement to host his exhibit at The Journey Museum and Learning Center, also in Rapid City, starting in 2001. The first show was called "Biker Generation" and consisted of Lichter's photography and about a dozen custom motorcycles.
"I could only fit like 10 to 12 bikes in there. Jesse James had a bike in it, Kodlin from Germany, Billy Lane, Jim Nasi, Arlen Ness, Cory Ness, Finch, Donnie Smith, Eddie Trotta, Paul Yaffe. It was a smaller group of builders just to show a really nice bike and my photography," he said.
"I had my work on the walls, and thought, 'What else can we do here?' So I started inviting other artists very quickly. It came to be the idea that it would be a theme instead of just bikes on display. Each year, it was a challenge to come up with an idea and get bikes that would fit that.
"The next year, I invited builders again and called it 'Bikes, People, Attitude.' It featured motorcycle art by Dave Mann, Scott Jacobs, David Uhl, and my photography. The idea was inlaws and outlaws because Jacobs and Uhl were both licensed artists for Harley, then there were two unlicensed Easyriders artists, Mann and myself. Arlen Ness' bikes were a big feature too."
By the third year, Lichter's Motorcycles as Art exhibit really began to gain steam and focus. Word spread, and soon builders and artists began wanting their work to be in the show. Lichter talks about those first five years at The Journey Museum with great fondness, stating, "It was a really great location. They were supportive, and it was a beautiful gallery."
At the end of those five years, the owners of Glencoe Camp Resort approached Lichter about moving the show to Sturgis. Glencoe had just built a new facility called the Thunderdome and was looking to fill up the building with attractions. It offered him pedestals for motorcycle displays and good lighting for the photography. Lichter also insisted the exhibit be free to the public as part of the deal. His show would also now be closer to the heart of the Sturgis Rally.
After three years at Glencoe the owners wanted to sell Thunderdome, and Lichter was approached about ending the contract early. He agreed, and within days, several other promoters were already contacting him about featuring the show at their establishments.
The most tempting offer came from the folks at Buffalo Chip, who said they'd build Lichter a permanent building for his exhibit. They promised pedestals, theater lights on each bike, and for the show to remain free to the public. They proposed putting the building right at the gate to the east entrance so people would have to walk through it to get into the Buffalo Chip. Thousands of people funnel through that gate for the Chip's concerts because it's by the main parking lot, ensuring Lichter's exhibit would get tons of exposure. They also built a separate studio to shoot bikes in. Ten years later, the relationship between the Buffalo Chip and Lichter is still going strong.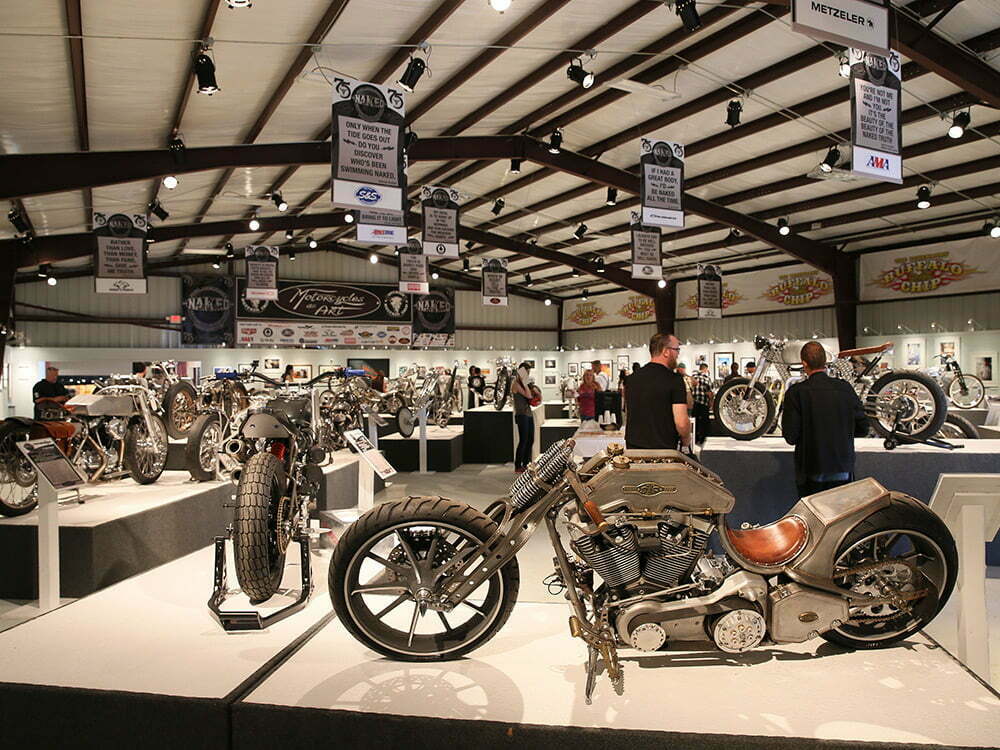 This year's "Passion Built – Garage to Gallery" theme is an intriguing one. While one of the prerequisites for participants was having a history of building three professional-quality custom bikes on their résumé, they'd also have to have otherwise supported themselves by other means. So for this year's show, you'll see names recognized more for their roles as professional musicians than bike builders, including Xavier Muriel of Buckcherry and Gilby Clarke of Guns N' Roses. While everyone knows Willie G has designed some of Harley-Davidson's most iconic motorcycles, fewer know that he's also an accomplished watercolor artist. Same with Willie G's design partner at Harley, Ray Drea, who will likewise have his paintings featured in the show. This year's Motorcycles as Art exhibit will showcase a different side of many.
The "Passion Built" theme extends to Lichter himself, as putting on the show every year is truly a labor of love.
"Every year it's like coming up with a new business. We have a new name, a new logo, different people, different themes. It's an all-year endeavor. With 53 participants this year…that means I'm communicating with 53 different people on every detail. And then I have my day job. My wife would love for me to retire!" Lichter said with a laugh.
In the end, though, all the hard work is worth it. The caliber of the customs in the show is extraordinary. Ditto for the artwork and photography. The Motorcycles as Art industry party to kick off the exhibit has grown into a marquee event at the Chip. The exhibit gives proven professionals a platform to showcase their skills, while offering up-and-comers exposure for their work. It also is a reflection of what's going on in the custom motorcycle world as Lichter "tries to keep his finger on the pulse of what's going on the best I can." He's one of the hardest-working men in the industry, attending just about every major show in the circuit, so if anybody knows what's going on in the motorcycle world, it's Lichter.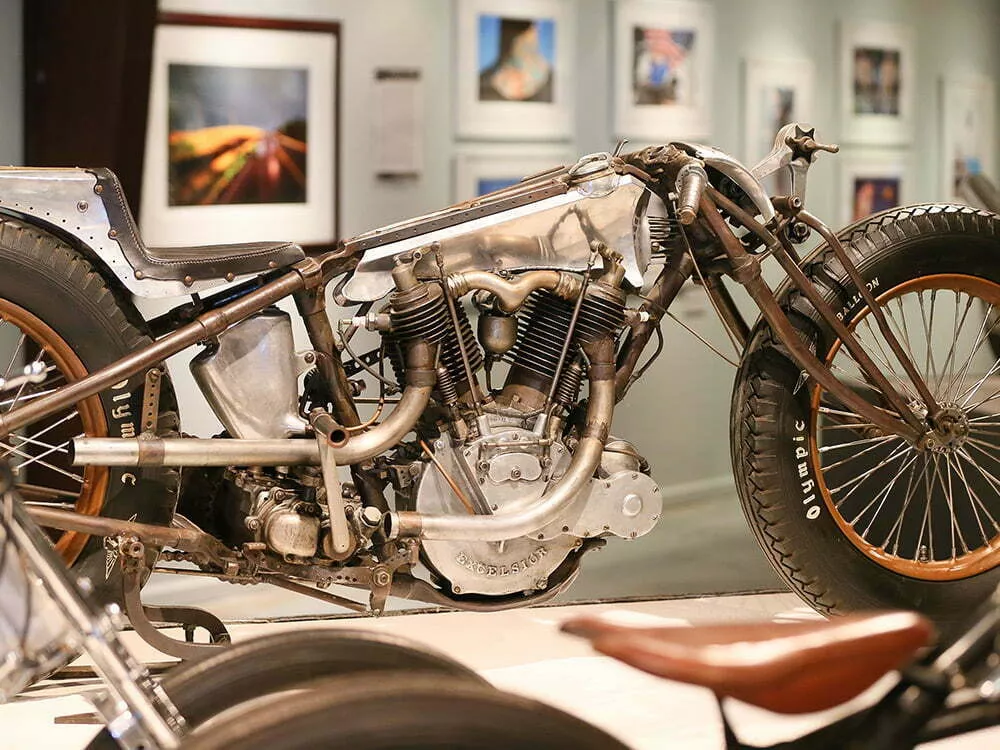 Participating Builders In "Passion Built"
Ben Jordan, Waxhaw, NC
Ben Zales, Burbank, CA
Brad Gregory, Glenwood, IA
Brad Richards and Ry Seidler, Milwaukee, WI, and Detroit, MI
Bryan Lane, Waxhaw, NC
Bryan Stalcup, Arlington, TX
Bryce Schmide
Carsten Fritzen, Beaufort, SC
Chris Callen, Tarentum, PA
Chris Graves, Milwaukee, WI
Chris Tope, Richardson, TX
Christian Newman, Buffalo, NY
Clinton Wallace, Cleveland, TX
Dan Rogensvoog, Franksville, WI
Eric Stein, Monroe, NC
Gilby Clarke, Sherman Oaks, CA
Jack Deagazio, East Syracuse, NY
Jeff Holt, Orange County, CA
Johnny Humphrey, Terre Hill, PA
John Barwood, Payson, AZ
Justin McNeely, Jackson, MO
Kevin "Teach" Bass, Prior Lake, MN
Mark Shell, Idaho Falls, ID
Marty Davis, Pensacola, FL
Nick Pensabene, Edgewater, FL
Peter Ballard, Barrington, NH
Randall Noldge, Saint Louis, MO
Rick Pew, Fort Lupton, CO
Skeeter Todd, Maryland, NY
Stacy McCleary, Manteca, CA
Steven Bates, Saginaw, TX
Tim Dixon, Ten Mile, TN
Tim Scates, Waller, TX
Ulf Musekamp, Munich, Germany
Walker Pew, Frederick, CO
Wayne Burgess, Fenwick, Ontario, Canada
Will Thomas, Los Feliz, CA
Xavier Muriel, Round Rock, TX
Artists In The Group Show & Artists Who Painted Biltwell Helmets
Aaron Kruger, Denver, CO
Ana Vivian, New York, NY
Anthony Phillip Festa, NY
Billy spACEy Lyons, Meridian, MS
Chris Callen, Tarentum, NY
Christopher Galley, Buffalo, NY
Dan Venditto, Ephrata, PA
Genevieve Mariani, Pasadena, CA
Grail Ogzewalla, Staunton, VA
Jimmy Frizell, Sussex, NJ
Ken Carvajal, Lombard, IL
Ray Drea, Whitefish Bay, WI
Steve Caballero, Carlsbad, CA
Tyler Nottingham, China Grove, NC
Willie G. Davidson, Milwaukee, WI