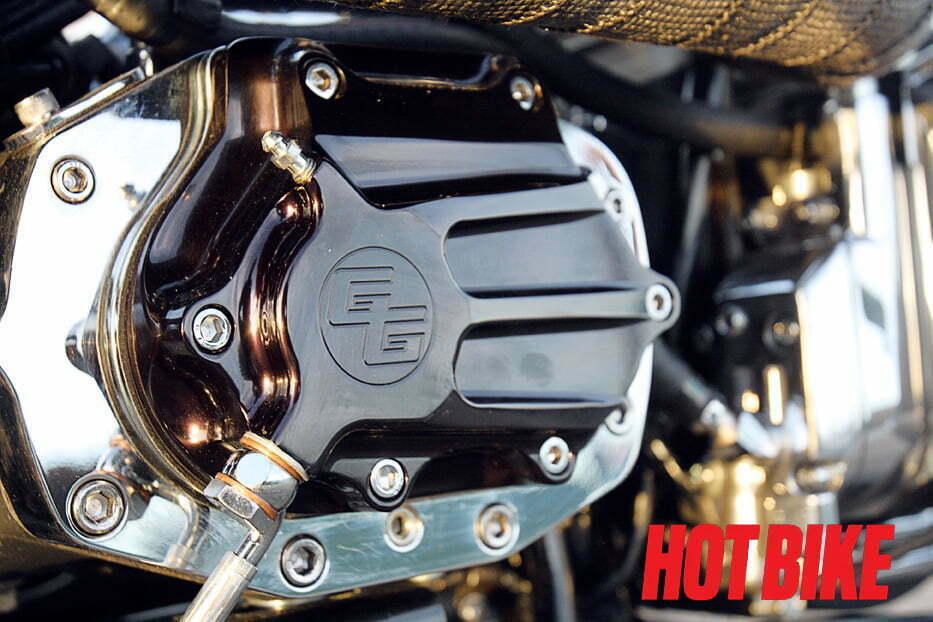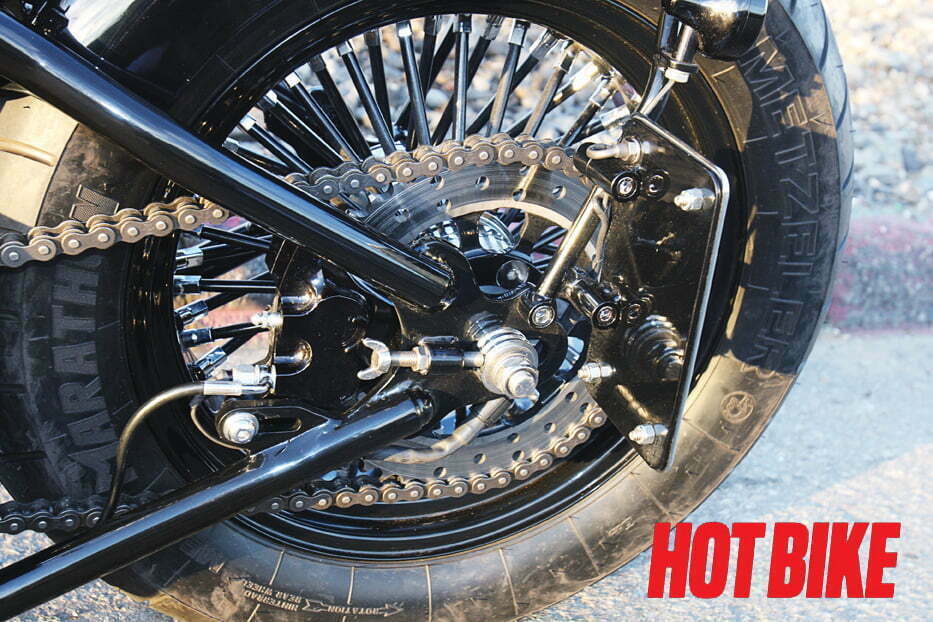 There are many broad-based words in the English language these days. "Chopper" is definitely one of them. Purists might differ starkly from a modernist, but the end results are same regardless of how you start or what you start out with: a non-stock V-twin.
James Gibson's ride actually started out as a complete bike—a completely different bike, and a completely wrecked one at that. Although it shows no resemblance now, his '99 Evo was born out of The Motor Company as a Night Train. At some point, its H-D-bred life was cut short, leaving little but a clean title in which to work with. The price was right, and Gibson had already been collecting parts for a future build—47 Industries rigid frame, oddball four-over springer (LB swap score), and a set of wheels from Ride Wright.
But a pile of parts is just that—a pile of parts—something his wife, Kelly, wasn't too fond of. With a stern dictate to "get it done 'cause I don't want a lifelong project lying around," James initially sought out advice from friend Rico Fodrey at Hi-Bond Modified. Months of persistent questions finally led to the project ending up at Rico's shop in Pomona, California, where the wheels were literally put in motion.
The goal: Build a semi-modern chopper with a bit of an early flare to it. As Rico tells it, "James [no slouch at 6-foot-5] wanted a jockey shift, no front brake, high-bar chopper with a springer front end, yet he brought me a fat rear wheel and a sketchy springer. So I gave the springer a thrice over—made 'safe' rockers [with bearings], set it up with heavy-duty springs, and then set up a rolling chassis with a great stance."
As for the mechanicals, the first step was to address the broken H-D cases. No problem. Harley handled with replacements (it's not as easy as it sounds, unfortunately.) Next, a new top end was sourced out, as well as the remainder of the drivetrain and ancillary parts. "Problem was, the top end was bare aluminum, and because the engine was out of a Night Train, H-D would only supply new cases in black," Rico explains. "Early on, we had decided that this bike would be all black with just a little chrome and polished aluminum, but I knew a silver top end would set the bike off just right. It took a lot of convincing for James to finally agree!"
Back to the ancillaries: "We went with a black PM rear sproter and forward controls with left side hydraulic clutch setup," Rico says. "James wanted a Moon oil bag, so I custom-mounted it with a low battery behind the tranny. He'd picked up so-so 3-inch electric start primary from a friend along with some mounting plates from the LB swap, which I tuned up—but decided for safety's sake to install a PRIMO Centri-Force clutch—and then made a long, tall jockey shifter for the six-speed trans."
After Rico found a thick, fat fender to accommodate the thick, fat rear wheel, he bent up a custom sissy bar, integrated with a Top Shelf taillight and plate mount, and installed a 4-gallon Paughco tank before sending them off for paint at Arturo's Body Shop. Everything else was coated black at Corsair Powder Coating.
Piece by piece, little by little, through begrudging decisions between builder and owner, not to mention the right amount persuasion from his better half, James' ex-Night Train finally became the bike he'd set out to achieve.