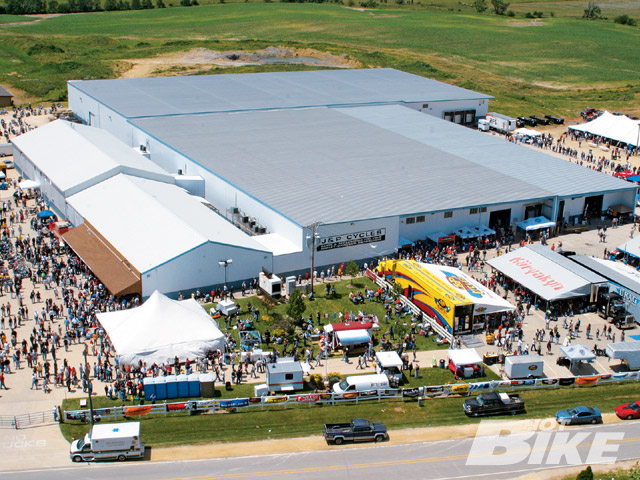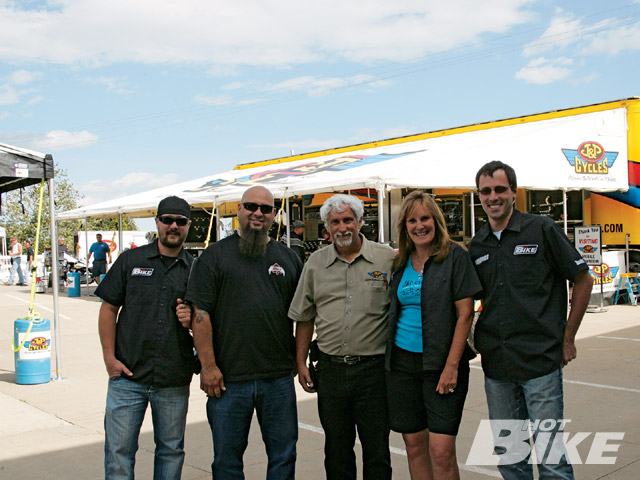 It's no secret that J&P; Cycles is one of the largest aftermarket motorcycle parts suppliers in the country. And because many motorcycle enthusiasts have probably purchased one item or another from its massive catalog, J&P; likes to show its appreciation every year by saying thank you to its customers and dealers by hosting a little soiree, Iowa style.
The J&P; Cycles Open House, which took place on June 28, 2008, located at the J&P; headquarters in Anamosa, Iowa, was the perfect location to host a party of this magnitude. This 29th annual shindig was well received by the public and the J&P; staff supplied plenty of good grub and drinks. Attendance was estimated at a whopping 15,000 people, which was the largest number ever in attendance since the Open House began in 1988. 2009 marks J&P; Cycles' 30th anniversary in the business and it's 30th annual Open House will be bigger and better than ever, according to J&P; Cycles.
John Parham, president of J&P; Cycles was on hand with his wife and Vice President for J&P; Cycles, Jill Parham, to visit with guests and vendors. "This year's event was definitely larger than any other year," said John. "It was a nice, sunny day for the event and we were thrilled by the record turnout. Motorcycles were visible as far as the eye could see. It was amazing," John said.
Representatives from over 60 manufacturers were spread throughout the grounds to talk shop with those interested in their products. Those attending included: Custom Chrome, Spyke, Cobra, Cruz Tools, S&S;, Progressive Suspension, Kuryakyn, SuperTrapp, Biker's Choice, Drag Specialties, Fat Baggers, and many others.
Just a mile or two down the road from the J&P; mothership is the National Motorcycle Museum, which houses some of the coolest two-wheeled collectables that you won't find anywhere else in the world under one roof. From very early Crockets and Vincents to Harley-Davidsons and Triumphs, it's easy to lose track of time when walking the museum floors.
The annual silent auction for the National Motorcycle Museum raised $4,000 from customers bidding on more than 60 items. The range of products up for grabs included your basic pair of shades to a Milwaukee Twins transmission.
Speaking of raising money for a good cause, on Friday before the Open House, J&P; hosted a charity golf tournament to raise money for Camp Courageous. Camp Courageous is a not-for-profit organization with a year-round respite care and recreational facility for individuals with disabilities. A record $12,000 was raised for the camp on Friday alone. The camp serves more than 5,000 individuals each year from ages 1 to 105. The golf tournament began in 2002 for the manufacturers and distributors who make the trip to Iowa for the annual J&P; Cycles Open House. In addition to leisurely catching up with industry cohorts while shanking golf balls, the participants give back by raising funds for Camp Courageous. J&P; Cycles has been a supporter of Camp Courageous for over a decade.