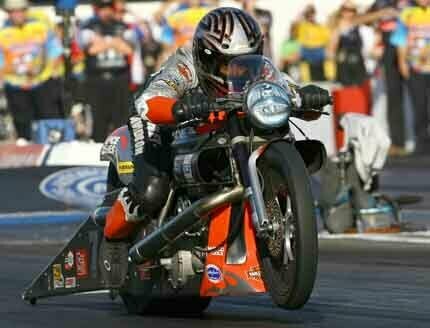 KRAWIEC RACES V-ROD® TO NHRA FINALS AT ENGLISHTOWN
Krawiec Builds Lead in Pro Stock Motorcycle Series, Hines Holds Down Third Place
ENGLISHTOWN, N.J. (June 14, 2009) – Screamin' Eagle®/Vance & Hines rider Eddie Krawiec raced a Harley-Davidson Screamin' Eagle V-Rod® to the final round of Pro Stock Motorcycle eliminations at the United Association NHRA SuperNationals at Old Bridge Township Raceway Park. Making his fourth consecutive final-round appearance, Krawiec lost to Craig Treble but added to his overall lead in the Full Throttle Pro Stock Motorcycle series, and tops the division by 76 points.
Krawiec qualified fourth for the event with a run of 7.011 seconds, just ahead of Screamin' Eagle/Vance & Hines rider Andrew Hines at 7.012. Hector Arana was the quickest qualifier with a run of 6.965 seconds.
Hines opened Sunday eliminations with a win over Stone Mountain/Granite Mountain Harley-Davidson rider Junior Pippin. Krawiec defeated Suzuki rider Wesley Wells in the first round, and for the second week in a row faced Hines before the final round as the teammates lined up in round two. Krawiec prevailed with a 6.994-second run to best the 7.051 of Hines. Krawiec then used a 6.954 run to beat Rum Bum Buell rider Bailey Whitaker (7.193) to advance and face Treble on the Team Scream Suzuki in the final round. Treble won with an outstanding 0.007 reaction time and a 6.955 elapsed time, as Krawiec left the line in 0.061 seconds and could not make up the difference despite his quicker 6.906 ET, his best of the day.
"You had better bring a great reaction time when you line up against Craig Treble," said Krawiec, who is the defending NHRA Pro Stock Motorcycle champion. "Mine was not terrible but not enough to get it done, so it's disappointing to lose after putting up a great ET. I'm happy we were able to gather more data about both of the Screamin' Eagle V-Rod bikes and how the additional twenty pounds is affecting our race bikes this weekend."
Hines said both Screamin' Eagle V-Rod motorcycles are working well off the starting line.
"These are the same engines we ran last weekend in Chicago, and I think we are getting closer on a new tune-up to accommodate the 20-pound heavier minimum weight for our bikes," said Hines. "We are really strong in the first 60 feet, so we are getting some ET back there. Now we've got two weeks off, so we'll get back to the shop and tear everything down and see if there are any surprises inside."
After six events on the 17-race 2009 NHRA Full Throttle Pro Stock Motorcycle schedule, Krawiec leads the series with 528 points. NitroFish Buell rider Matt Smith moves up to second place with 452 points, while Hines drops to third with 436 points. Treble is fourth with 427 points.
The next event on the 2009 NHRA Pro Stock Motorcycle schedule is the Summit Racing Equipment Nationals, June 25-28 at Summit Motorsports Park in Norwalk, Ohio.
Screamin' Eagle Performance Parts are inspired by and built in the spirit of the raw adrenaline and power of motorcycle racing. Screamin' Eagle Pro parts are specifically designed for race-use applications, while Screamin' Eagle parts offer street-use performance options for the Harley-Davidson motorcycle owner. Visit www.harley-davidson.com for more information.
The Screamin' Eagle/Vance & Hines Pro Stock Motorcycle team is sponsored by Matco Tools, Dunlop and S100.