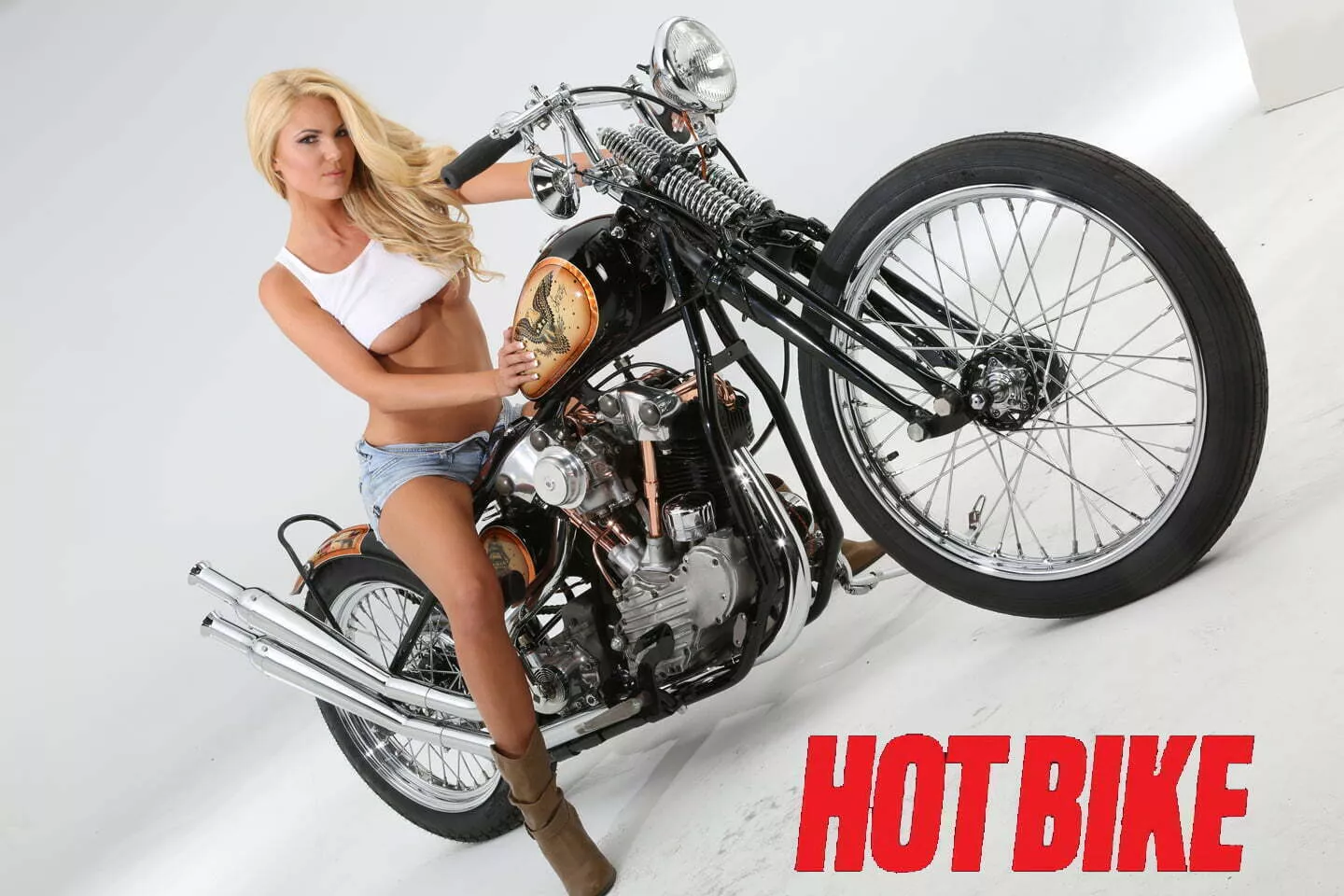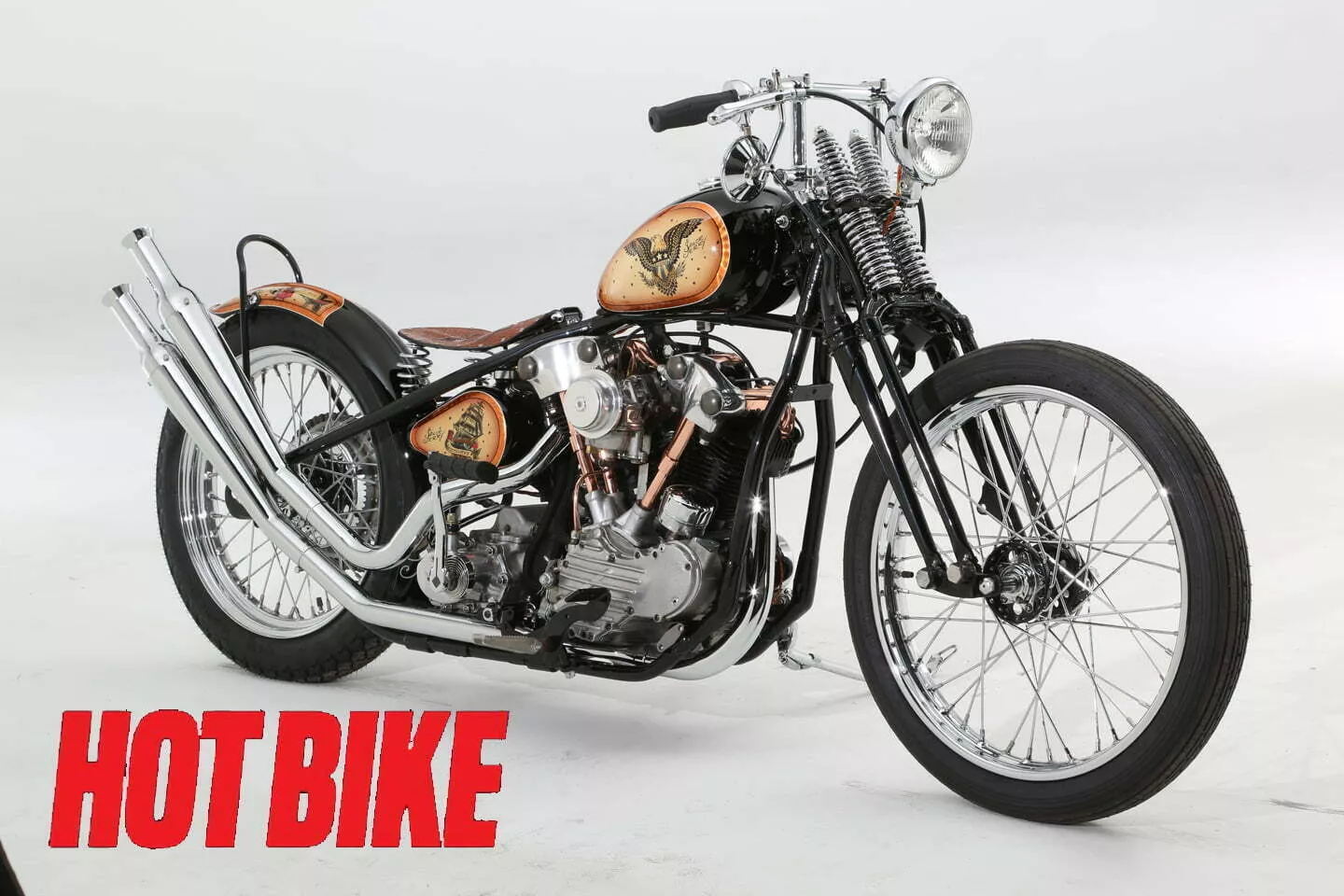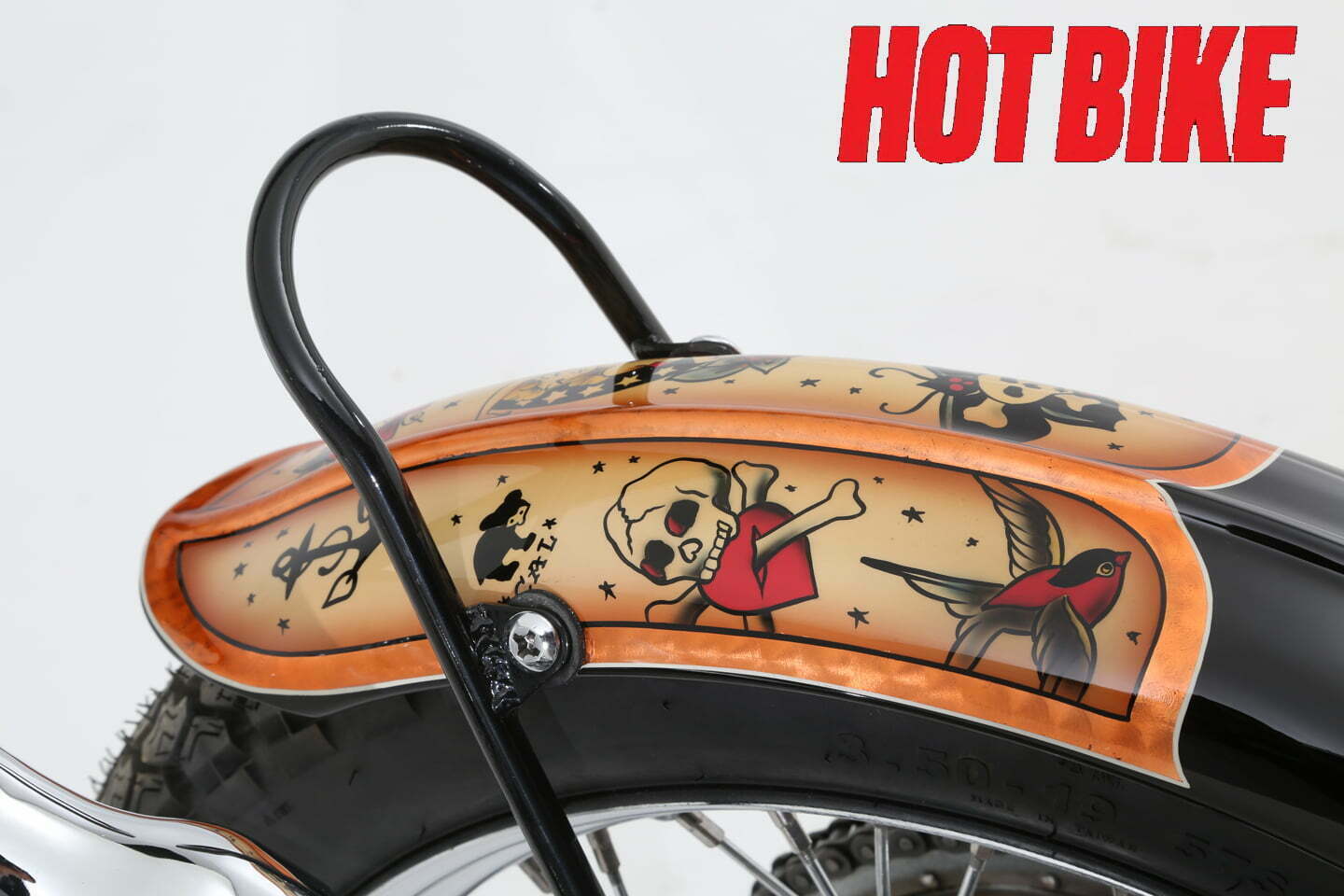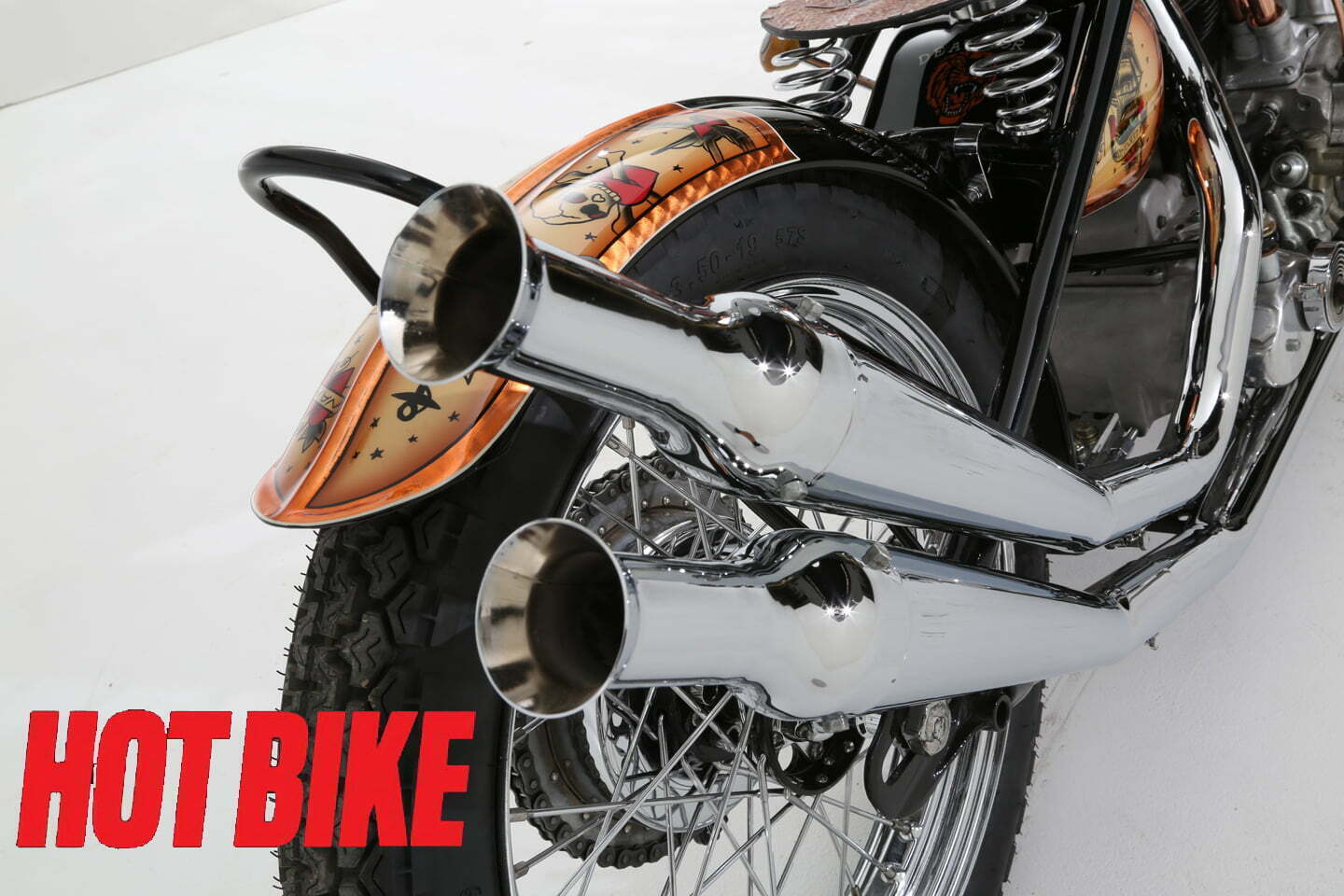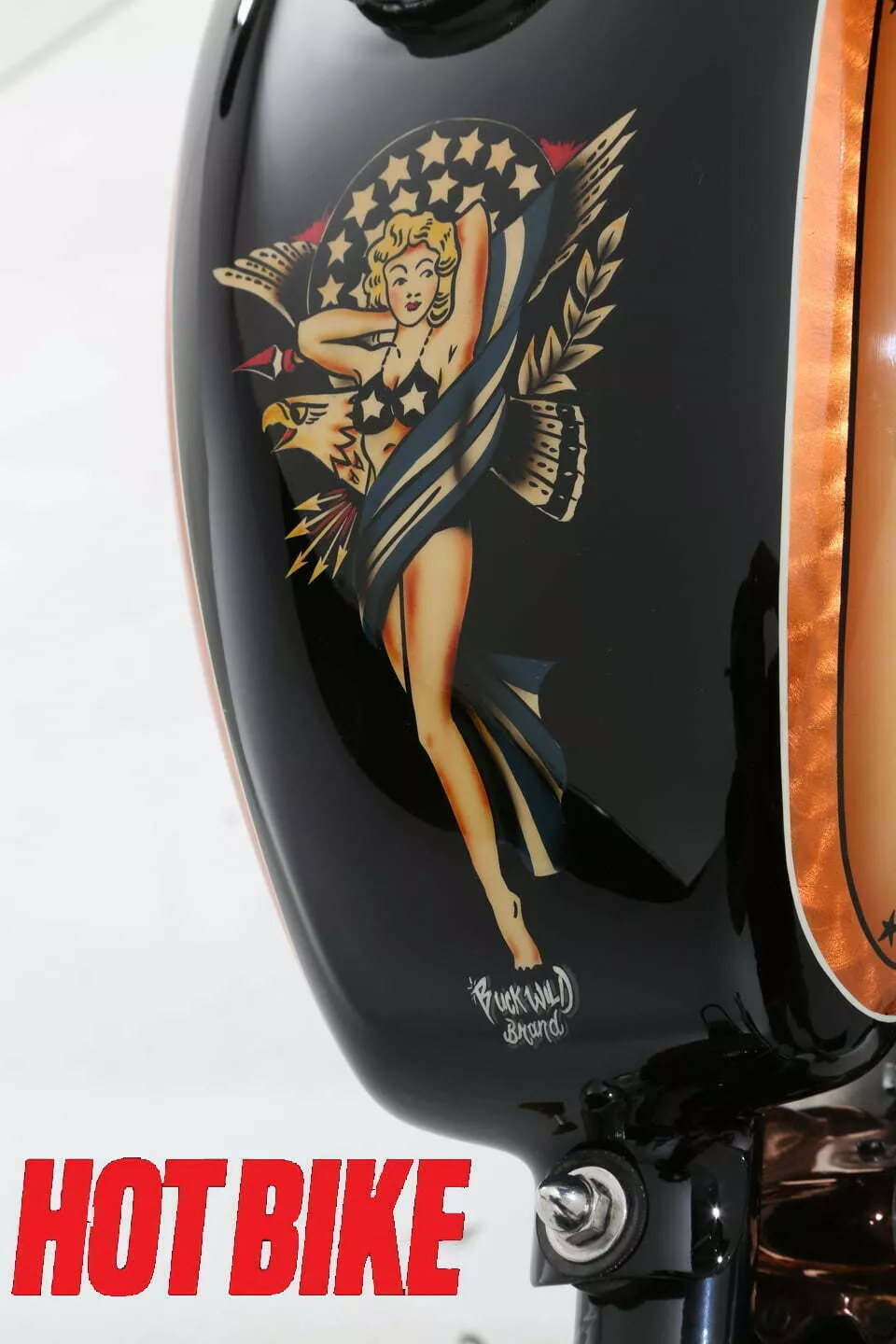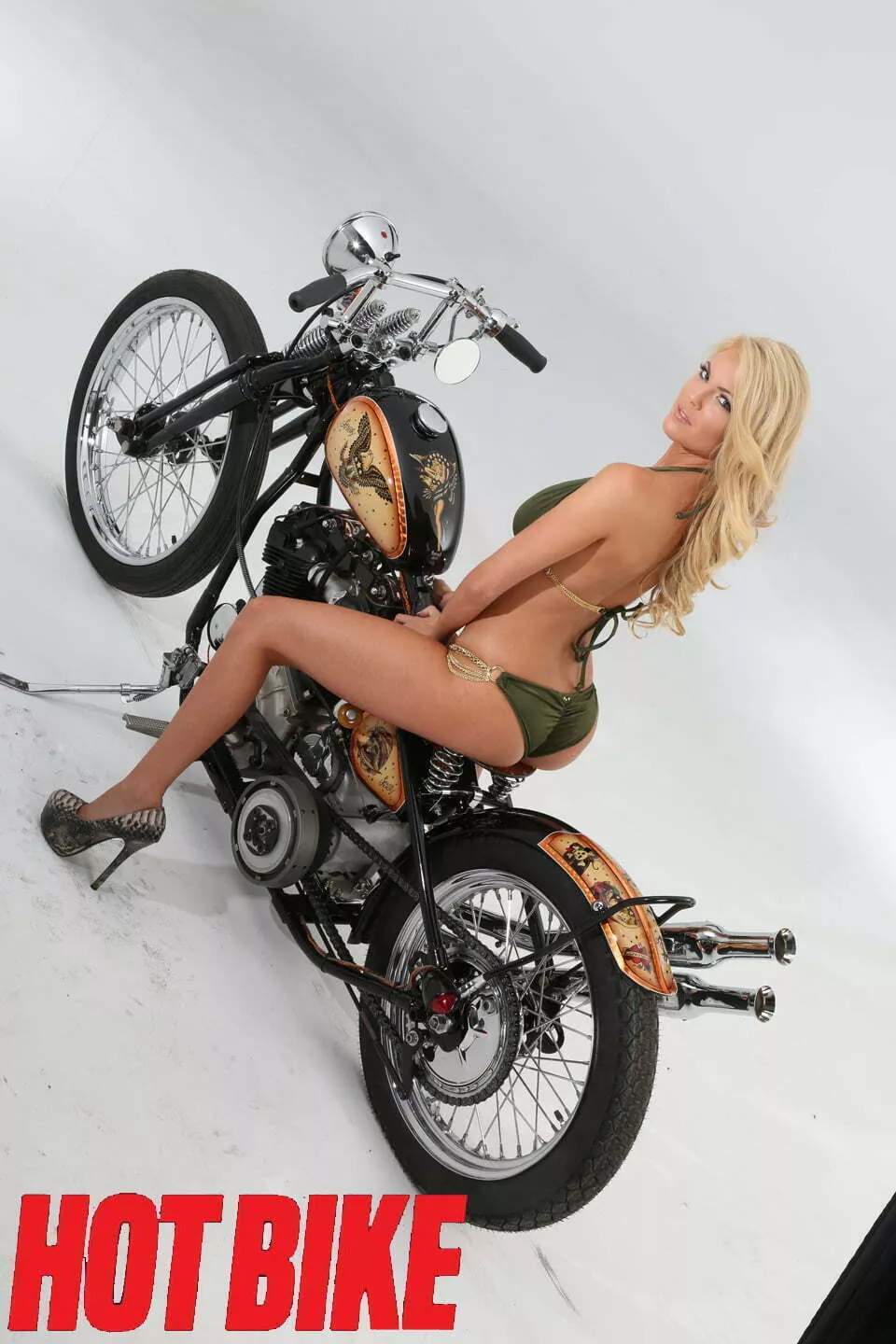 Originally, I bought the rolling chassis from Doug Feazell (also known as "Dougie Poo"). He knew I was looking for a bike project of my own, so he gave me a good deal on a project he had started and never finished. My plan was to build a basic, no-frills bobber with traditional-style parts. The frame and front springer forks were powdercoated black. The hubs are original Star hubs. The front hub is laced to a 21-inch rim, and the rear is laced to a 19-inch front rim with a mechanical drum brake. The gas tank is an original Bates tank. The rear fender is off a Triumph. I made the rear sissy bar out of half-inch solid steel. I used two Offenhauser air cleaners that I cut the bottoms off and then fabricated a sheet of aluminum to connect the two tops together, turning it into an oil tank. My battery is mounted underneath inside my oil tank. The motor is a 1947 74ci knucklehead. I had the rocker arm tins copper plated and the pushrod tubes copper plated also. The carburetor is an S&S Super E. I made the air cleaner by customizing an Offenhauser cast-aluminum piece. My transmission is an original 1947 ratchet top. I made the shifter handle out of a model A Ford shifter. The shift knob is original Bakelite from 1947. The belt drive is an old Primo 1-1/2-inch open belt drive. The exhaust tips are original MCM megaphones. The springer front end is an original 1947. The dog bones are original Flanders. I put my clutch lever on the throttle side so I could have at least one foot on the ground. I machined and threaded my mid-control mounts and screwed on some Anderson pegs. My buddy Berto, who does all of my wire jobs, did my wiring in all cloth wire. I gave it a basic paint job, whipped up a basic leather seat, and I was on the road.
After riding it about six years, I was approached by the guys at Sailor Jerry rum to build them a custom bike. When they came to the shop to discuss the build, they fell in love with the bike. Although my bike wasn't for sale, they proposed a deal that allowed me to retain ownership of the bike, so really I couldn't refuse. With a little facelift, including a complete teardown and rebuild, my bike became the Sailor Jerry bike. The renowned French craftsman Pascal of Hollywood Riff Raff handcrafted the leather seat using Sailor Jerry artwork. I needed a true artist to do the original Sailor Jerry artwork justice, so I called my good buddy Buck of Buck Wild Brand to lay down the amazing paint and hand-drawn Sailor Jerry graphics.
<div class="st-block quote text-
Notice: Undefined index: st_text_align in C:laragonwwwhotbike-importblocksquote.php on line 1
">
In the end, I still love my bike, and more importantly, Sailor Jerry was thrilled!
I rode the bike more than 1,000 miles on the 2014 Hot Bike Tour, and Sailor Jerry borrows the bike from time to time to put on display at different events they participate in throughout the states. It was a win-win for all involved, and the free rum just sweetened the deal.