So how did three amigos from Austin working in the film industry end up opening up a do-it-yourself motorcycle garage on the fringes of Los Angeles' Arts District? Did we mention that this particular spot has put itself on the moto-industry map in just a few short years? We'll let proprietors Ty Neff and Jackson McGovern tell the story behind Lucky Wheels Garage. (Since helping the garage open, the third amigo, Cameron Jones, has returned to the film industry.)
"When work started to slow down in Texas, moving to California just kind of made sense," Neff said about his relocation to LA late in 2013. Turns out, things were pretty slow in the California film industry at that time too. "Everyone was moving to Atlanta," McGovern laughed.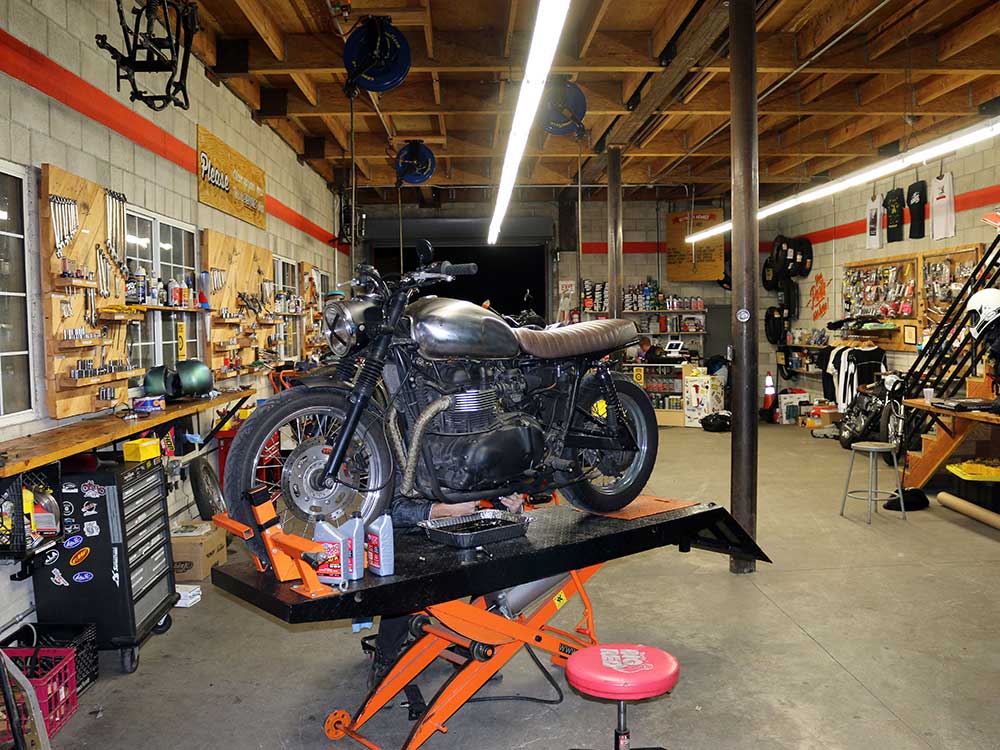 "When those guys took off (Ty and Cam), I had a couple other film buddies in Austin and we were all working on bikes and found this barn in north Austin that we rented," McGovern continued. "It was like $40 a person for six months. We had to run electricity to it but ended up building it out and making it really nice. Turns out it was basically an abandoned building we were renting illegally."
Before heading to LA, Neff and Jones were living in a warehouse on the other side of downtown Austin which turned into a hub for buddies to come over and wrench. "We had what was the beginning, I guess, of a small lighting company," Neff said. "So we had a bunch of lighting equipment stored in there. We worked on our bikes and lived in there too. As we started meeting other people who rode motorcycles we realized nobody really had a place to work on their bikes, so a lot of friends worked on their bikes at our place.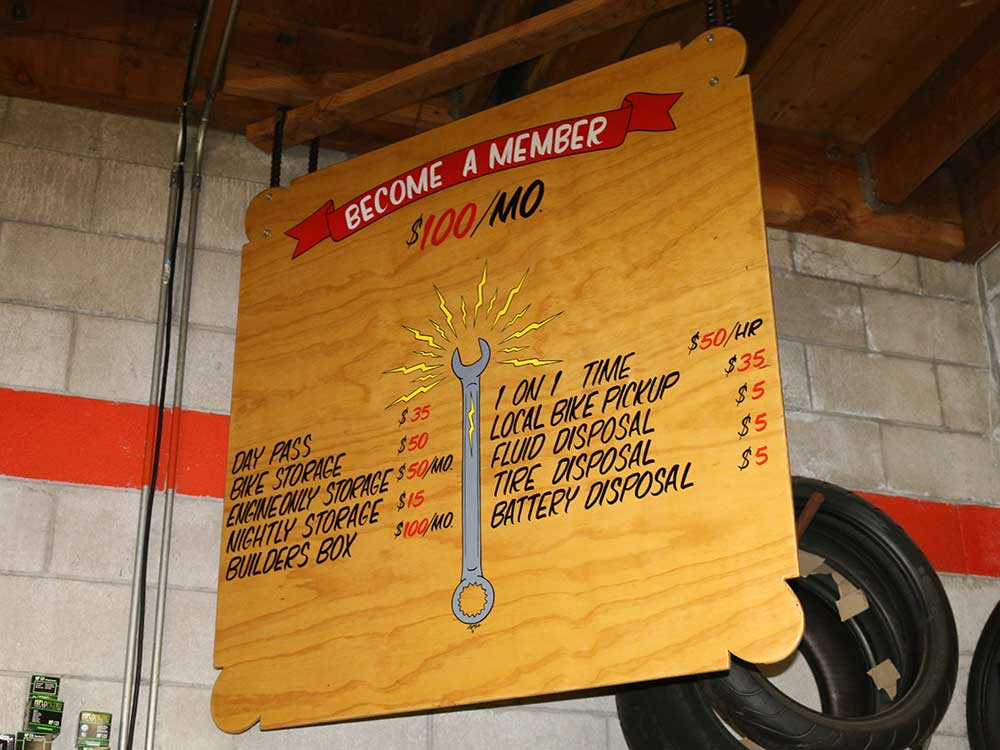 "So we all were working on a movie in New Mexico, and in the middle of shooting we hired Jackson. We started talking about this idea because we realized we both had a loose version of this going on. We had heard of a couple other DIY garages and began to get really fascinated with the idea. We agreed that one year from now each of us needs to save up some money and we'll reconvene and start it off," he added.
Not long after, McGovern packed up his motorcycles in a moving truck, screwed his air compressor to the floor, and headed west to join his buddies in LA just before Thanksgiving of 2014. They had secured the building, spent a month building it out, and opened their doors December 4, 2015.
According to Neff: "We just threw a big party and said there was free beer and had a bunch of bands play. We offered a deal where if you signed up at the party you would get a discount for life. Instead of $100-a-month you get $85-a-month for life, and we ended signing up almost 20 people. Three of them were like, can we start working on our bikes right now?".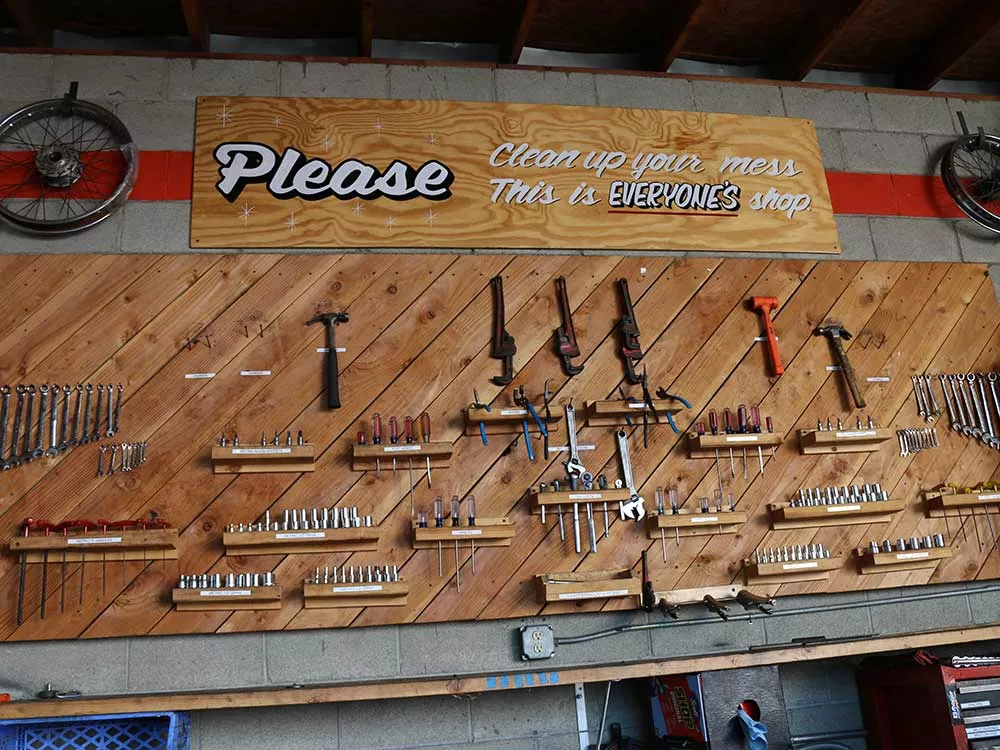 Between the three of them they had a healthy amount of tools but they needed a lot of other items to get going, with lifts, fab equipment, and drop-down air lines being some of their major expenses. Another big task was running 220 power out to the back garage. As business picked up they ended up rebuying a lot of the hand tools so that they'd be standardized which would make keeping track of everything easier. They had two old Miller MIG welders in the back until a Lincoln Electric rep popped in one day and said, "I don't like those old blue welders, you need some new red ones" and shipped them two new Lincoln welders.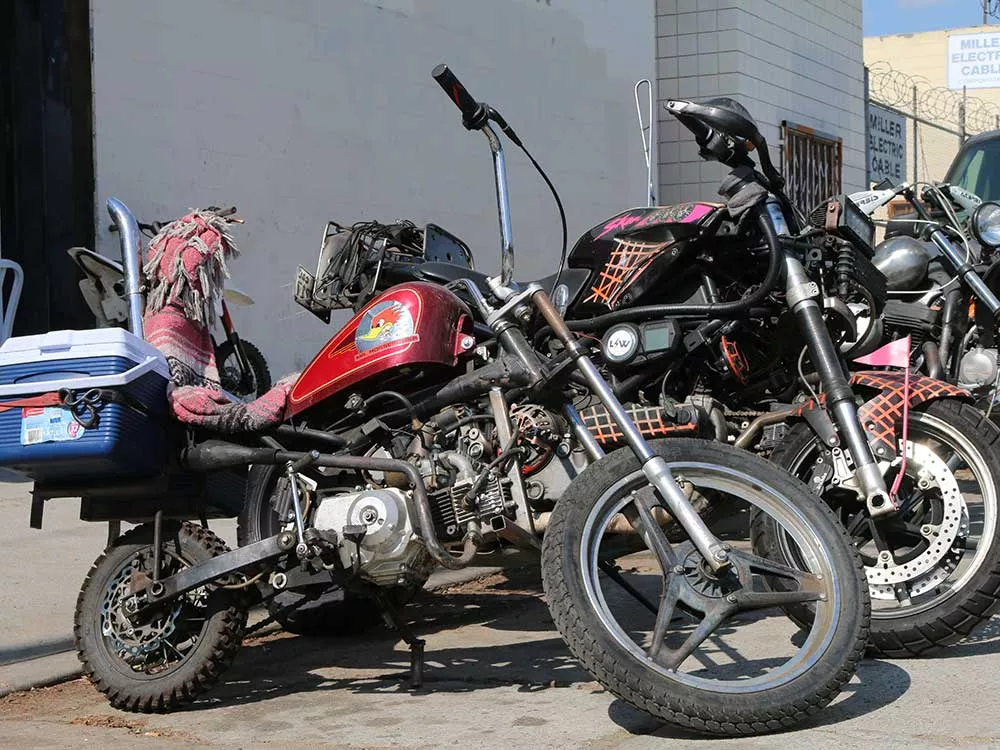 Lucky Wheels' success has benefited from the fact that the garage has become a hip place to hang out in addition to providing a spot for people to wrench on their bikes. Adding parts on-site to their business model—necessities like tires, tubes, spark plugs, oil, and filters—is admittedly one of the smartest moves they've made. If it's something they don't have on hand, they can get most parts delivered within a few days.
"A light clicked on… We can sell them parts too!" the guys chimed in almost simultaneously. They also expanded their base of operations by opening a coffee shop last December and continue to strengthen their brand with a Lucky Wheels merch line which features everything from moto jerseys to coffee mugs. Lucky Wheels has also captured the attention of several major motorcycle manufacturers who have rented out the space for press events, thus adding another revenue stream.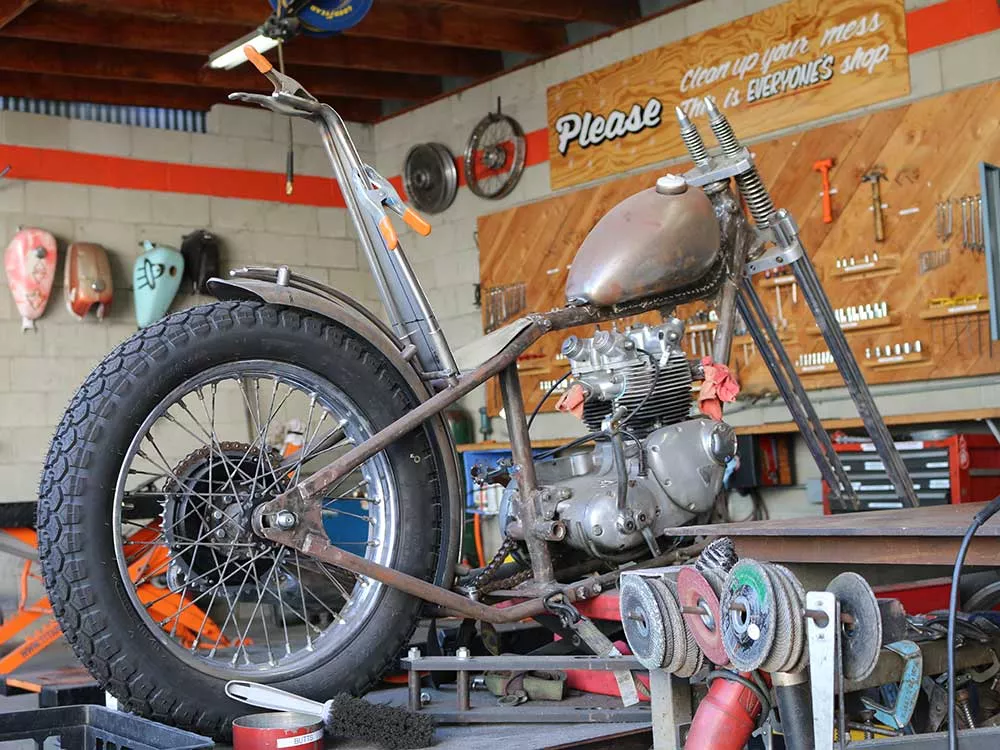 "We've curated it to where it's really nice and photogenic. Indian's held functions here the last three years," McGovern said.
The MotoLady, Alicia Elfving, recently held her Women's Motorcycle Show at Lucky Wheels, which attracted so many revelers the police got called to break up the party. Lucky Wheels also hosts its own events, from the Good Luck Motorcycle Show to the White Lightning Campout.
During our visit, Eugene Chang was busy pulling off a front tire and replacing a busted fork gaiter on his 2013 Moto Guzzi V7 Sport because "it was bugging him." Chang discovered Lucky Wheels when he needed a place to fix his fork after what he called "a little accident." He said local shops who work on European bikes kept jacking him around on price and couldn't get him in for several weeks. He'd heard about the nearby DIY garage so he checked it out and ended up fixing it himself, saving both time and money.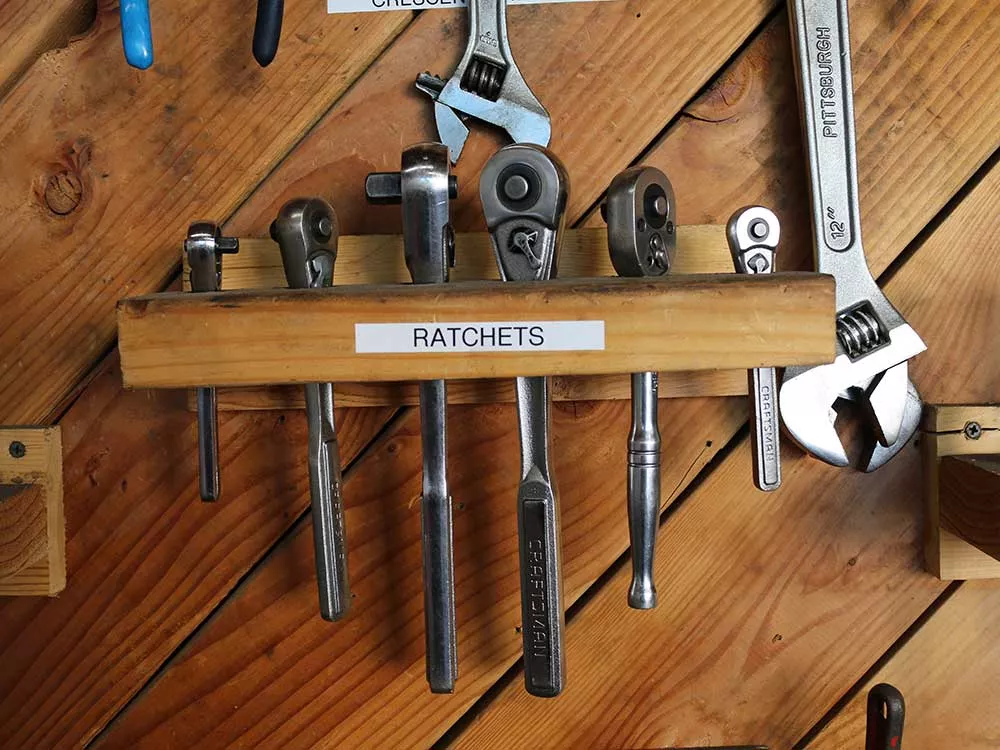 Membership is fairly straightforward; $100 a month or $35 for a day pass. Sign up for six months and you get a $100 break. Sign up for a year and you save a couple hundred bucks; a yearlong membership costs $1,000. Then there's the fortunate few who have supported Lucky Wheels from the get-go and receive the $85 bargain for life. Members also are privy to perks like private parties and rides, free swag, a couple nights of bike storage, and a guest pass every month.
---
---
The guys at Lucky Wheels are on to something. When they opened up shop, they knew of about eight other garages doing the same thing. Now they can rattle off more than 20 motorcycle DIY garages that have sprung up from coast to coast. A couple of former Lucky Wheels members just opened up their own DIY garage called Yup Moto in Milwaukee, Wisconsin, a smart place to start a shop considering Milwaukee is home to the Harley-Davidson mothership.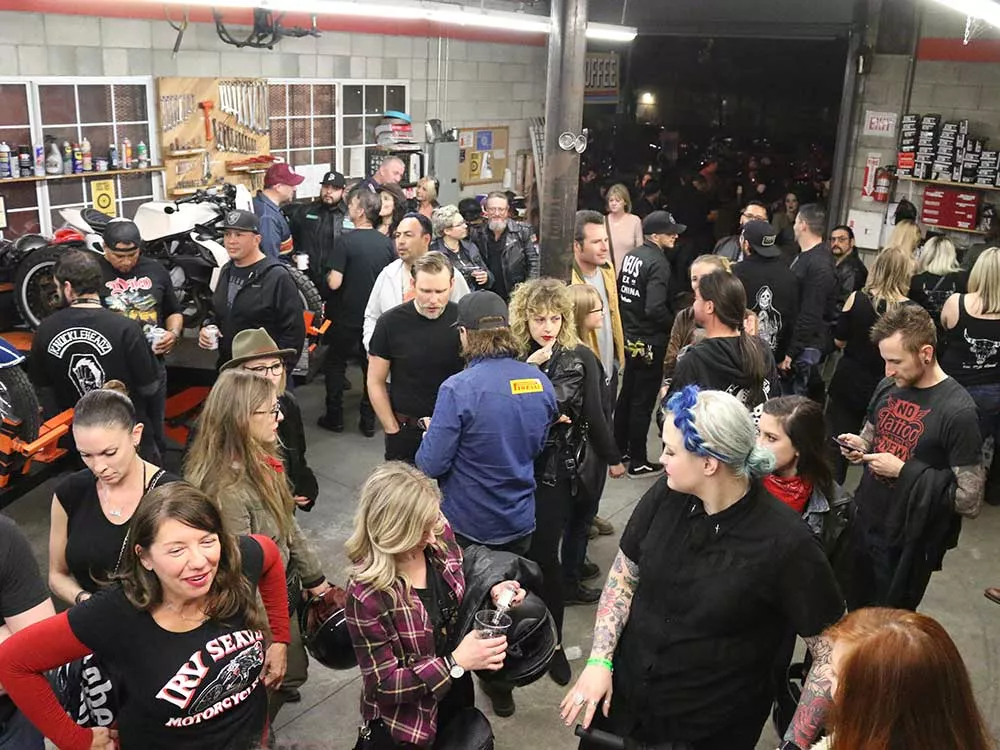 Maybe even more important is the fact that these garages provide an environment where the up-and-coming generation of riders likes to hang out. The majority of the people coming through Lucky Wheels' doors while we were there were under 30. I see the appeal. Lucky Wheels is funky and eclectic, a direct reflection of its owners. While lifts and tools call downstairs home, in the space above the garage there's a pool table, an iron arm wrestling table outfitted with a motorcycle handlebar, and banjos and guitars strung on the wall. And even though they're living the West Coast lifestyle now, there'll always be a little Texas in the boys' hearts, evidenced by Waylon and Willie's "Mama Don't Let Your Babies Grow up to be Cowboys" playing over the loudspeaker and the cornhole board cut out in the shape of Texas and painted like the state flag sitting by the pool table.