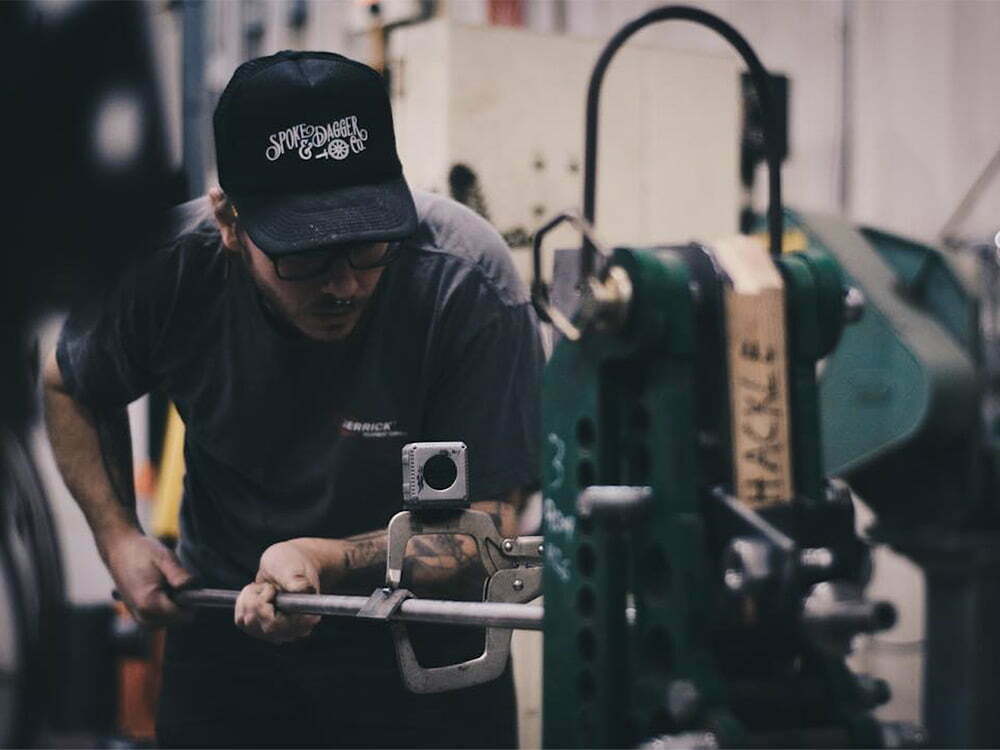 Voting for Indian Motorcycle's The Wrench: Scout Bobber Build-Off is officially closed and three men have been chosen to each receive a new Indian Scout Bobber and $10,000 in customization cash to create a one-of-a-kind custom Indian Scout Bobber.
Chose through an online fan voting process on Indian Motorcycle's website, the top three finalists are: Christian Newman from Buffalo, New York, PJ Grakauskas from Avon, Ohio, and Alfredo Juarez from Las Cruces, New Mexico.
The Wrench: Scout Bobber Build-Off, a custom motorcycle competition, was developed to spotlight amateurs who build bikes purely for the love of turning a wrench and shaping sheet metal into handcrafted works of moto art. A judging panel of professional builders and experts, including Roland Sands, Satya Kraus, Jason Paul Michaels, and Hot Bike Editor-in-Chief Jordan Mastagni along with an online fan vote selected Juarez, Grakauskas, and Newman as the top three entrants who will face off in a custom-build battle for a grand prize of $10,000 and a feature spread in Hot Bike Magazine.
From March 15-30, hopefuls from across the nation entered for the chance to win a new 2018 stock Indian Scout Bobber and receive a custom build budget of $10,000 to design and radically customize the stock bike. From more than 100 submissions, 12 top designers were showcased online and available for fan voting until April 19.
Christian Newman – Age 36 | Buffalo, NY
Newman, a mechanical engineer of mining equipment from upstate New York, is an incredibly creative amateur builder who shook up the chopper scene with his recent build of a 1940 V-twin fabricated almost entirely out of stainless steel. Newman will be building a swingarm-chopper-style Scout Bobber with old-school custom components, including a Crazy Frank fender and raw metal fabrication. Newman uses many old-world techniques which are more painstaking than most modern methods but require a more intensive attention to detail and higher level of craftsmanship.
"I'm excited to take a modern Indian motorcycle and infuse it with an '80s chopper aesthetic," Newman said. "I love that Indian is doing a 180 with this contest and shining a light on the guys who build for nothing more than the love of creating something totally personal and totally unique."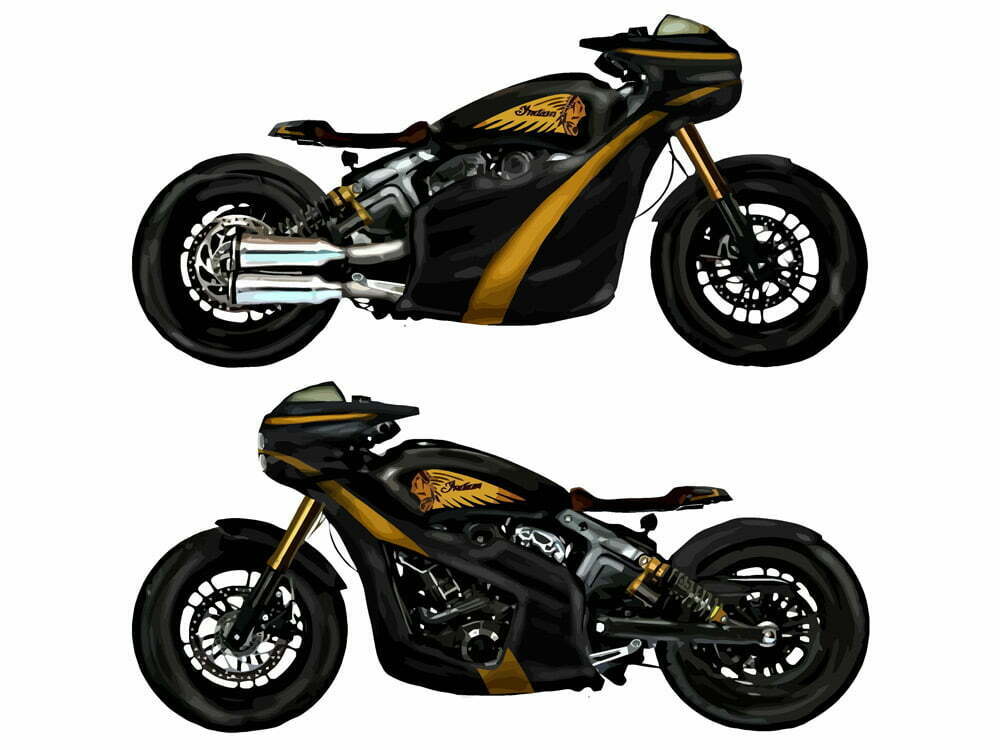 PJ Grakauskas – Age 39 | Avon, OH
Grakauskas is a family man from Ohio working as a safety inspector for OSHA, but it's inside the shed in his backyard where his real passions are fed. With several polished and refined café racers under his belt, the Scout Bobber will be a totally unique platform for Grakauskas, but one he has been dreaming of building for quite a while. Inspired by his love for roadracing, Grakauskas is building a full-fairing café racer with race-inspired brakes and suspension, as well as taking additional measures to increase the stock engine's output. Grakauskas' drawing looked good, but he promises it'll be nothing compared to the finished product.
"I'm looking forward to creating a bike that expresses my passion and love of all things moto and paying homage to those who paved the way for what custom motorcycle culture is today," Grakauskas said. "I couldn't be more grateful or humbled to be chosen to build for a company with as much history as Indian."

Alfredo Juarez – Age 34 | Las Cruces, NM
Juarez is a NASA engineer based in Las Cruces. He started wrenching at the age of 12, but his fabrication journey began in college, building bikes and hot rods for his friends, and making all of the tools and tables he needed to do the job right. Spending his work days building things like flammability testing chambers makes the complex designs and ideas he submitted seem simple to him. When developing his concept for the competition, he visited an Indian Motorcycle dealership with an engineer's scale and was able to glean all the necessary measurements to design his draft perfectly to scale—including his proposed rake, trail wheelbase, and seat height within his entry.
While his design concept is incredibly ambitious within the short timeline, Juarez has built frames in a matter of weeks and is confident he'll can produce an incredible rigid Scout Bobber on deadline.
"I'm very blessed to have this opportunity put before me, and I'd like to express my appreciation and gratitude to Indian Motorcycle for including me in such a unique competition," Juarez said. "After all the hours I've spent working on bikes over the years, it's amazing to be recognized with something like this contest."
The three custom Scout Bobbers will be unveiled on August 5 at the Buffalo Chip during the historic Sturgis Motorcycle Rally. The public unveil will trigger a second fan voting process, which will determine the grand prize winner. The winner will be announced two weeks later and will receive a $10,000 grand prize along with a feature spread in Hot Bike magazine.
For more information on Indian Motorcycle, visit IndianMotorcycle.com and follow along on Facebook, Twitter, and Instagram. Follow along or join the conversation by using #TheWrenchIMC. Stay tuned as we get to know our builders and watch their creations come to life.