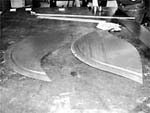 Month after month we feature bikes that simply blow us away with the detail in their sheetmetal. Curves, angles, and shapes that we couldn't even draw — let alone bend metal into — seem to get taken to the next level with each new bike we see. We knew these interesting designs were hand-formed and we understood the basics of how metal is shaped, but to be honest, we had no idea what all the actual steps — from beginning to end — were.
As luck would have it, Ron Covelle, one of the best metalworkers in the business was doing a steel fender-building workshop at Jim Nasi's new shop in Phoenix, so we signed up instantly.
Prior to the class starting one Saturday morning, we wandered around talking to the 20-some attendees to find out why they were there and where they came from. It came as quite a surprise to find people from all over the country — some had traveled from as far away as Chicago and Florida — in attendance. Then, to further our surprise, we found that more than half the class either worked in a bike shop or body shop and had a decent amount of metal-bending experience. The others fell more into our category: those who needed to learn everything.
Covelle runs his class very loosely, emphasizing comfort and encouraging questions. The day flew by, and while we learned a little more than our aging gray matter could comprehend in a single day, we left feeling like the rest of the class: We wanted to sign up for the next workshop.
To get more information on Covelle's classes or to get the schedule for this year, call (800) 747-4631.