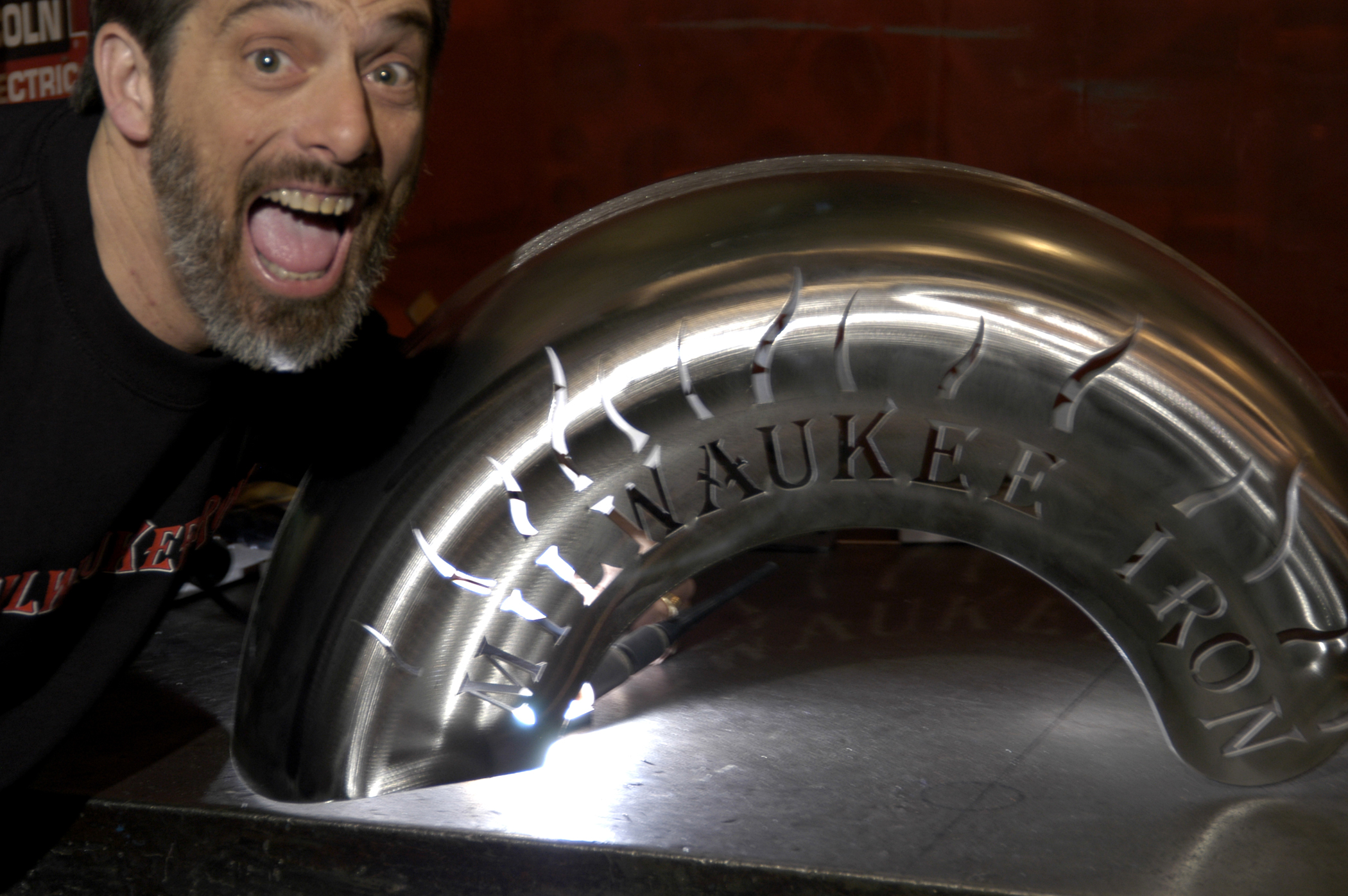 After 26 years operating under the name of Milwaukee Iron, world renowned builder, Randy Simpson, is closing the doors to his Lynchburg, Virginia facility. After two years of a downward trend in motorcycling that has significantly reduced the volume of his sales with stiffer and uneven competition from the overseas' market, Randy is ready to move on to other ventures.
On top of the actual business name and entire product line of Milwaukee Iron and components needed to manufacture them, everything in their shop, all equipment and a 35 year parts inventory, will be liquidated in an auction that is open to the general public on August 27th. Some of the shop items are everything from a spinning machine for fenders, gas and oil tanks and a manufacturing robot that mig welds and plasma cuts using Lincoln equipment to several Lincoln welders (both tig and mig) and flat steel work tables. There are a large variety of hand tools, 2 press brakes (one small and one 88 ton) that will also be included in the auction. Some of the bikes Randy has become notable for during his career like Karnevil, Voodoo Child, Nuthin' Fancy, Southern Steel and even his original Street Survivors will be up for bid.
The parts are too extensive to list in whole but there are many flathead cases and engines, a lot of new old stock frontend stuff (FLH and FLT style) pistons and rings for J models and V's, plenty of frames from Pans, Shovels, Evos, Sportsters and even some of the MI custom frames will be included. All of this and one special item, a 40 foot shipping container that is packed to the roof with parts that will be auctioned as one lot to the highest bidder. They're still loading parts into this thing as we speak.
In talking with Randy about this decision he seems to be in a good place with it. As he sees it, they had a good run and now he's excited to see what comes next. "Motorcycles have always been my passion since I was seven years old when I started riding my dads 65cc Italian Harley, chasing choppers through the streets of Fairview Heights to buying his first Harley at age 17, a 1950 EL Panhead. That's when I started working on them, buying, selling and trading out of my mom's basement. By the time I was 21 I had bought and sold five different bikes. When I turned 26 I came up with the name Milwaukee Iron and bought a little piece of land and built the first shop on it, August 25th of 1983, that's actually my birthday as well. At the time we did what other companies wouldn't do like fixing frames and welding cases. As time went on, we broke into machine and fabrication work, got a lot of press for the bikes we built. When I got to over 300 pages of features and coverage, I stopped counting. That was also when I stopped competing in shows. Our bikes had taken over 50 first place trophies by then and we just decided to continue to develop our product line. We eventually had 13 episodes of our TV show on Discovery Channel and one on Speed Vision. I've met some of the best people in the world and had some incredible people work with us and I thank them all for everything they have done over the years. After all the years and all the dealings we've had, I still can't think of ten that were bad. I guess it's kinda' sad in a way but I'm also looking forward to meeting new people, seeing old friends and waiting to see what happens next. Whatever it is, I'll be out there at all the shows with more time to ride and socialize."
After reaching such heights in the industry, literally hundreds of pages in Easyrider as well as other magazines all over the world, Randy has the ability to look back over an illustrious career. He is keeping his factory frame table and starting over from there and you can bet that whatever he's into, we'll keep an eye out for it. Randy has been a good friend to a lot of us in the industry and it is with a heavy heart that we wish him good luck.