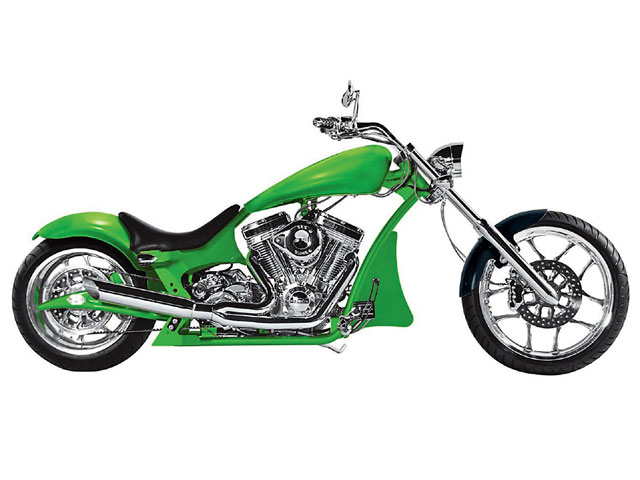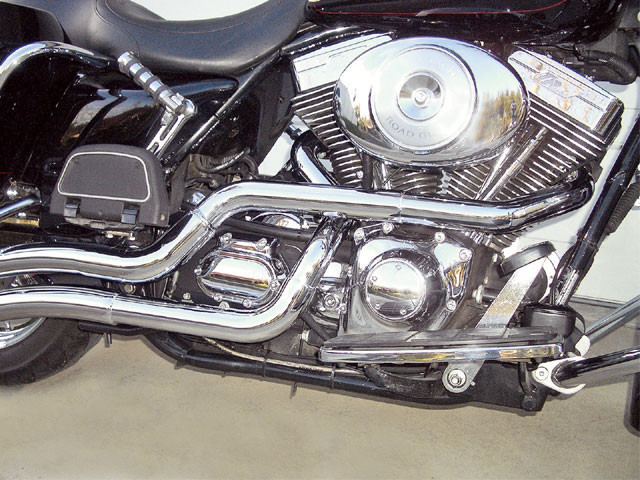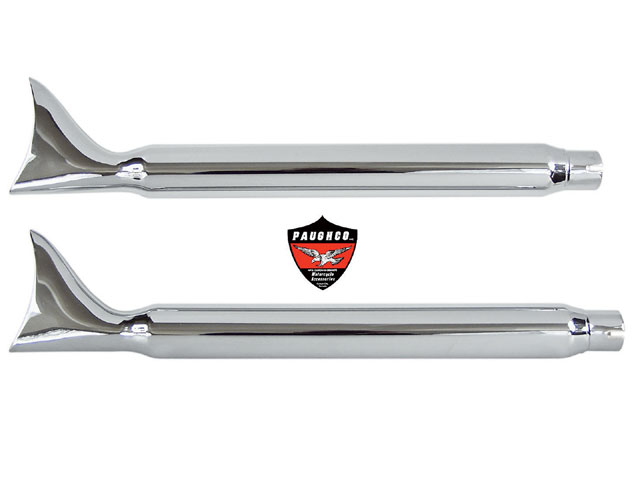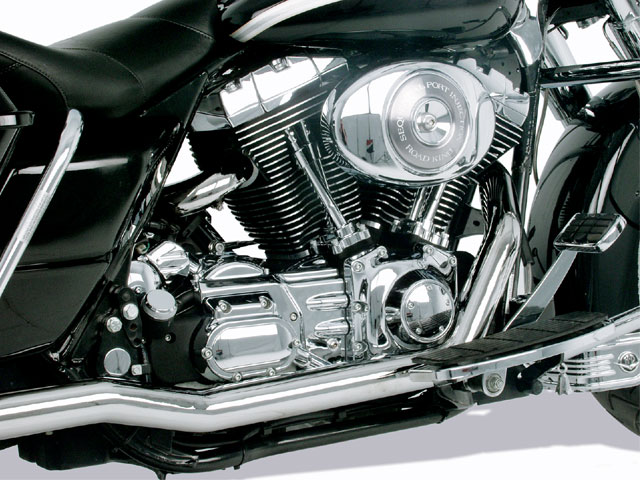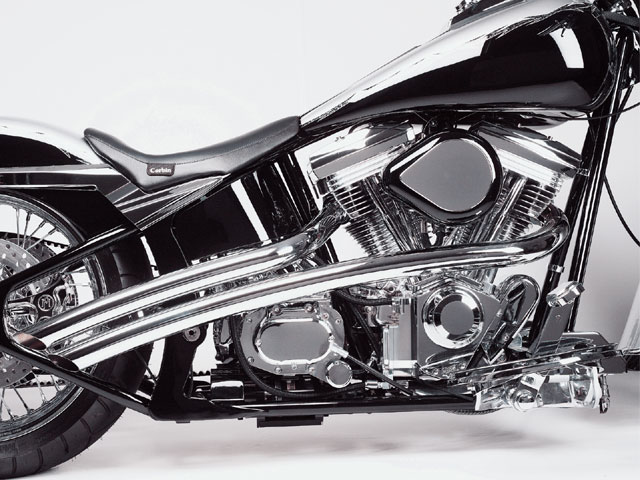 ** A Fish Tail**
Introducing the newest fish in the school of Samson's Fishtails is the Longtail, which retains the classic look of the Samson Fishtail but with a longer tail on the bottom to give an all-new look. You can choose the look you want for your motorcycle. Samson offers a short- and long-muffler version of the Longtail. Part no. S-432 is the short muffler, and S-433 is the long muffler. The entire head pipe is covered by a 220-degree heat shield that eliminates discoloration. The mufflers have integrated baffles that improve performance and sound. All Samson pipes come with a full one-year warranty.
For more information, contact Samson Motorcycle,www.samsonusa.com.
Tricks of the Trade
The newest Martin Bros. exhaust pipe is showing all of its tricks at MC Advantages. "Trixstas" are the first right-side-drive pipe from Martin Bros. to have optional heat shields. These mandrel-bent pipes are finished with the highest-quality chrome layered over .065-inch-thick steel. The aggressively bent pipes are available in chrome, chrome with black ceramic internal coating, two-tone chrome/black ceramic exterior, and all-black ceramic exterior. For increased performance, the pipes are stepped to a larger diameter, from 1.75 to 2 inches.
For more information, contact MC Advantages, (800) 726-9620, www.mcadvantages.com.
Proven Excellence
Havoc Industries is proud to introduce its line of proven performance pipes. Each design is stepped and tuned to give a rich, full sound, eliminating that midrange "dead spot." All pipes and fixtures are built for a perfect fit every time. The flanges are machined, not rolled, and 16- and 14-gauge steel tubing guarantees a strong completed unit. All pipes are available in black raw or triple-plate chrome.
For more information, contact Havoc Industries, www.purehavoc.com.
Storm Watch
Make bystanders look to the sky for a storm when you ride by with True Dual Thunder pipes from Rich Products. Equipped with individual pipes for each cylinder and featuring ThunderCones on each side to give true Thunderheader sound and performance, these pipes are designed to run with H-D's fuel-injection system. Fuel-injection maps are available for most engine combinations using the True Dual Thunder exhaust system. True Dual Thunder pipes outperform the stock exhaust by 10 horsepower. They are finished in show chrome and are complete with heat shields, mounting hardware, and instructions.
For more information, contact your local Thunderheader dealer, www.thunderheader.net.
Dyno Proven
Now available is D&D; Performance Exhaust's Torian exhaust system, which is mounted on the entire line of Hardbikes motorcycles. The two-into-one Torian pipes are manufactured in a slash-cut or straight-cut design. They improve power and torque by as much as 12 additional horses and play the sweet-stroking Harley rumble. Each pipe is encased in a full-wrap heat shield that keeps all discoloration from view. The two-into-one pipes are torture-tested on D&D;'s in-house super-flow eddy-current ram-air dynamometer.
For more information, contact D&D; Performance Exhaust, (817) 834-8961, www.danddexhaust.com.
Swept Away
From the progressive minds at Bassani come Bagger Sweepers, which feature Hot Dog Sweeper styling and a triple-step pipe configuration. These new sweepers provide unique styling, enhanced performance, plenty of ground clearance, and an awesome exhaust note. They are fitted with removable baffles and come finished in rugged, durable show-quality chrome. Black thermal coat is also available as an option. Each set comes complete with brackets for installation on '96-present Bagger models.
For more information, contact North County Customs, (866) 439-4287, www.bassanipipes.com.
Somthing's FishyThose of you feeling nostalgic for traditional chopper styling will feel right at home with Paughco's Fishtail pipes and mufflers. Shown here are Paughco's classic Fishtail mufflers. Measuring 31 inches overall and with a 1-7/8-inch diameter, these Fishtails have no baffles, Paughco's flawless in-house chrome plating, and a slip-on fit for 1-3/4-inch pipes. Available in both 31- and 18-inch lengths, Fishtail mufflers produce a distinctive exhaust note and are the perfect final touch to any classic chopper or cruising custom project.
For more information, contact Paughco, (775) 246-5738, www.paughco.com.
Power Chamber
With a twist of style and power, Vance & Hines' Sideshots deliver increased horsepower and torque served up by the company's Power Chamber technology. Hidden under the heat shields, the Power Chamber uses the volume of both mufflers to improve scavenging of each cylinder for more efficient combustion. With massive full-length 2-1/2-inch header and muffler heat shields, this system is blue-proof for long-lasting style. Twin slash-cut ends are added to finish off the look and leave you with the ultimate in style, power, and sound. Baffles, mounting hardware, and installation instructions are included for a hassle-free, perfect fit every time. They also include mounts for new factory O2 sensors.
For more information, contact Vance & Hines, (562) 921-7461, www.vanceandhines.com.
What's in Your Wardrobe?
To survive is to change constantly. In BUB Enterprises' case, the company has survived in the market by constantly introducing new products. Recently, BUB Enterprises improved one of its exhaust systems for FLs-the Cross Dresser II. This new design utilizes 2-1/4-inch-diameter heat shields to keep your blues at bay and has a cleaner, fatter look. An O2 port has been added to the header for those who wish to run aftermarket fuel-management systems-no more need for drilling and welding your new chrome exhaust to implement proper fuel management. Cross Dresser II Header/Heat Shield systems will work with any aftermarket mufflers that fit the stock OEM headers, as well as several slip-on options offered by BUB, including the one shown here, called "Sleepers."
For more information, contact BUB Enterprises, (530) 477-7490, www.bubent.com.
Smoke Pumpin' Hotties
A unique pipe deserves an equally unique name, as demonstrated by GP Designs' Smoke Pumpin' Hotties. The pipes are built from 14-gauge steel with a straight design and no baffles. These hotties install with or without peg mounts.
For more information, contact GP Designs, (866) 356-2464, (510) 471-9815, www.gpdesigns.net.
Not Just Elite
The new SuperTrapp pipes are Super Elite (SE). The SE Series slip-ons fit FLH/FLT '95-'06 and FLSTS '97-'03/FLSTC '05 models and have a mechanical baffle and internal baffle heat shield, eliminating body bluing. They are offered in eight different end-cap styles.
For more information, contact SuperTrapp Industries, (216) 2665-8400, www.supertrapp.com.
The Other White Meat
Be an original with the Hatchets exhaust system from Porker Performance. This bad boy features unique, upswept shovel-cut ends, and the finish will last and last, thanks to a blue-proof design. Seamless, removable, full-length 2-1/2-inch heat shields surround 1-3/4-inch head pipes that are stepped to 2-1/8-inch mufflers. Louvered core baffles are included.
For more information, contact your local Drag Specialties dealer, www.dragspecialties.com.
A Very Long Postponement
Finally, a pipe for shovels and pan motors! Thug Custom Cycles stepped up to the plate and made an exhaust that looks great and sounds awesome going down the road. At last there's a pipe that works either with a kick start or without. The new hot rod exhaust comes in black or show chrome and is available for new-style bobbers and old-school bikes.
For more information, contact Thug Custom Cycles, (954) 581-1801, www.thugcustomcycles.com.
Build a Bike to Fit This Pipe
You'll be tempted to do just that when you behold the pure potential of Doug Keim Creative Cycles' (DKCC) 3-Oh-Nine Bare exhaust pipe, which is offered in raw steel and ready for your finishing touches. Features include stepped head pipes, a two-into-one merge-style collector, a huge 3-inch outlet, and ultra-heavy-gauge steel tubing throughout the pipe. The 3-Oh-Nine Bare pipe will fit all H-D Evo and Twin-Cam big-twin models (except '06 models with 02 sensors), as well as most custom applications with forward controls. The rear head pipe may interfere with some large-diameter OEM air-cleaner covers.
For more information, contact Doug Keim Creative Cycles, (732) 751-1403, www.creativecycles.com.
Alternative Contraceptive
Birth Control pipes from Lawless will, at 2-1/4 inches, let any monster breathe. They fit both right-side and left-side drives, and come in Jet-Hot chrome, Jet-Hot black, or chrome.
For more information, contact Lawless Customs, (602) 413-6408, www.lawlesscustoms.net.
High Stylin'
Steve Storz and Denis Manning of BUB Enterprises have teamed up to design and produce these new 2:2 dirt track-style high pipes for Harley's new rubber-mount Sportsters. The system features two individual head pipes with stepped diameters leading into beautifully tapered megaphones with billet-aluminum end caps. Fixed steel baffles produce a mellow but powerful exhaust note and never require repacking. The pipes have individual heat shields that run from the cylinder head to the start of the megaphone. They are available in chrome or unplated finishes and will work with the stock footpegs and controls.
For more information, contact Storz Performance, (805) 641-9540, www.storzperf.com.
Piping Euro Style
Do it the way they do it in Europe with Sculpture Cycle's EuroStyle pipes, made of 14-gauge stainless-steel tubing that's 2-1/4 inches in diameter. They are mandrel-bent and come in either a polished or brushed finish. Made in England by ARH & Sons, these pipes are available in various designs for left-side-drive and right-side-drive bikes.
For more information, contact Sculpture Cycles, (480) 833-0998, www.sculpturecycles.com.
And Pipe Freedom for All**
One can argue that the ultimate freedom is the freedom of choice. At Speed & Precision Cycles, you can find a wide selection of pipes to fulfill your every need and fit, all ready for you to choose. For those of you who love shorter exhausts, the company offers its Lighting Pipes at a tuned length of 22 inches. A variety of styles and exhaust designs can be found on Speed & Precision's website.
For more information, contact Speed & Precision, www.scottplourde.com.
A Quickie
Wake up the performance of a stock bike with an S&S; Quick Set Up Kit. By combining the performance gains of the famous S&S; Teardrop air intake and the new S&S; performance-designed slip-on mufflers, you can bolt about 10-12 horsepower onto a bike in an hour or so. An S&S; Quick Set Up Kit will add some sound to your bike, a bit of style with the S&S; Teardrop, and, best of all, more power to the rear wheel. The kit includes jets for the stock CV carb, and S&S; does recommend that you verify the fuel calibration on injected motorcycles.
For more information, contact S&S; Cycle, (608) 627-1497,www.sscycle.com.
Exhaust the Possibilities
As you can probably tell from the company's name, you go to Stainless Creations for…well, stainless-steel creations-and its selection of pipes. Each exhaust set is hand-crafted from 100-percent polished stainless steel to your bike's specifications to ensure proper fitment. Styles are available for left- or right-side drive, up to 360mm tires, R&R; 147- and 155-inch engines, Magnachargers, and stock mounting locations of LSC and Texas Chopper. Options include performance baffles, internal coating, or a high-gloss glass coating. One-off styles are also offered.
For more information, contact Stainless Creations, (660) 727-2332, www.stainlesscreations.net.
Speeds and Drags
Despite having names that are polar opposites, the Speedster and Dragster are Cobra Engineering's two new lines of exhaust systems, both of which are both designed for Harley-Davidson Sportsters. The new Speedster systems for Sportsters are available in a slash-down style, while the Dragsters are offered with an aggressive staggered configuration. Speedsters also have full-length heat shields and chromed billet tips. They feature the proven Cobra PowerPort, the crossover tube that delivers increased horsepower and torque over the stock system. Each system comes with full-length, 2.5-inch heat shields that wrap 222 degrees around the chromed exhaust pipes, eliminating any visible discoloration of the shield's chromed finish. Each system also features 2.5-inch chromed billet-aluminum tips for a truly custom look.
For more information, contact Cobra Engineering, (714) 692-8180, www.cobrausa.com.
Lethal Injection
Lethal Injection pipes from Precious Metal Customs are made of stainless steel and polished to a high shine. The stainless steel naturally turns golden after being heated up and can be returned to a high chrome-like finish with a little polishing. The pipes have welded-on exhaust flanges with high-temperature O-ring seals, so there are no more snap rings or clamps to deal with. Because of the welded flanges, when the pipes are bolted to the head there is no need for any external mounting. The front pipe has a built-in slip-fit that allows the stainless steel to expand as it heats without binding or weeping. This technology also makes it fully adjustable to fit a variety of motors.
For more information, contact Precious Metal Customs, (678) 494-4150, www.preciousmetalcustoms.com.
The Big Pipe
Designed to enhance scavenging, improve exhaust flow, and increase engine efficiency, thus creating more horsepower and torque, forced-air induction collector (FAIC) header systems are ceramic coated in/out and are available in black and Cermakrome finishes. Available for larger motors, the Big Pipe is triple-stepped (from 1-7/8 to 2 to 2-1/8 inches) and has a 3-1/2-inch collector and muffler body. Also included are all mounting hardware, exhaust flanges, the quiet core, and cone plug. The Big Pipe is recommended for 88ci-and-up motors and is also available for Harley-Davidson V-Rods.
For more information, contact Custom Craft, (520) 290-1414, www.faic.cc.
Team Players
Precision Cycle Works and Hooker Headers have teamed up to develop a Rebel Series header system to fit wide-tire/left-drive Softail frames. These 2-1/2-inch drag pipes are standard equipment on the Detroit Series Bikes for 2006. These big pipes incorporate Hooker's successful Stepped-Tuned internal head pipes with beautiful, smooth, one-piece outer 2-1/2-inch chrome heat shields. These systems include a pre-inserted high-performance baffle to ease up on the loud tones. This baffle is easy to remove and replace for trips to the dragstrip.
For more information, contact Holley Tech Service, (270) 781-9741, www.ilovemyhookerheaders.com.
Animal Instincts
Turn your machine from a puppy to a werewolf with these Milwaukee Twins 2-1/4-inch Big Growl pipes, which feature thick-wall tubing, reinforced mounting brackets, and all the hardware needed for installation. The beautiful show-quality chrome on the set of Long Rifles pictured here represents only one of the 11 styles available for '86-'06 Softails. J&P; also offers two or three-piece heat shields for all Big Growl Pipes. Baffles are also available for the Long Rifles.
For more information, contact J&P; Cycles, (800) 397-4844,www.jpcycles.com.
When You're Down and Out…
These pipes will cheer you and bring you back up. Poole's new Down & Outs feature a real tuned, stepped two-into-one header with a merge collector and baffles. The 14-gauge mild-steel pipes are CNC mandrel-bent and TIG-welded with real performance. They are available chrome coated to prevent bluing (chrome plated on the outside and ceramic coated on the inside) or ceramic coated, which covers the entire pipe.
For more information, contact Poole's Pro Built, (714) 672-0808,www.poolesprobuilt.com.
Pipe Treats
Santee's 175s come in three tasty flavors: the traditional Slash Cuts, the slick Straight Cuts, and the distinctive Kick Out style. All are made of 16-gauge steel with hidden channel mounts that connect to your stock brackets or to the supplied brackets (unless otherwise noted). As with all Santee pipes, 175s are covered by a two-year warranty on materials and workmanship.
For more information, contact your local Custom Chrome dealer,(800) 729-3332, www.customchrome.com.
City Dwellers
Come and visit the Big City of pipes when you absolutely, positively have to be heard above the racket and clamor of city traffic. Ensure your ride to be the best-sounding bike in the crowd with Big City Thunder's Monster baffles. It's a noisy world out there. Be heard.
For more information, contact Big City Thunder, (704) 366-8672, www.bigcitythunder.com.
Living the Low Life
Jim Nasi Customs (JNC) introduces the latest of its custom components, the Lowlife exhaust. As with all of JNC's parts, this exhaust is engineered for the best possible fit and manufactured with the highest-quality materials in the industry. These pipes are built to fit the ICI Lowlife frame only. They are engineered to accommodate the extended length of this frame. Pipes include heat shields that are cut to match the ends of the pipes. The 2-inch diameter creates a great look and an even better sound.
For more information, contact Jim Nasi Customs, (800) 964-NASI, www.jimnasicustoms.com.
Street Legal
The street-legal Screamin' Eagle Active Performance Muffler Kit from Harley-Davidson delivers the horsepower and torque characteristics of Screamin' Eagle Pro Race-Use Mufflers while maintaining EPA and CARB sound and emission levels. The integrated onboard computer measures operating conditions and limits the exhaust flow to the left muffler to optimize performance, sound, and emissions throughout the operating band. The complete system includes left and right catalyst-equipped mufflers, servomotor, and cable-operated butterfly valve; plug-in onboard computer with service diagnostic capabilities; left-hand heat shield; and all the necessary installation hardware.
For more information, contact your local Harley-Davidson dealer, (800) 443-2153, www.harley-davidson.com.
Looking for the Exotic
When you are looking for something wild or different in an exhaust, Exotic Choppers' custom-bent exhaust systems are available for RSD Customs, '86-'03 Sportsters, '04-up rubber-mount Sportsters, Softail/Hardtails with Evo or Twin-Cam motors, all Dyna models (including those with oxygen-sensor fuel injection), alternator Shovelheads, and one-off custom exhausts to your specs (on some models). Finishes are available in chrome with an optional thermal ceramic lining that is baked on the inside to help retain heat and prevent bluing, matte black, or polished-silver ceramic finishes. Baffles can be added for an additional charge. All systems come with a mount. To prevent cracked pipes, broken head studs, or pipes just vibrating loose, 16-gauge (.065-inch) tubing is used on all systems.
For more information, contact Exotic Choppers, (407) 253-1233, www.exoticchoppers.com.
Preach to the Converted
The TCX Tru Dual conversion kit uses the existing stock pipe to convert it to a true dual exhaust system. The kit includes chrome exhaust tubing and heat shields that bolt to the stock pipe without any modifications. The kit will fit '99-present Bagger Twin-Cam models. This kit will give a Bagger the clean true-dual look with that true-dual sound.
For more information, contact Cycle Xchange, www.thecyclexchange.com.
How Do You Like Your Pipes?
Everyone likes to be in control, and at HackerPipes you can manage the style of your pipes almost as if you had the tools in your hands. Hackerpipes is the only exhaust manufacturer that allows you to choose powerbands, finishes, and tips, infusing your personality to the pipes, and fashioning them to suit the overall look of your bike. All HackerPipes are handmade and come with a lifetime warranty.
For more information, contact HackerPipes, (831) 338-6590, www.hackerpipes.com.