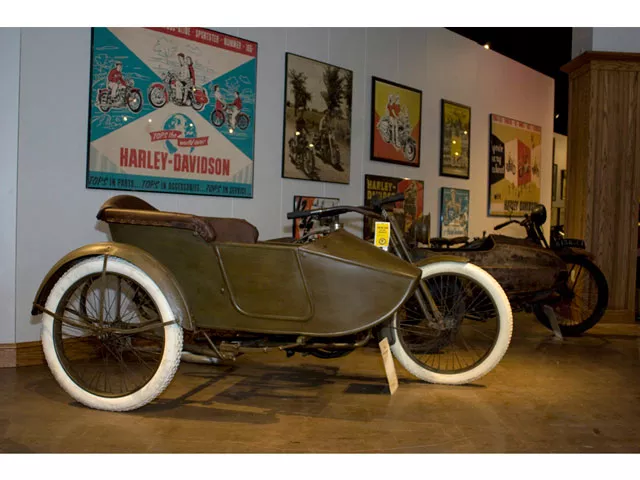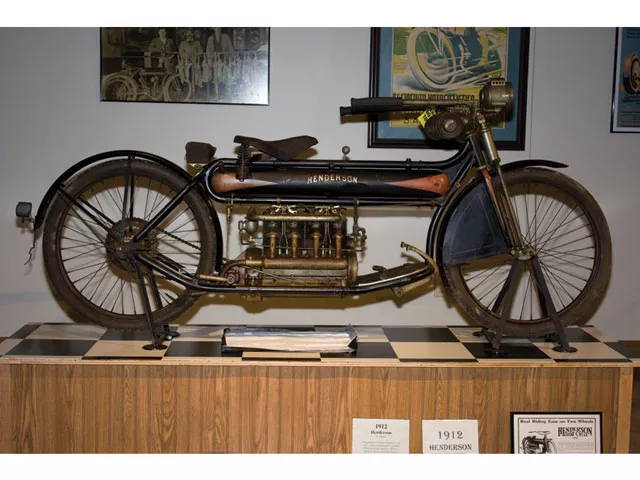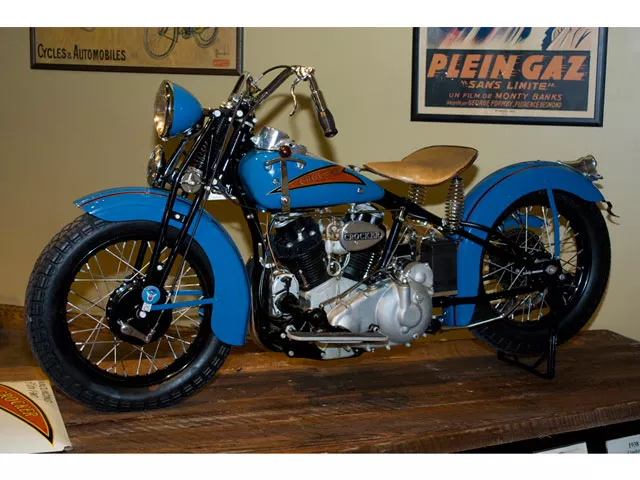 ANAMOSA, Iowa – Several years of exhibition planning and programming, along with architectural changes to a larger 36,000 square foot space help better present motorcycle history at the new National Motorcycle Museum in Anamosa, Iowa. Originally opened in Sturgis, SD in 1989 with about 60 motorcycles and memorabilia on display, the museum relocated to Anamosa in 2001 and the collection has grown to over 275 motorcycles. In addition, other objects such as toys, artwork, trophies and apparel offer one of the most comprehensive historical representations of motorcycling history in America.
President of the Board of Directors of the National Motorcycle Museum John Parham summed up the move and improvements well when he offered, "We wanted to take the Museum to a new level. We needed more space for bikes, toys and art, better lighting and more active ways to tell the stories of motorcycling." The result is convincing to visitors since the Museum opened June 25.
Upon entering the Museum you'll be greeted by a life-size bronze sculpture by Jeff Decker featuring Joe Petrali on the famous Knucklehead streamliner he rode to a land speed record on Daytona Beach in 1937. Just beyond, a rare Yale board track racer fills the lobby showcase. Celebrities take top billing as one enters the exhibition floor with Evel Knievel, Indian Larry, Steve McQueen and VonDutch machines and artwork on display. But the reflections from the only authentic Captain America chopper from the 1969 classic film Easy Rider will grab your attention quickly.
With so many important Harley-Davidson(r) machines available for display, an exclusive exhibition is dedicated to the marque. Nearly 50 Harleys fill the space. Machines from a rare original paint 1908 "Strap Tank" to a1977 XLCR with great Knuckleheads and Panheads in the mix let you see the most important machines the Harley-Davidson(r) Motor Company produced. The collection is framed by a dazzling and rare 25 foot wide original Harley-Davidson billboard from the 1920's.
Racing being key to motorcycling, visitors will be treated to an adaptation of turn four on a board track with eight great board track racers in active stance bearing down on the start/finish line. Just beyond is the hill-climb display capturing the thrill of this daredevil piece of our sport.
While known for a collection strong in early American motorcycles, the Museum will also satisfy those looking for machines from Japan, such as the early CB750 or Kawasaki Z1, Italian rarities like the Ducati 750 Super Sport, great examples of Triumphs, BSAs, and even a Douglas with torsion bar suspension. And there are a half dozen great Vincents, including a red Rapide and a Black Shadow. A Brough Superior Pendine racer is resplendent in its nickel plating, bookends with an all original 1912 Henderson four cylinder, perhaps the last unrestored specimen on the planet.
Bringing motorcycles stories to a more current theme is AWESOME-NESS, an exhibition that presents the story of the king of motorcycle customizers, Arlen Ness located in the Museum's changing gallery area. Adjacent is a treatment of wall of death riding.
And as this is written, the Museum received word that they received a grant from the State Historical Society of Iowa to restore, reconstruct and historically interpret a 1920's steel modular Shell gas station this summer. The Museum website will trace this project and other additions to the Museum, a work in progress through Spring 2011.
The National Motorcycle Museum is a non-profit organization based in Anamosa, Iowa. When you plan your visit to this already iconic yet greatly expanded and improved Museum, you can get all the information you'll need at www.nationalmcmuseum.org.