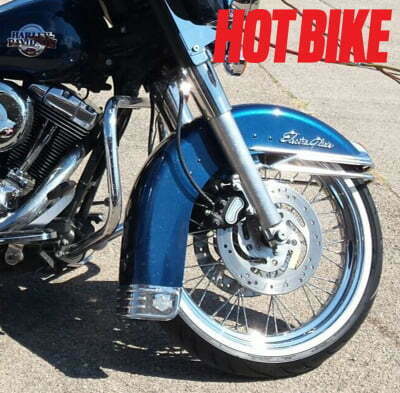 Avon Tyres now offers the highly sought after wide 21-inch Cobra in a whitewall. Master builders, dealers and consumers who have long awaited a premium whitewall for custom bikes can now choose the popular Cobra tire in a 120/70-21 size with a full 15-mm whitewall.
"We've received countless requests for a custom bike tire in this size in a whitewall," stated Ken Warner, VP of Marketing, Avon Tyres. "A wide 21-inch wheel is often the custom fitment of choice, but until now there's been little to choose from when it comes to a high-end option in a whitewall. We're dedicated to improving our product offering to meet customer needs, and this new Cobra whitewall is the next step in that process."
The ultra-quiet Cobra incorporates sport tire technology for nimble handling, incredible stability and long life. Its special construction and aggressive tread pattern deliver great handling in a variety of conditions, along with great performance and style. There are now nine whitewall sizes available including the new 120/70-21. For more information, visit http://www.avonmoto.com/products/cruiser-touring-custom/cobra.