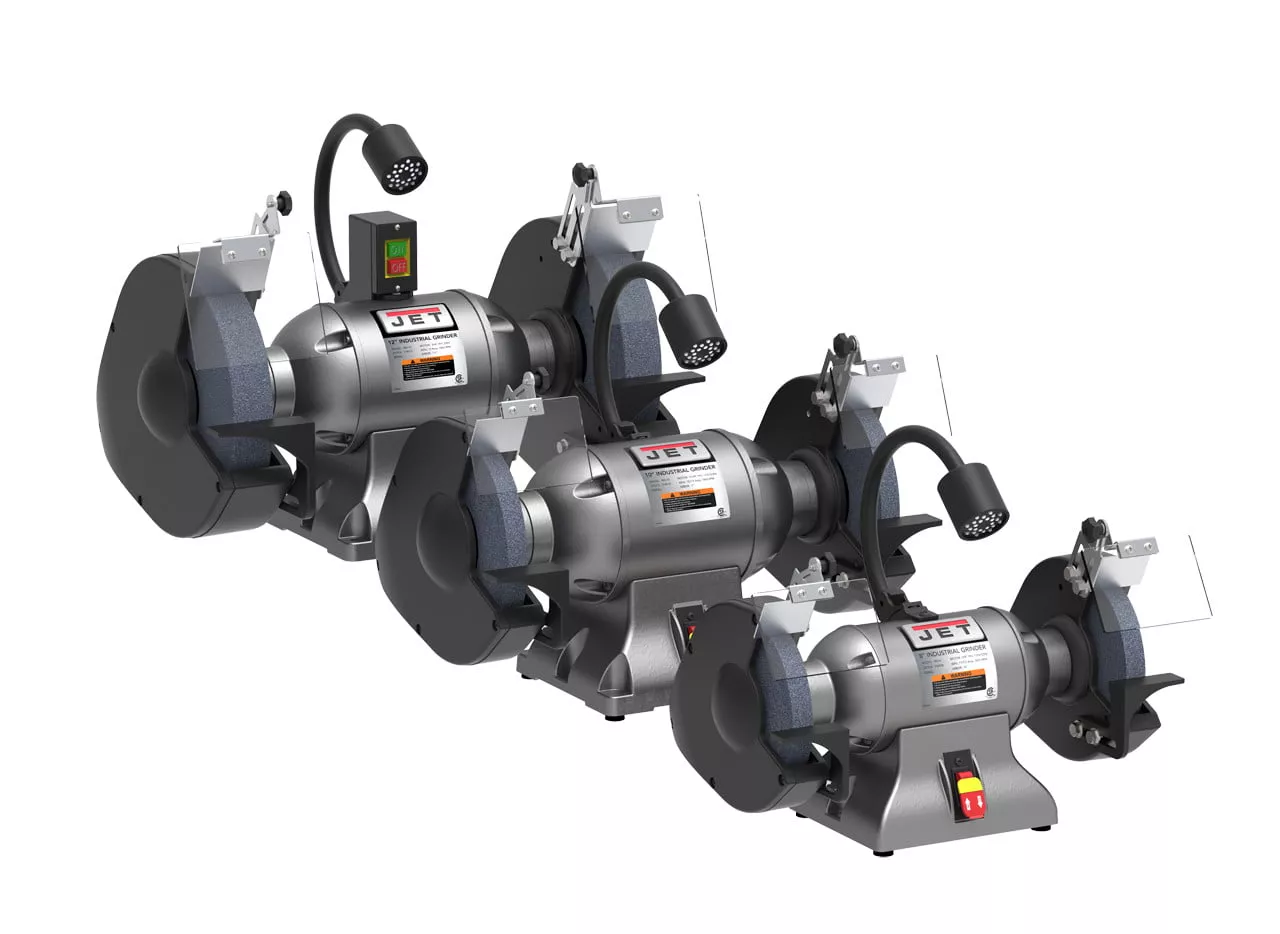 Solid, dependable and engineered to meet increasing machine shop demands, characterize the new line of JET 8, 10 and 12 in. Industrial Bench Grinders. These powerful, hard-working benchtop machines with 1 hp, 1-1/2 hp and 2 hp heavy duty capacitor motors, are smooth operators, anchored with cast iron bases for rigidity and minimial vibration.
Choose the optimum wheel and these bench grinders will shape, sharpen, buff, polish or clean metal objects and parts for welding or precise material placement.
The heavy-duty grinders have permanently-sealed bearings for long, maintenance-free motor life. Each grinder is OSHA approved and certified by CSA and CUS Electrics. Power toggle switches with safety key are equipped on the 8 and 10 in. grinders and the 12 in model has low voltage protection to help protect the motor. The 8 and 10 in. bench grinders operate on standard 115 volt current, while the 12 in. grinder is wired for 230 volt, single phase operation.
Each grinder is equipped with safety shields and adjustable tool rests. They also include a 1-1/4 in. wheel dresser. The 8 and 10 in. grinders include two wheels; one 36 grit (fine) and 60 grit for coarse operations. The 12 in. grinder's wheel grits are 24 and 46. Each grinder has predrilled bases for mounting to a workbench or optional stand.
Optional Bench grinder accessories include two heavy-duty cast iron stands with wide bases for stability. The stands are 33 in. high for a comfortable working height. Both stands include integrated large water troughs for cooling parts and tools. The JET 8 and 10 in. stand (#578172, $169.00 is tubular shaped with a pedestal base. The 10 and 12 in. grinders' stand (#578173, $229.00) is fully enclosed and constructed of heavy-duty gauge steel for rigidity and durability.
An optional 20 in. LED gooseneck light (#578100, $59.00) attaches directly to the grinder. Its work friendly design can be used with all three grinders. The lamp is currently free with the purchase of any Industrial Bench Grinder.
The JET Industrial Bench Grinders are covered by a 2-year warranty, as well as JET RED AssuranceTM, the industry's most dependable service and support guarantee with over 550 service centers nationwide.
The JET 8 in. (#578008, $259), 10 in. (#578010, $479) and 12 in. (#578012, $1199) Industrial Bench Grinders are available through a nationwide network of dealers and distributors. For the dealer/distributor nearest you, visit www.jettools.com and punch in your zip code.
Find more #ToolTuesday weapons for your garage arsenal in our Products section.