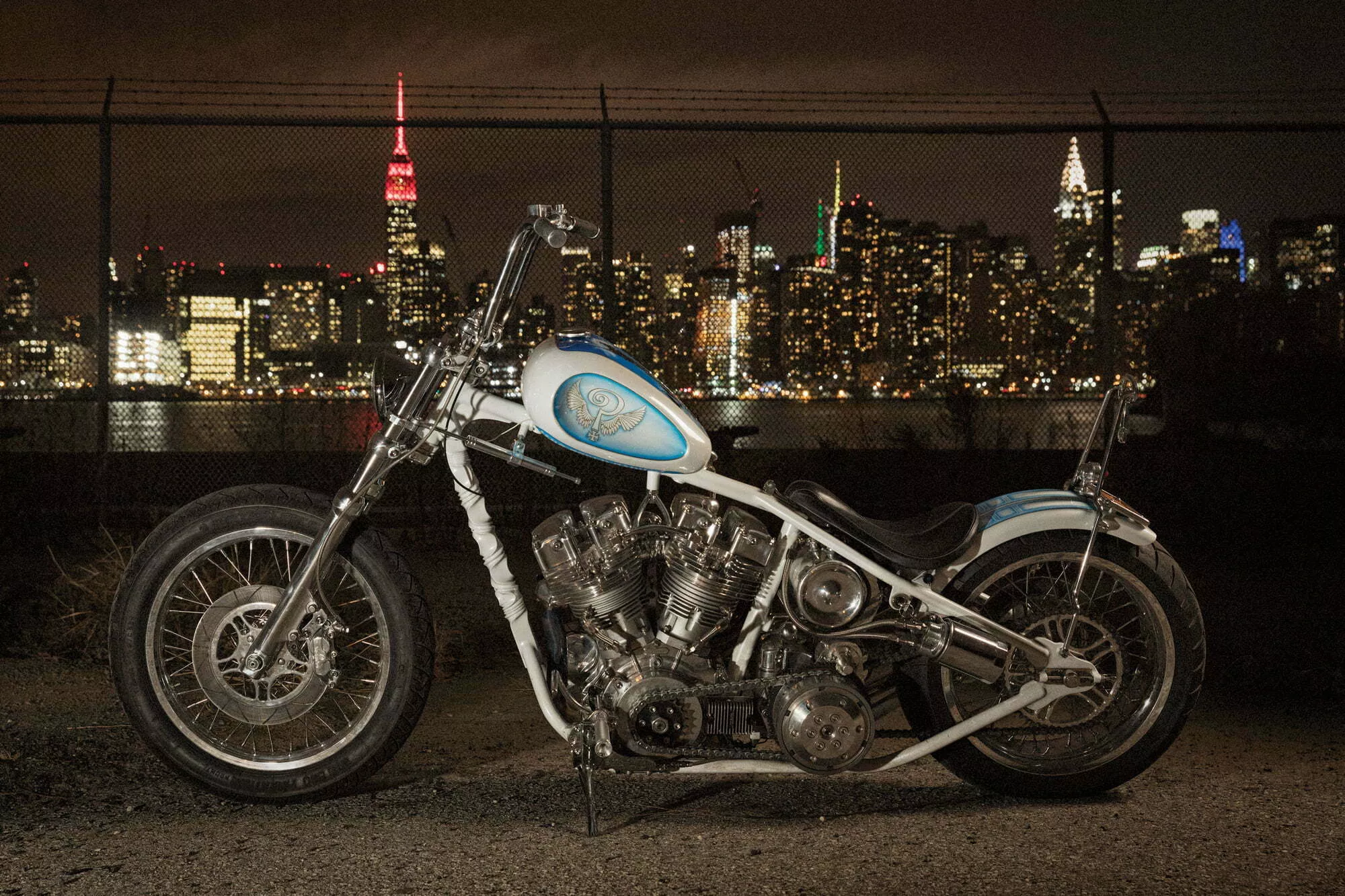 Riding under the Indian Larry shadow comes at heavy cost. After more than a decade since his passing, there comes a time when as a company it's necessary to stand on your own two feet. That's what this 2015 Indian Larry custom chopper represents and on its own is a testament to the type of quality builds coming out of the shop recently.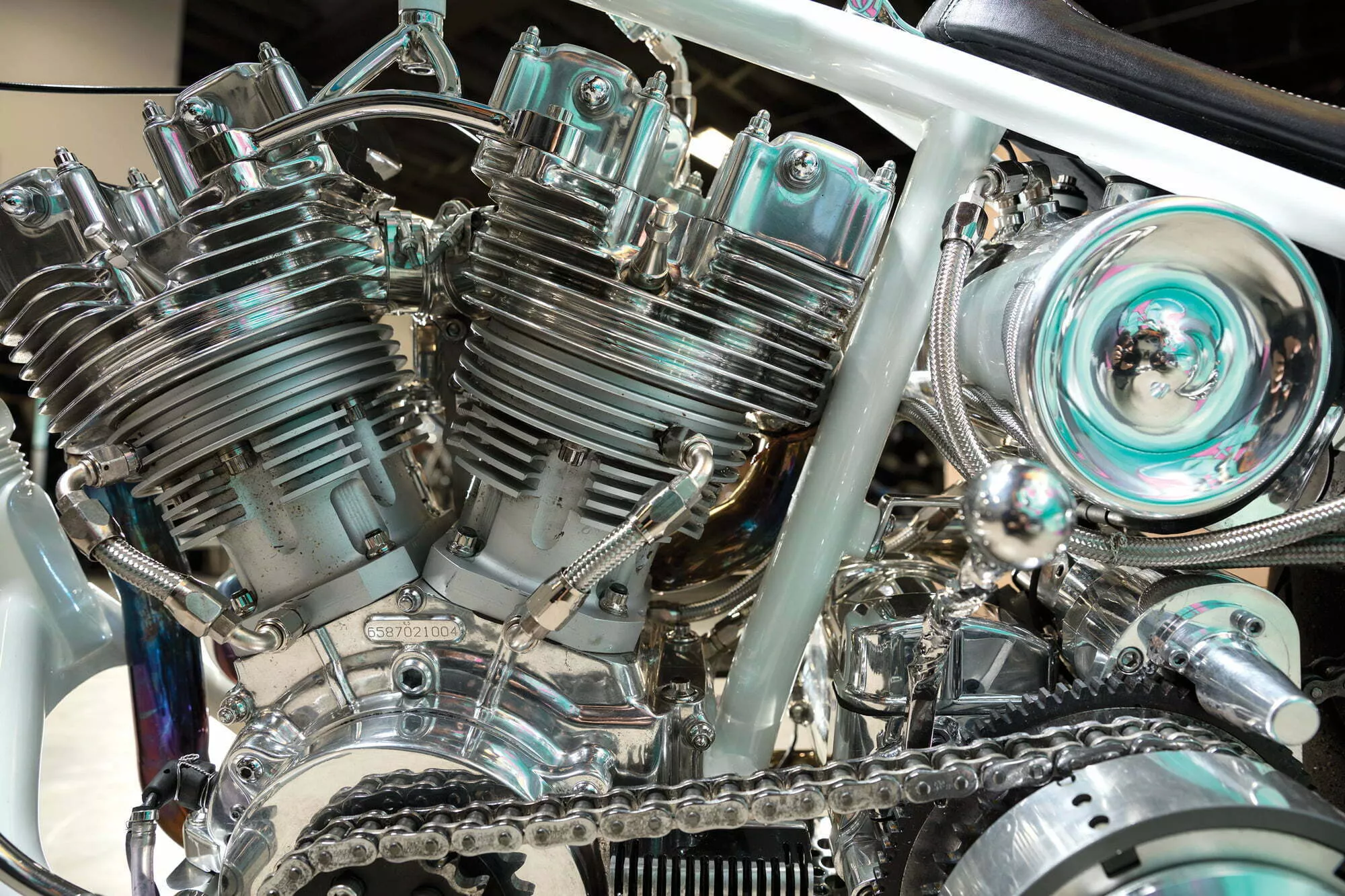 Straight out of Brooklyn, New York, this bike was meant to represent the tone and style that Indian Larry Motorcycles has become known for. Owner Bobby Seeger explains: "For us we just wanted something a little different and cleaner than we have been building. On this bike, we had a couple of extra motors that we had purchased, so we collaborated with Berry from Accurate Engineering in Alabama. After about three months later you have the motor you see now. We wanted the split the rockers and tried to focus on functionality so that it all worked together to make a good-looking bike."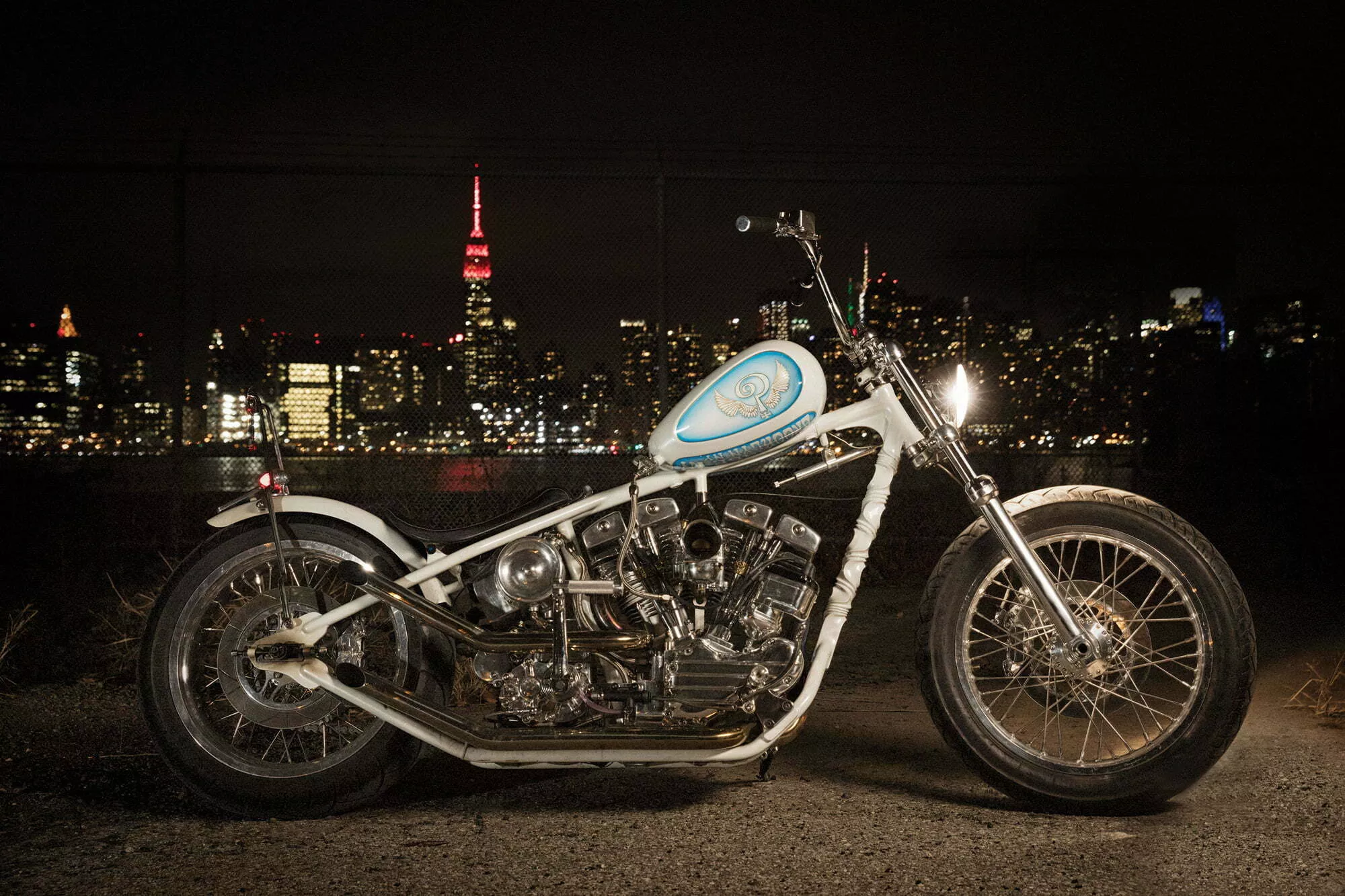 Bobby has strong feelings about what the purpose of a motorcycle should be. He explains: "There's many things I can say that I've learned from Larry. There are many things I can say I've learned from Paul Cox as well. I have to absorb and use what I can from both of them. But by all means motorcycles are meant to be ridden. There are a lot of cute shows that go on throughout the year in the US, Europe, and everywhere else. The sad part is the majority of the people just don't ride their motorcycles. They build some really great stuff and have some really great craftsmanship. They just don't ride them." When asked how this bike rides Bobby explained: "I wanted a jockey shift. They are fun and when I have one I'm more into it, and it keeps me on my toes. I try and focus on what it's like to ride in NYC. I figured if I can survive in NYC with the tightness and the people and all the assholes, I'd be able to handle it anywhere. The potholes eat you up. They hurt and they hurt when you have no suspension on you. It also adds to the fun of trying to avoid those and the men and women that should not behind the wheel of a car. It's kind of like a video game."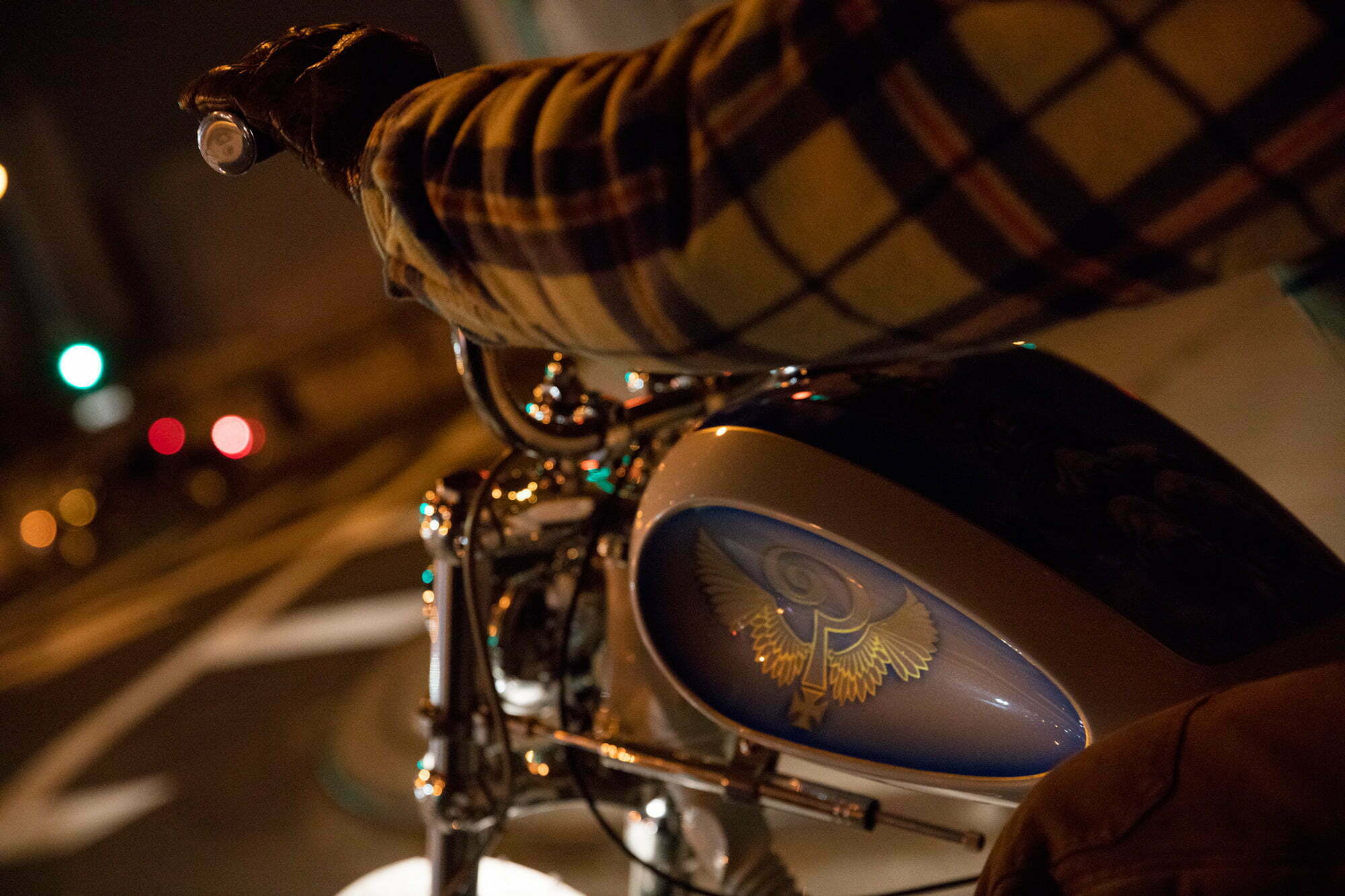 Rather than just putting out another black and chrome chopper, this bike was painted in a Pearl White that helps to accent the craftsmanship and simplicity. "The only other white bike that we had was called the White Devil. Also we are big fans of Frank Frazetta. So what we did was the Frazetta piece that was airbrushed with the warrior with the polar bear on a sleigh. Just that fact that Frank was from Brooklyn and he ruled the entire Molly Hatchet album covers that I seen as a kid that just furthered the love of his work. John the Painter actually helped design, build, and also painted it. We just figured let's just change it up a little bit."
When Bobby was asked how he felt the overall outcome of the bike, he had a few parting words, "It's a nice feeling that people want to bike. For a number of years we just kind of said no. We got a nice little spot and just enjoy caressing our spot and what we do in our little cubical. It blows my mind how something that was built in Brooklyn people are digging everywhere from Manhattan, Boise, to Long Beach, and more."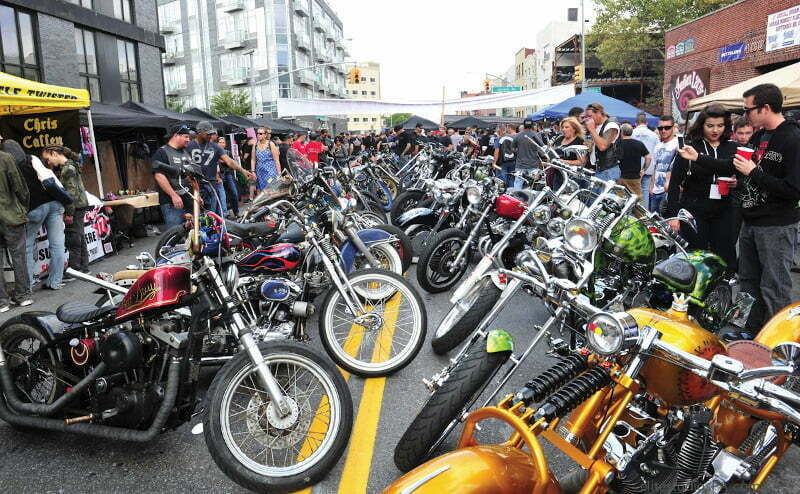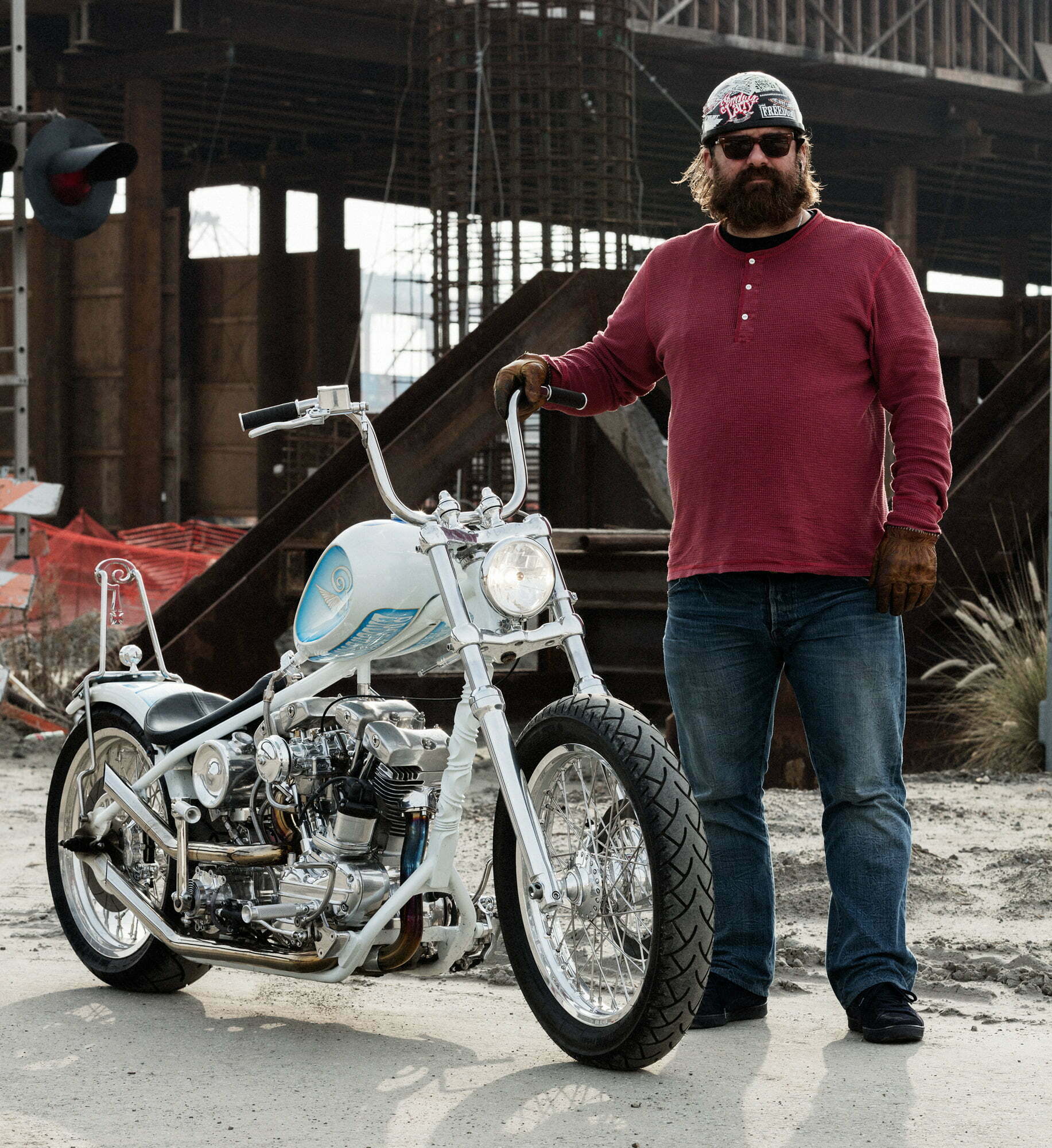 | Specifications | |
| --- | --- |
| General | |
| Owner | Charlie Brown |
| Shop | Indian Larry Motorcycles (ILM) |
| Website | indianlarry.com |
| Year/Make/Model | 2015/ILM/Sidewalk and Street |
| Fabrication | Indian Larry Motorcycles |
| Build Time | 6 months |
| Engine | |
| Year/Type/Size | 2015/Panshovel/97ci |
| Builder | Accurate/Berry |
| Cases | Accurate/ILM |
| Cylinders | Accurate/ILM |
| Heads | Accurate/ILM |
| Rocker Boxes | Accurate/ILM |
| Cams | 585 S&S |
| Air Cleaner | ILM |
| Carb | S&S |
| Lifters | .945 Rollers |
| Exhaust | ILM Stainless |
| Ignition | Morris Magneto |
| Transmission | |
| Year/Type | 2015/ILM |
| Gears | 6-into-4 |
| Clutch | Jockey Shift |
| Primary | Tech Cycle |
| Frame | |
| Year/Type | 2015/Twisted Down Tube |
| Rake/Stretch | 28º/2 in. up |
| Suspension | |
| Front End | H-D 39mm |
| Length | Stock |
| Swingarm | Rigid |
| Wheels, Tires, and Brakes | |
| Front | |
| Builder/Size | ILM/19 in. |
| Tire/Size | ME 880/19 in. |
| Calipers | Brembo |
| Rear | |
| Builder/Size | ILM/18-5.5 |
| Tire/Size | ME 880/18 in. |
| Caliper | Brembo |
| Finish/Paint | |
| Colors | White |
| Paint/Graphics | John the Painter |
| Accessories | |
| Rear Fender | ILM/Flat |
| Gas Tank | ILM |
| Oil Tank | ILM |
| Electrics | ILM |
| Handlebars | 11-in. ILM |
| Grips | ILM Street |
| Hand Controls | Brembo |
| Foot Controls | ILM |
| Headlight | ILM |
| Taillight | ILM |
| Seat | Paul Cox |
| | |
---
Get the all the latest issue of Hot Bike magazine! Subscribe directly from us.