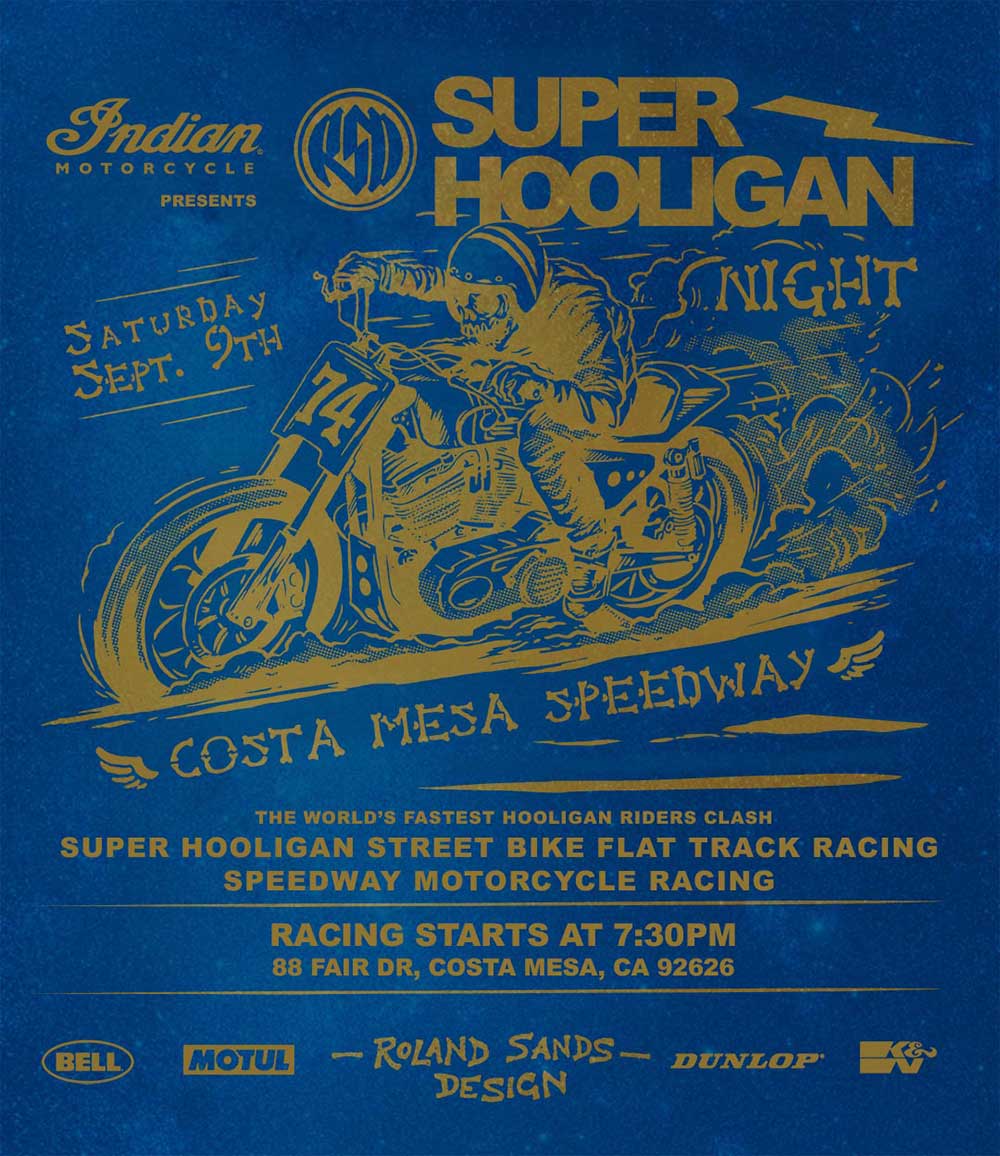 Costa Mesa Speedway is hosting a Super Hooligan Night on Saturday, September 9th for Round 8 of the Super Hooligan National Championship series presented by Indian Motorcycle. It's the most exciting, diverse and unpredictable live action racing event in Southern California. Costa Mesa Speedway has put fans right on top of all the action from the comfort of an Arena style grandstand seating since 1969- it's a spectators dream! Bring out the entire family, grab some food and drinks and take a seat to watch both the Speedway Motorcycles and Super Hooligans rip around the track.
Space is limited for the Super Hooligan class, so get your entry in now for a chance to reach for Super Hooligan glory!
About Super Hooligan:
The spirit of hooligan racing comes from a simpler time, when you raced – and could ride home on – any bike you owned. With its roots in Southern California motorcycle culture, today's flat track hooligan racing category is rapidly gaining in popularity with riders of all ages and experience levels across the nation by offering the fun of motorcycle competition in a less structured environment. Combining the craft of custom motorcycles and racing the Super Hooligan rules are loose and limit the bikes to 750CC and up twins in stock frames with dirt track tires and no front brakes.
About Roland Sands Design:
Roland Sands Design is a motorcycle, product and apparel company that has its roots in racing, custom bike building and design. Our inspiration comes from a high performance background that blends the love of two wheels with the desire to create unique products. We live the two wheeled life and our crew is a diverse collection of road racers, off-road, dirt track, super moto and custom bike builders and riders. It's this diversity that allows us to work with the best in the industry on a wide variety of projects. Follow all bike builds, new products and the life and times of the Roland Sands Design crew at www.rolandsands.com.