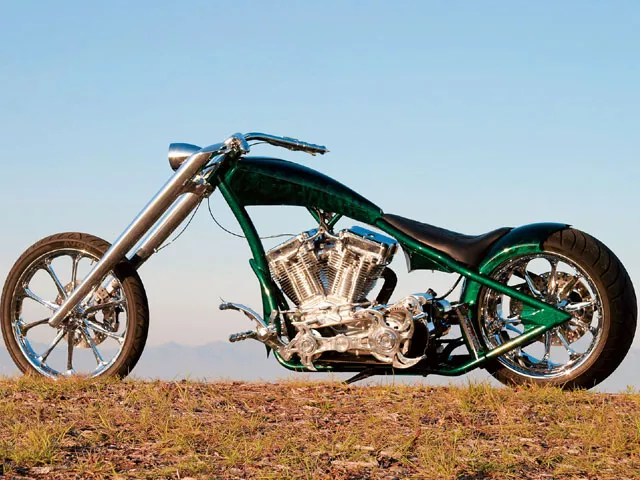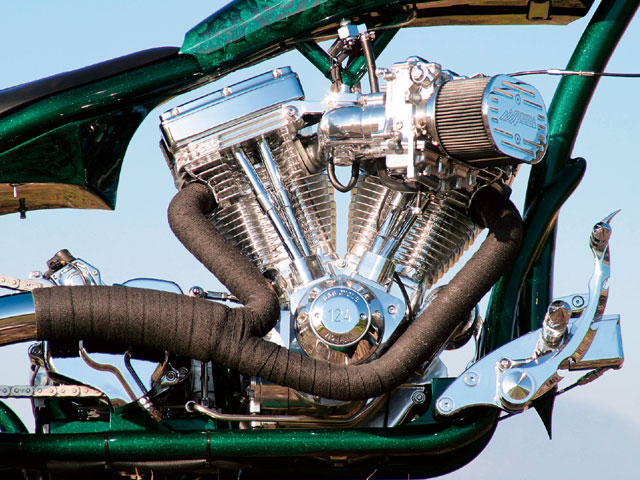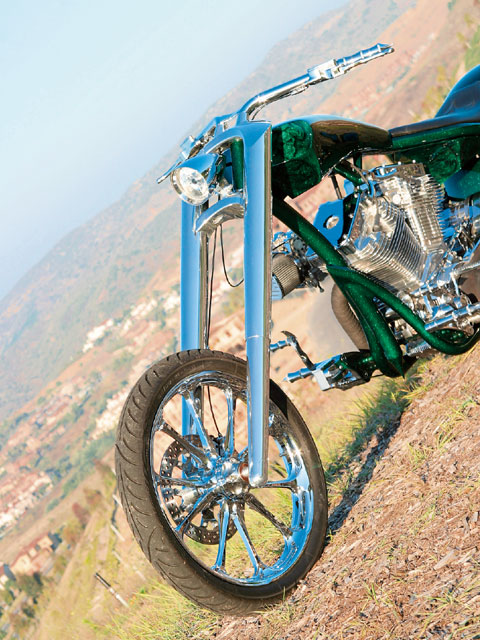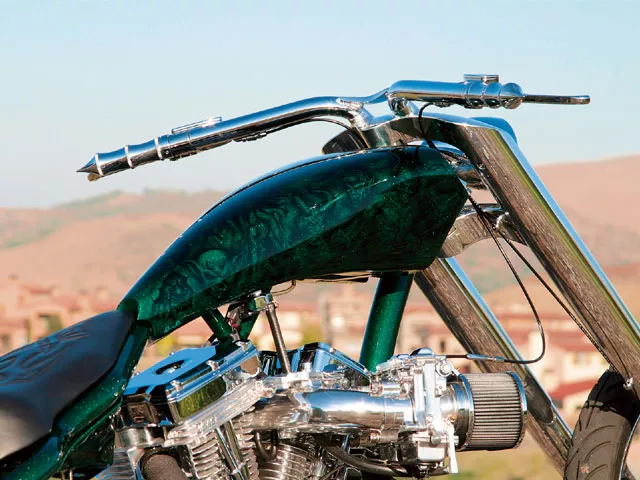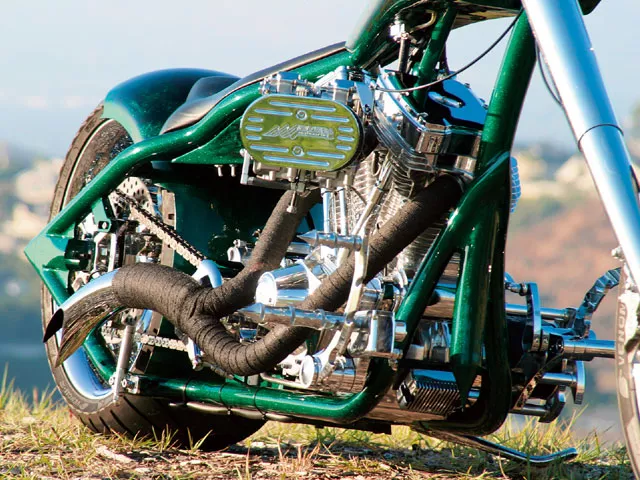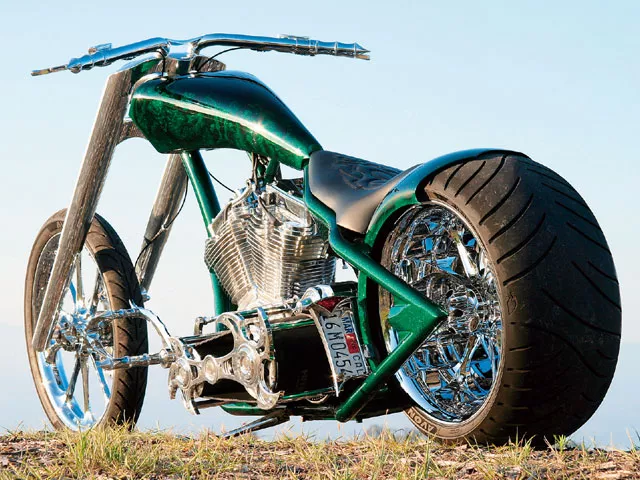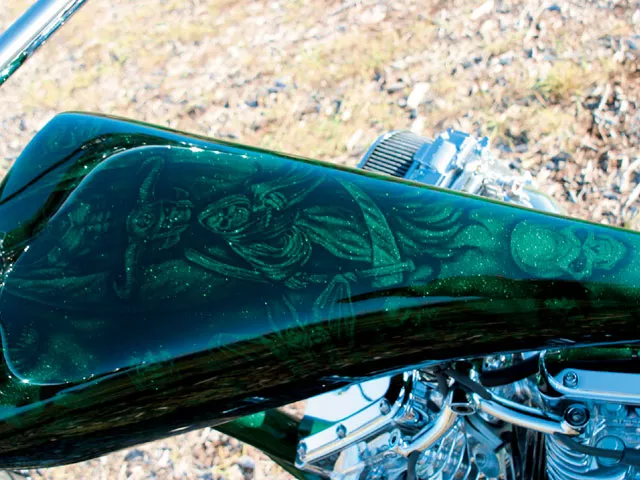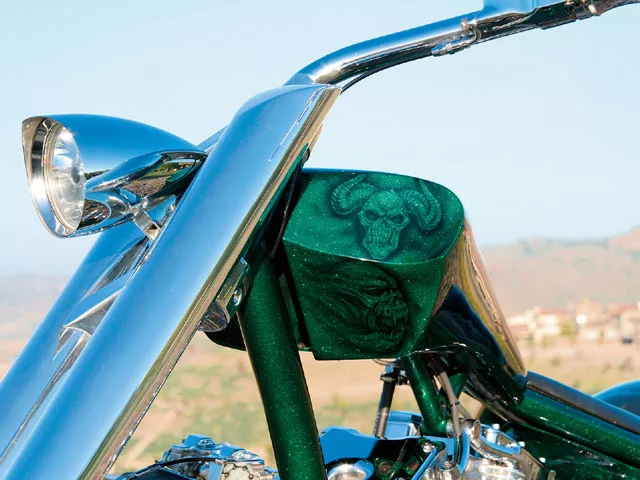 When it comes to writing bike features, we always try to talk with owners to get the story behind the bike. We'll ask them about various parts, how the bike rides, and whether there's anything interesting about the bike or the build. Then we'll take everything they told us and try to write an entertaining story. Sometimes the stories come easy-and sometimes we'll bang our heads against the keyboards for 20 minutes just trying to think of the first sentence. Then there's that rare occasion where the owner tells the story so well that it practically writes itself. This is one of those occasions.
Russ Niedwick told us, "I have been reading HOT BIKE for the past 10 years and have always dreamed of building a one-off custom. Whenever it came down to making a decision on purchasing a bike or moving forward on a build, I could never pull the trigger. Then, one day last year, I received an unexpected call from an old friend I hadn't seen or heard from in more than three years.
"It turned out he was running his family's machine shop, machining frontends for a local shop in Huntington Beach, CA. I was excited to find out that he knew some guys in the industry, so he took me over to their digs and showed me around. It wasn't much, I must say, but one of the guys was really cool and offered to make me a frame on the spot if I was interested. And that's where it started. I sat down with one of the fabricators and told him what I was looking for. About two weeks later I had a beautiful rigid frame with an arched single downtube stretched 4 inches over stock, with another 6 inches added to the backbone and 42 degrees of rake in the neck. I didn't know what the hell to do with it or what to do next, but I had my frame and I was on my way…somewhere?
"I spent the next six months ordering all the coolest parts I had seen on the pages of HOT BIKE. I bought parts from all over the continent. They came as far away as Canada (a 6-inch-over Goldammer frontend); Viola, WI (a 124ci S&S; motor); Haslett, MI (a Baker six-speed right-side-drive trans); and as close as my backyard in La Palma, CA, with PM Widowmaker wheels, Gatlin rotors, a six-piston front caliper, driveside rear caliper, and Contour hand controls. As the parts came in, I began accumulating a very expensive pile of components that I didn't really know how to assemble. The guys at the shop who built my frame kept telling me they were going to bring Wayne Kemp, a well-known builder from Kansas, to work for them and that he could help me with the mockup.
"A few long months later, Wayne walked into the shop, and we hooked up right away. We both seemed to be on the same page for the direction I wanted to go with this project. Wayne had just finished a bitchin' bike that was very similar to what I was doing, so things came together fairly easily until December 2004. We'd just finished all the fab work, and Wayne had built this killer gas tank that featured dished and contoured panels in the front. Then it gradually narrowed like an hourglass as it stretched down the backbone. Instead of running the oil tank under the seat pan the way it's done on most bikes, he hid it between the lower framerails. Then, to fill in under the seat where the oil pan would normally go, Wayne welded up one of his custom switch boxes to house a couple of switches and some of the electrical.
"Basically the mockup was complete, and we were ready for paint. Then Wayne asked me to come over to the shop to discuss something important. I drove over to the shop, and Wayne dropped the bomb on me. He said he was unhappy with the shop that had brought him out here, and he was going to go back to his shop, Biker's Edge, in Kansas. I wasn't getting a very good vibe from the guys at the shop, either, so I could understand his decision. I picked up all my parts and took them back to my garage. So now I was stuck with a half-built bike and had no one to help guide me to the finish.
"I spent the next several weeks scouring all the local shops, asking if they would help me finish the build, and kept getting turned down. Nobody was interested in taking on a half-finished project. I called Wayne and told him of my dilemma. Being a man of his word, Wayne said he was going to finish this project. He suggested I get the bike painted while he figured out how he was going to make his way back to Orange County. I hauled the bike over to Rock & Roll Custom Paintworks and met with Randy Morton, the owner. As we discussed a candy-green over mini-flake with ghosted demons paint scheme, I told Randy about my situation, and he said they'd be more than happy to help me finish the build.
"However, I quickly learned that from the time he came on board, Wayne had engineered the entire build in his head, which included hiding everything that could be hidden. And anyone other than Wayne would have a hell of a time trying to figure out how this thing would go together, especially when it came to running all the wires and cables. So after Rock & Roll finished the paint, I called Wayne and told him he was my only way to finish this. Two weeks later, Wayne and his wife Jen arrived at my house. We set up a lift in my garage and began the starter, and the bike roared to life. With a huge grin on my face, I turned to Wayne, shook his hand, and thanked him for all his help. Then we immediately began to piss off the neighbors as we all took turns ripping around my neighborhood. Sounds like a happy ending to a roller-coaster of a bike build, right? Well, it doesn't end there.
"After several months of trying to line up a photo shoot with HOT BIKE, we finally set a date for the Friday before the 2005 Fourth of July weekend. It also happened that on the following Tuesday a guy was flying out from the East Coast to buy my bike (I guess I'm a glutton for punishment-I was ready to build another one). To see my bike being shot for my favorite magazine was like a dream come true. But what happened halfway through the shoot was definitely a nightworking around the clock.
"For the next 10 days Wayne and I assembled the bike, while my brother-in-law Will drove to every motorcycle shop and auto-parts store in SoCal, looking for the rest of the parts we needed: Accutronix forward controls, a Headwinds headlight, dual Mikuni 42mm carbs, a Spyke starter, and a Martin Bros. exhaust. My dad also jumped in on the build, machining a couple of parts over at our family business, Niedwick Machine.
"After more than a week's worth of 18-hour days, living off nothing but Coors Light and stale pizza, it was finally time to fire the beast up. I was a nervous wreck. Wayne was set to leave the next day, and I knew if it didn't start I'd be in trouble once again. But Wayne was confident and told me not to worry. So I hit mare. We had just shifted the bike's stance to get some detail shots of the tank. We were walking back toward the camera when all of a sudden the bike fell over on its side. We immediately ran over and picked it up. Luckily there wasn't too much damage, but there was a nasty ding on the side of the tank from the handlebars.
"Needless to say, I pointed it out to the prospective buyer when he arrived, but he was understanding and still wanted the bike once it was fixed. So I took the tank off and headed back to Rock & Roll. Now, Randy's a busy guy who's just trying to keep up with his custom-painting business, but when I arrived, not only was he running his paint shop, but he was up to his neck in film crews. There were three different TV shows being filmed at his facility, but he still found time to meet with me, take a look at my tank, and turn one of his guys loose on the task of fixing it.
"A few weeks later the tank was back on the bike, and the new owner made arrangements for it to be shipped to him on the East Coast. It turns out the shipping company was kind of shady and was turning the whole project into a big hassle. The new owner couldn't wait any longer, so he paid $10,000 for an 85-foot FedEx truck to come pick it and expedite it back east.
"Now here's the real kicker to this entire story. After having the bike for only a week, the new owner had a slight mishap, which led to a minor accident. And wouldn't you know it? The only damage was to the tank again. So, since Rock & Roll did such a good job repairing it the fist time, it only made sense for them to fix it again. And I have to say that even after being damaged twice and touched up twice, the tank still looks just as good as it did when Rock & Roll painted it the first time. So if I learned one thing from my first bike build, it's to always use a reputable painter, 'cause as we all know, accidents can happen. Finally, I'd like to wrap things up by giving a big thanks to everyone who helped me accomplish my first build, especially Wayne Kemp. Without his assistance and guidance this bike probably never would have come to fruition."