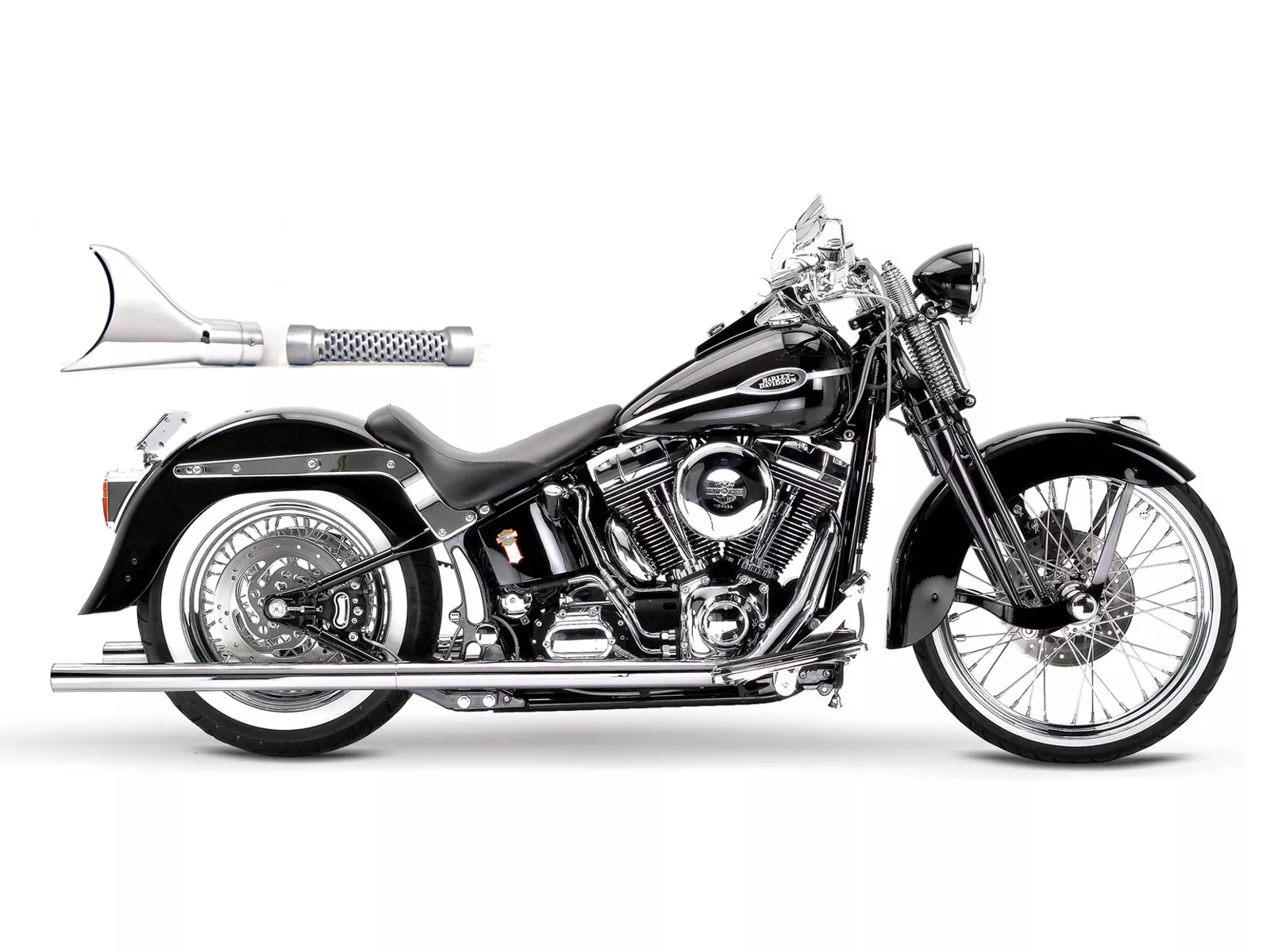 Brea, CA-Samson recently introduced the first removable "fishtail tips" for their exhaust systems. Kenny Price, founder and CEO of Samson Exhaust and "The Godfather of Pipes" recently announced that Samson has perfected this truly innovative idea after months of extensive R&D;! Now for the first time, riders have the option to change their own baffles at a moment's notice or run "wide open" when it permits without baffles at all. Kenny plans on incorporating this new patent pending product into his entire product line up, but is starting with their True Dual Crossover Systems. True Dual Crossover Systems with removable fishtail tips are available for 1995-2012 Dressers/Road Kings and 1986-2012 Softails in lengths from 23 1/2″ to 42″ for Softails and 33″ to 42″ for Dressers/Road Kings. Check out the following link to look at all info regarding these new Fishtail Removable Tips at .
Kenny Price is the inventor and leading innovator of numerous patented and high-performance exhaust systems for Harley Davidson and Metric Cruiser motorcycles. Today, Samson Exhaust continues to design and manufacture innovative exhaust products where Kenny is involved in every aspect of pipes made at Samson. Samson still exists as a family owned business that has an enthusiast mindset and genuine passion and connection in the motorcycle industry. Kenny stated, "From the very beginning we set out to build the very best motorcycle exhaust systems. We designed every aspect of our company to do just that, and we've succeeded. Our belief is simple…Our customers, when it's all said and done, want a company that puts quality before quantity. And here we are still doing what we do best."
Paving the way, Samson always has and will continue to set a standard for the motorcycle industry. Their styles and designs are still copied world-wide, while other pipes may look the same, nothing compares to a Samson pipe in quality or sound!
Samson has over 740 different styles to choose from and they have all styles available for Harley's new 2012 model lineup. Go to their site and listen to the sound of each one of their exhaust systems!
Check out Samson Exhaust's entire '12 product line at www.samsonusa.com or contact them directly at (888) 572-6766 or email them at [email protected].