We first met Scratch back in 2014 when he rode up to our studio on his 1946 Harley-Davidson FL Knucklehead called Jessie. Let me repeat: He rode into our studio. See, Scratch has owned that bike since his 20s and has been riding it ever since.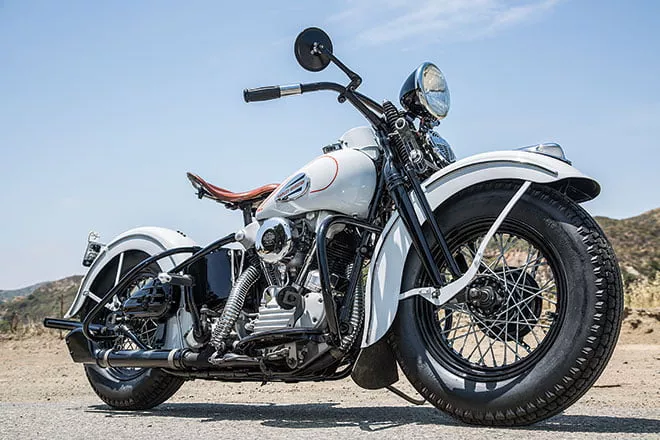 In a world full of weekend warriors and internet tough guys, Scratch is the real-deal rider who not only appreciates these old bikes but can accurately bring one back from the dead.
Hot Bike: What did this restoration start like?
Scratch: I've been building bikes off and on my whole life, not as business. I got serious about restoring bikes after I was done with the touring business. I've been hard at it five to six years now.
It's nice if you are going to start a restoration that you start with a complete bike. Unfortunately, in the case of this Knucklehead I only had the motor that came with a title. I literally had to go out and find all the parts, including the frame, handlebars, sheet metal, everything one piece at a time. A lot of these parts were one year only because it was a transitional year between the early bikes and what would become known as the later '41–'47 Knuckleheads. The good part is sometimes when you go the long way around you end up with a nicer end product.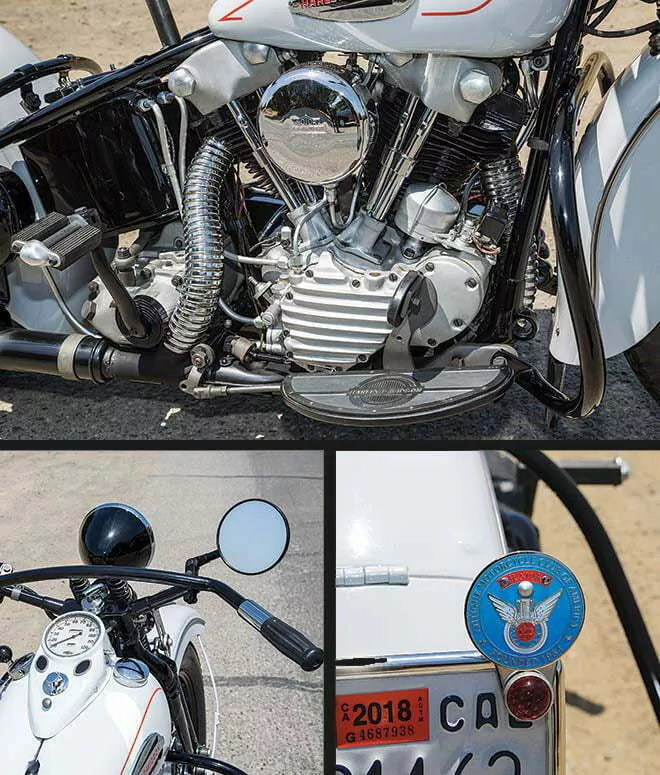 HB: Who owns it?
Scratch: I don't want to piss everyone off, but it's going to Australia [laughs]. This was a friend of mine that I met while I was a tour guide on Route 66 while I had a group of Norwegians. One night in Missouri, in the room next to me, there was a bike there and a guy came out and I met him. He ended up staying with our tour group all the way to California, and we later became friends. Now I've known him for a number of years, and he was really in love with my Jessie and asked if I could build him a bike as well. So that's what started all this.

HB: How difficult was this restoration?
Scratch: Each time I do a different year, I learn new things. A lot of bikes are one year only. For example, this frame. I bought what was presented as a '40 frame and I thought that it was. I found later that it wasn't after I had restored it. Right about the rear head, there was extra clearance because the next year an FL was coming out. I managed to find the correct '40 frame. It's super hard to find.
We are drying up on parts around here or they are stashed. A lot of people are sitting on stashes they don't want to sell. I've had parts come from as far as Japan and Australia. This bike has almost zero aftermarket parts and is almost entirely OEM or NOS parts.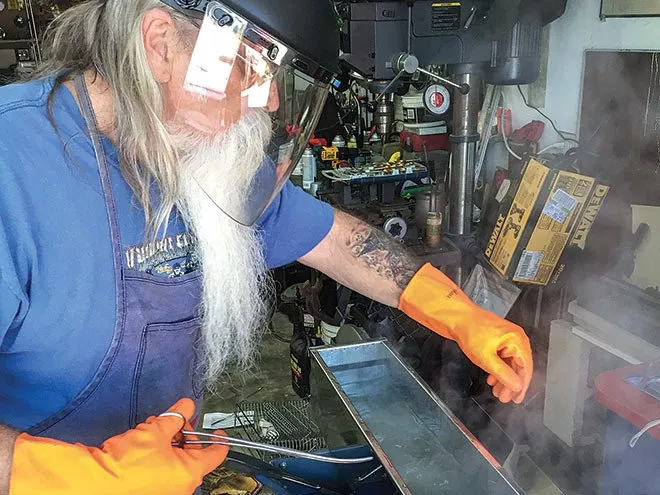 HB: Are you happy with the final outcome?
Scratch: It runs and looks like a brand-new bike. The first time out being judged by the Antique Motorcycle Club of America it scored 97 points out of 100. I'll be judged again this week, and I hope to have corrected nearly everything to bring it up as high as I can.
HB: What does the owner think? Is he going to ride it?
Scratch: He's only seen photos. He hasn't seen it until after the article comes out. It's almost too nice. You don't want to get a ding or a dent or have a bird crap on it. I think he'll be proud enough to ride it around.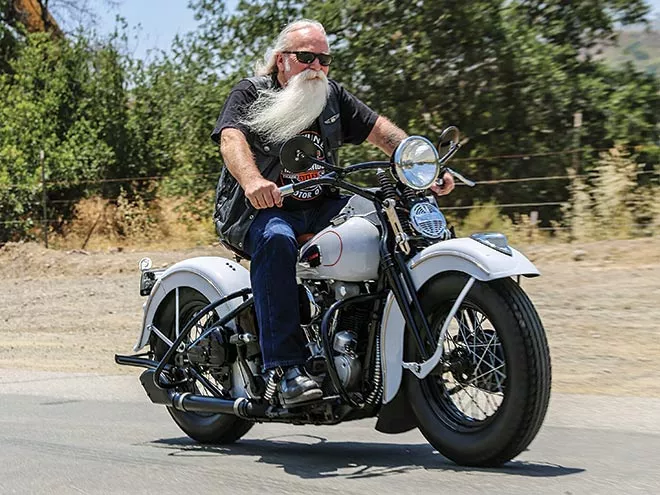 HB: What do you prefer: restorations or customs?
Scratch: I like the freedom of the non-restorations because I can get to be creative and do things my own way. But it's a challenge with the restorations because you have to be exact. Everything has to be just right. I just like to bring something back from the dead. One more back on the road now that we didn't have before.

| Specifications | |
| --- | --- |
| General | |
| Owner | Scratch |
| Shop | Scratch's Garage |
| Year/Make/Model | 1940/Harley-Davidson/EL 61 OHV Sport Solo |
| Fabrication | Scratch's Garage |
| Build Time | 18 months |
| | |
| Engine | |
| Year/Type/Size | 1940/H-D/61 in. |
| Builder | Scratch's Garage |
| Cases | Genuine H-D |
| Cylinders | Genuine H-D |
| Heads | Genuine H-D |
| Cams | Genuine H-D |
| Carburetor | M-25 Linkert |
| Air Cleaner | 6-in. round type |
| Exhaust | Early "fishtail" type |
| | |
| Transmission | |
| Year/Type | 1940/H-D |
| Gears | 4-speed |
| Clutch | Four-bolt type |
| Primary Drive | Chain |
| | |
| Frame | |
| Year/Type | 1940/H-D |
| Rake/Stretch | 25º |
| | |
| Suspension | |
| Front End | Genuine H-D Springer |
| Length | Stock |
| Swingarm | Rigid |
| Rear Shocks | Rigid |
| | |
| Wheels, Tires, and Brakes | |
| Front | |
| Builder/Size | Kelsey Hayes/16 in. |
| Tire/Size | Avon/5.00-16 |
| Brakes | Mechanical H-D |
| Rear | |
| Builder/Size | Kelsey Hayes/16 in. |
| Tire/Size | Avon/5.00-16 |
| Brakes | Mechanical H-D |
| | |
| Finish/Paint | |
| Colors | Squadron Grey w/ Bittersweet Stripe |
| Paint/Graphics | Rock & Roll Custom Paint Works, Orange, California |
| | |
| Accessories | |
| Front Fender | Fender Light |
| Rear Fender | Genuine H-D |
| Gas Tank | Genuine H-D |
| Dash | Genuine H-D |
| Gauges | Genuine H-D |
| Handlebars | "Hollywood" handlebars |
| Grips | Genuine H-D |
| Hand Controls | Genuine H-D |
| Foot Controls | Genuine H-D tank shift |
| Floorboards | Genuine H-D |
| Headlight | Genuine H-D |
| Taillight | Genuine H-D |
| Seat | Solo seat w/ spring yoke |