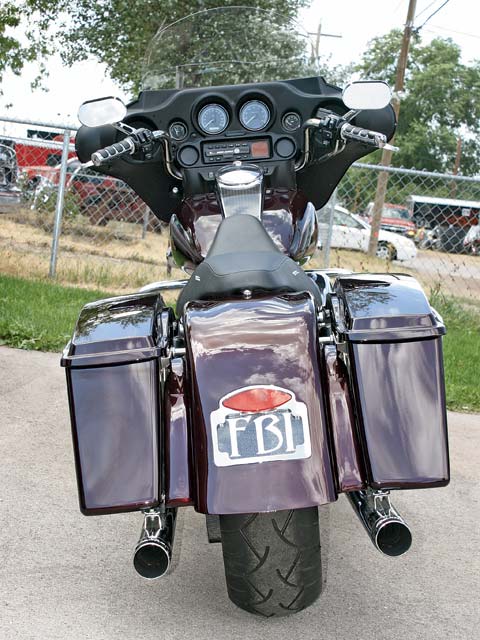 Baggers are big business. And for Fat Baggers Inc. (FBI) of Chariton, IA, that's a literal statement. Since 2004, FBI owner Gary Chip and his crew have been blowing out the skimpy stock rear tires that come on FLH models and replacing them with beefed-up 200s. With a variety of kits for '96-'01 and '02-and-later FLH model years, FBI found a neglected niche in the custom motorcycle industry and ran with it.
The basic 200mm kit costs just under four Gs and comes with a widened swingarm, all the offsets necessary for the primary, an extended mainshaft, a longer rear axle, a 200mm tire, a choice of three different rear fender styles (unpainted), and all the necessary hardware. All you have to do is find a rear wheel you like that works with the kit. As stated earlier, this is a bolt-on kit, which means that someone with basic mechanical knowledge and a good set of tools can install the kit in about eight hours. Just keep in mind that the most intimidating part for many people is pulling the gearset from the stock mainshaft and reassembling it onto the extended mainshaft.
However, if the farthest you've ever gotten with your trans is checking that little dipstick thingie to see if it had red stuff on it, don't worry. FBI sets up at all the major rallies and can install the kit for you (for an extra charge) while you enjoy the rally. In fact, that's how a lot of the company's kits are installed. FBI arrives at the rallies with a full stock of its fenders painted (another additional charge) in factory colors ready to go. If you have a custom paint job, the FBI staff can send you home with a primered fender, or you can send them a sample of your paint, and they'll have the fender painted and ready when you arrive (for another one of those upcharges).
For the complete story, pick up the Febuary 2007 issue of Hot Bike, on newsstands now!