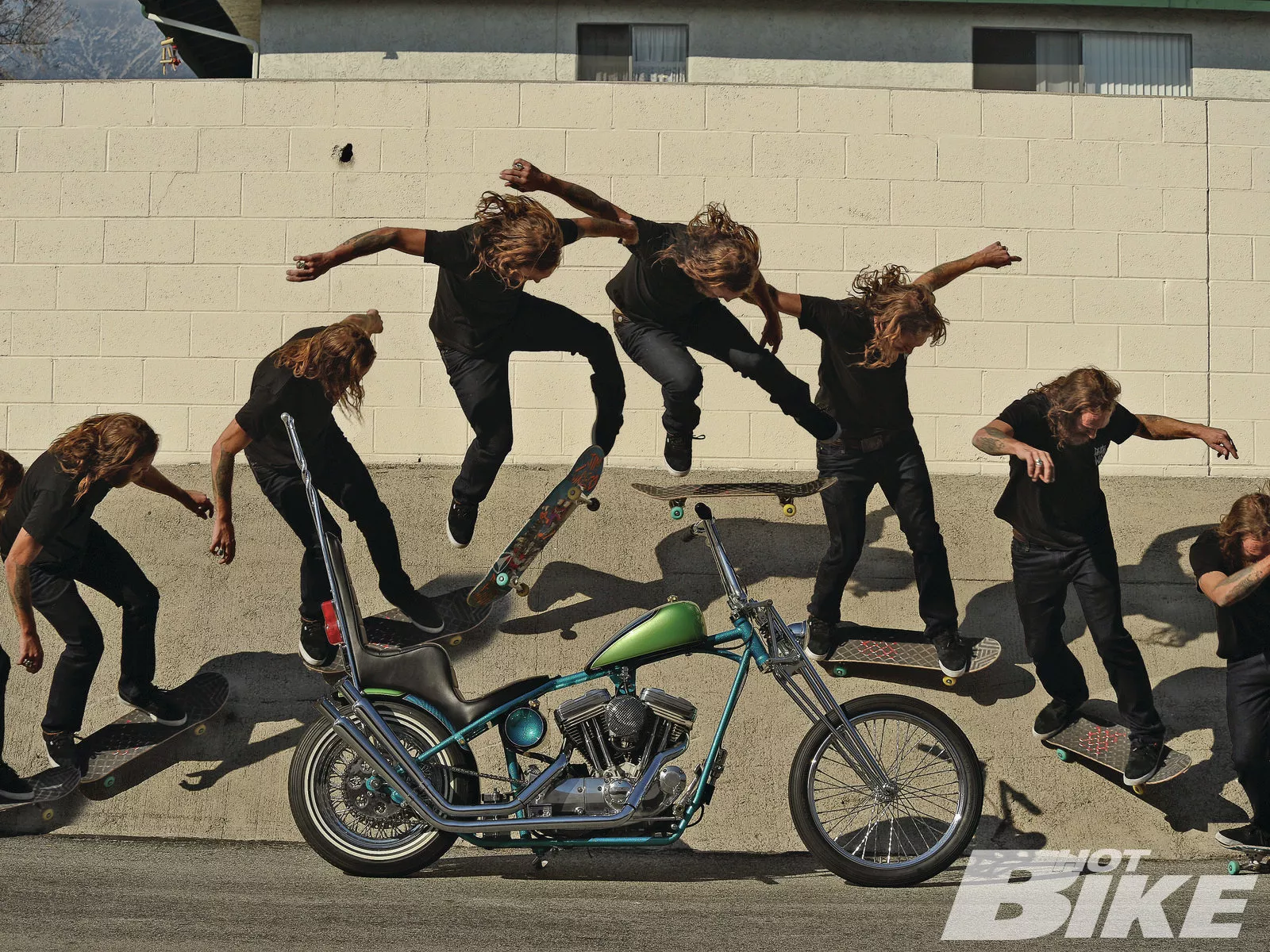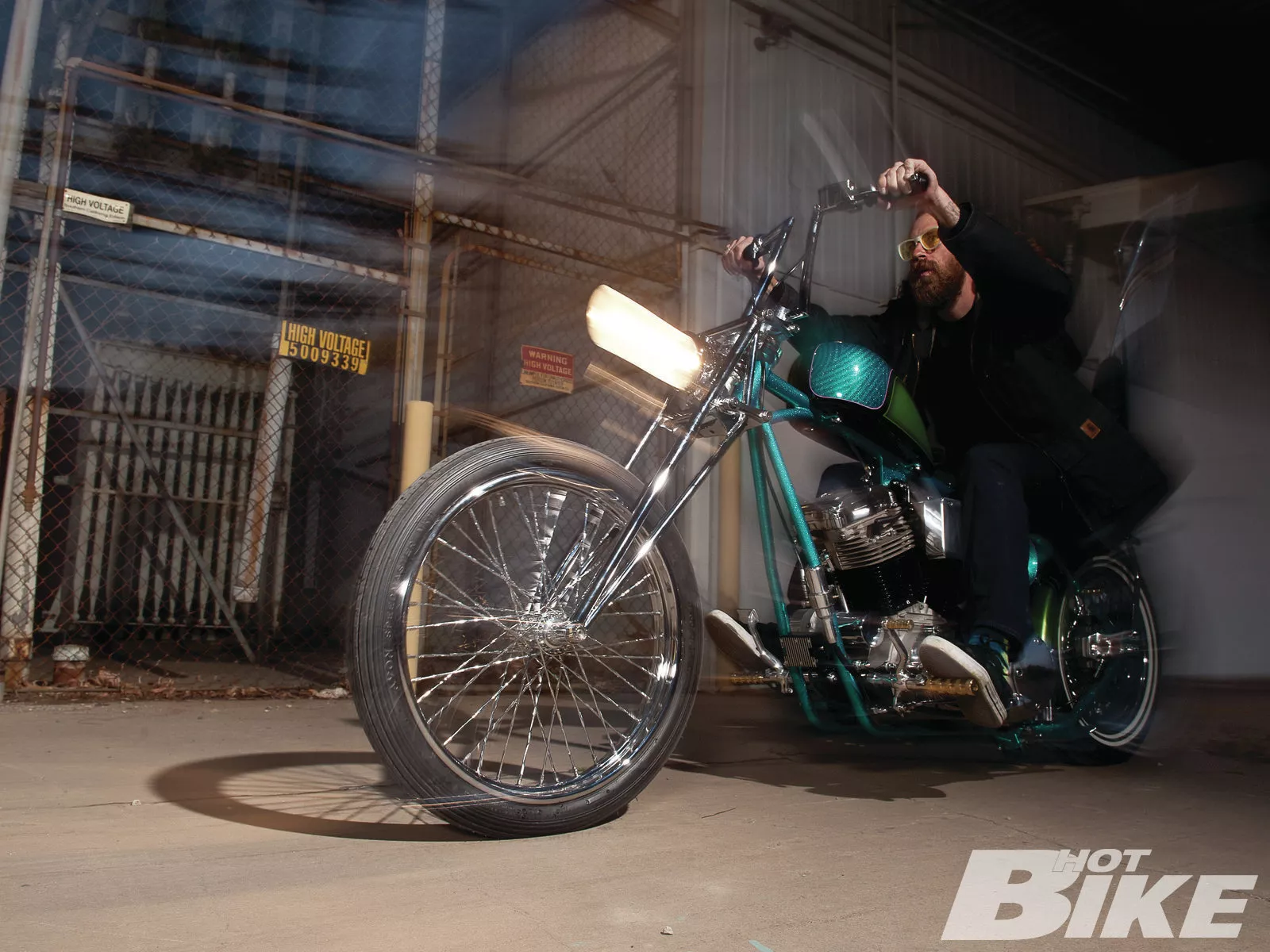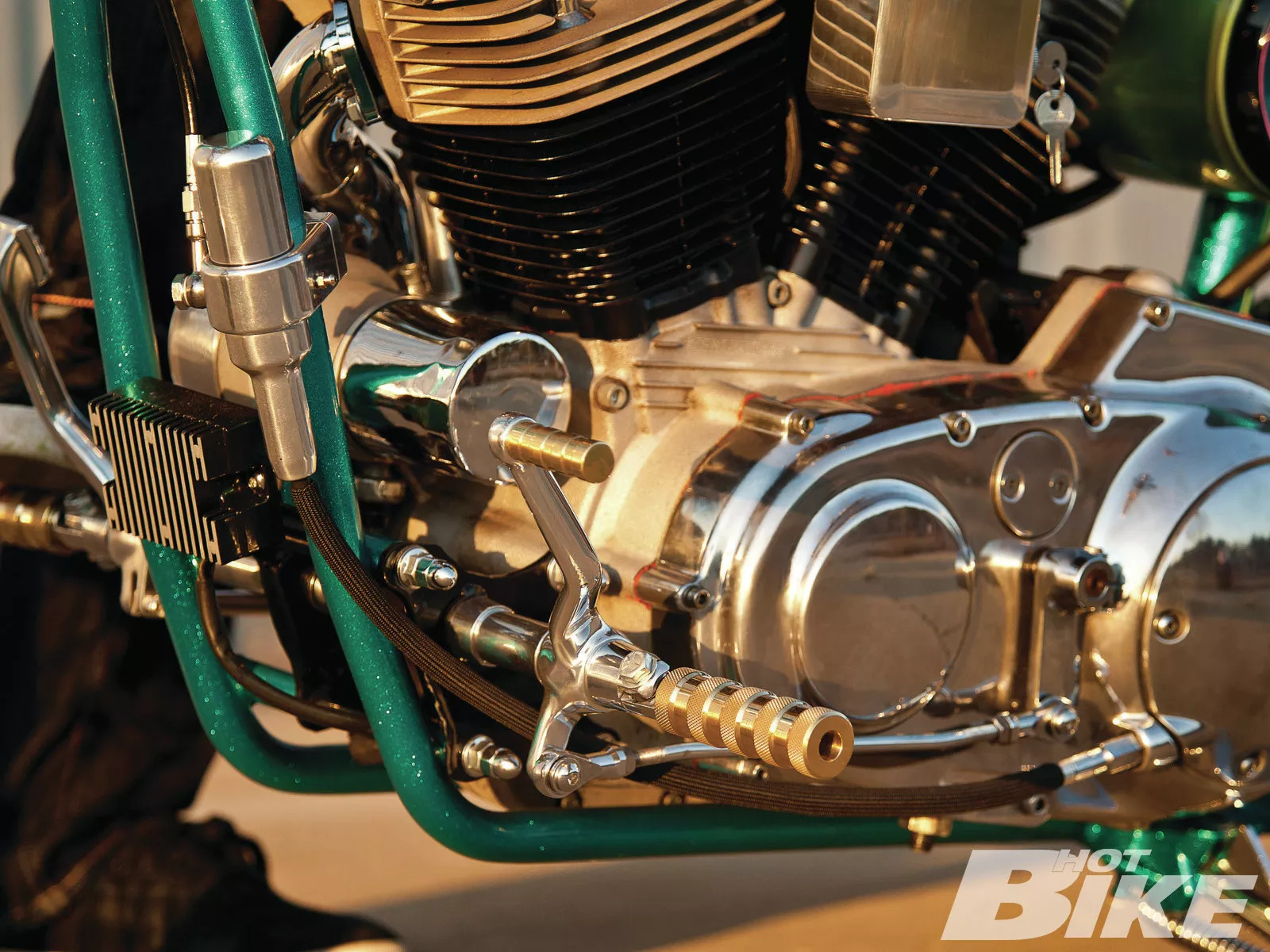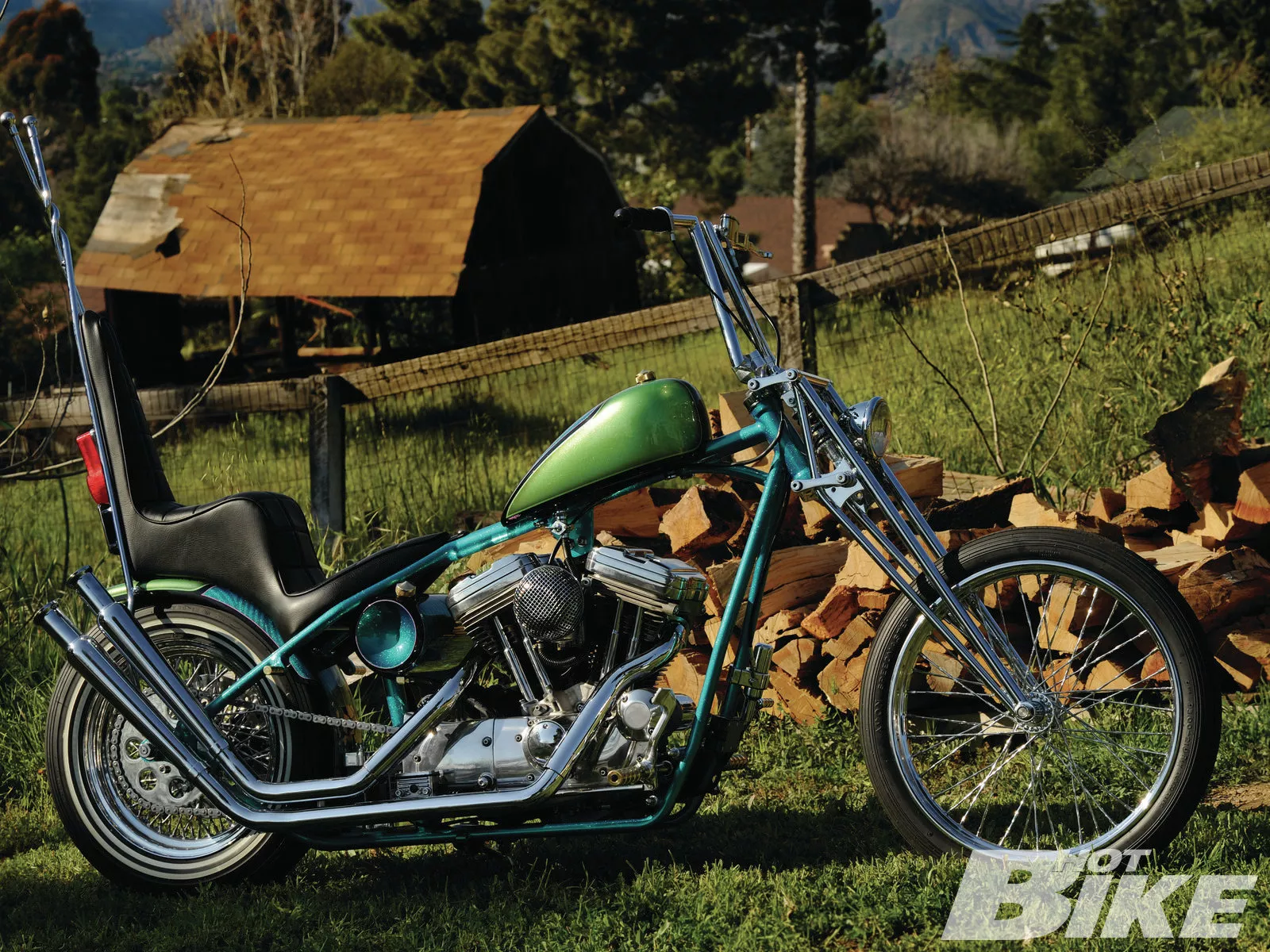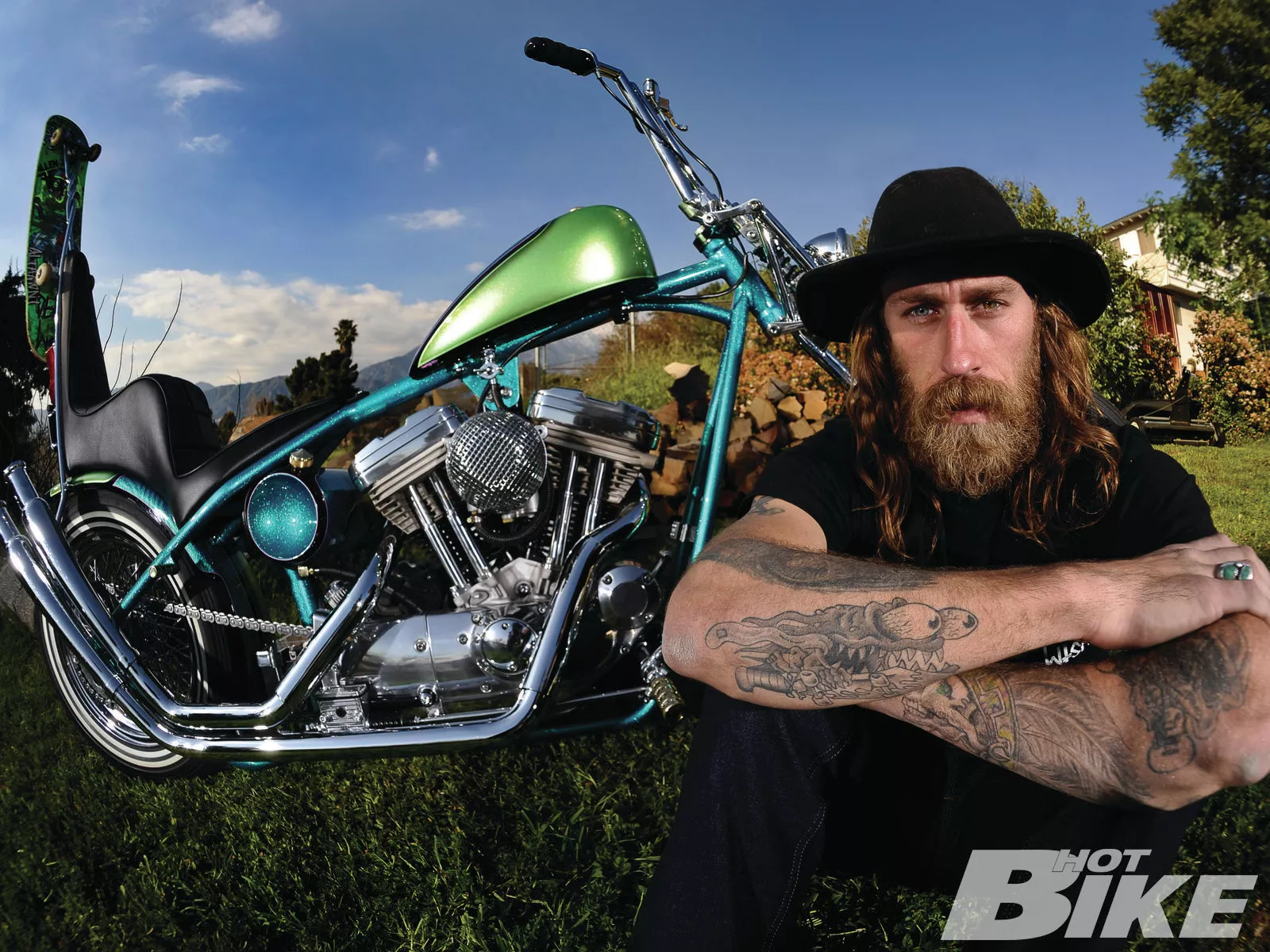 It's safe to say that a stock 883 Sportster isn't over-powered, nor is it styled to be a head-turning show-stopper. Not to say there's nothing to like about Harley's smaller V-twin, it's a great foundation for customization, and therefore a cornerstone of what owning an American motorcycle is all about. This is exactly what pro-skater and devout H-D fan Brian "Slash" Hansen discovered when he bought a '99 XL and almost immediately destroyed the engine by revving it too high for extended periods while trying to keep up with his friend's modified V-twins. Slash bought a big-twin in the meantime and started riding it around, but didn't give up on the XL after it blew up. It took him about a year to decide whether or not he should customize the bike or have a shop build a custom bike. Eventually, he decided that a stocker with pieces of chrome bolted to it wasn't going to make him happy and wanted to take the poor, broken-down scoot to a shop, but wasn't sure about which one to take it to. While getting a tattoo in LA one day, he mentioned his problem to his friends at Alchemy Tattoo. Some of the artists there had bikes built by Spitfire Motorcycles and recommended that Slash stop by the shop.
Anyone that calls themselves a skater would instantly recognize the similarities between Spitfire's logo and some big skate companies of yesteryear, which told Slash that the owner of the shop would speak his language. Paul Cavallo, Spitfire's owner, used to skate all the time until he had a knee injury (from a bike accident) and wasn't surprised when Slash laid out his requirements for the older Sportster. "Slash wanted three things: to bump up the 883 to 1,200cc, a set of ultra-narrow bars, and a sissybar that doubled as a skateboard rack," Paul says. " I thought it was a good idea. There's been plenty of times when I'd arrive at a destination on my bike and wish that I'd had a skateboard with me."
---
_
"The bright, multi-colored teal and lime-green metalflake and pink-pinstriped paint scheme done by Casey at Head Case Kustom Paint was inspired by Slash's one blue eye and one green eye."_
---
Building a custom bike with Slash's requirements wasn't going to be a problem for Paul, but he didn't keep much of the original bike for the project; in fact, he threw out most of it. He started with a late '60s-styled rigid Spitfire frame with updated Sportster motor mounts, 36 degrees of rake and 2 inches added to the backbone. Paul continued the period correctness by complementing the frame with a clean and narrow, stock-length girder frontend, also manufactured by Spitfire. A few twisted, 40-spoke wheels were attached to the frame, with a spool hub in the front and a stock, single-piston H-D caliper squeezing the sole rotor in the rear. A trailer fender was employed to cover the rear wheel while a cylindrical oil bag was hung underneath the seat area on the frame and a smooth, teardrop-shaped custom tank was frisco-mounted to the bike's backbone. A tall fender strut/sissybar was constructed to perform triple duty: it supports the fender, acts as a backrest for the passenger, and is long enough to hold a skateboard. The only challenge Paul faced during the build was the handlebars. "The bars had to be super-narrow, so I welded up a set that Slash approved of. The problem was that they were so tight at the top; a stock-style clutch cable wouldn't start bending down towards the frame until it was well past the right grip. It just didn't look right, and I had to design a hydraulic clutch cable actuator to solve it," Paul says.
While the Spitfire guys were working on the chassis, the little 883 was being force-fed Wheaties and drinking milk as well. With no shortage of hard work, the shop turned the motor into a 1,200cc fire-breather (that some might say spit fire) with a pair of Chambers Racing heads and cylinders and an S&S; E carburetor. Custom headers were attached to the engine, along with a pair of upswept, cocktail shaker-style mufflers. The stock 883 five-speed transmission is geared well, right off the assembly line, and was retained, but the final drive pulley was replaced with a sprocket and chain final drive to keep the profile thin.
The bike's aesthetics were intended to catch the eye, and there's no doubt that the bike wouldn't be mistaken for stock, but it just might be mistaken for your father's custom Sporty of the '60s. The bright, multi-colored teal and lime-green metalflake and pink-pinstriped paint scheme done by Casey at Head Case Kustom Paint was inspired by Slash's one blue eye and one green eye. "We wanted the bike to be a reflection of the owner; something as eclectic and interesting as the bohemian, pro-skater himself," Paul says. There's no doubt that the bike is interesting, but the real indication that Spitfire satisfied the skater's custom bike needs is that now Slash rides the Sportster everywhere and his big-twin sits in his garage. HB
| | |
| --- | --- |
| ### Specifications | |
| Bike Owner | Brian "Slash" Hansen |
| Shop Name | Spitfire Motorcycles |
| Shop Phone | (855) 778-3473 |
| Shop Website | spitfiremotorcycles.com |
| Year/Make/Model | '11/Spitfire/Rigid |
| Fabrication | Spitfire Motorcycles |
| Assembly | Spitfire Motorcycles |
| Build Time | Eight months |
| | |
| **Engine ** | |
| Year/Manufacturer | '99 H-D |
| Type/Size | 1200/Sportster modified |
| Builder | Scrotumbuilt |
| Cases | H-D |
| Cylinders | Chambers Racing |
| Heads | Chambers Racing |
| Rocker Boxes | Polished stock |
| Carb | S&S; Super E |
| Air Cleaner | Drag |
| Exhaust | Spitfire Lowrider upsweeps with cocktail shakers |
| | |
| Transmission | |
| Year/Manufacturer/Type | '99/H-D/XL five-speed |
| Case | H-D |
| Clutch | Barnet |
| Primary Drive | Stock |
| | |
| **Frame ** | |
| Year/Manufacturer | '11 Spitfire |
| Rake | 36 degrees |
| Stretch | 2 inches out |
| | |
| **Suspension ** | |
| Manufacturer Front | Spitfire Girder |
| Length | Stock |
| Triple Trees | Spitfire |
| Manufacturer Rear | Rigid |
| Swingarm | None |
| | |
| Wheels, Tires, And Brakes | |
| Manufacturer Front/Type | Spitfire 40 twisted spoke with spool hub |
| Size-Height/Width | 21x 2.15 |
| Tire/Size | 21×2.00/Avon Speed Master |
| Caliper | None |
| Rotor | None |
| Manufacturer Rear/Type | Spitfire 40 twisted spoke |
| Size-Height/Width | 16x 3.5 |
| Tire/Size | 16×3.00/Shinko dual stripe |
| Caliper | Stock H-D |
| Rotor | Super Spoke |
| | |
| **Finish/Paint ** | |
| Color | HOK Teal/Lime green/Silver Mini Flake |
| Painter | Casey-Head Case Kustom Art/> |
| Graphics | Casey-Head Case Kustom Art |
| | |
| **Accessories ** | |
| Rear Fender | 6-inch trailer |
| Fender Struts | Spitfire Sissy bar/skateboard rack |
| Gas Tank & Cap | Spitfire Motorcycles |
| Oil Tank | Spitfire Motorcycles |
| Handlebars | Spitfire Motorcycles |
| Hand Controls | Spitfire Motorcycles |
| Foot Controls | H-D XL Forward controls |
| Footpegs | Spitfire |
| Headlight | 4-inch Spotlight modified |
| Taillight | Peace sign |
| License Mount | Spitfire |
| Seat | Spitfire King & Queen |
[