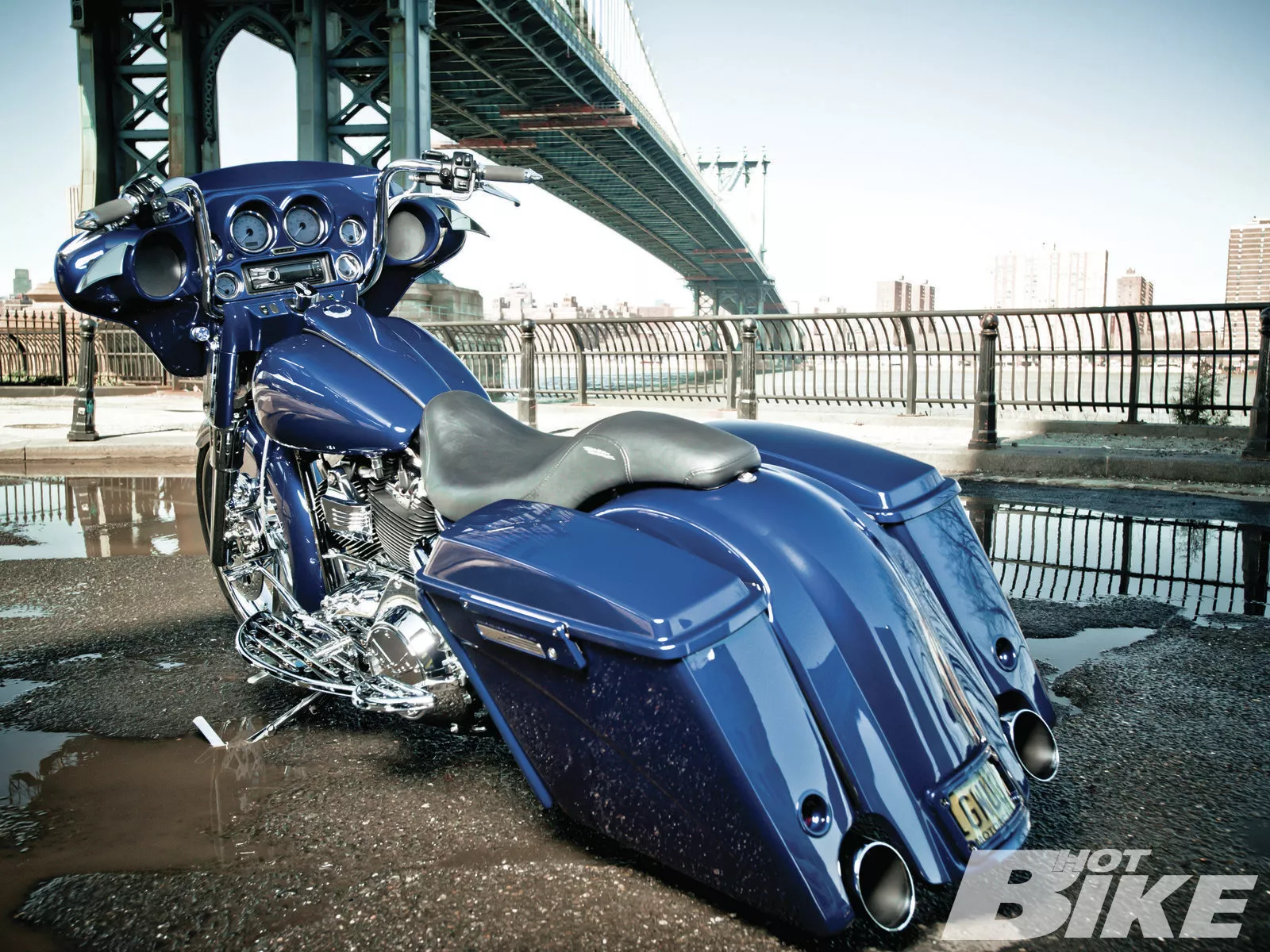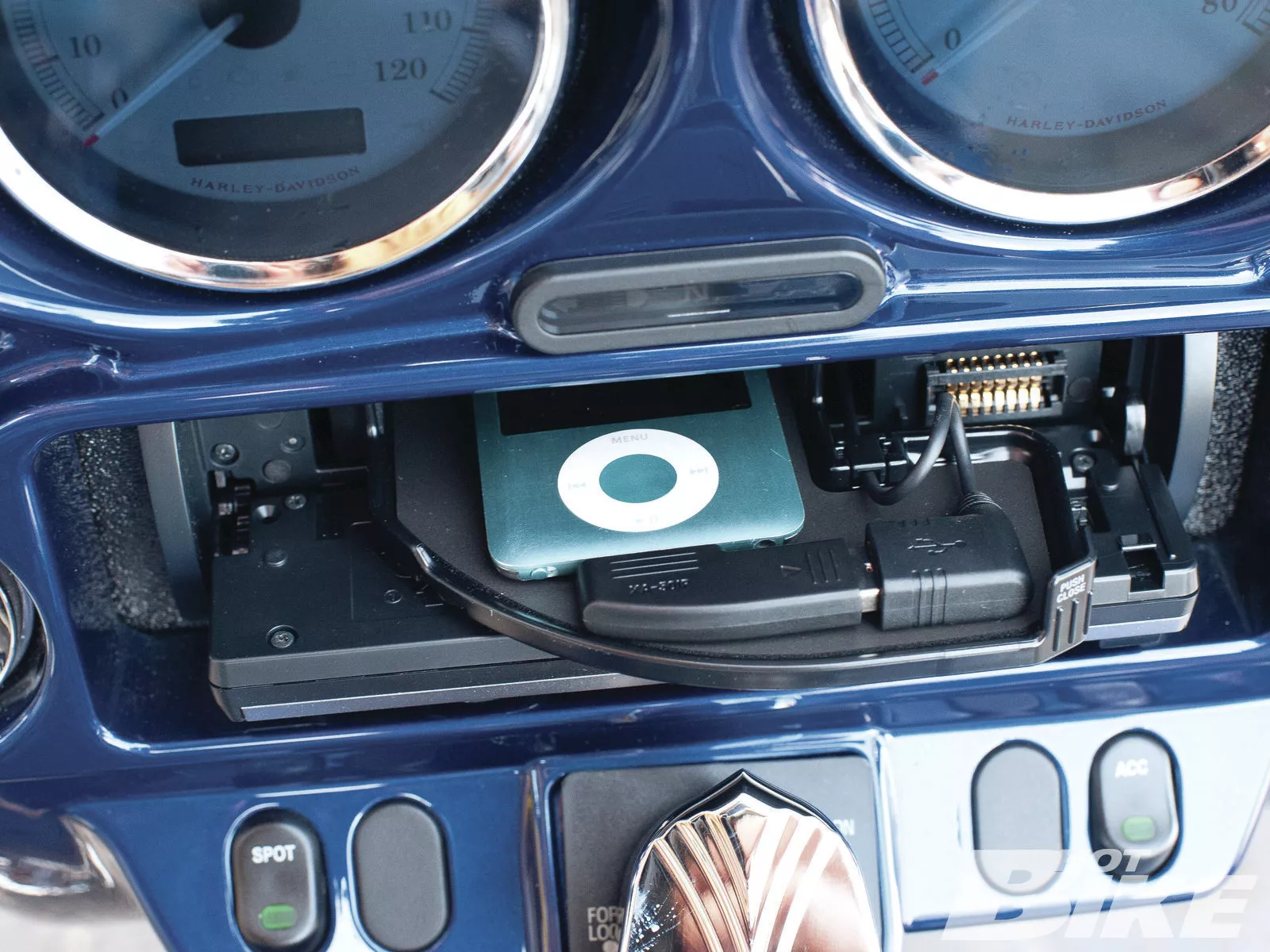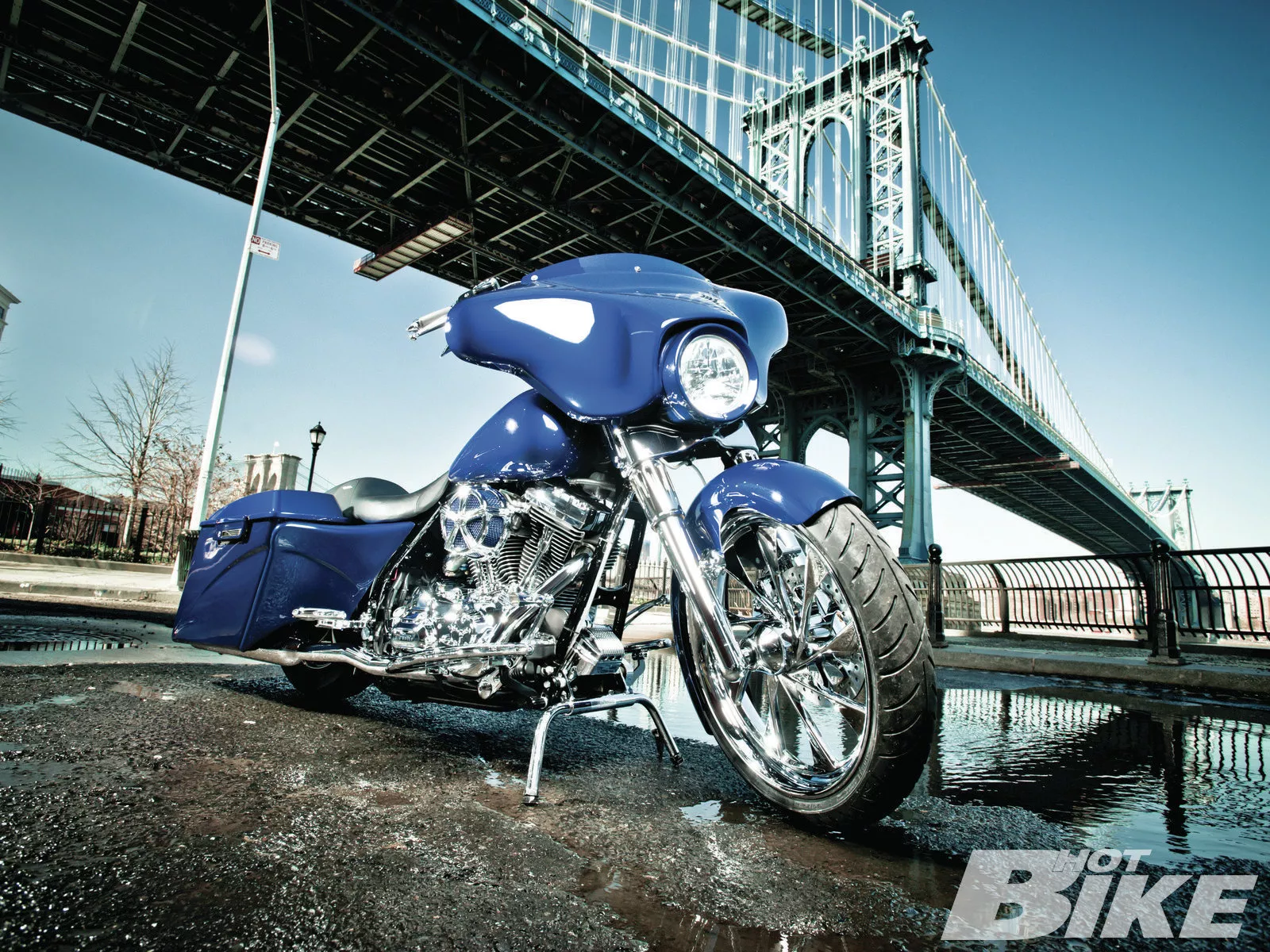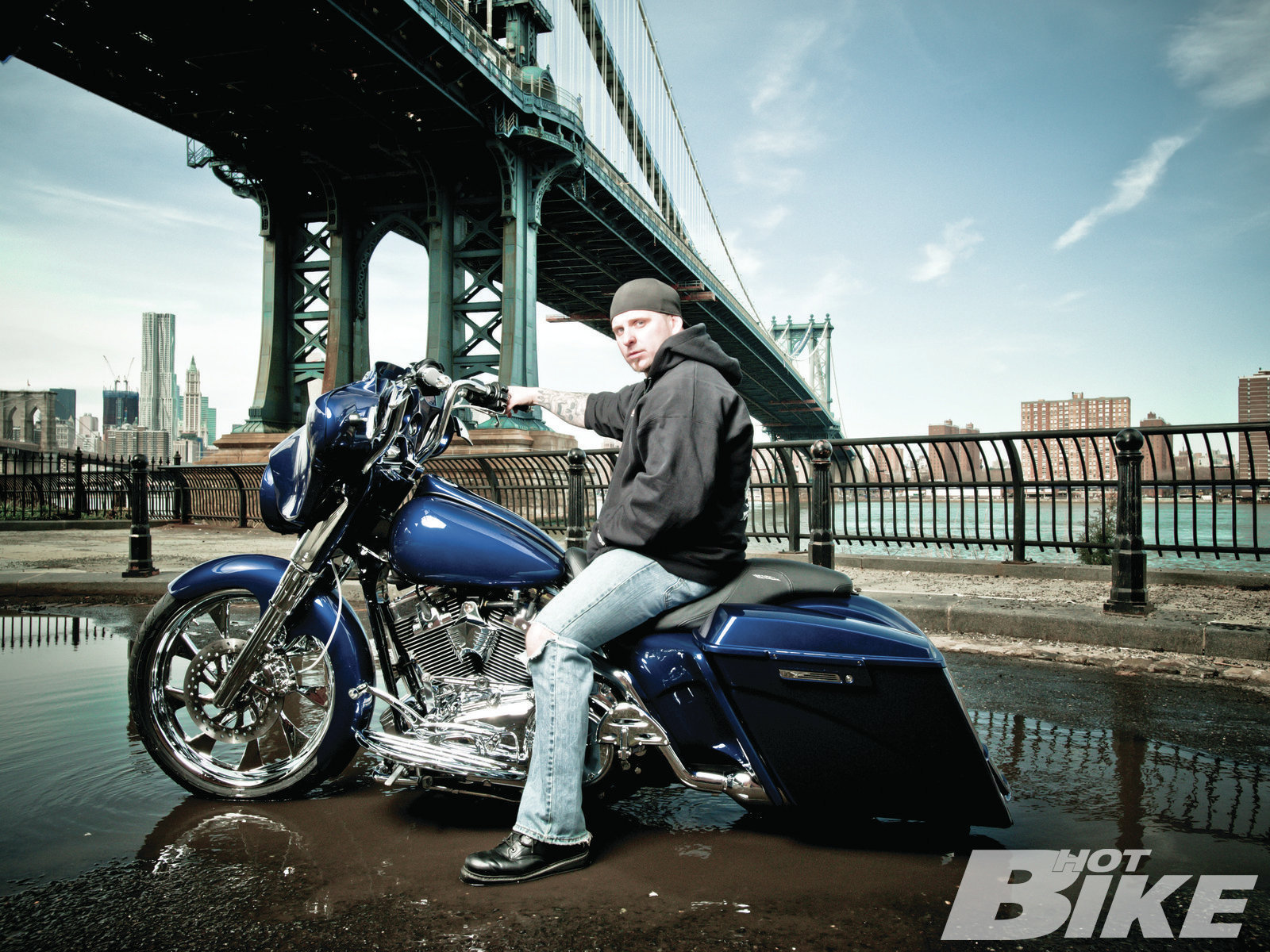 Custom Bike Works (CBW) has seen an increase in "kids" (under 40) come in with Street Glides requesting custom work. They want a comfortable Harley with clean lines and a cool stance to make them stand out. This new trend in business for CBW began with Joe Rastiello, one of the first of many kids that Mark Johnson welcomed into his shop. Mark is the owner of CBW, located in Dover, New Jersey. He describes his shop as an old-school shop where he answers the phone and wrenches on Indians, Knuckleheads, as well as modern Twin Cams. For the outsider, these shops can be intimidating because owner/mechanics are usually very focused on the job in front of them, more interested in timing a motor than answering questions.
The first time Joe walked into CBW and spoke to Mark he knew it was his kind of shop, not because of the feel, but because it was obvious that CBW prided itself on doing great work and attention to detail, as evidenced by the shop's The Bigg Johnson line of OEM bikes and restoration projects in process. Joe spent his life as an auto mechanic working at a local dealership, so he knows a good mechanic when he talks to one. It was obvious from the get-go that Mark knew his stuff.
---
_
"When Joe arrived at CBW with his new bike, Mark just sat back, answered questions, and more or less allowed Joe to design and build his bike."_
---
When he first met Mark, Joe was riding a Buell. Joe had been riding since he was 3, so he wasn't a newcomer to bikes, but he was definitely new to the Harley-Davidson scene. He liked the fact that Buell was American-made, but a performance-based sportbike. At first it was hard to see how a big twin, especially a bagger, could be cool.
Joe hung around the shop enough to see what Mark was doing with some of the bikes he worked on and his gears started turning. His lady enjoyed riding, but they were limited by the discomfort factor that all sportbikes share. Joe decided to keep his eye out for a low-mileage Street Glide. He wanted one that was '07 or later, so he would be guaranteed the 96-inch motor and six-speed. Joe found an '07 Street Glide at a local dealer that only had 6,400 miles on it and was in fairly good shape. He picked it up and immediately brought it over to Mark so he could get started.
When Joe arrived at CBW with his new bike, Mark just sat back, answered questions, and more or less allowed Joe to design and build his bike. Eventually Joe began working nights and weekends as a fill-in tech at Custom Bike Works, so Mark was comfortable with him wrenching on his own bike after hours. Joe started bidding on, and winning, Ebay parts that would go with the lines he wanted for his first Harley build. As parts came in, he started swapping them out. As he was looking for unique, sleek contoured saddlebags in the Arlen Ness catalog, he realized many parts matched his vision for the bike, so he had Mark order them.
Everything had to be exactly right. Working at a car dealership, had given Joe an appreciation for detail. His first Harley had to be right. This included the fitment between the Bad Dad rear fender, Ness Big Bags, and the Cobra dual exhaust. It took some tweaking but he soon realized that, as with anything custom, it takes patience and an eye for detail. "Bikes are way easier to work on than cars, you wouldn't believe what we deal with," says Joe.
Joe's first Harley transformed into a custom cruiser, which he has put almost 15,000 miles on in a little more than a year. Joe now has a new project—a '10 Street Glide. Since Joe completed his project, CBW has seen more and more "kids" come in with Street Glides who want the comfort with a custom look. Upstate New Jersey is kickin' out some custom baggers, so look out! HB
| | |
| --- | --- |
| ### Specifications | |
| Bike Owner | Joe Rastiello |
| Shop Name | Custom Bike Works (CBW) |
| Shop Phone | (973) 361-5094 |
| Shop Website | custombikeworks.com |
| Year/Make/Model | '07/H-D/Street Glide |
| Assembly | CBW |
| Build Time | Six months |
| | |
| | |
| **Engine ** | |
| Year/Manufacturer | '07/H-D |
| Type/Size | TC/96ci |
| Builder | H-D |
| Cases | H-D |
| Cylinders | H-D |
| Heads | H-D |
| Rocker Boxes | H-D |
| Efi | SE |
| Air Cleaner | Küryakyn |
| Exhaust | Cobra |
| | |
| | |
| **Transmission ** | |
| Year/Manufacturer/Type | '07/H-D |
| Case | H-D |
| Clutch | H-D |
| Primary Drive | H-D |
| **Frame ** | |
| Year/Manufacturer | '07/H-D |
| Rake | Stock |
| Stretch | Stock |
| | |
| | |
| **Suspension ** | |
| Manufacturer Front | H-D/Progressive |
| Length | 2 inches under |
| Triple Trees | H-D |
| Manufacturer Rear | Arnott Air Ride |
| Swingarm | H-D |
| | |
| | |
| Wheels, Tires, And Brakes | |
| Manufacturer Front/Type | Renegade/Whistler |
| Size-Height/Width | 21×3.5 |
| Tire/Size | Avon/120/70-21 |
| Caliper | H-D |
| Rotor | Renegade |
| Manufacturer Rear/Type | Renegade/Whistler |
| Size-Height/Width | 16×4 |
| Tire/Size | Avon/150/80-16 |
| Caliper | H-D |
| Rotor | Renegade |
| | |
| | |
| Finish/Paint | |
| Color | Deep Cobalt Pearl |
| Painter | Dynasty Air Brushing |
| | |
| | |
| **Accessories ** | |
| Front Fender | Klock Werks |
| Rear Fender | Dad Dad |
| Gas Tank & Cap | Russ Wernimont Designs |
| Oil Tank | H-D |
| Handlebars | Cyclesmiths |
| Hand Controls | H-D |
| Foot Controls | Ness/H-D |
| Footpegs | Ness |
| Headlight | Adjure |
| Taillight | Alloy Art |
| License Mount | Ness |
| Seat | H-D |
| Saddlebags | Ness |
| Saddlebag | Latches |
| Audio | Sony, Biketronics, Alpine, Pioneer |