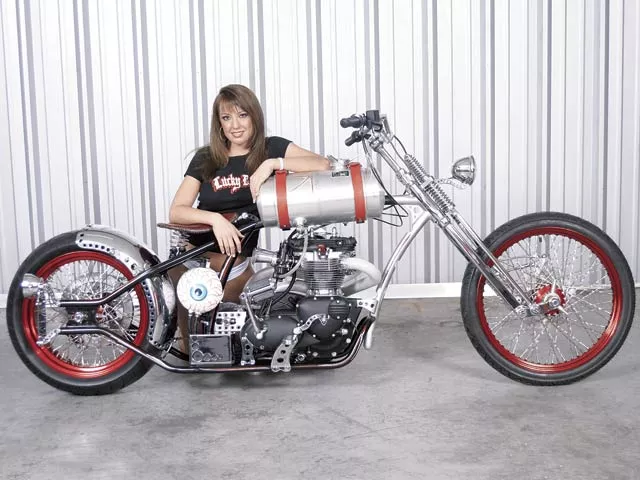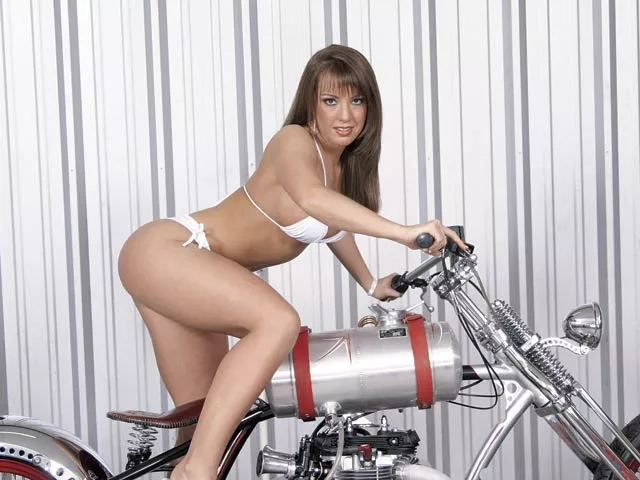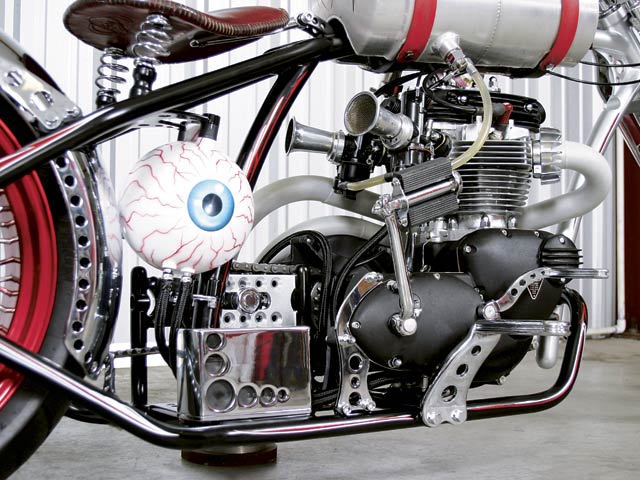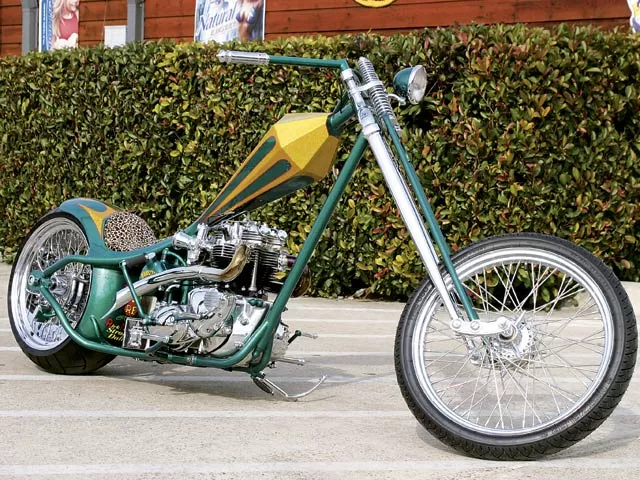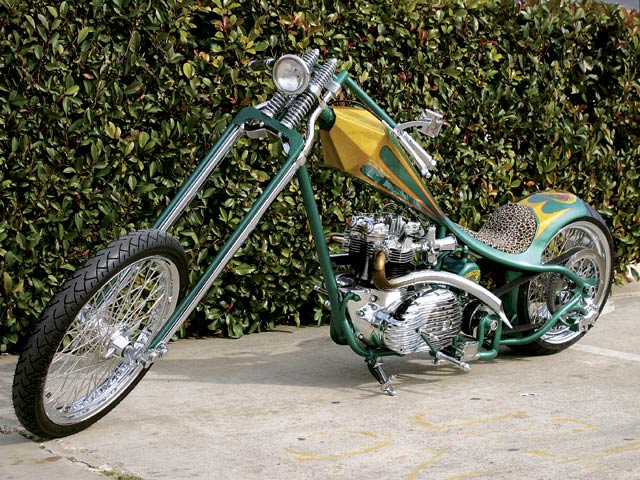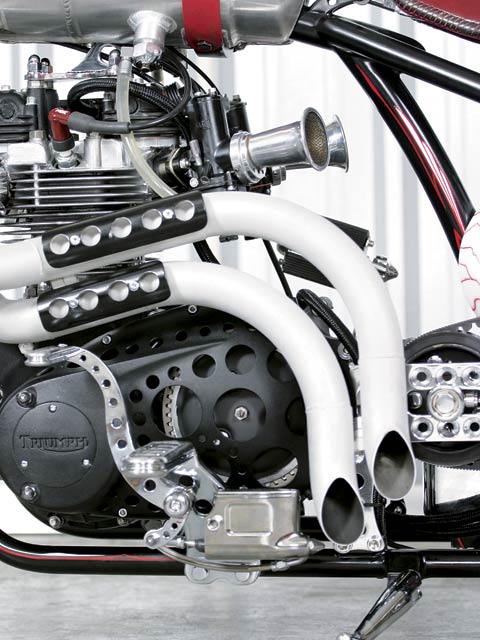 This one takes the cake. A couple of issues ago, a bizarre character in Texas road-tested the Victory Hammer. It seemed harmless, except we mentioned he built motorcycles and someone said, "The Devil does what?"
Another threat lingered in the email warehouse. Should I demonstrate the fabrication abilities of one Kent, from Lucky Devil's in Houston? I started asking around and stumbled upon a nefarious connection, Rick Fairless of Strokers Dallas. Rick has an evil propensity for being mentioned in every issue of HOT BIKE. He worked a previous editor into a sweepstakes giveaway last year. It ran issue after issue. Then he hit me for a Biker Build-off connection and smacked me with a request to feature his Coors bike last issue. It got downright scary. I watched my caller-ID closely for his 214 area code.
I thought I was safe to turn my attention to Kent's artistry, but no sooner did I springboard the interview than Rick's name floated to the surface like a curly hair in a beer. I grimaced, but kept moving. He's good people, but if I didn't shift gears to another Texas builder soon, someone would order me to create a new magazine, Strokers Bible. That didn't end the clandestine aspects of this feature, hang on.
Kent met Rick at a Dallas bike show in 2003, and through me, HOT BIKE, and Bikernet.com, knew that Rick was a player in the industry. When Rick mentioned that he wanted to build a classic Triumph chopper, Kent's ears perked. That devilish grin skirted his face and he went to work. He wanted to demonstrate his fabrication abilities to Rick, and he knew others held similar goals.
He moved and moved quickly. Two days later, Big Eric, the Devil's missing partner, received a call from a concerned woman.
"Don't tell my husband, but I still have my ex's Triumph basket in our home," the unknown caller whispered. "Come and get it."
Eric hung up, and they made a bee-line to his '60 blood-red Ford Econoline pickup. They rolled across town to Champions Forest, an upscale track of mansions on the outskirts of Houston, gated I suppose. Her husband died and the woman stashed the parts away as if they contained something evil, memories or evidence. She lead the Lucky Devil to garage closets, the attic, two chests, and a metal filing cabinet before collecting all the parts.
"I didn't want half the crap," Kent said. "But she just wanted all the parts removed." None of the elements were attached, assembled or connected. "It was like dumpster diving."
He hauled the bike home, tossed half the rusting components, and contacted Rick Fairless. He snatched the contract to build the Triumph, and went to work. He kept the driveline parts and the legitimate chunk of the frame. Hopefully, there are a couple of examples of that bike on these pages. They have nothing to do with this creation which is also based on a Triumph configuration. Hang on. I told you this one was strange.
Here's the connection, Rick has a best friend, Joe T., an investment banker, Hamster, and motorcycle nut. He's in the shop and Strokers Dallas bar constantly. He witnessed daily the Devil's Triumph workmanship perched in the shop like an art object. He couldn't miss it. The essence to this covert Triumph then emerged and a veiled connection was cemented in the Badlands during the Black Hills Rally. A rider bumped into Joe T. in a dark corner of the Number 10 Saloon and slipped him a fragment of a bar napkin. On it was the sketch of a Panhead board track racer with a keg gas tank.
Joe T. returned to the Panhandle with the sketch secured in his vest and began his hunt for a classic '70s English driveline, which he scored on eBay. He ordered a traditional Paughco springer and Black Bike wheels. At the same bike show in 2004, Joe T. approached the dark, forbidding, satanic figure in his Lucky Devil booth guarded by his equally nasty wife, Holly, and their terrible junkyard pitbull, Hank the Fourth, and asked Kent to build him a Triumph chopper, handing him the concealed bar napkin. After the show, in the corner of a dark parking lot, Joe T. slipped the Devil an envelope, the frontend, a Moon Eyes dragster tank, and a solo seat pan. The manila folder contained Joe T.'s notes, clippings from MC magazines, and cash. The Devil's mission was secure.
Okay, so this tale is a peculiar mixture, but check out the building process. Kent enjoys working with Paughco springers, but adds his distinct twist. Many of his bikes are severely raked, so he designed custom rockers that extend out and up to alter the trail. He begins bike projects by setting up the frontend at his chosen rake, with a bare neck tube in place on his frame jig table. He then replaced the Paughco rockers on the 40-degree raked frontend to have a perfectly stable frontend that's capable of sportbike turning with 4.5 inches of trail.
With the neck in precise position, he cut the single downtube mild steel tubing and mandrel bent it. He notched the tubing and machined replacement beveled chunks, for the holey look, which were full penetration-welded to ensure complete strength. The frame was built from scratch by the Devil himself and his associate, Bongo. His custom-made rockers are longer and tilted slightly upward so they load the springs and drop the height of the bike at least an inch.
"I've built several rocker sets," Kent said and smiled. "But never rode a bike afterwards until we finished Joe T.'s Triumph. It was a long-awaited treat."
He set up the Dragster tank by cutting and fabricating a tunnel, flush-mounted rubber-mount tank tabs, and decided to use the existing oil tank spigot bungs as a copper hard-lined and clear tube gas gauge.
"There are now compression fittings with rubber ferrules available for vibration dampening," Kent said. "They're available for hard-line applications from McMasters.com."
In order to run larger 200 tires on both Triumphs, Kent fabricated jack shafts between the transmission and the rear wheel. He ran the chain on a machined Martin sprocket and the belt on a pulley also mated to the jack shaft. The rear and solo fender was an aftermarket steel blank trimmed by the Devil, chromed and mated to a holey fender rail of the devil's doing.
This was interesting fabrication indeed, but the abnormal aspects didn't end where the oil tank was involved. He planned to fabricate it out of a flat sheet of aluminum, but a Chinese restaurant lead another sordid story. A few years back, he couldn't find a round oil tank to save his soul, until he staggered into a take-out Chinese food joint and spotted the stainless soup containers in the steam table. He trimmed off the lips, welded two together, and another project was completed. Bongo looked at the flat slab of aluminum and the power hammer and shook his head, "How about we hit a restaurant supply?"
Two salad bowls welded together and touched with a Von Dutch flying eyeball memorial paintjob made the oil bag. The power hammer was fired to life to work out the flat spots in the bowls. The fabrication continued with the mid controls, Hiem joint seat mounting, and holes drilled everywhere.
Have you had enough? One final outlandish tale is linked to this classic. Check the leather belts that hold the gas tank in place. Joe T. delivered the matching belts in a too-crimson shade, even for the Devil. The day before the photoshoot, the crew decided to scuff the finish, kicking the belts around the concrete floor of the shop. Hank the Fourth was aggravated into the project and gnawed on the leather straps.
That's the story. The bike's complete, dialed in, and that's Joe T. the owner, singing along the highway between bank deals, and all is peaceful at Lucky Devil Metal Works (www.luckydevilmetalworks.com), for the time being. We'll see.
| | |
| --- | --- |
| SPEC SHEET | |
| GENERAL | |
| MAKE/MODEL | Joe T.'s Trumpet |
| YEAR | 2004 |
| FABRICATION | Lucky Devil Metal Works |
| ASSEMBLY | Lucky Devil |
| BUILD/REBUILD TIME | Three months |
| ENGINE | |
| YEAR/SIZE | '70/650cc |
| TYPE | Triumph |
| BUILDER | Triumph/British USA |
| CASES | Triumph |
| FLYWHEELS | Stock |
| RODS | Triumph |
| PISTONS | Triumph |
| CYLINDERS | Triumph |
| HEADS | Triumph |
| VALVES | Triumph |
| ROCKERS | Stock Triumph |
| ROCKER BOXES | Triumph |
| PUSHRODS | SOLIDS |
| PUSHROD TUBES | Triumph |
| CAM(S) | Triumph |
| LIFTERS | Triumph |
| CARBURETOR | Amal |
| AIR CLEANER | V Stack |
| IGNITION | Voyer |
| EXHAUST | Lucky Devil |
| FINISH | Powder Coat/Show & Go |
| TRANSMISSION | |
| BUILDER/YEAR/TYPE | Triumph/'70/four-speed |
| FINISH | BLACK WRINKLE |
| CASE | CAST ALUMINUM |
| TOP/SIDE COVERS | SOME CHROME |
| CLUTCH | OPEN TRIUMPH |
| PRIMARY DRIVE | OPEN |
| FINAL DRIVE | BELT |
| GEARS | STOCK |
| FRAME | |
| YEAR/TYPE | '04/Lucky Devil/Joe T.'s Trumpet |
| RAKE | 40 degrees |
| STRETCH | MANDREL BENT |
| MOLDING | Mike Landburg |
| FINISH | Mike Landburg/Joe Cartulo |
| SUSPENSION | |
| FRONT | |
| BUILDER | Paughco |
| YEAR/TYPE | '04/Paughco Springer |
| MODIFICATIONS | Custom Lucky Devil Rockers |
| TRIPLE-TREES | Steel Springer with Lucky Devil rockers |
| WHEELS, TIRES, AND BRAKES | |
| FRONT | |
| SIZE/TYPE | 21 inches/Black Bike twisted spoke |
| TIRE MAKE/SIZE | Metzeler/2.75 |
| HUB/SPOKES | Black Bike |
| CALIPER(S) | PM |
| ROTOR(S) | PM |
| REAR | |
| SIZE/TYPE | 18-inch Black Bike twisted spoke |
| TIRE MAKE/SIZE | Metzeler/200/18 |
| HUB/SPOKES | Black Bike |
| CALIPER(S) | RC Components |
| ROTOR(S) | RC Components |
| BUILDER (SPOKE WHEELS ONLY) | Black Bike |
| FINISH/PAINT COLOR(S) | Hot Hues Hot Rod Black with Chrome Base/Custom mix |
| PAINTER | Mike Landburg |
| GRAPHICS & ARTIST NAME | Pinstriping – Joe Carullo |
| MOLDING | Mike Landburg |
| CHROME PLATING/POLISHING | Show & Go |
| POWDERCOATING | Show & Go |
| ACCESSORIES | |
| REAR FENDER | Lucky Devil |
| FENDER STRUTS | Lucky Devil |
| GAS TANK(S) AND CAP(S) | Moon |
| OIL TANK | Lucky Devil/Paint Other Side Customs |
| DASH | NOPE |
| GAUGES | NAW |
| HANDLEBARS | Lucky Devil |
| RISERS | CCI |
| MIRRORS | OOPS |
| HAND CONTROLS | Triumph |
| FOOT CONTROLS | Lucky Devil/PM {{{Contour}}} Master Cylinder |
| FOOTPEGS | Lucky Devil |
| HEADLIGHT | CCI |
| TAILLIGHT | Stop Light |
| TURN SIGNALS | Nope |
| LICENSE MOUNT | Lucky Devil |
| OIL COOLER | DON'T NEED IT |
| SEAT | Custom Tone Moore |
| ELECTRICAL | Lucky Devil |
| COIL | Boyer |
| STARTER | Foot |
| OTHER | Custom fabricated counter sprocket chair |