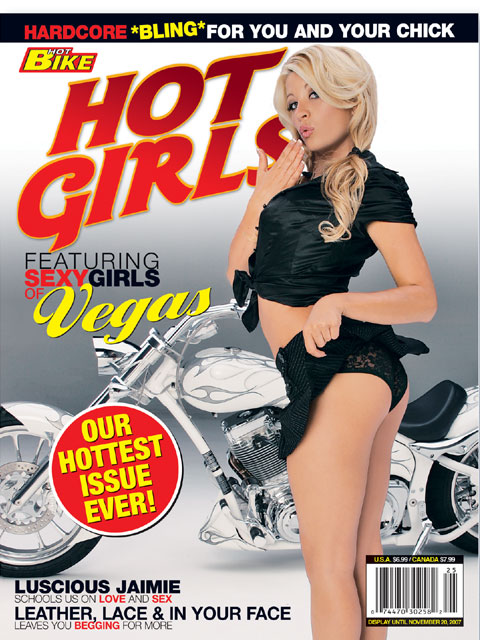 So we just got back from being on the road for about two weeks at the Sturgis rally, and things are moving along pretty fast. From what we saw and heard from vendors and others, attendance at the rally was down, but that didn't stop us from having a blast and shooting some amazing bikes. Among them is this month's cover bike, Darin Yoerger's full-figured '99 Fat Boy. The Fat Boy's transformation started with a 240mm Metzeler that Darin got from his wife, and the bike just blew up from there.
It was Toph's first trip out to Sturgis, and we'll have full coverage of our ride and all the excitement we experienced while at The Rally. However, you'll have to wait until the next issue-Toph is still trying to recuperate and wrap his head around everything his virgin eyes saw in the Black Hills.
In the meantime, we've got quite a few new things poppin' off around the office. First of all, just like the mag, our website (www.hotbikeweb.com) is going through a makeover process, in which we will be loading it up with updated tech articles and more bike features and event coverage (with photos that didn't make it into the original layouts). There's also message boards and blogs where you can ask us questions, post comments, or just say hi, and all of the editors here at the mag will do our best to respond as quickly as possible.
We've also moved into the myspace generation with our own MySpace page @ www.myspace.com/hotbikeweb. Here you'll find us being a little more laid back, along with fun photos from the road and some of the antics we pull at the office to keep us sane. Check it out, drop us a line, and let's "network."
The most exciting thing we've got going on this month is the release of our second issue of HOT GIRLS. This mag (should be available on any newsstand you find HOT BIKE) is packed with steamy photos of more than a dozen scantily clad, beautiful, and voluptuous girls. Sure, there are some really cool bikes in the magazine as well, but you probably won't even notice them. As a bonus, we threw in a DVD with behind-the-scenes footage of the making of HOT GIRLS. This DVD is so smokin' hot you're gonna need a new DVD player! Just look for Jackie (the blonde bombshell to the left) next time you're at the newsstand.
Lastly, I've got to say thanks to photographer Paul McKelvey. Paul couldn't stand my stale editorial photo, so he took some really good pics and was able to actually make me look halfway decent. (Photoshop is an amazing program.)Until next time, Eric