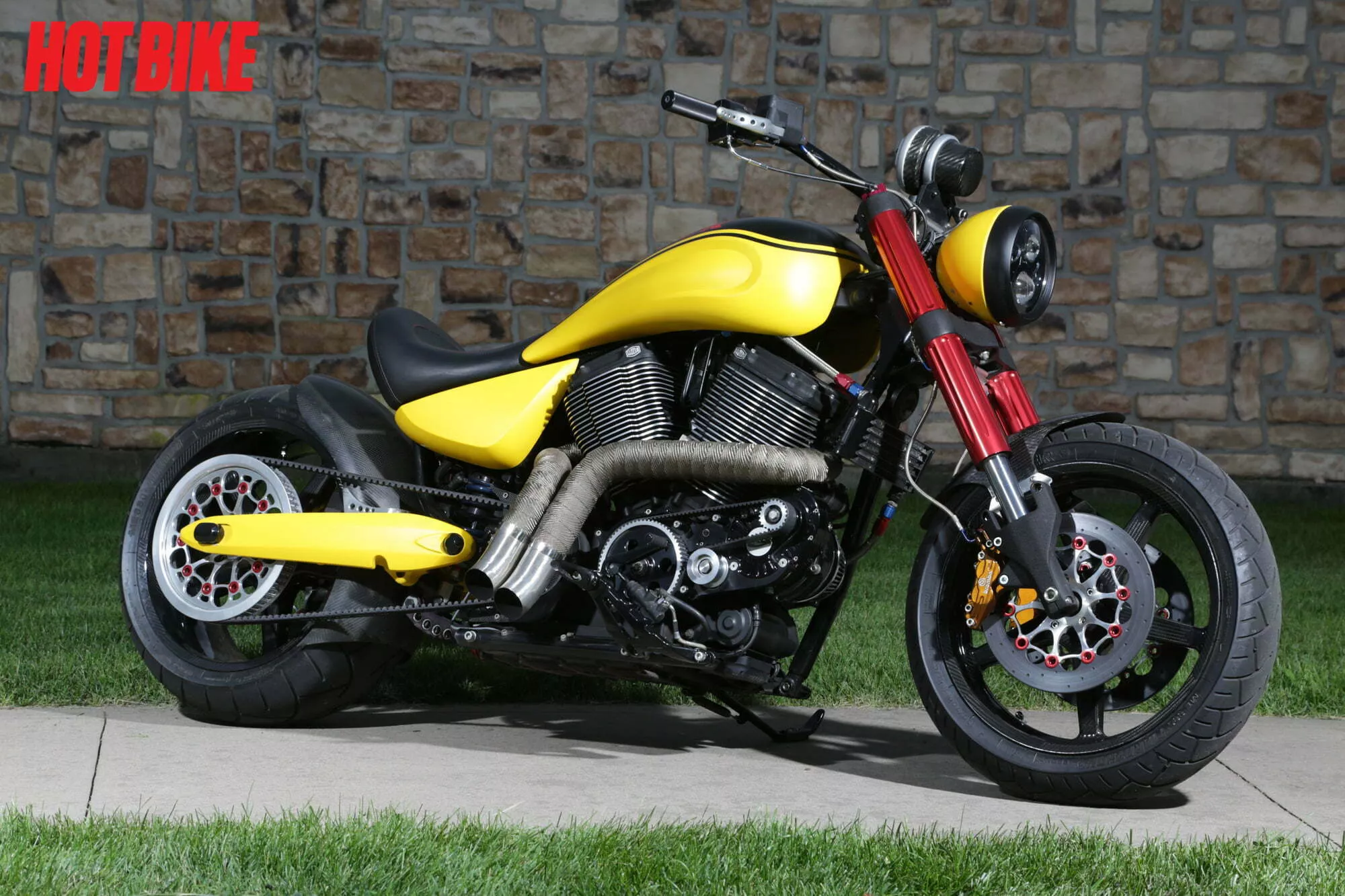 Conquest Customs built up a 2005 Victory Hammer referred to as SuperBee for the tour. This machine is born out of my early Hot Rod magazine days, as I like to call it a pro touring muscle car on two wheels. This was actually the first bike Conquest built back in 2005 and had been used as a mule for testing components and configurations for half its life. The past five years it has been slowly raped of many parts and was looking quite pathetic in the back of the shop. It was the 2014 Hot Bike Tour that served as my inspiration to get Bee back on the road for 2015.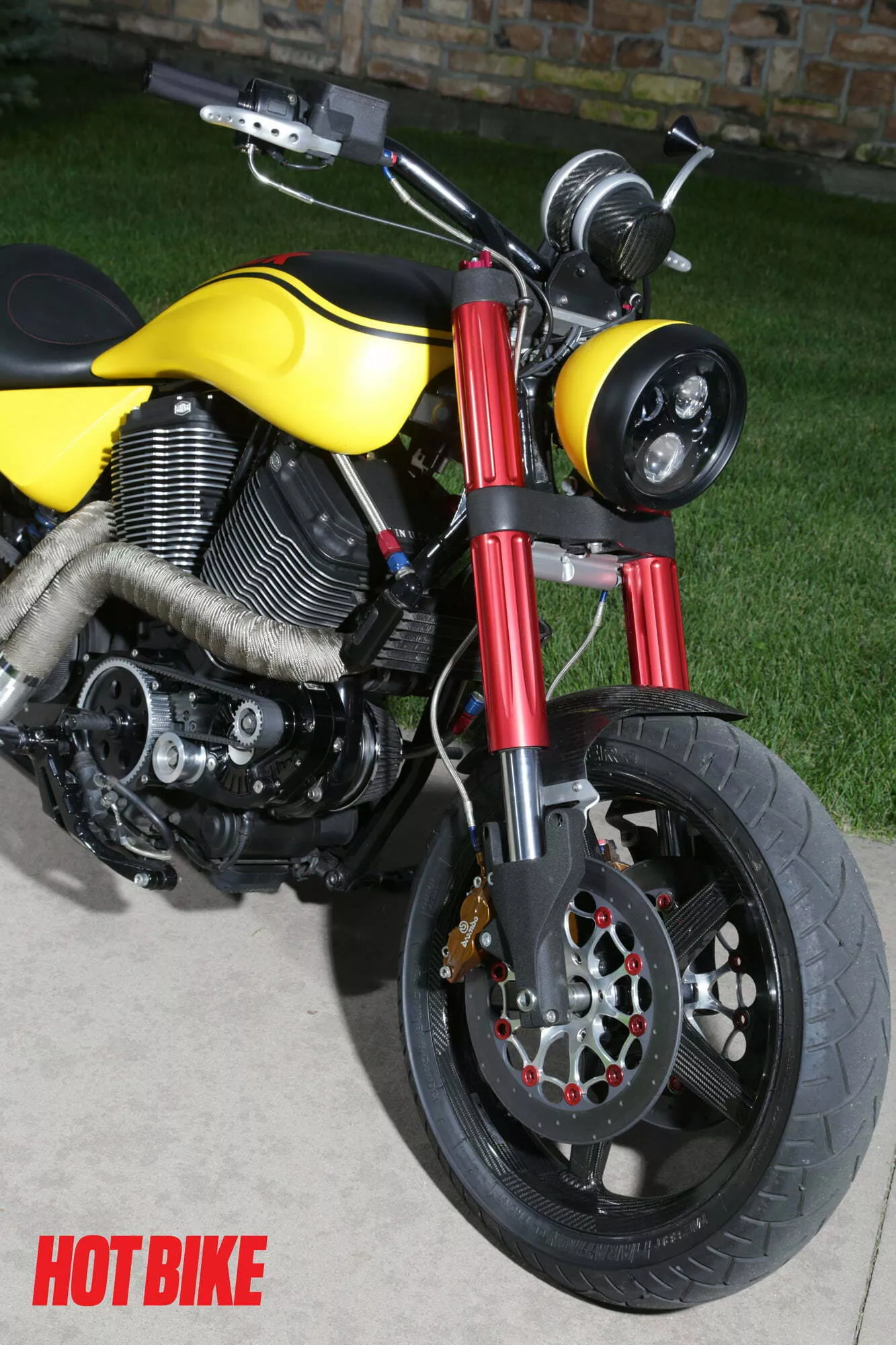 The idea for this build was to not only add more reliable power but to make what it has more efficient. Coming from the automotive industry, I consider myself more of a tuner than a customizer. This machine is a perfect example of a fully tuned Victory. From the engine, to suspension, brakes, rotational mass, curb weight etc., we addressed the entire formula of performance components to achieve a heavy cruiser that will surprise the hell out of you with its capabilities. This treatment was spread to every functional aspect of the bike and now provides a confidence level that makes the rider feel invincible. Form followed function on this build, and we love how the spartan look works on the Victory platform.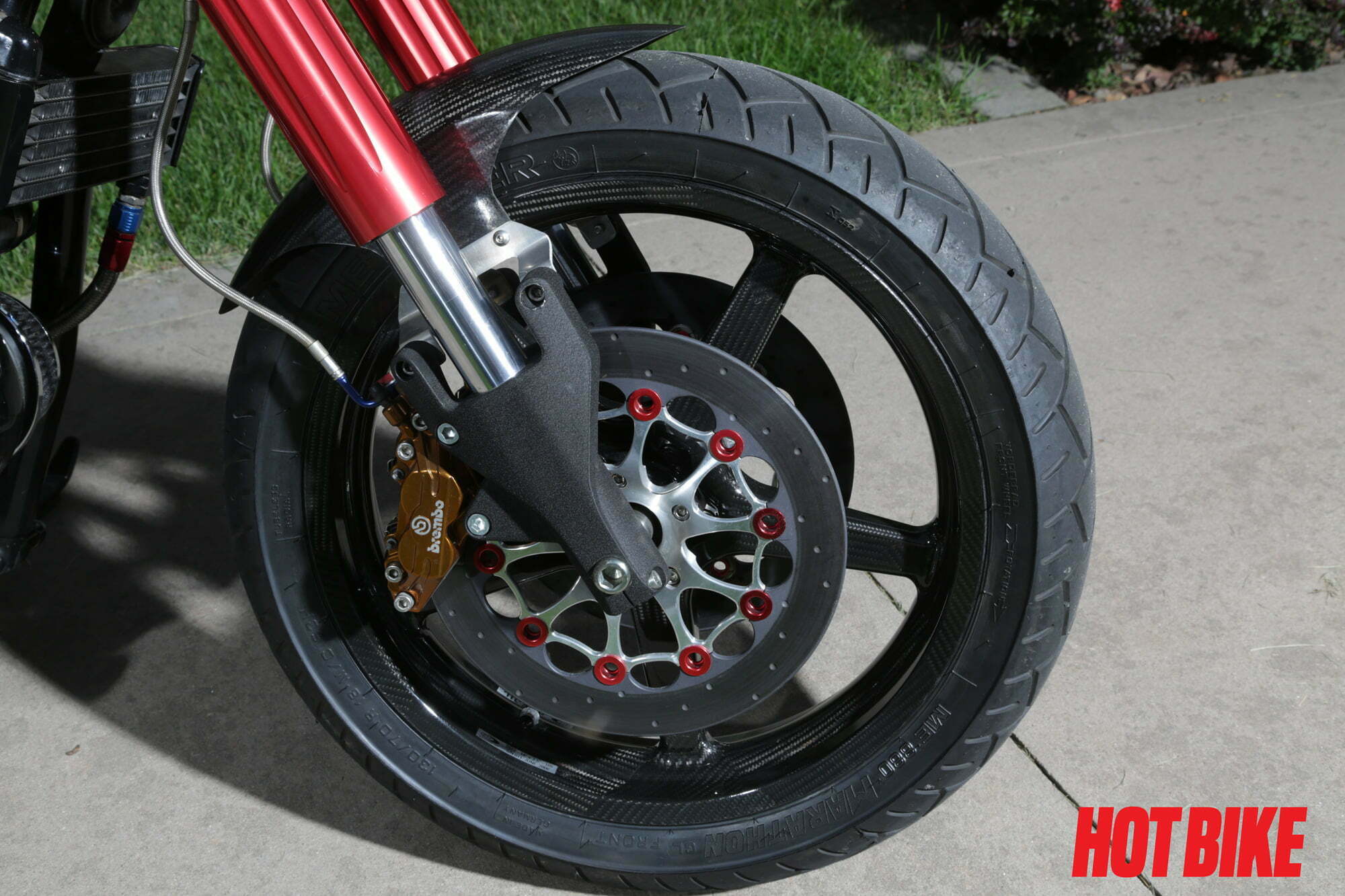 Power was achieved with a Lloyd'z Motor Workz supercharger kit using a ProCharger B-1 compressor, cog drive, and custom intercooler. We then added 80-pound injectors, AeroMotive pump and regulators, 495 cams, MSD ignition, custom SS pipes, and a big centrifugal weighted clutch. To maximize efficiency of these power mods we went to some major weight savings by installing BST carbon-fiber wheels mated to our AMS composite rotors with custom carriers and Brembo calipers. The front and rear fenders also were constructed out of carbon fiber, bringing our wet weight to less than 550 pounds. Knowing that power is nothing without control, we added fully adjustable cartridges to the inverted Marzocchi front suspension with a Conquest proprietary Penske adjustable rear damper.
Other mods include midset controls, narrowed bars, Monster tachometer, internal wiring, LED head/tail lighting, plenty of paint, powdercoat, and anodizing throughout for color. The tires are ME880s 130F/ 260R. The SuperBee dynos out at 190 rear-wheel horsepower and 154 rear-wear torque and threw down a 7.2 at 102 mph in the 1/8 mile the first time out in Sturgis this year. This bike is a pure rider.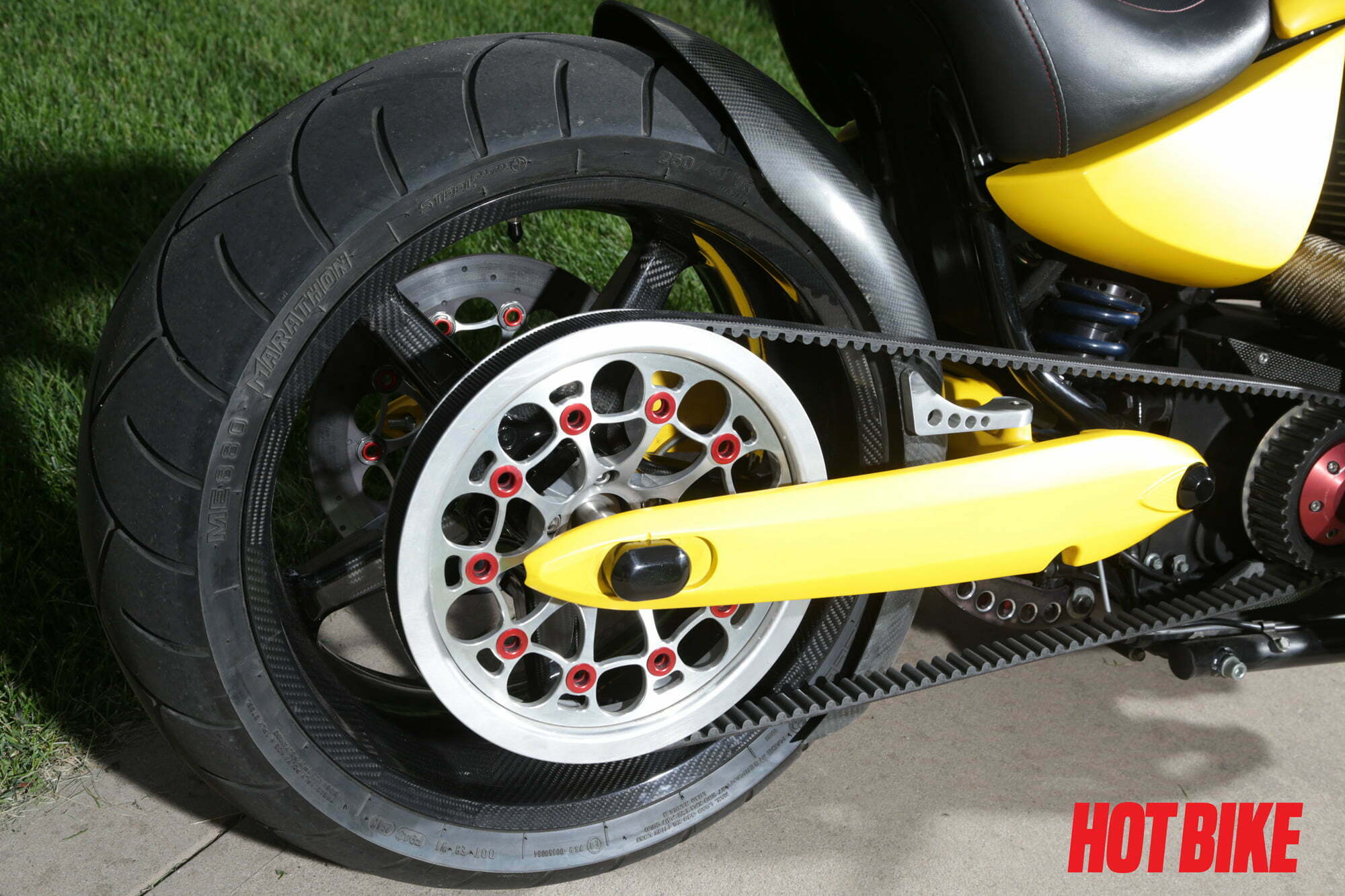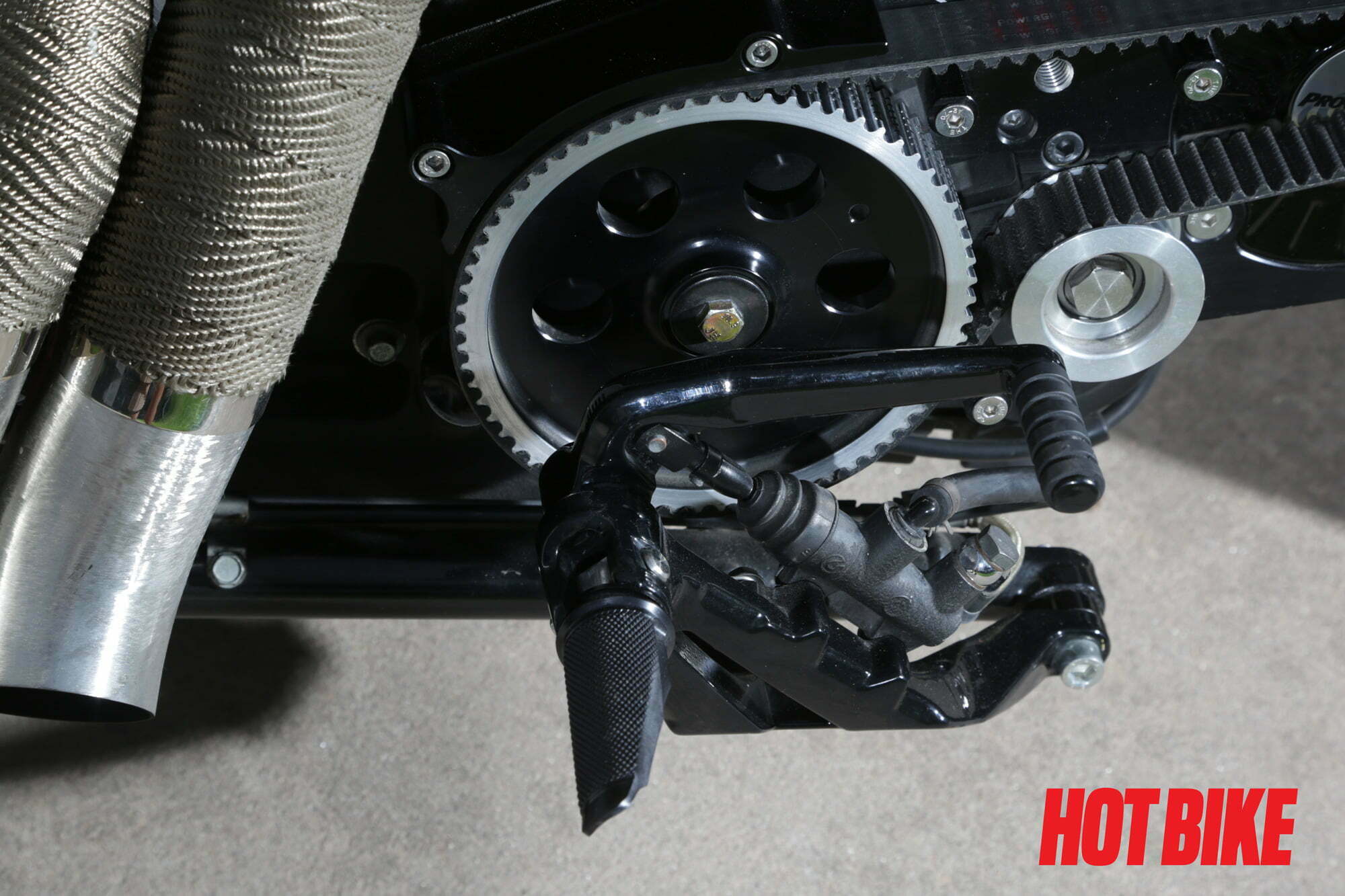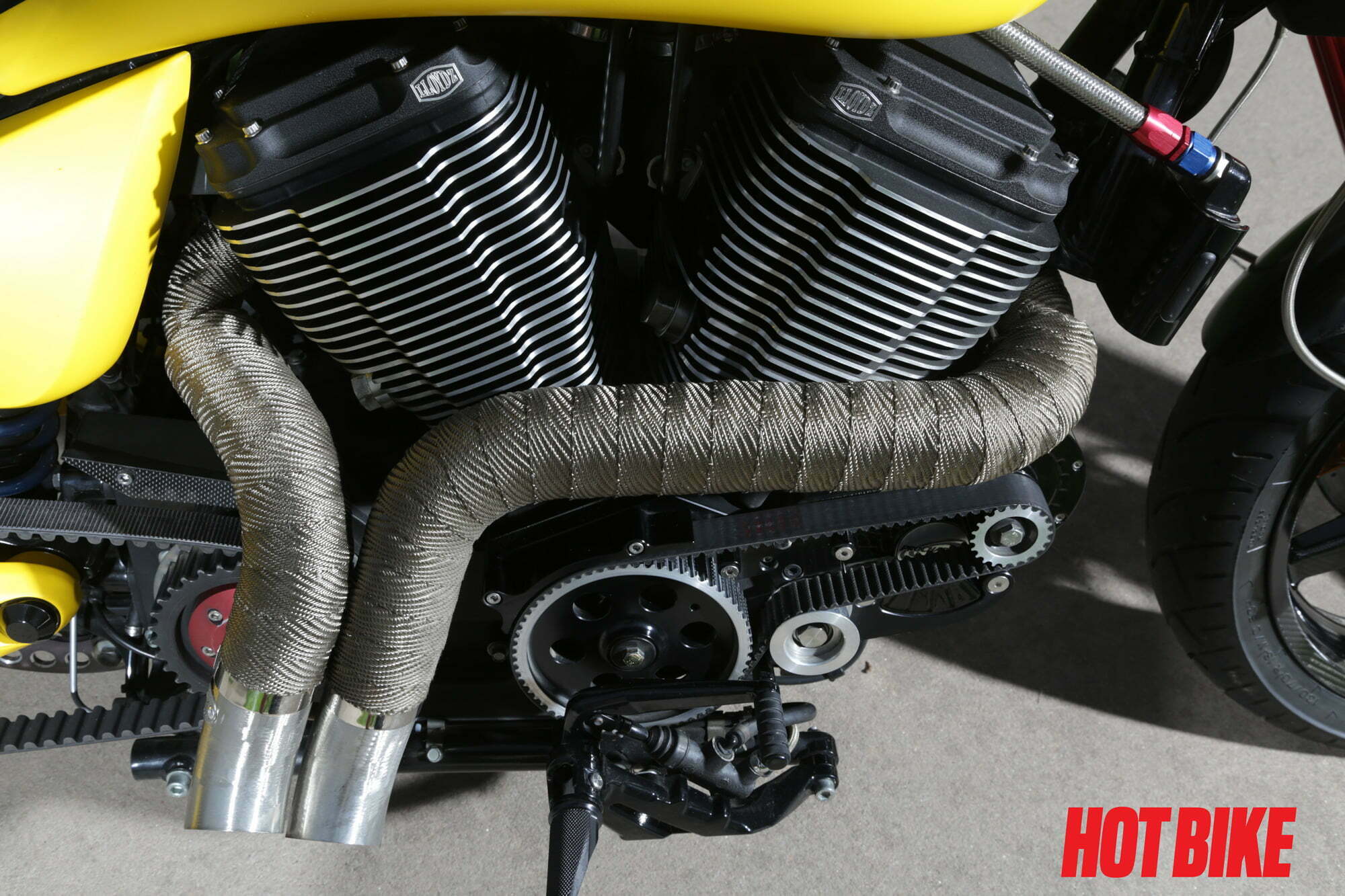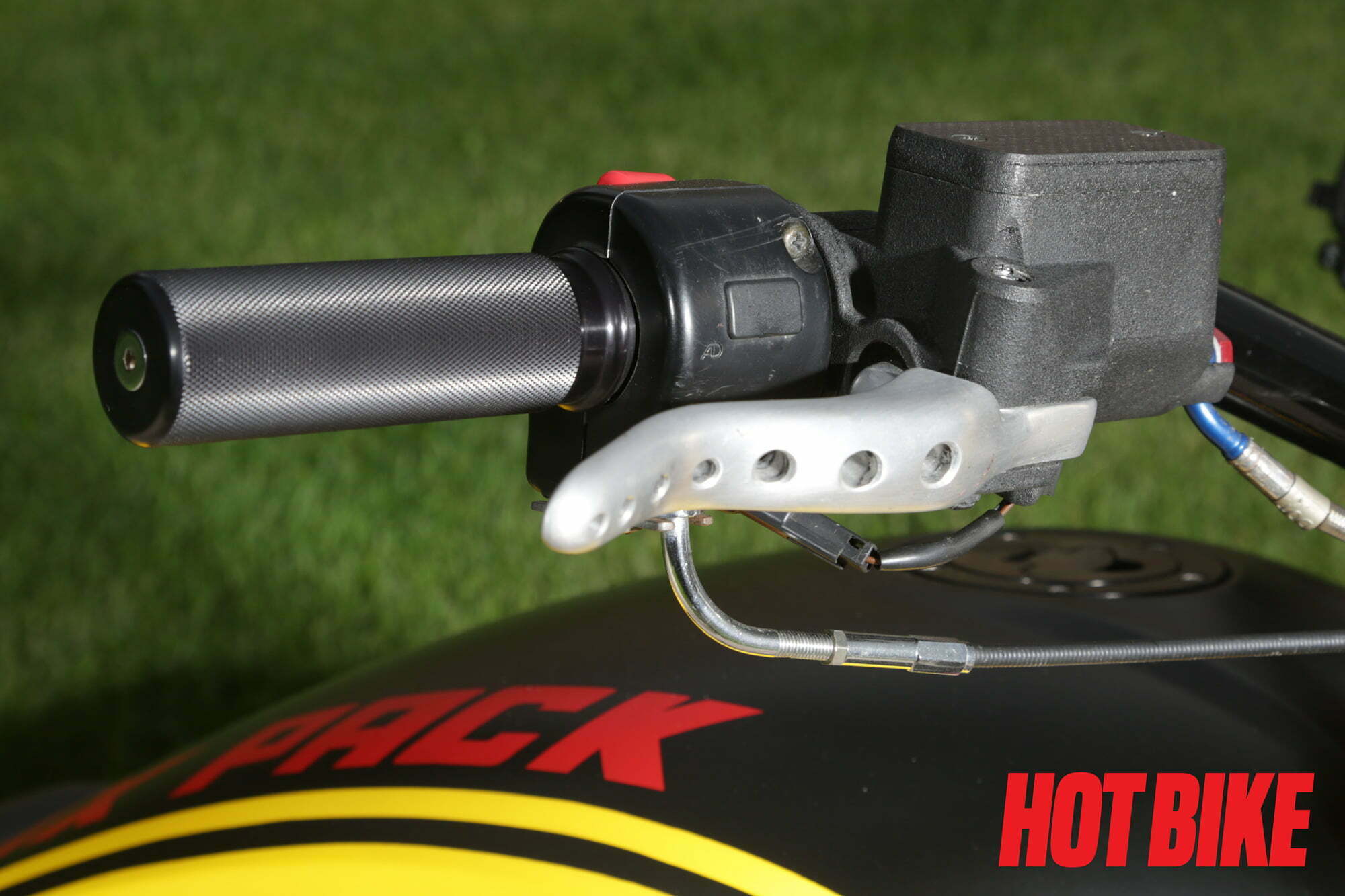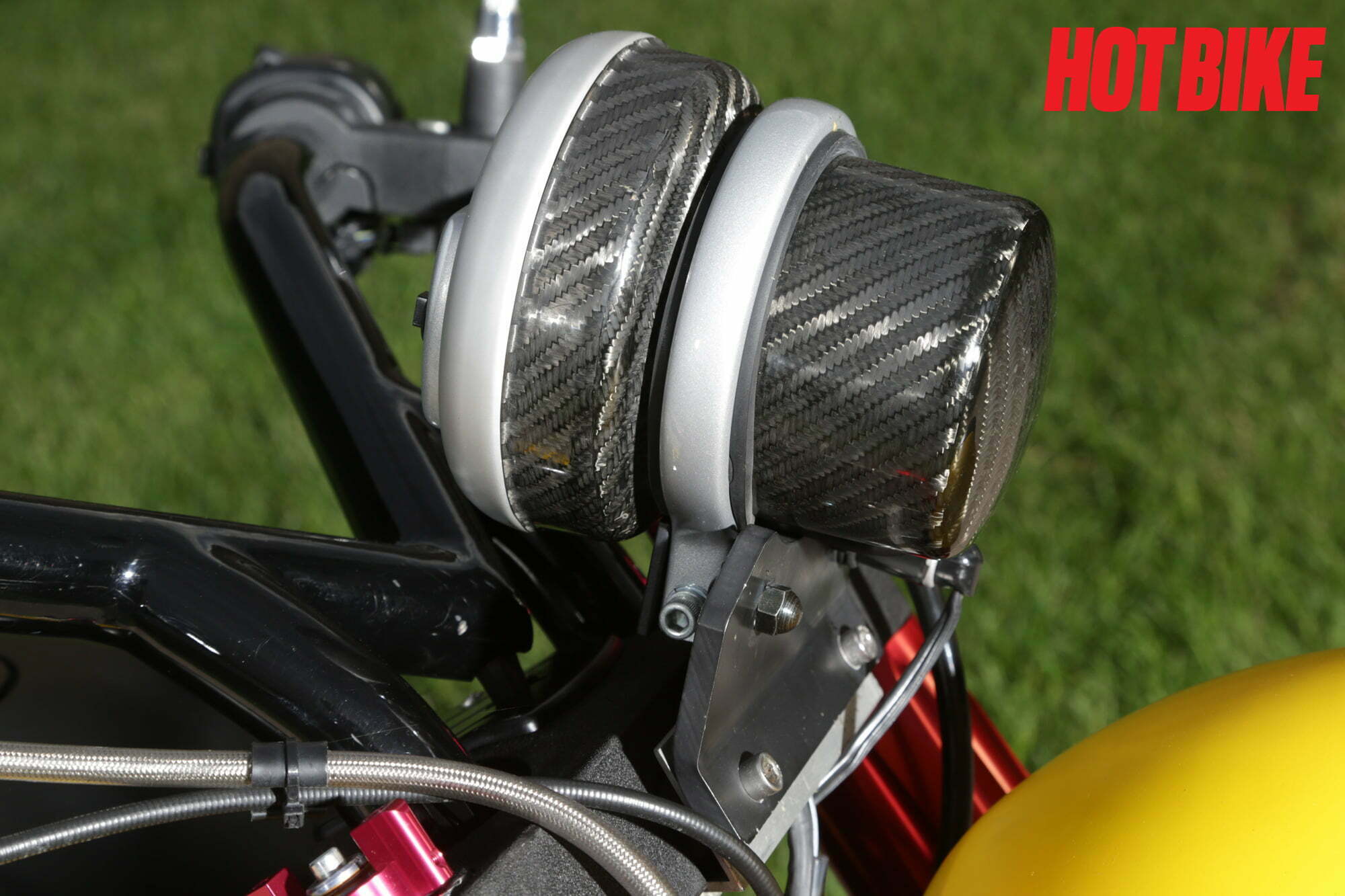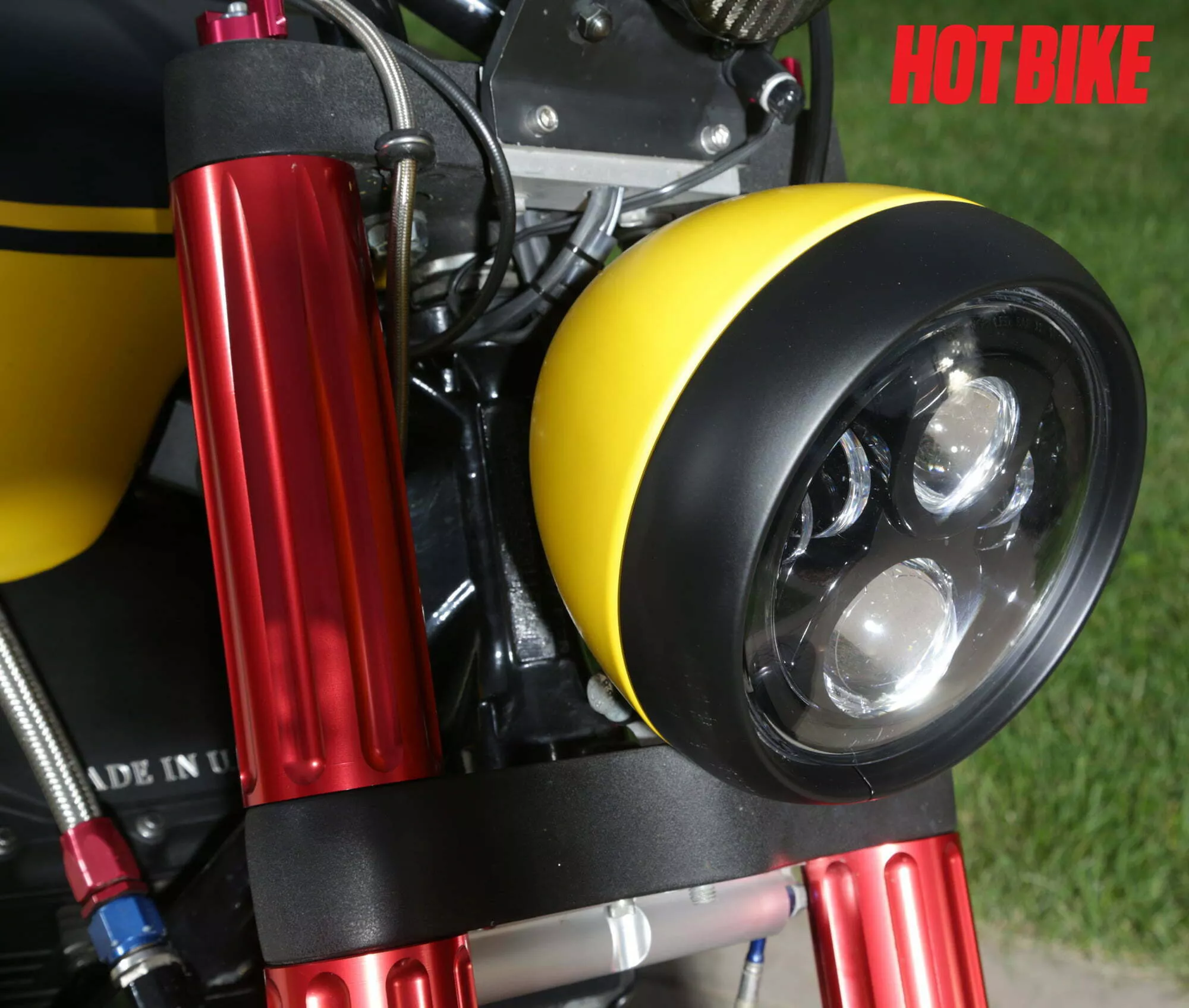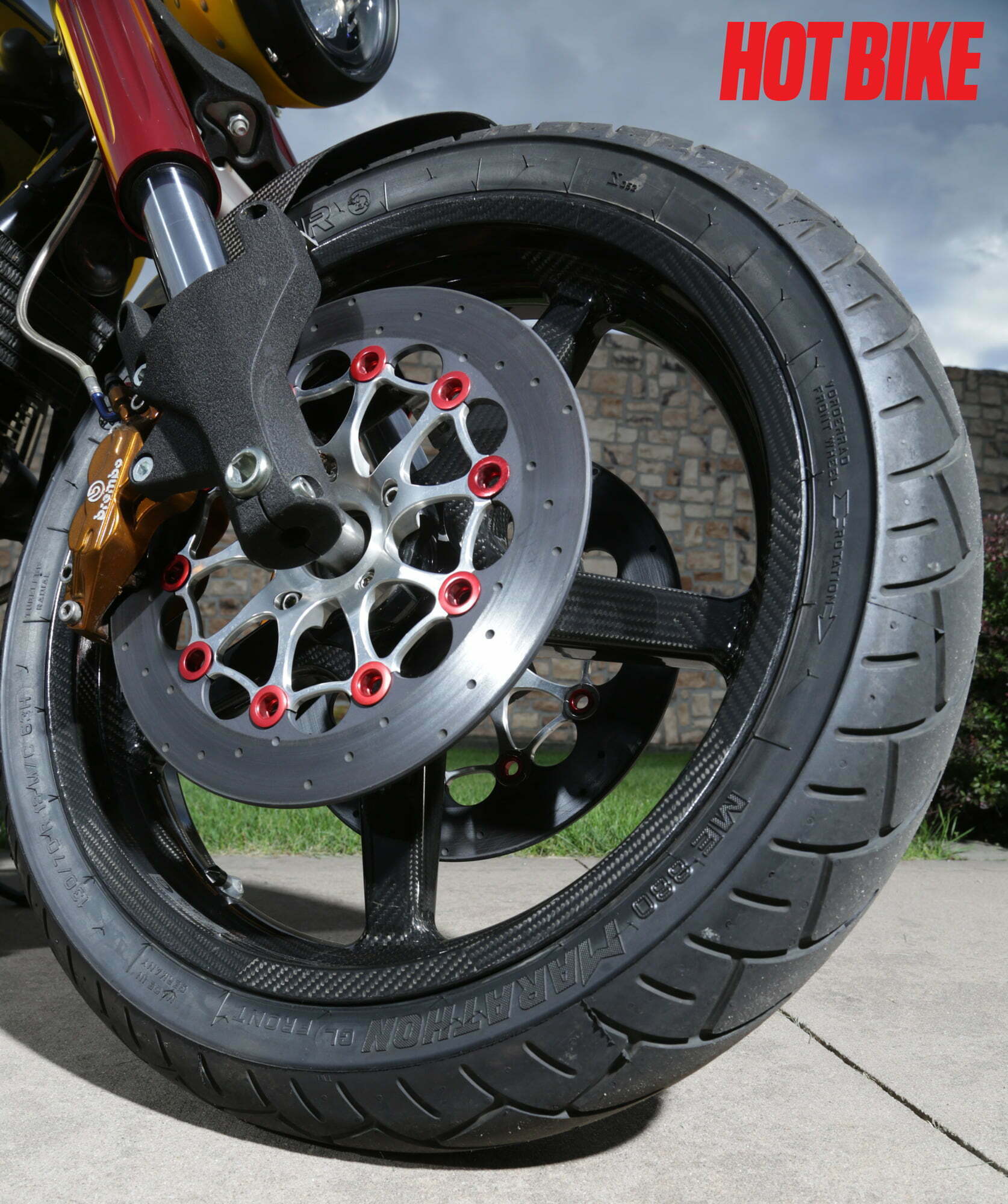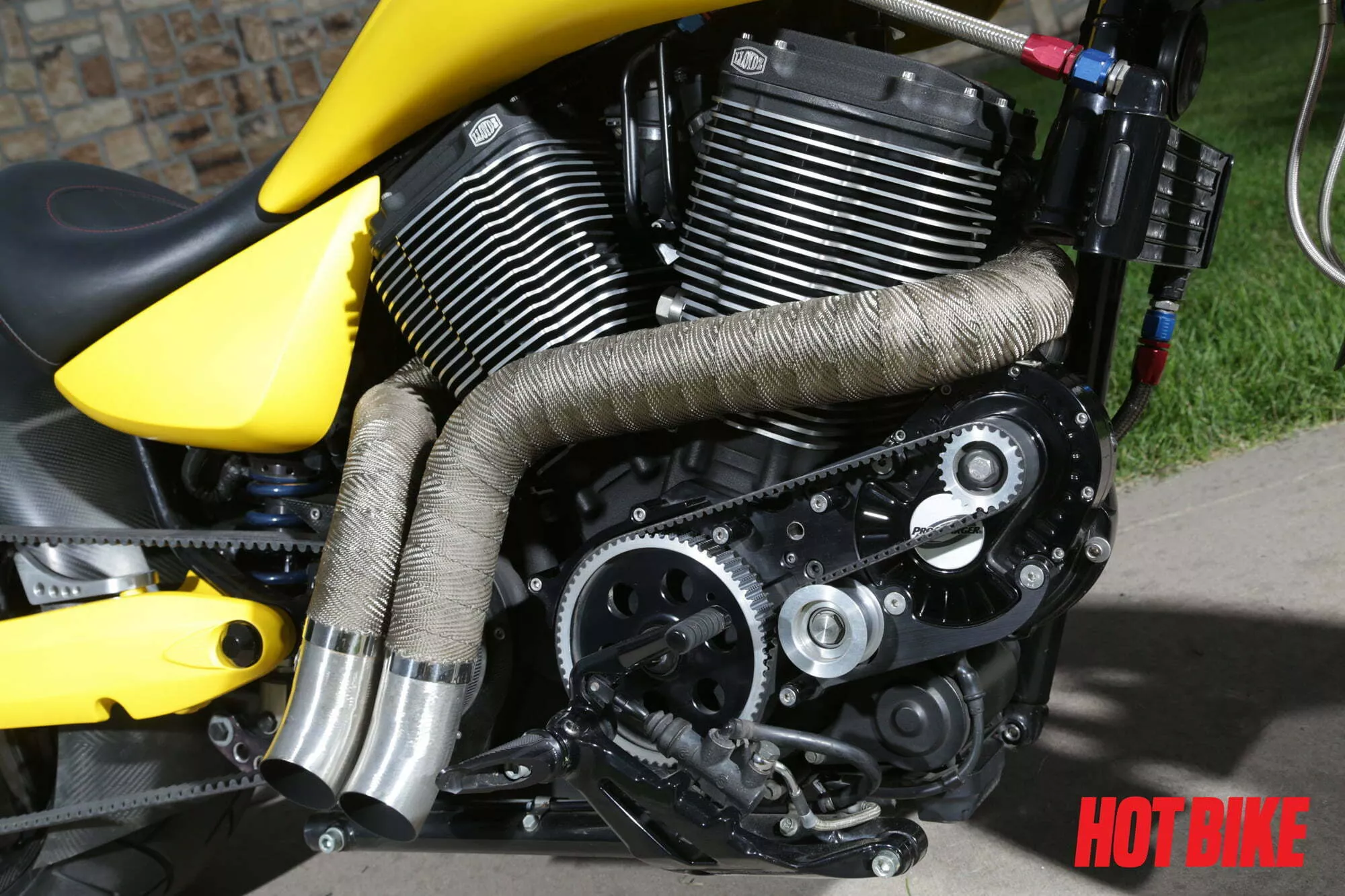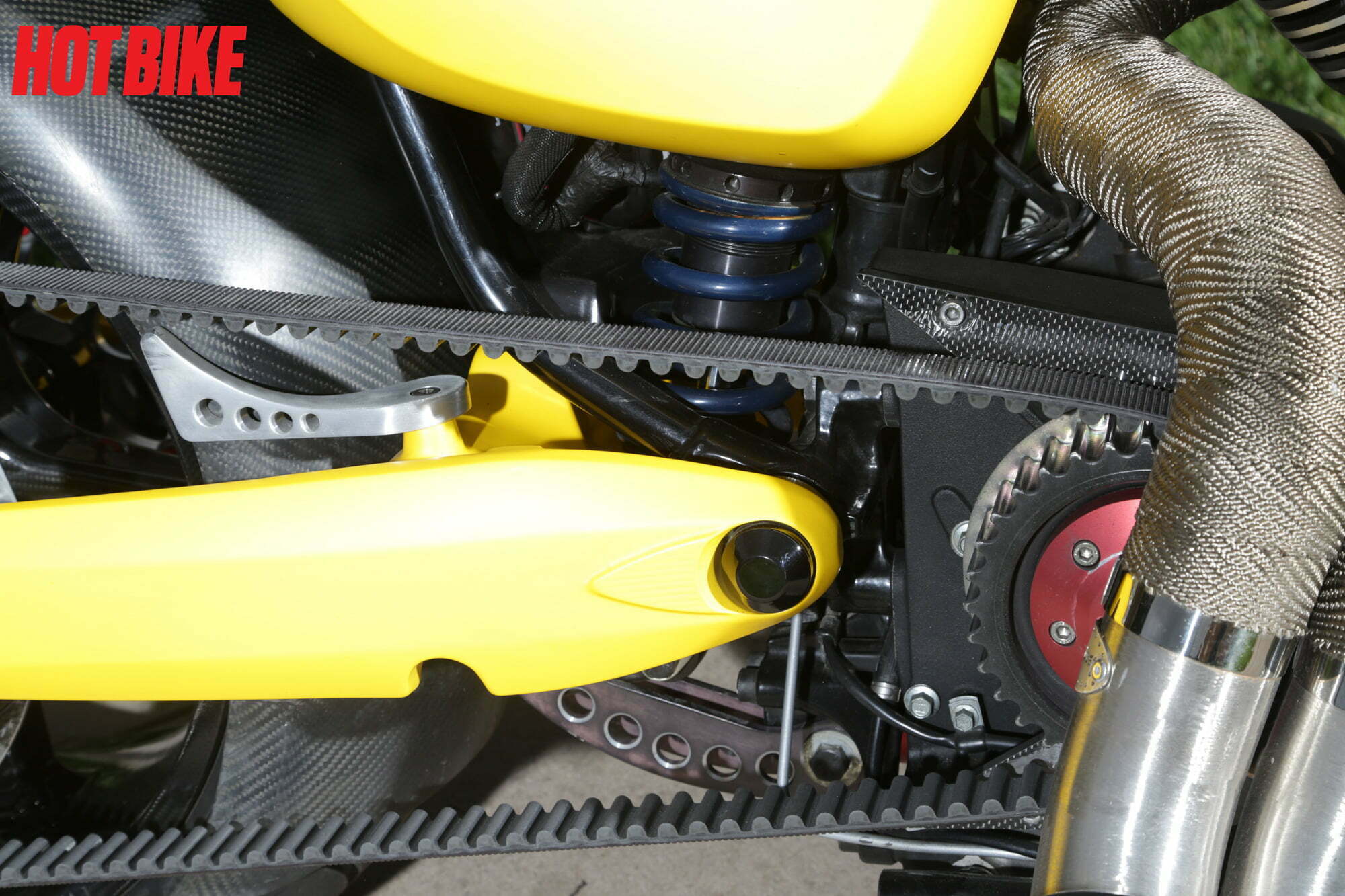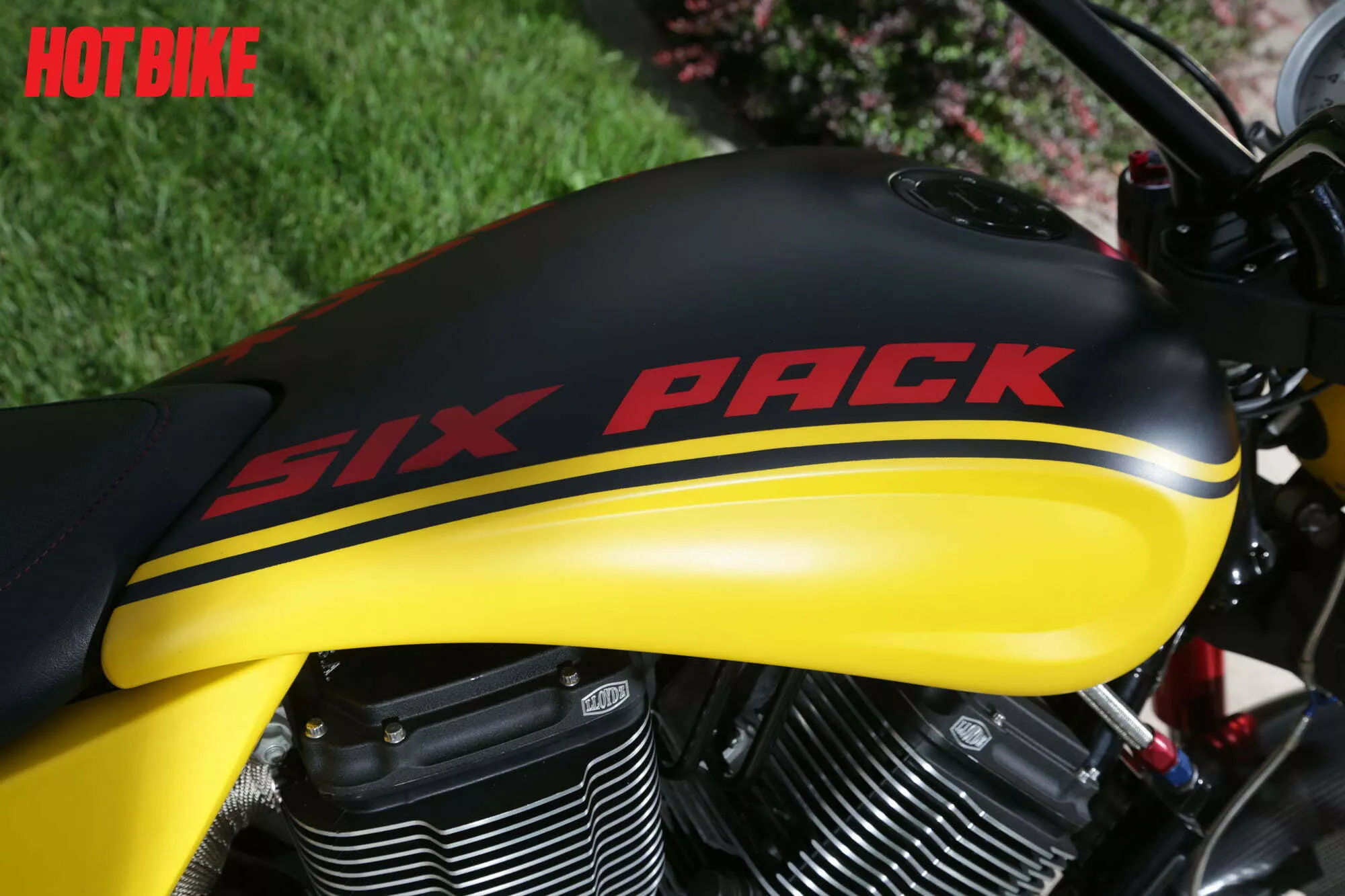 | Specifications | |
| --- | --- |
| General | |
| Owner | Scott Kietzmann |
| Shop | Conquest Customs |
| Shop Phone | (561) 715-9494 |
| Website | conquestcustoms.com| |
| Year/Make/Model | 2005/Victory/Hammer| |
| Build Time | 6 months| |
| Engine | |
| Year/Type/Size | 2005/Freedom/100ci |
| Builder | Lloyd'z Motor Workz |
| Cases | Victory | |
| Cylinders | Victory| |
| Heads | Ported Victory |
| Cam(s) | Andrews 495 |
| Throttle Body | Victory |
| Air Cleaner | ProCharger| |
| EFI Controller | PCV |
| Exhaust | Conquest Customs GPIIIs| |
| Transmission | |
| Year/Type | 2005/Victory |
| Gears | Victory | |
| Clutch | Lloyd'z centrifugal |
| Primary Drive | Victory (full gear drive) | |
| Frame | Victory w/ subframe removed |
| Year/Type | 2005/Victory Hammer | |
| Rake/Stretch | 32º/0 |
| Suspension | |
| Front end | Traxxion Fully adjustable |
| Length | Stock |
| Triple Trees | Victory |
| Swingarm | Victory modified| |
| Rear Shock | Conquest Customs Proprietary Penske| |
| Wheels, Tires, and Brakes | |
| Front | |
| Builder/Size | BST/18 x 3.5| |
| Tire/Size | Metzler/130/70/18 |
| Calipers | Brembo| |
| Rotors | AMS Ceramic Composite |
| Rear | |
| Builder/Size | BST/18 x 8.5| |
| Tire/Size | Metzler/260/40/18 |
| Caliper | Brembo |
| Rotor | Conquest AMS Ceramic Composite |
| Pulley | Conquest AMS |
| Finish/Paint | |
| Manufacturer | Military-grade rubber coating |
| Colors | Flame Yellow |
| Paint/Graphics | Rick Corgan |
| Powdercoating | Fuzion |
| Accessories | |
| Front Fender | Conquest Customs Carbon Fiber| |
| Rear Fender | Conquest Customs Carbon Fiber| |
| Gauges | Auto Meter Pro-Cycle| |
| Grips | Joker Machine| |
| Mirrors | JayBrake |
| Foot Controls | Stock 2013 Victory Judge |
| Pegs | Speed Merchant |
| Headlight | Speaker |
| Taillight | Conquest Customs |
| License Mount | Conquest Customs |
| Seat | Conquest Customs |
| | |