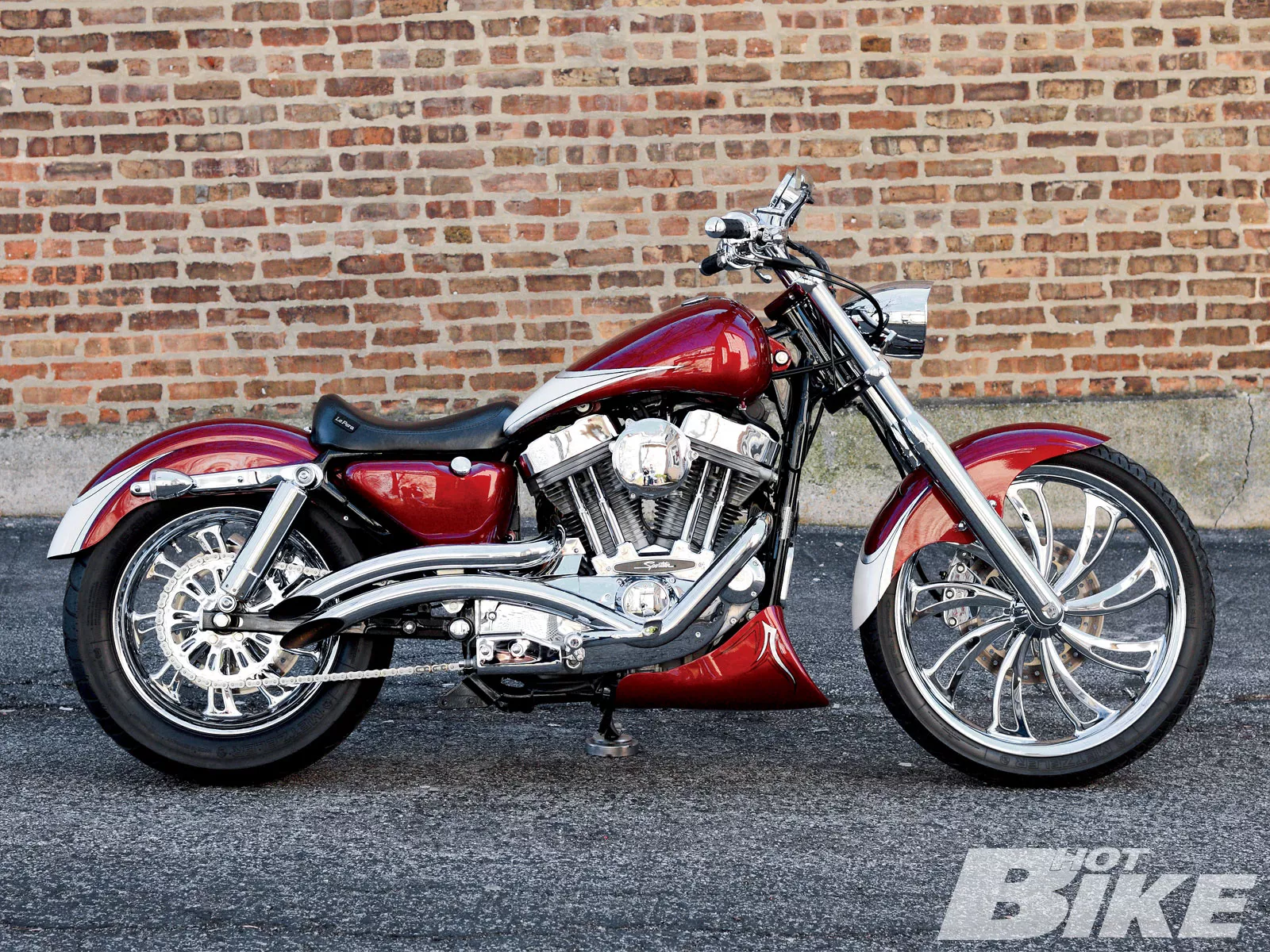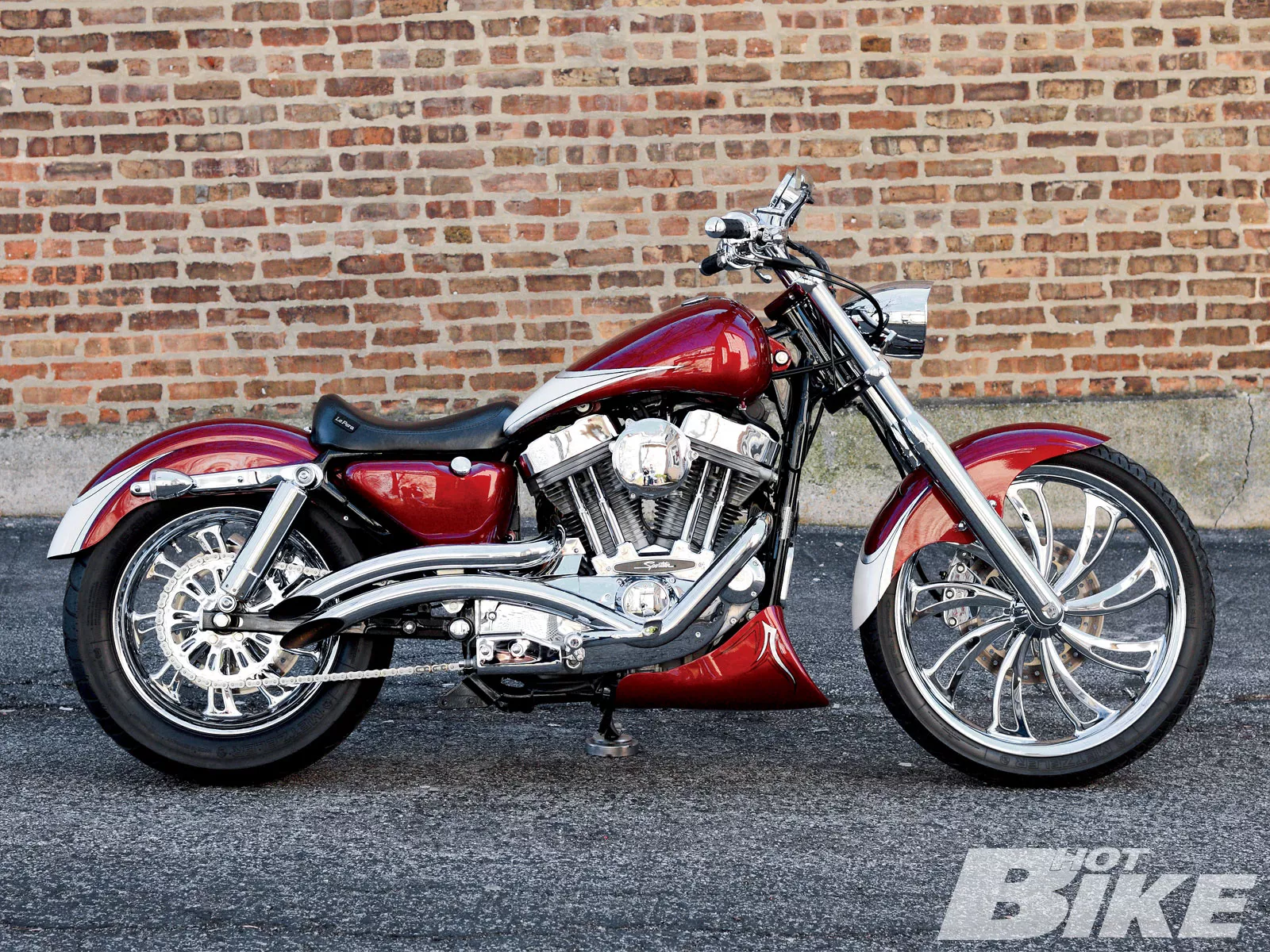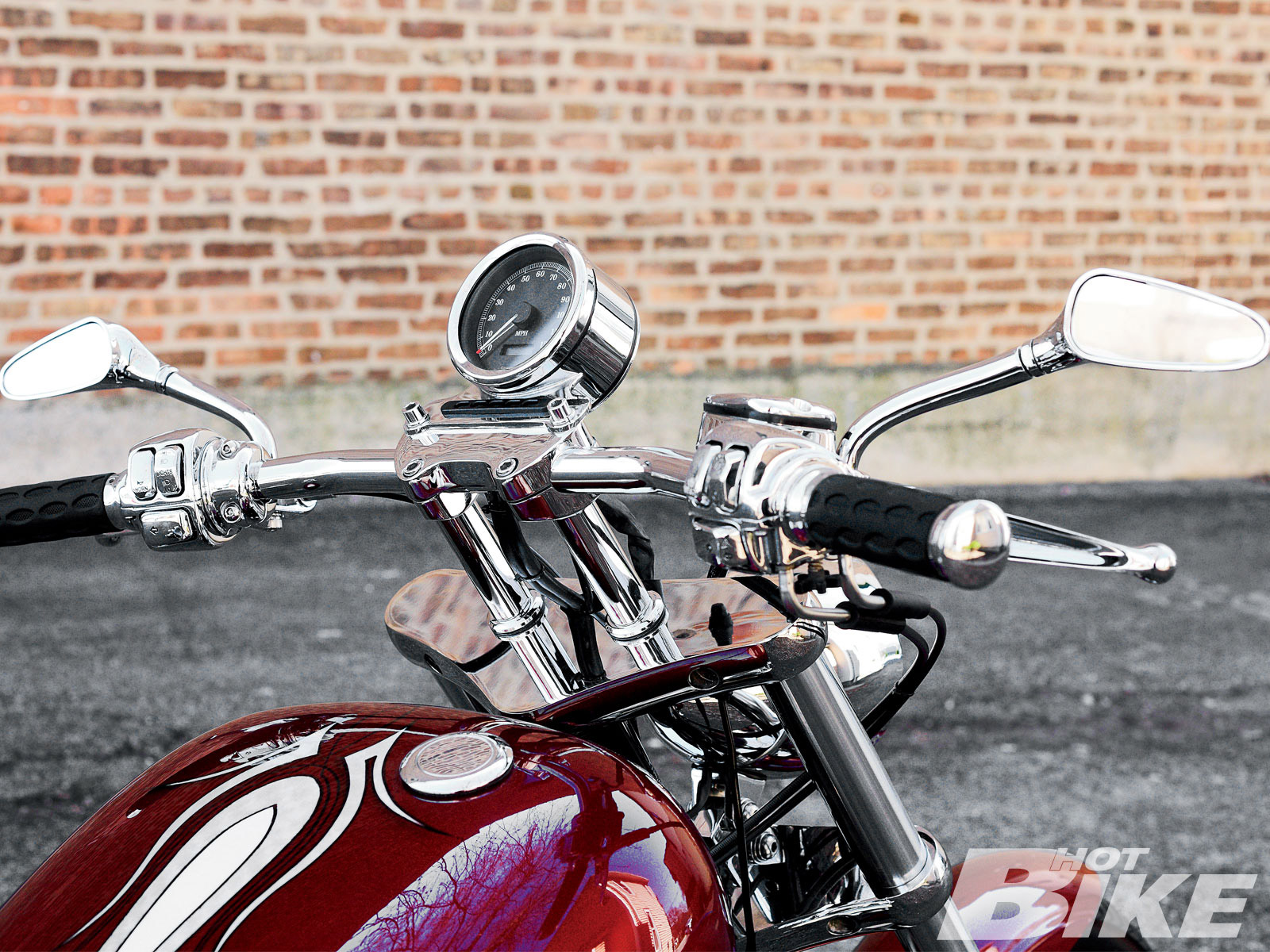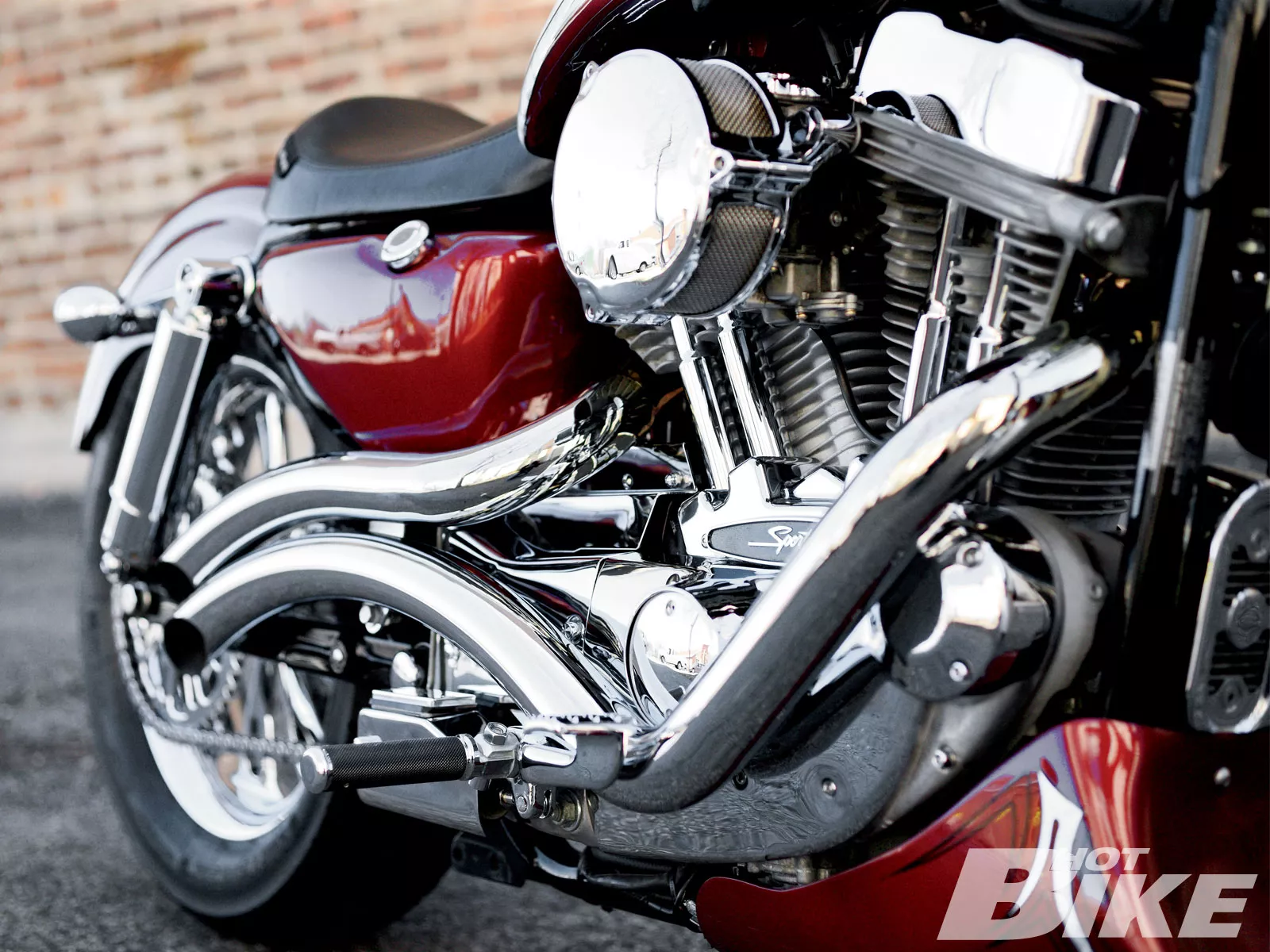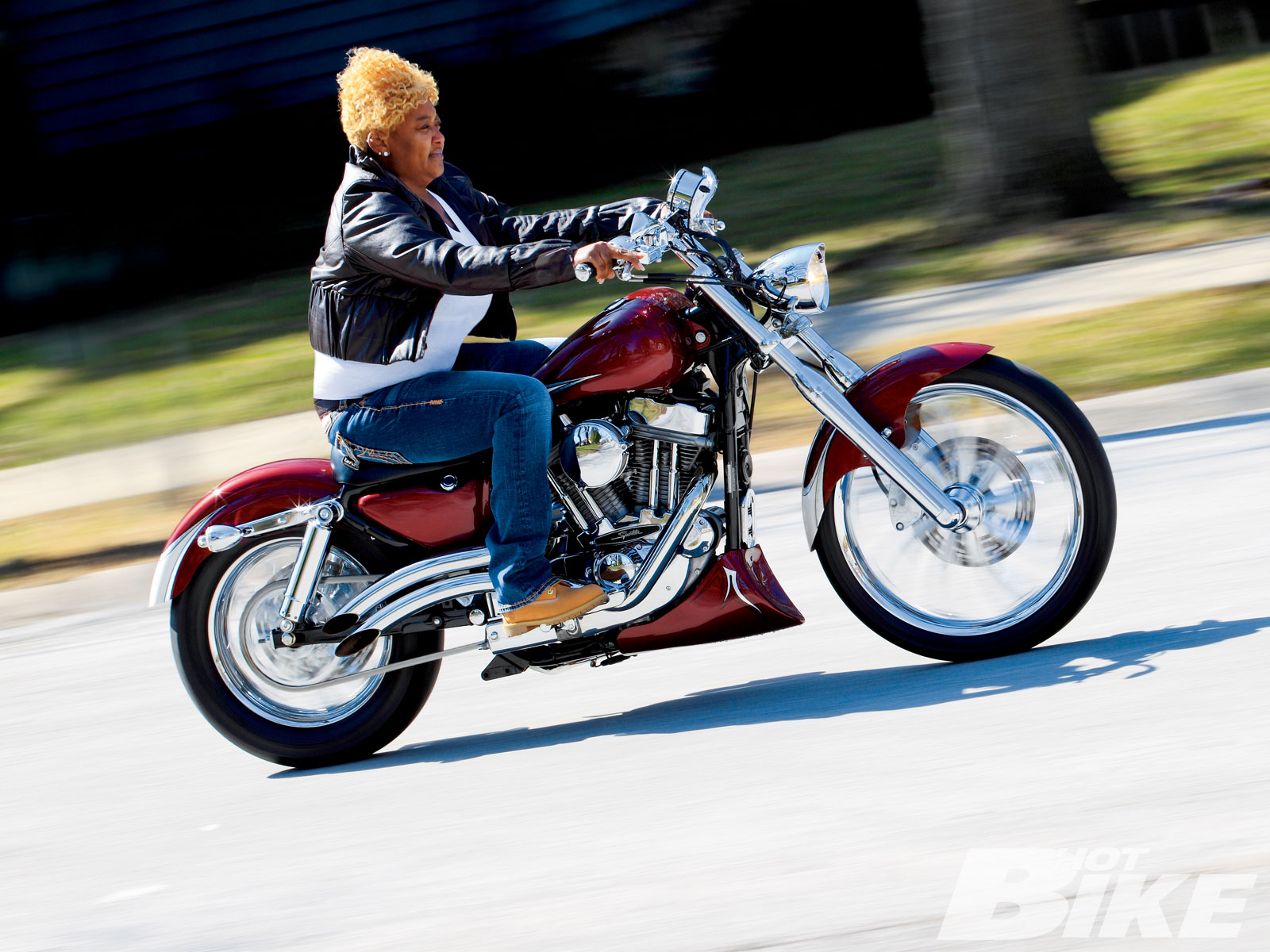 Oftentimes Sportsters get no love or respect. For example, when Denise Smith of Chicago originally came across one particular '01 Sporty, it had seen better days. Left for dead on the side of someone's house, the XL endured years of the harsh frigid winters and whipping winds that Chi-Town is known for. With an eye for seeing the beauty in everything, Denise knew that with some TLC this ugly duckling could be transformed into a beautiful swan. After handing the negligent owner $2,500, Denise hauled the Sporty over to Chicago's Southside and the waiting hands of Big Tony and Kenny of Big Tony's Chopp Shop (BTCS). Denise had seen Tony and his mob of wrenchers turn many of her friends' bikes into rolling works of art, so she knew Tony could do the same for her.
After spotting the years of rust and grime, Tony and Kenny also eyed all the gold Live to Ride emblems the bike was adorned with, and made a mental note of what they would tear off first if they were to tackle the job. Being mostly a custom chopper shop, Tony was hesitant to mess with the lil' sporty. But after some hard convincing from Denise, Tony envisioned taking what he was used to doing with big twins and creating a smaller version, or as they call it a XXL Chopper.
The bike was rolled onto a lift and completely stripped down to clean up all the rust and crud. Then began the part search. Having a difficult time finding the right XL-related parts to create the bike they wanted, Tony and the crew decided to take parts not meant for Sporsters and make them work/fit. A DNA Softail Wide Glide frontend with 3 degrees of rake in the trees was mounted up front along with a Renegade 21-inch Aspen wheel. Out back they wanted to fatten up the rear, so they heated up the fender struts with a torch and then used a pipe on the struts to coerce them to open up a bit to shoehorn in a Metzeler 150. Stuffing the 16×3.5-inch Renegade wheel in the back also required converting to chaindrive. Sheetmetal consisted of a modified Russ Wernimont front fender, a stretched Fat Bob for looks and added fuel capacity, and shaving the stock fender of its taillight and tag mount. When the rear fender was placed over the tire it didn't quite fit, but once one side was bolted up and then the other side was spread to meet the mounting holes, the fender opened up just enough to provide a sliver of space on either side of the tire. Finally a chin spoiler purchased off eBay provided the perfect finishing touch to fill out the bodywork. When it came to accessories, Tony scoured the Drag and V-twin catalogs to load the bike up with as much eye-catching chrome as possible.
With everything coming together pretty quickly, all that was left to do was douse the sheetmetal with paint. That job was handed over to Jason Vanderwoude of NSD Paintwerks, who laid down a Volvo factory red flake base with Cadillac Pearl White and silver leaf graphics.
All told it took one month and about $10,000 in parts and labor to turn Denise's ugly duckling into a rolling swan. Not bad for a total of $12,500, less than a brand-new Big Twin, Denise has one bad-ass XXL.
| | |
| --- | --- |
| SPECIFICATIONS | |
| BIKE OWNER | Denise Smith |
| SHOP NAME | Big Tony's Chopp Shop (BTCS) |
| SHOP PHONE | (708) 558-0173 |
| SHOP WEBSITE | bigtonyschoppshop.com |
| YEAR/MAKE/MODEL | '01/H-D/Sporster-XXL Chopp |
| FABRICATION | Tony, Jason |
| ASSEMBLY | Tony, Ken |
| BUILD TIME | One month |
| | |
| --- | --- |
| ENGINE | |
| YEAR/MANUFACTURER | '01/H-D |
| TYPE/SIZE | XL/1200cc |
| BUILDER | H-D |
| CASES | H-D |
| CYLINDERS | H-D |
| HEADS | H-D |
| ROCKER BOXES | H-D |
| CARB | H-D |
| AIR CLEANER | V-Twin MFG |
| EXHAUST | V-Twin MFG |
| | |
| --- | --- |
| TRANSMISSION | |
| YEAR/MANUFACTURER/TYPE | '01/H-D/Five-speed |
| CASE | H-D |
| CLUTCH | H-D |
| PRIMARY DRIVE | H-D |
| | |
| --- | --- |
| FRAME | |
| YEAR/MANUFACTURER | '01/H-D |
| RAKE | Stock |
| STRETCH | Stock |
| | |
| --- | --- |
| SUSPENSION | |
| MANUFACTURER FRONT | DNA |
| LENGTH | 1-inch under |
| TRIPLE TREES | DNA raked 3 degrees |
| MANUFACTURER REAR | Drag Specialties |
| SWINGARM | H-D |
| | |
| --- | --- |
| WHEELS, TIRES, AND BRAKES | |
| MANUFACTURER FRONT/TYPE | Renegade/Aspen |
| SIZE-HEIGHT/WIDTH | 21×2.25 |
| TIRE/SIZE | 90/90-21 |
| CALIPER | H-D |
| ROTOR | Renegade |
| MANUFACTURER REAR/TYPE | Renegade/Aspen |
| SIZE-HEIGHT/WIDTH | 16×3.5 |
| TIRE/SIZE | 150/80-16 |
| CALIPER | H-D |
| ROTOR | Renegade |
| | |
| --- | --- |
| FINISH/PAINT | |
| COLOR | Volvo Red, Cadillac Pearl, silver leaf |
| PAINTER | Jason NSD Paintwerks |
| GRAPHICS | Jason NSD Paintwerks |
| | |
| --- | --- |
| ACCESSORIES | |
| FRONT FENDER | RWD/BTCS |
| REAR FENDER | HD/BTCS |
| FENDER STRUTS | H-D/BTCS |
| GAS TANK AND CAP | Drag Specialties/BTCS |
| OIL TANK | H-D |
| HANDLEBARS | Drag Specialties |
| HAND CONTROLS | V-Twin MFG |
| FOOT CONTROLS | V-Twin MFG |
| FOOTPEGS | Drag Specialties-Hotop Designs |
| HEADLIGHT | DNA |
| TAILLIGHT | Chris Products |
| LICENSE MOUNT | V-Twin MFG |
| SEAT | Le Pera |