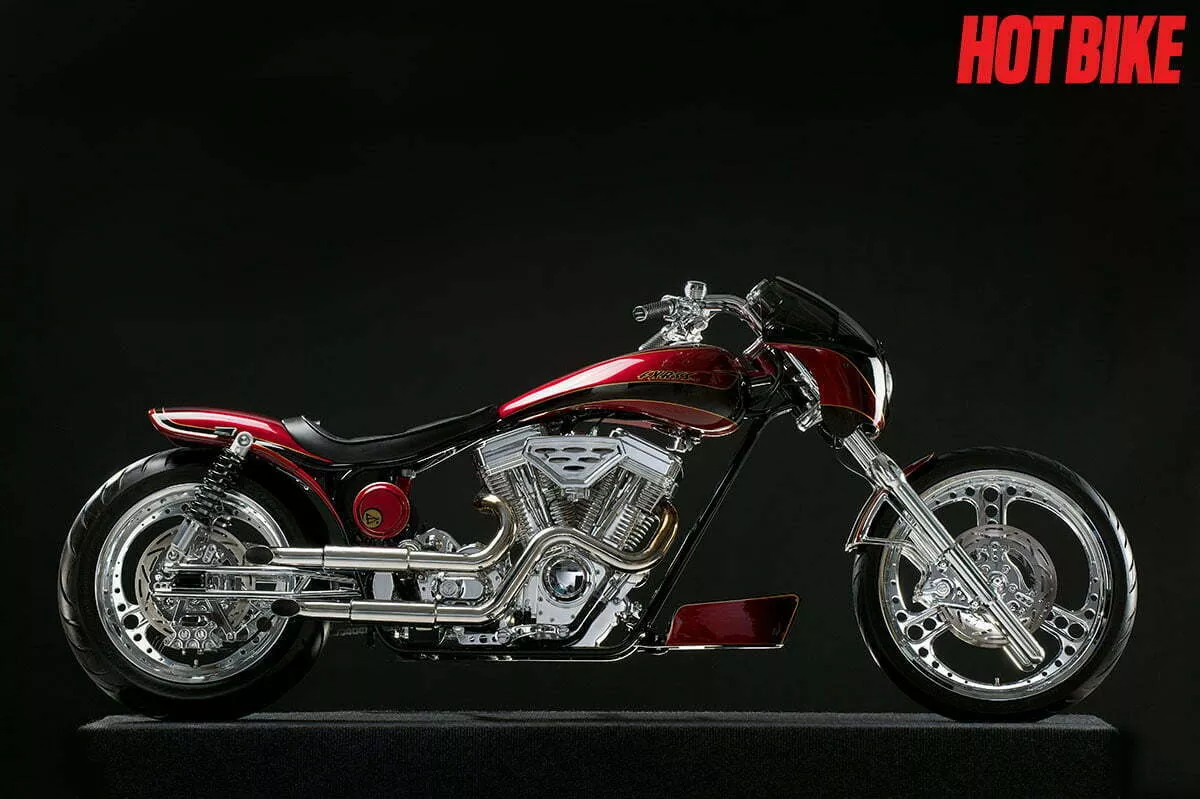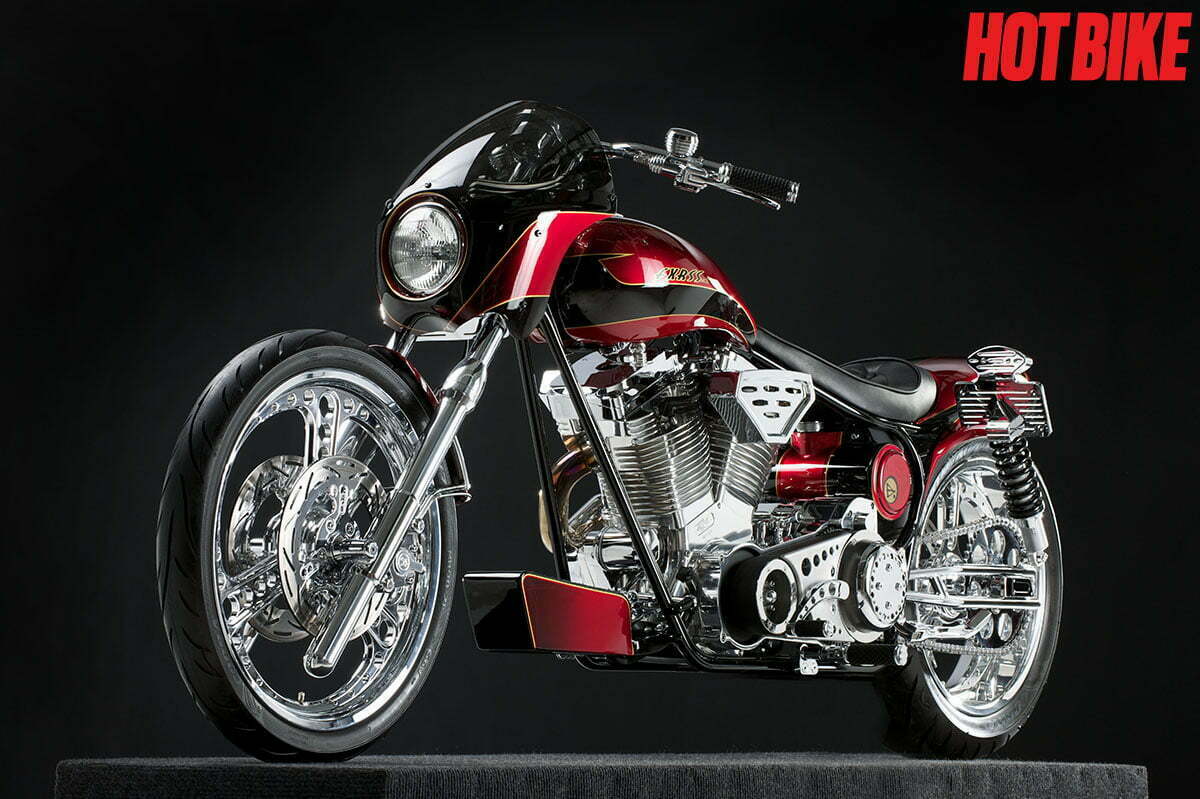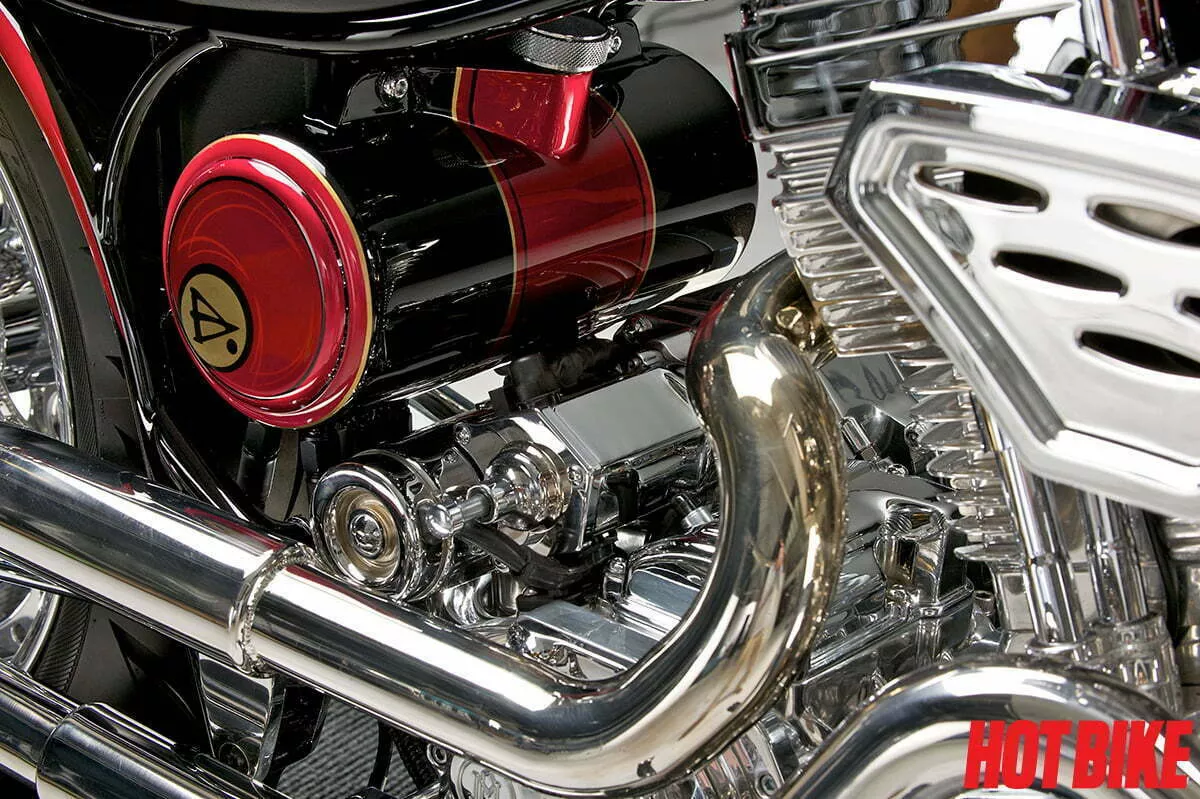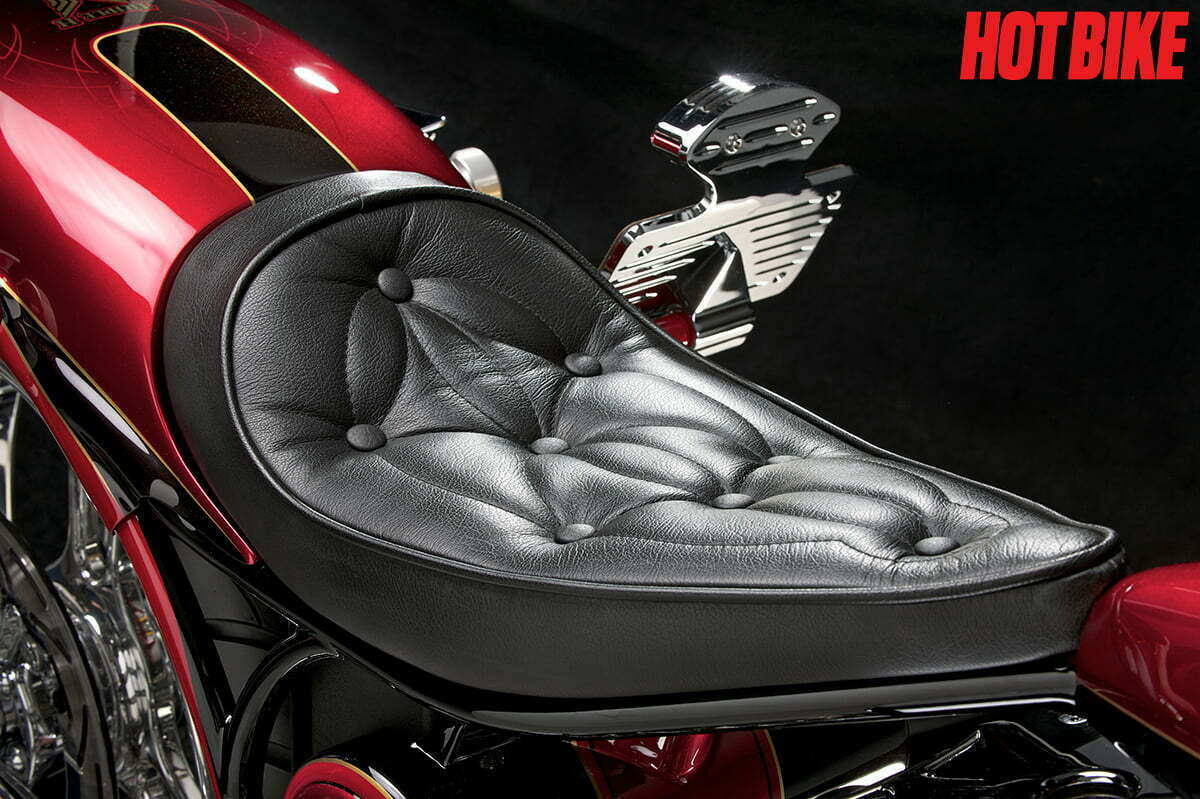 This is the tale of a smoof but often-raucous affair between some guys in California and "others" in the South of England. This ain't no halfhearted, polite biz relationship but a tale of passion, shared ideals, joys and miseries, successes and failures; of mutual hatred when things go wrong and overwhelming alchemy when we do right. We at Battistinis were never that keen on bling show bikes. Our Anglo-American heritage dictated that a motorcycle should look like one. We're much into diggers, and that's what we really enjoy building and riding.
Around the roaring '90s, we got it into our heads to marry the classic look, reliability, and comfort of the FXR with our own vision of what a lowrider should look like: very long, lean, and low, 7/8th chrome-moly tubing for that unique Bay Area look, with no angles whatsoever. That is the total elegance of the project being almost exclusively based on fluidity of lines. So when our custom 7/8th chrome-moly frame arrived from John Parry's Cobra emporium, we decided that rather than drowning its ultimate design mastery in yards of aluminum panels we'd go the other way and make sure that whatever we did would serve to enhance the frame's finesse. As a result, iconic Batt Boy Jeff Duval and Jason Hancock at Triple H in the South of England built the bike to resolve many technical challenges to ensure adherence to said Palo Alto "strictly no shit" engineering with flair principle!
The paintwork was entrusted to Image Design Custom's Tom Fuller and Steve Roke; close aficionados of our Californian Paintmeister and mentor Jeff McCann (RIP 2012). Less is more, Jeff kept on reminding us, so rosso metallic and rosso corsa were selected for that neo-classical Italian allure, with Nero Metallic for the frame and complemented by ghosted graphics and that anti-climax ala d'oro striping.
The other craftsmen who have contributed to this adventure are Simon Parker for the ally tank, fenders, and scoop, John Parry for the 7/8th chrome-moly frame, and our old mates Dave Batchelar and Ant Foy for the twin-rail swingarm, forks, and many other bits. Mike Tharme, our dedicated CNC machinist, undertook many cool killer applications, and finally thanks to Alan Smith of Saxon Seating for his unique mastery of anything leathery.
Having endured a complete ground-up rebuild after registration (it was a new 2013 model), DOT checks, and extensive road tests, the scoot glides, roars, and brakes beautifully. Clearly this is not for the novice or the fainthearted. Its utter rideability will surprise most cynics.
| Specifications | | |
| --- | --- | --- |
| Bike Owner | Jeff Duval | |
| Shop | Battistinis | |
| Shop Website | battistinisusa.com | |
| Year/Make/Model | 2013/Battistini/FXR SS | |
| Build Time | 1 year | |
| Engine | | |
| Year Manufacturer | 2013/121/TP | |
| Cases | TP | |
| Cylinders | TP | |
| Heads | TP | |
| Rocker Boxes | TP | |
| Air Cleaner | Battistinis | |
| Exhaust | Battistinis | |
| Transmission | | |
| Year/Manufacturer/Type | Baker/6-speed | |
| Clutch | Rivera Primo Brute IV | |
| Primary Drive | Belt | |
| Frame | | |
| Year/Type | Custom Cobra 7/8 in. chrome-moly | |
| Rake/Stretch | 42°/6 in.,1 in. rise | |
| Suspension | | |
| Front | Battistinis leading axle fork legs | |
| Triple Trees | Ness Narrow Glide modified | |
| Swingarm | Dave Batchelar | |
| Wheels, Tires, and Brakes | | |
| Manufacturer Front/Type | Battistinis | |
| Tire/Size | 21 x 3.5-in. | |
| Manufacturer Rear/Type | Battistinis | |
| Tire/Size | 18 x 6-in | |
| Finish/Paint | | |
| Manufacturer | Tom Fuller and Steve Roke of Image Designs by Jeff Duval | |
| Paint/Graphics | Image Designs | |
| Plating/Polishin | London Chroming | |
| Accessories | | |
| Front Fender | Battistinis-Jeff Duval | |
| Rear Fender | Battistinis-Jeff Duval | |
| Gas Tank | Battistinis-Jeff Duval | |
| Gauges | Pro Cycles Autometer | |
| Handlebars | Battistinis | |
| Grips | Ness | |
| Hand Controls | Ness | |
| Foot Controls | Battistinis | |
| Headlight | Bates | |
| Taillight | Ness | |
| License Mount | Battistinis | |
| Seat | Alan Smith of Saxon Seats | |