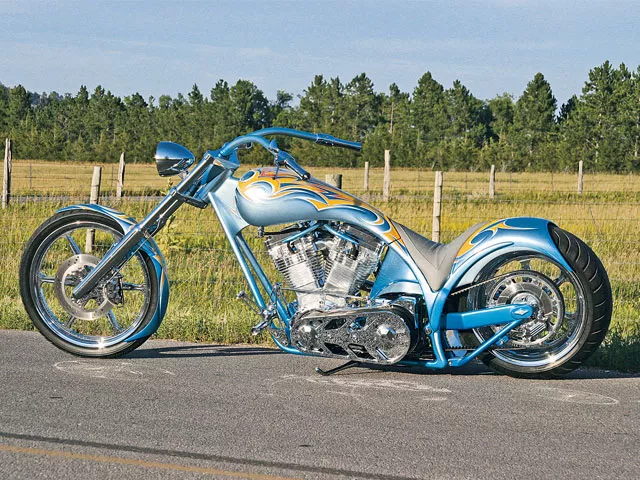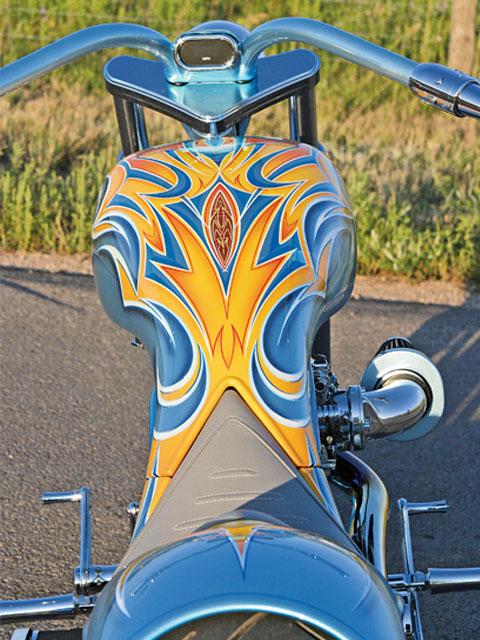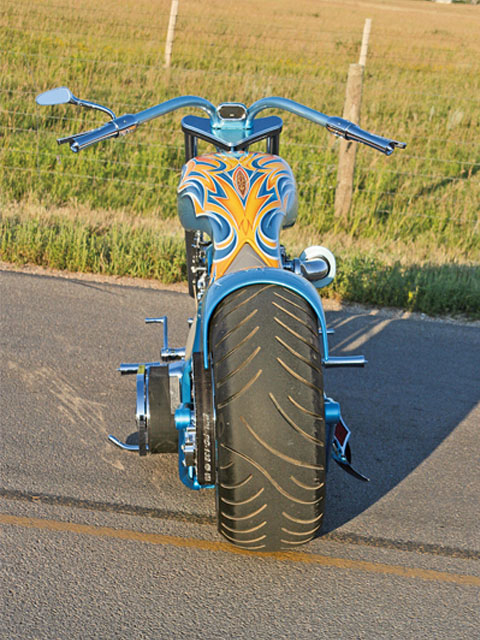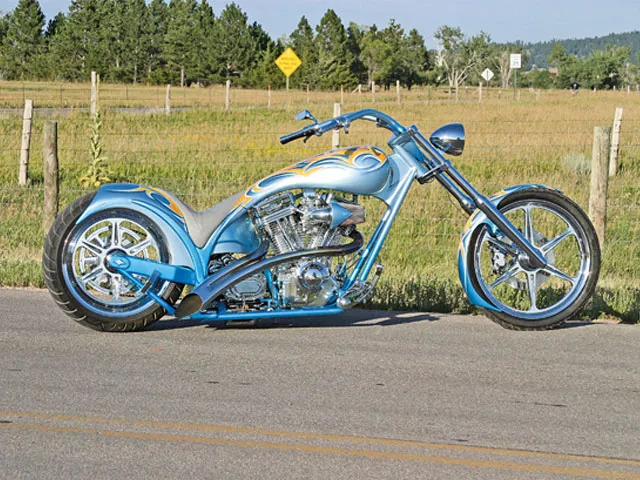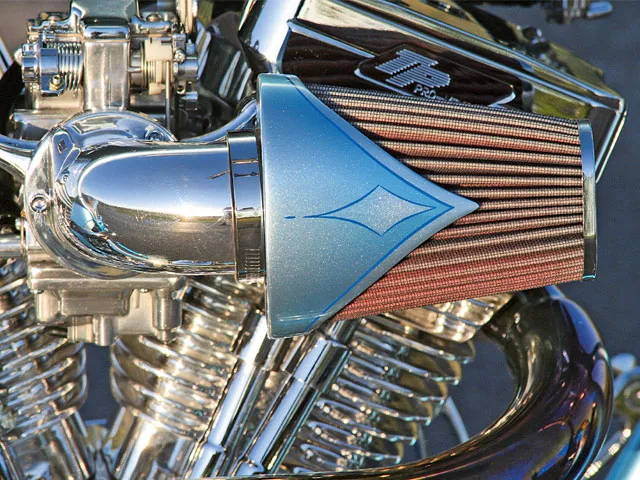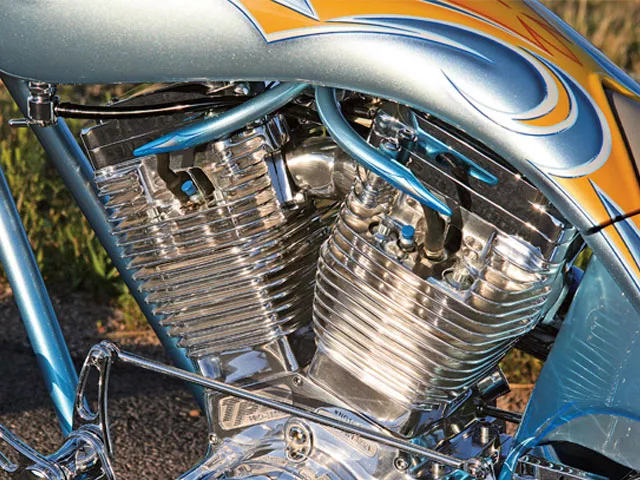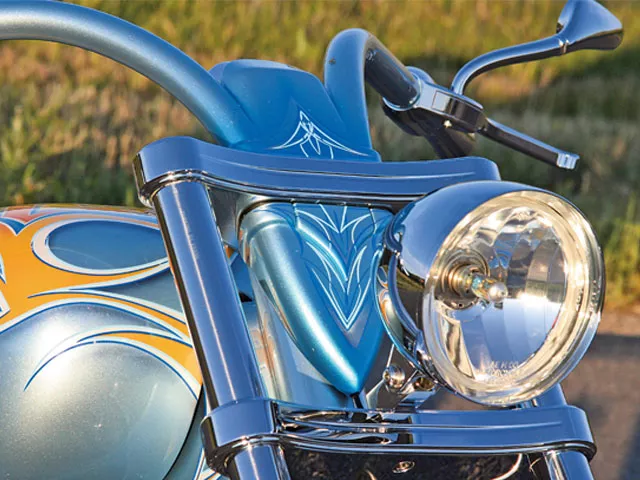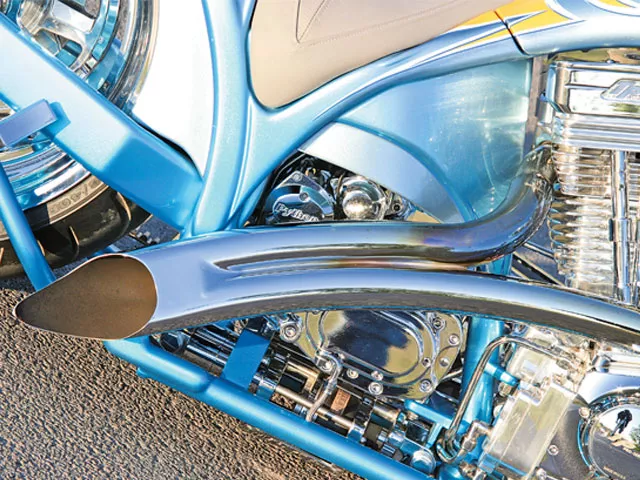 It seems that whenever we talk to people about the inspiration behind building their bikes, usually the answer is "to build a clean bike with as much hidden as possible." Although people achieve this goal, others are way off the mark, with brake lines and throttle cables dangling all over the place. However, when we came across this long, low, blue custom while out at Sturgis, the bike was so devoid of clutter it looked as though it wasn't even completed.
We were hanging out at the Legend's Top 50 show at the Legend Air Ride facility when this dropped and stretched machine stopped us in our tracks. For about 10 minutes, our eyes peered through every crevice, trying to follow the wiring-we even lay down on the concrete to check out how the stainless-steel hard oil lines ran under the transmission. It was while we were lying on the ground that the builder, Reece Good of Ultra Craft Customs, located in Gardner, MO, walked up. After brushing the dirt off our shirts, we shook hands and introduced ourselves. For the next 20 minutes we sat and talked with Reece about his shop and the bikes he'd built, particularly this one.
"This bike was built for a guy named Dave Carrel," Reece said. "Dave and I met several years back through some mutual friends. Dave mentioned he was interested in having a custom bike built and asked if I'd be willing to take on the project. I ended up building him a gold Softail chopper. Actually, that bike ended up on the cover of one of your other publications, Hot Rod Bikes. Then, a few years later, Dave was back at the shop and was ready for another ground-up custom, and this is it."
As Reece continued to talk, we kept admiring the bike's sleek lines and eventually told him that we were interested in shooting it for a feature. Reece was very pleased but said that Dave would be even happier. He said Dave wanted to come out to Sturgis but couldn't get away from work, so Reece suggested we give Dave a call to tell him the good news. As we made our way to the photo shoot, we called Dave at work to tell him the news and get some more info on the bike.
"What? You want to feature my bike in HOT BIKE? That's awesome. I wish I could be there to watch the photo shoot," he said.
After waiting several minutes for the excitement to wear off, we asked Dave about his bike.
"It sounds as if you've already talked with Reece, so you probably know about the other bike he built that made it onto the cover," he said. "Well, after several years of riding that one, I was ready for another one. I had helped out a little bit with the construction of the first bike, but with this one I wanted to be more involved with the design and building. So I contacted Reece and told him I wanted to design a bike, have him do all the fabrication and mockup, and I would prep it for paint and do the final assembly and wiring.
"When this project first began, my objective was to have one of the cleanest, most detailed bikes around that could be a daily rider," Dave went on. "I wanted to try and hide anything and everything that could be hidden. And if there was a line that couldn't be hidden, I wanted it to be a stainless-steel hard line. The project started with a Softail frame that was built to my specs by Racing Innovations. The frame featured 5 inches of stretch in the backbone, the seat pocket was dropped 2 inches, and the neck was raked to 38 degrees. There are a lot of trick things Reece did with this bike that you'd never really notice unless they were pointed out to you. For example, Reece machined the inside of the swingarm, stuffed the Legend Air Ride pump and valve assembly inside the swingarm, and then fabricated a cover panel to hide it all.
"It's like with every piece Reece fabricated-he didn't just make it so it would work, he made it so it would look cool and still be functionable," Dave told us. "The front fender features the mounts welded and molded to the sides to give it a 3D effect. He fabricated the rear fender to be sleek and sturdy, then cut in the recessed seat pocket and mounted it so it hugged the RC Components wheel and Avon 250 tire as close as possible. The stretched gas tank was made to accentuate the elongated backbone and dropped seat area, then Reece mounted it with recessed mounts and fabricated a cover to hide all the hardware."
Dave continued, "At the rear of the bike, Reece made some 3D axle covers to match the front fender mounts, then reversed the license-plate mounting bracket so that the plate would reside inside the wheel. A top motor mount with internal plug wires was fabricated to help hold the 124ci TP Engineering motor in place. Reece made the handlebars, and we used Custom Cycle Controls (CCC) hand controls to hide all the switch lines and cables. Twisting the left grip turns on the ignition; the up/down for the air ride is on the left as well. On the right side is the high/low beam, garage-door opener, and start button. For the foot controls we used Arlen Ness forward controls, and then we machined the inside of the right-side control to house a micro switch to activate the brake light. One of my favorite components Reece made is the exhaust. It looks cool and sounds badass!
"When I finally got my hands on the bike to do my part, Reece had done such a good job on the fabrication and welding that when it came time to prep for paint I didn't need to do much bodywork," Dave said. "The frame and sheetmetal were sent to Scott Thomas of Custom Innovations, where he sprayed a custom light blue that gradates to a darker blue. Scott also highlighted the sheetmetal work by laying down some yellow and orange tribal-style graphics.
"When the bike came back from paint, I jumped onto the final assembly. Reece came over a couple of times and gave me a hand with the wiring and running the lines. Trying to hide or run everything internally is really tough, but Reece had a couple of tricks to make things disappear, like running all the wires and cables through the handlebars and then fabricating a cover that mounts to the bottom of the top triple-tree and turns with the handlebars to help conceal everything. One of the last things that was made for this bike was a fiberglass seat pan that was covered with gray leather by R&R; Upholstery.
"It took almost a year from start to finish to get this bike on the road, but I'll tell you what, it was definitely worth the wait. There are a lot of people I have to thank who helped with this project, including my friends, Ultra Craft Customs, and the guys over at KC Creations for supplying us with some of the hard-to-find parts."
By the time Dave finished telling us about his bike, we had arrived at the photo shoot location, and it was time to work. As you can see, the bike photographed beautifully, and the South Dakota countryside was the perfect background for such a pristine machine.
As a side note to all of this-if the handlebars look slightly familiar, it's probably because the guys over at CCC saw Reece's handlebars and asked him to fabricate a similar line of bars for them. If you'd like to pick up a set for your bike or next project, check out CCC's website at www.customcyclecontrols.com