EDITOR'S NOTE
For more than a decade, we at Hot Bike have been seeing all sorts of Sportsters being turned into trackers, scramblers, cafés, and choppers. Now, well into the evolution of these types of bikes are crossbreeds of all of the above. We have dubbed these types of motorcycles "Variants," and these two bikes are shining examples of that moniker. Chopper Dave and Brawny Brandon have assembled machines that ride as well as sportbikes but are Harley powered and have a favor all their own. Sure, these bikes are not what you think of when the word "Harley" is thrown out there, but a new day is dawning, folks, and a new breed of builder is taking a lowly little Sportster to new heights of speed and design.
Enough blabbing from me. Chopper Dave is now going to break down these machines for you. – JGH
---
"The Steel Shoe"
I am obsessed with the movie On Any Sunday. I watch it religiously. I can envision Mert Lawwill throwing his bike full force into turn one or three with the air cleaner hanging of the left side of the bike, shaking like it's going to come of at any minute. I also know Skeeter Todd. Super genius. He and I have had quite a few conversations about turbos and sporties and what my ideas were. He is the guy who knows that it can be done and encourages it. Tat's what I needed to build this bike.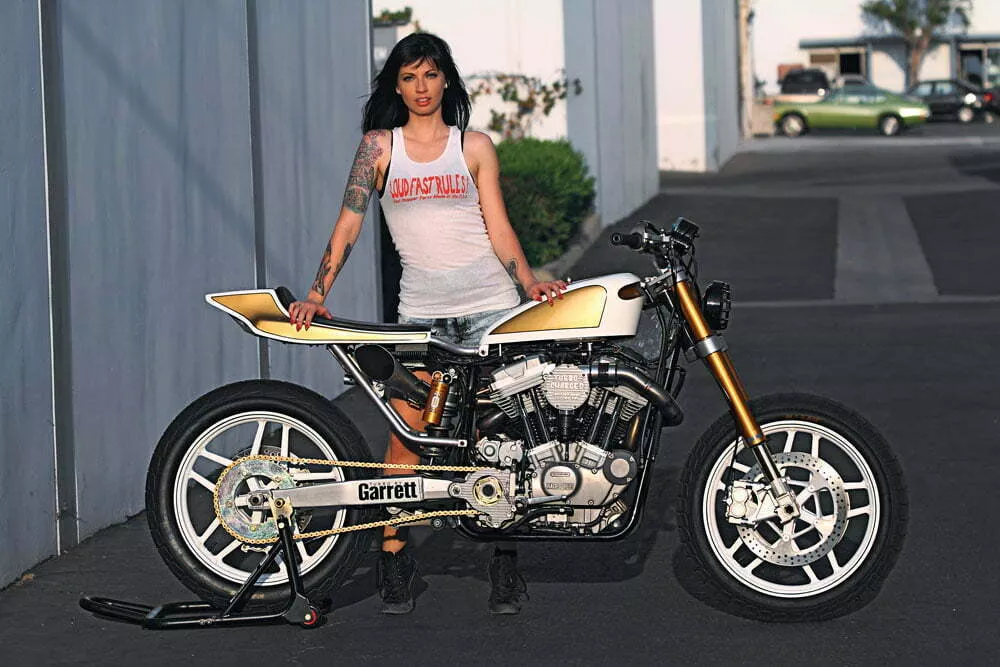 I started with an '06 XL motor with a broken rear rubber mount. It was the perfect starting point for me, as I was going to have to cut the entire rear part of the case of since I was going to mount a Honda CRF450R swingarm to it. Once the case was gutted and cut down, I machined a block of aluminum to weld to the back of the case to serve as the swingarm and rear motor mount. After lining it up, centering where the rear wheel would be and where the sprockets would run, it was welded together, and I machined the reworked case for the pivot shaft. It went perfectly; I was very happy, as the entire frame was to be built around that point.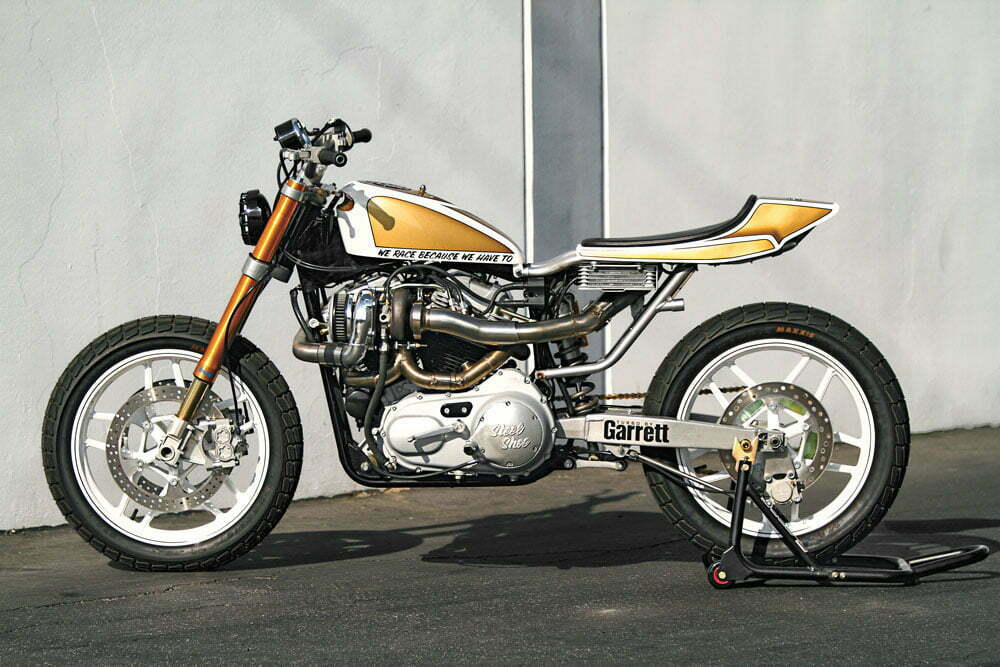 With help from Aki from Hog Killers, I was able to line up my drivetrain and neck on his frame table. We built the entire frame from scratch. Straight as an arrow, perfect for the V-Rod Night Rod special wheels I was going to run front and rear. I was then able to mount my suspension. Te front is an Öhlins road and track inverted fork with ISR brakes. Te rear is the CRF450R swingarm set up to exact Honda geometry, topped of with an Öhlins dual-rate rear shock that Öhlins Sweden shortened the travel to set it up to fat-track specs. At that point it was a roller with a swingarm, frame, fork, and wheels. It wasn't until I built the subframe that it started to take real shape. Te subframe would give me somewhere to put all the electronics I was going to need for my fuel injection. Turns out that the frame became my oil tank as well; fat-track style, it holds oil behind the neck, and the oil return runs from the back of the backbone up the length of it out of my oil cooler.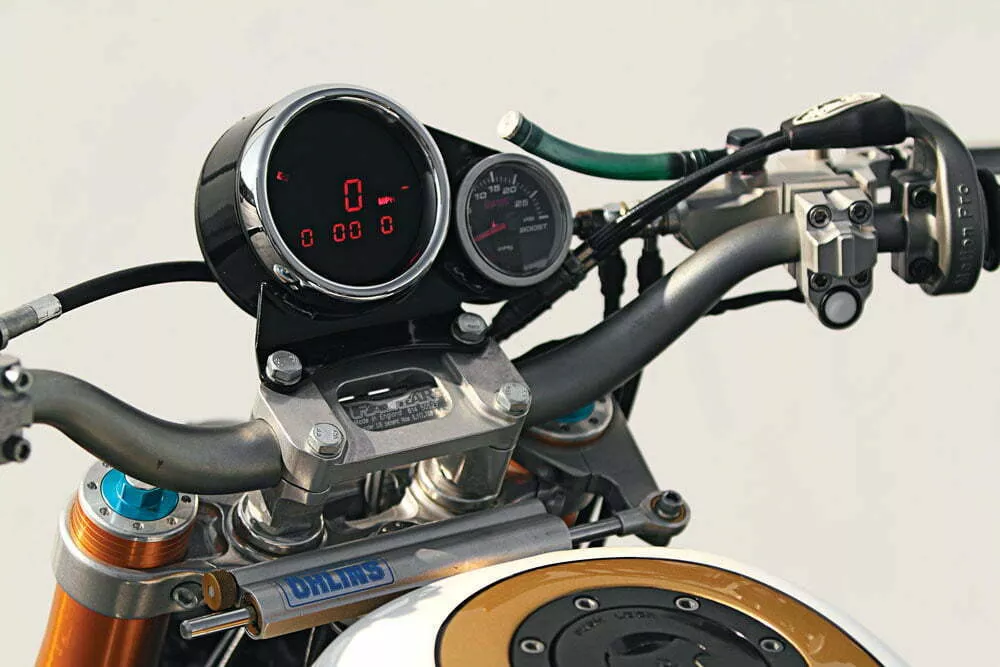 Fuel injection, in my opinion, is the best way to control fuel/air for a turbo motor. yes, a force-fed Sporty motor. I started at the bottom and worked up. Bennett's Performance trued and welded my stock crank, and I was able to use 1200 conversion pistons with stock 1200 combustion chambers to give me the proper compression ratio for my turbo. With the addition of turbo cams that have no valve overlap, I can pack the combustion chamber tight and get some real horsepower.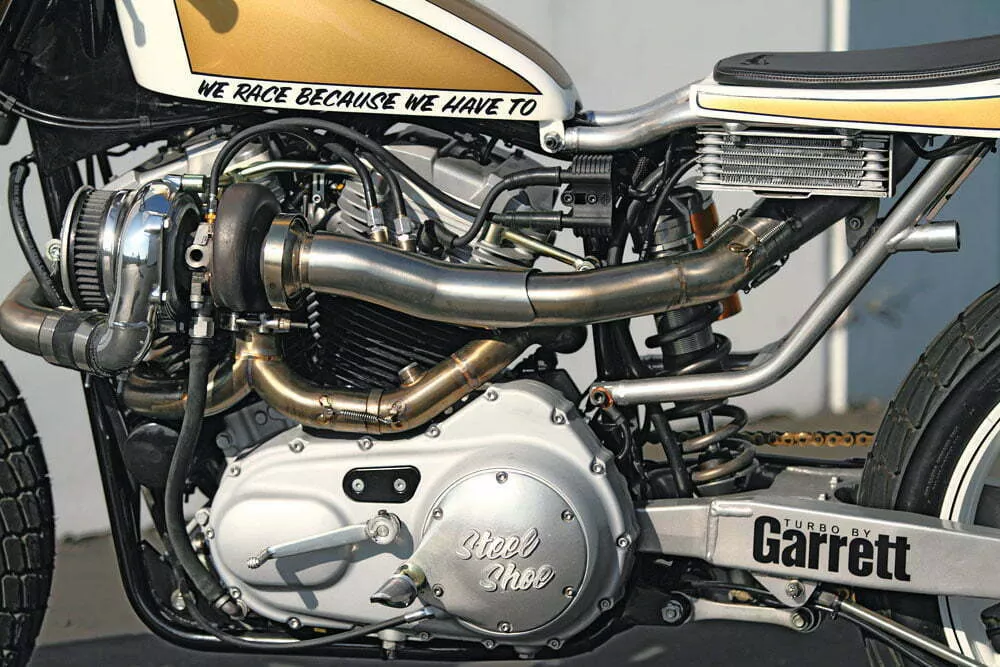 I modified my XR rocker boxes with an eVAC system that would pull a vacuum at speed in order to keep case pressures down and help scavenge oil out of the Garrett turbo built with a combination of GT-25 and GT-28 parts, designed to work best with this motor. Tis is where it became really complicated. Where to put it? How to get the exhaust in and out, how to plumb into the injector housing? My biggest complaint with turbo bikes is where the turbo is mounted and how the plumbing is done. I wanted my bike to look like it was built around the turbo—not like a turbo was an afterthought and thrown on. Tat is why it's up by the front cylinder on the left side. It's tight to the motor, and I was able to cross the charge tube around the front to the airbox I built. My good friend Hunter Klee helped me with all the exhaust, in and out of the turbo. We figured out how little clearance I had every- where and made it all ft. His help was monumental in making it look like it was supposed to be there. With the Milkhaus blow-of valve fitted to the airbox, it sealed and provided proper pressure control.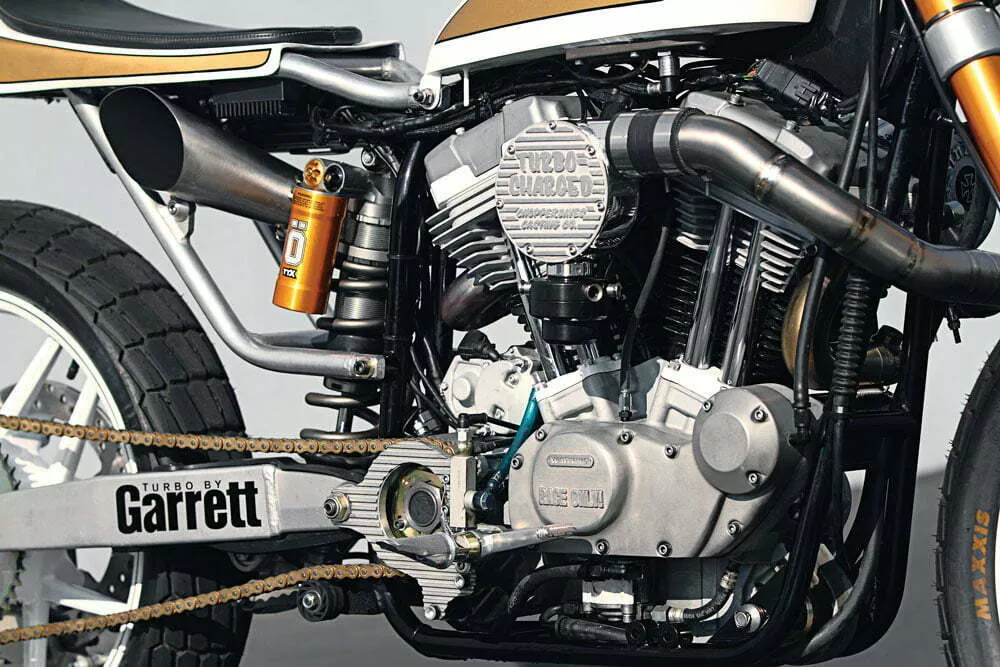 I shortened a Sportster fuel tank and added a sportbike cap to give it the proper look. I also had to clearance the fuel tank up front for my steering damper that I added. For high-speed stability with a steep neck rake, 28 degrees, it's a nice thing to have. I then heavily modifed the seat pan and tail section. Once I had the mounts figured out, the tank and tail went to Pacman, an incredible painter and pinstriper, for the beautiful gold and white paint.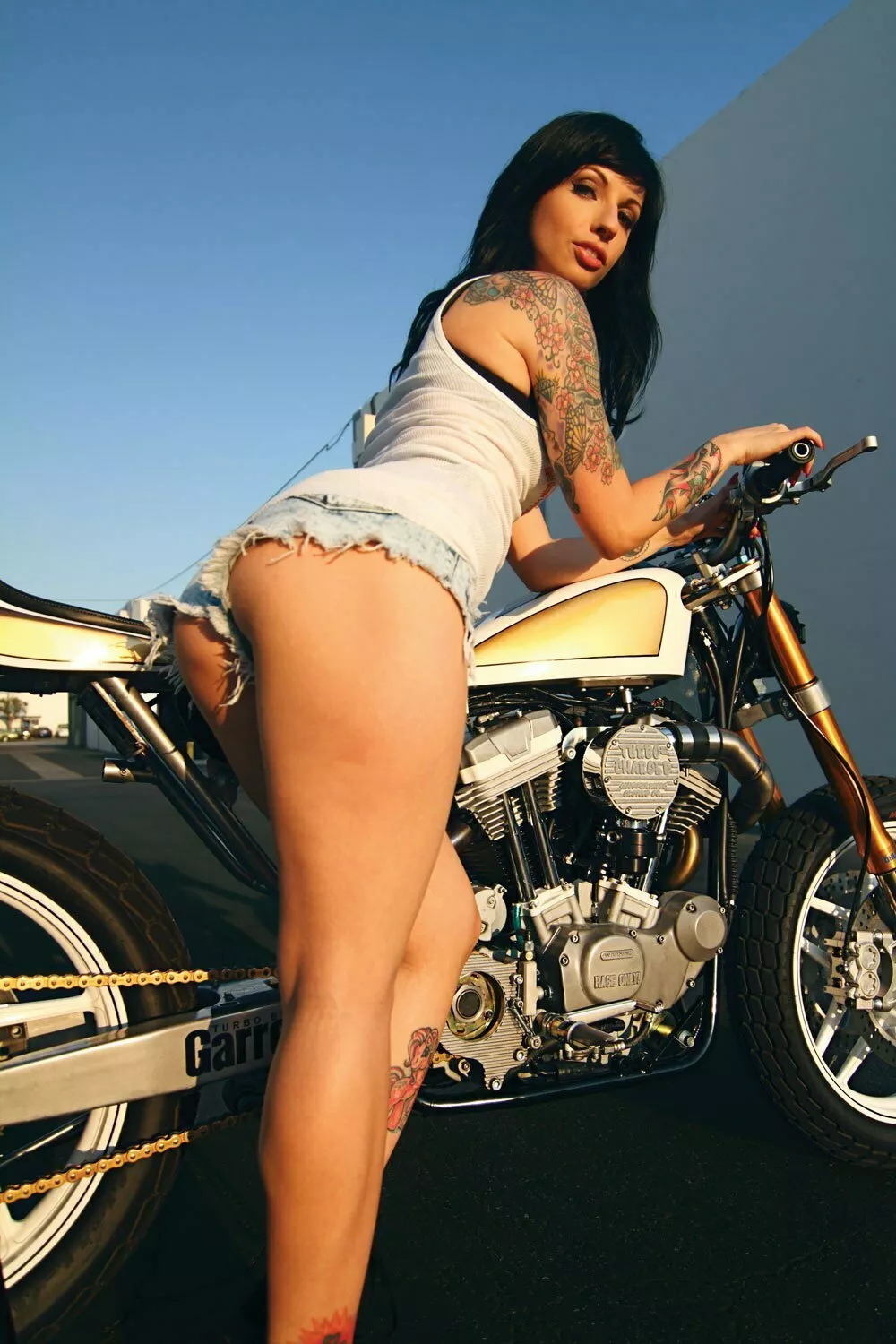 I had to deal with the prospect of gutting a fuel-injection harness and still making it work. H-D is very redundant with its wiring, and I removed a ton of it. Once I trimmed it down I had to make it work with very limited space. I was able to ft a small Anti-Gravity battery in the tail section, and that gave me the space for the Power Commander I was using for fuel management.
The experts at Dynojet offered to help me tune it on their dyno in Las Vegas, so the next morning my friend Jason and I loaded up the bike and jammed out to Sin City. Te guys at Dynojet did a basic "break-in" tune for it and got it running great. It pulled 108 hp at the rear wheel on the dyno at 66 percent throttle, and it idled like a stock bike when no power was going through it. Wow, my kooky combination actually worked! Te motor is a monster, has tons of torque, and it runs as it should. I spent the next day fine-tuning wiring as well as the suspension, which works as good as any sportbike I have ridden. Once I have enough miles on it for it to be completely broken in, we will put it back on the dyno and expect to get 145 to 150 hp out of it. Not bad for a girl's bike.
"The Mako"
I have known Brandon Holstein, the man behind the Brawny Built, for 13 years now, and he never ceases to amaze me. He has the "performance Sportster" down to a science. Anyone can build a custom Sportster, but if you want a serious ride, take it to brawny built. It seems to me that the definition of a bike builder has become skewed over the past few years; any guy with basic skills can throw a bike together, and it's sad to say that's what seems to be happening. Not enough of these guys have the real-world experience that brandon does. He lives it and builds it, and if it breaks, he can fix it. Te custom Harley by definition in my eyes is a "mechanic's bike." No matter how it's built, if it's going to be ridden on a regular basis, it will need someone who knows what they are doing to keep it on the road. Needless to say, brandon is one of those guys.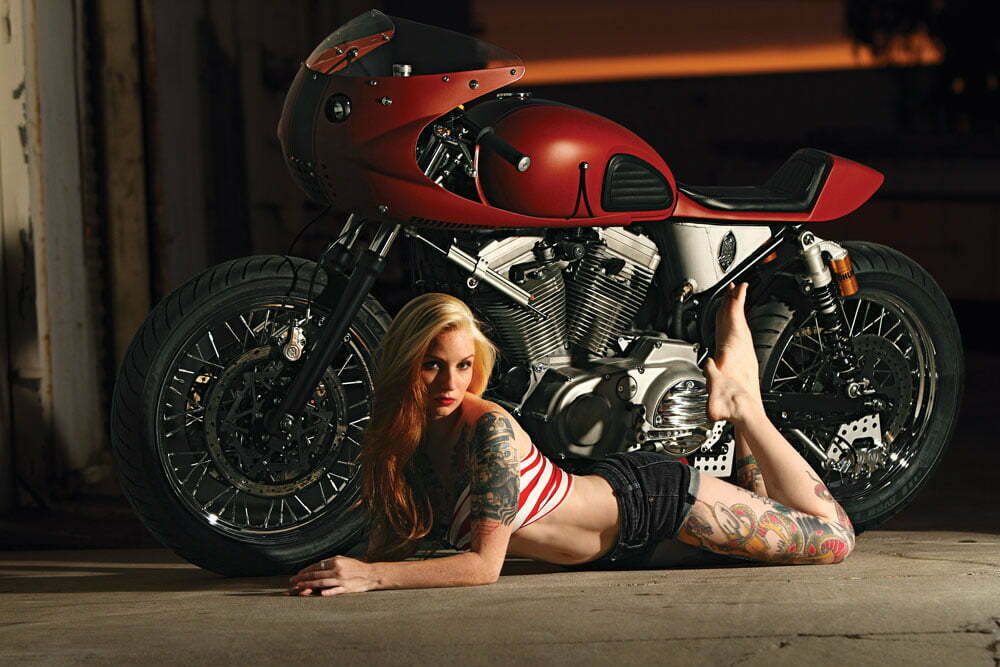 When I asked brandon about this bike, the first thing he told me was about his ride the year before with some friends of ours who happen to be riding sportbikes. He was riding an FXR with them but really wanted to build a sporty with the seating position, power, and proper gearing to keep up with these guys on the road. To quote him: "I just wanted to build one that could handle high speeds—100-plus mph. Speed is what I had in mind all along."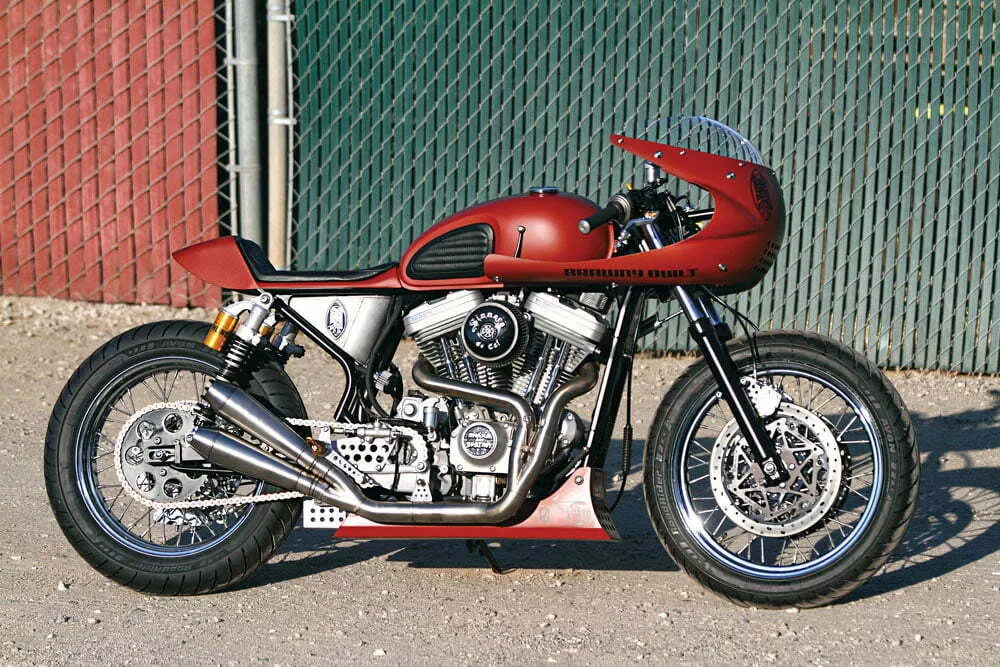 In addition to Brandon's full-time gig running brawny built, he also has a new business venture: Te Speed Merchant (SM). Tis bike is a perfect example of what his new company represents as well as the high-quality builds that brawny built has done over the years. SM makes performance parts that work, and that's what this chassis will do. It has the Speed Merchant trees and spring rate adjusters and is set up as a killer roadrace bike. Öhlins piggyback shocks and steering damper will also keep the wheels where they need to be. When I saw it apart, he had just sent the tail section, gas tank, and fairing to paint, therefore I had no idea that he had extensively modified a Triumph tank! It rules, completely fits the style of the bike, and matches the killer fairing. Te fairing is the defining part of the bike. It sets the stance and tells you the bike's intention. It houses the small PIAA headlight and oil cooler perfectly. Brandon always fabs the coolest aluminum oil tanks, and this bike is no exception. It fits in nice and tight, let- ting the seat and tail sit low on the fully modified subframe. Te clean spoke wheels set the early 1960s style café racer feel and give it the perfect stance.
"Top secret," was his response to, "What are you doing with the motor?" At first glance it looked like a normal powerplant, but then I realized that it has big Twin barrels and heads on a Sporty lower end, and at that moment my mind was blown. brawny had been sitting on an old Sputhe big-bore Sportster kit for years. He was waiting for just the right moment and the right bike to put it in. So he handed of his motor and Sputhe kit to Marco and Christian at Mach Modifed in Farmingdale, New york, and let them work their magic. Tey build MotoGP motors. (If you don't know what that is, shame on you. MotoGP racing is the fastest, most exacting, and prestigious motorcycle roadracing in the world.) The motor itself has the big-twin top end that is extensively modifed for power and torque. Hot-rod Sportsters with 85ci are nothing to laugh at by any means, but with the proper cams, Mikuni carb, and one of brawny built's signature stainless exhaust systems it really makes the motor breathe. That is the key to true H-D power.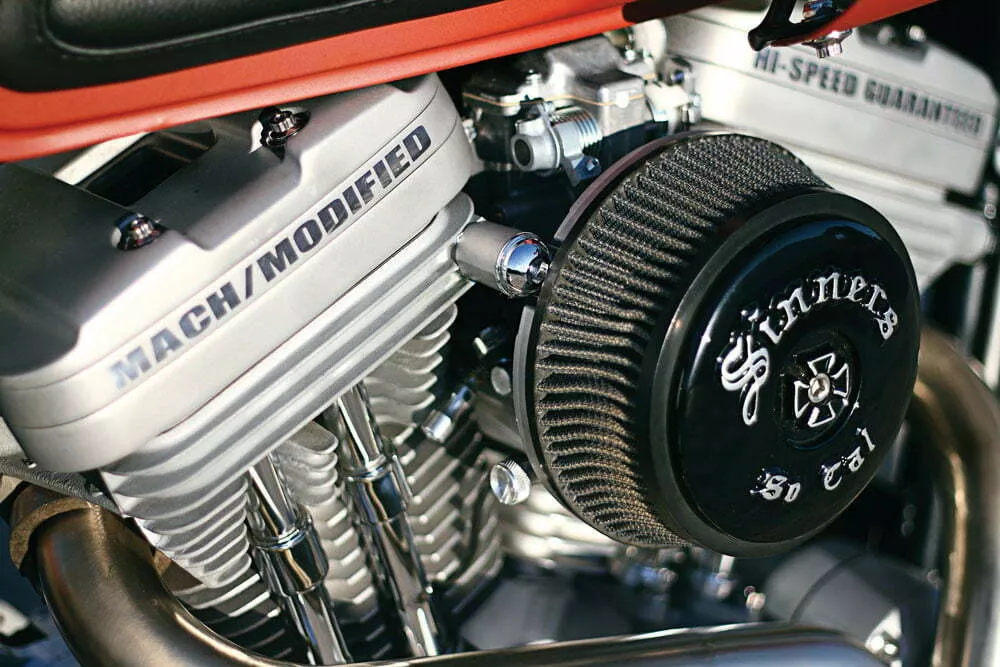 Mach Modifed did the gearbox as well. Over the past few years, the guys have mastered the art of modifying these transmissions to make them work as they should. undercutting gears and machining their own main drive gear has given them the gearing difference over stock. Next they pull out the clincher, some crazy aerospace coating that they use that is so slick that just the coating alone adds up to 15 rear-wheel horsepower. Yes, 15 hp. So needless to say this bike looks killer, runs, and handles all at extreme speed. Something very few Harleys do these days.
I have always admired what rolls out of the doors at brawny built. From rigid sporty choppers, street trackers, and now the ultimate Variant of all three. This is pure brawny built.