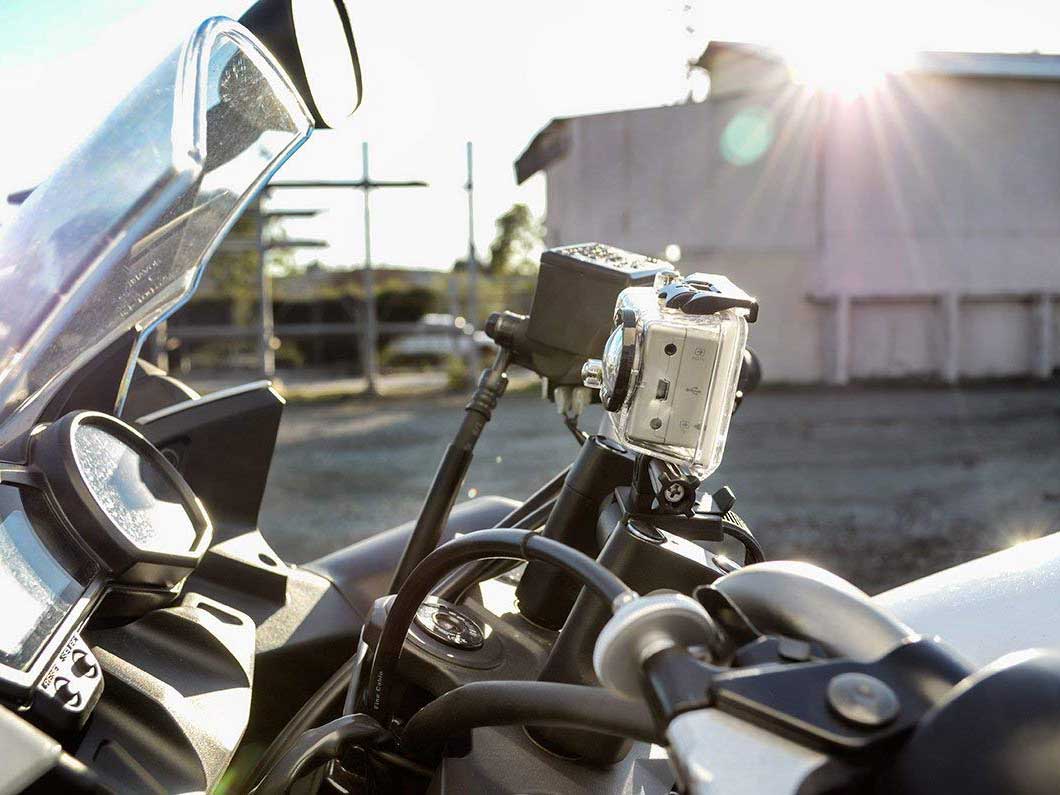 GoPro and other action cameras have changed the way motorcycle riders capture exhilarating footage from the road. While these cameras have the ability to create truly high-definition videos and still photos, they are almost useless if you don't have the right mounts to secure them to the bike and capture the shots you want while riding. While there are different types of mounts out there, handlebar mounts are by far the most widely used. Riders can also utilize body-type mounts that secure the camera for different and unique angles to make their content stand out. Whether you shoot highly polished videos for YouTube or just for your own personal social media accounts, the need to capture the best quality, stable footage remains the same. With different mounts to choose from, you'll have a wide array of options to create the most killer clips possible.
Mount The Camera On Your Bars
Compatible with all GoPro Hero cameras, Arkon's GP134 handlebar strap mount operates on a zip-tie-style strap system, and includes a GoPro adapter with a screw and acorn nut for lateral mount connections. The mount can fit handlebars measuring 15mm–50mm in size, and requires absolutely no tools to use. To make for a better fit, three handlebar spacer/adapter rings are also included with the mount kit. The beauty of this setup is that it can be used just about anywhere on all types of vehicles, and is also compatible with a wide range of other action camera brands.
A Mount For Anywhere
Riders looking for multiple types of GoPro mounting options (and then some) will truly appreciate this insanely complete collection of 50 accessories rolled up into one single package. Not only does it come with a handlebar mount, it also includes a wrist strap, suction cup mount, head and chest straps, and all kinds of extra goodies that will bring out your creativity when capturing footage during your next ride. For the price of admission, this kit will allow you to make the most of your GoPro camera on and off the bike.
Capture The Perfect POV Video
This chinstrap mount is a unique alternative to the tried-and-true handlebar-mount method. The mount is designed to fasten on your helmet's chin area, and can be tightened or loosened by simply adjusting the buckle. The mount is strong enough to provide a stable hold for your camera, and the included J hook is designed to add extra support when needed. The silicone base adapts itself to just about any type of helmet, and the anti-shock, anti-slip design promotes crystal-clear shooting all day long.
Attach To Any Tubular Part Of Your Bike
GoPro users wanting to go with a mounting system made exclusively for the manufacturer can opt for this official handlebar/seat post kit which features a hinged, nonslip design that sets up in seconds. Don't worry about any more wasted time trying to set up the camera for the shots you want. The base features 360-degree rotation with 16 secure positions to lock in the exact angle desired. To make getting the shots you want even easier, the mounting knuckle allows you to move your GoPro around between mounts to change up the angles whenever you want.