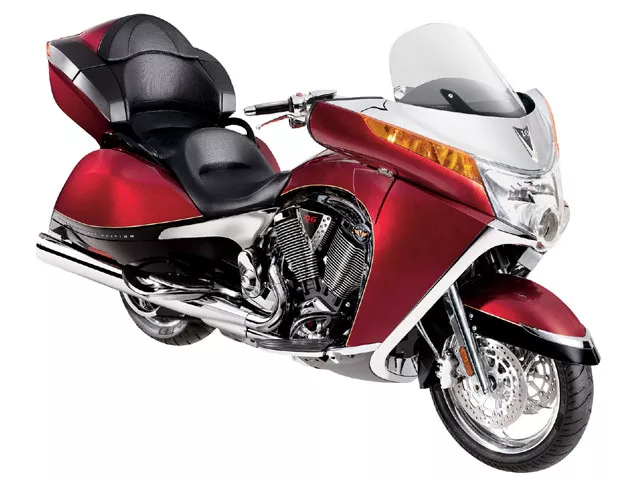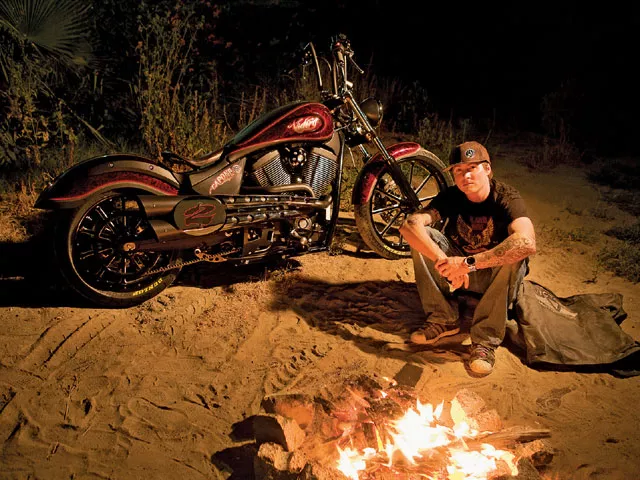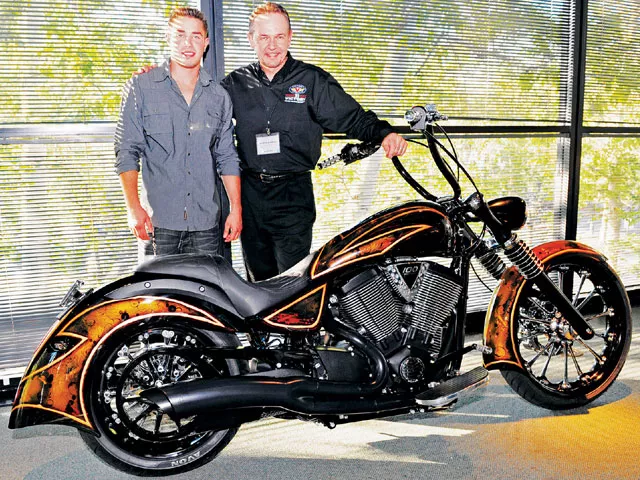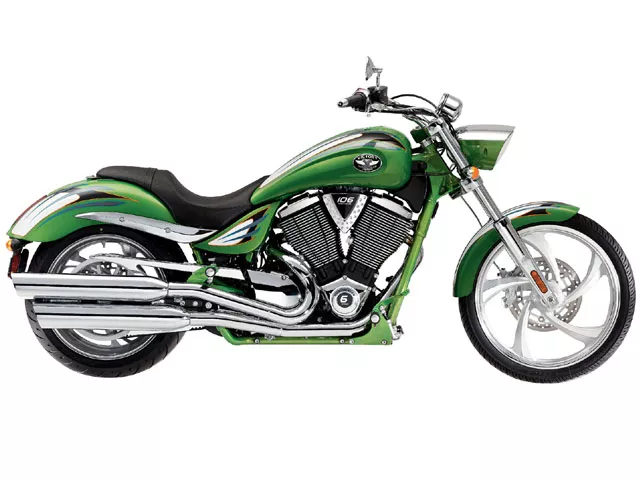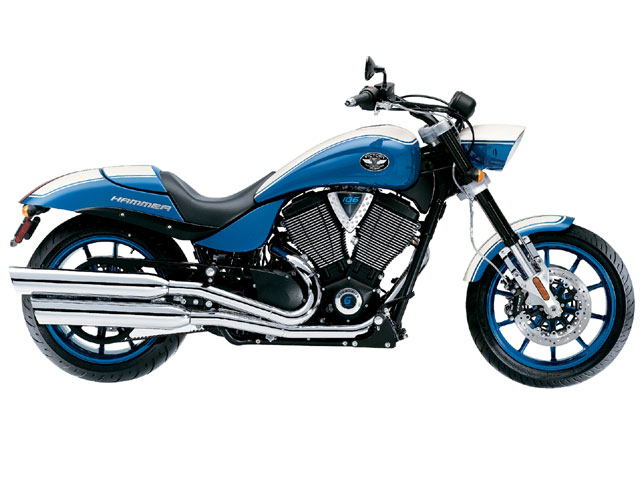 For its 10th birthday, "The New American Motorcycle" company launched its '09 fleet at the Art Center College of Design in Pasadena, California. The "men in black" (Victory staff) looked excited about something. We think it was the release of a 10th Anniversary extremely limited-edition Vision Tour loaded with comfort controls, a Reverse gear, and much more. Or maybe they were excited to reveal their new friendship with Roland Sands Design (RSD). Sands was given a cruiser to dress up with his own style. It could also have been the fact that Zach Ness-son of Cory, grandson of Arlen-was given a bike to customize. Why not continue on with the Ness lineage? Either way, all the surprises were welcomed warmly by attendees of the launch and could be very beneficial to Victory's longevity.
As for the '09 cruisers (non-Vision models), there were a few changes made. They were treated with brighter LED taillights-two times brighter than before-lightweight Stingray cast wheels with silver spoke highlights (for certain models), and new paint combinations.
The biggest change came for the Vegas Jackpot, Hammer, and Hammer S. These models now come standard with Victory's new Next Generation Freedom 106ci motor and six-speed drivetrain package, which steps up the horsepower and torque numbers, according to Victory officials. Both Visions still get the 106/6 package. The Kingpin, Kingpin Tour, Kingpin Low, Vegas, and Vegas Low come with a 100ci motor with six-speed transmission. The Kingpin 8-Ball and Vegas 8-Ball feature standard 100ci motors and five-speed transmissions.
Other exciting news for the touring models was that both the Visions have been given the option of having a Reverse gear (does not come standard), and they have been fitted with new speakers that utilize a new tweeter for improved sound quality and increased volume output.
We've listed some of the high-lights from Victory's '09 model launch. For more information on pricing contact your Victory dealer. If you would like more information about Victory's entire lineup for 2009, visit
10th Anniversary Victory Vision TourFor its 10th Anniversary, Victory launched a very limited-edition Vision Tour, of which only 100 models were produced and sold on a first come, first served basis. This bike comes with an XM radio, iPod cord, GPS and mount, and a CB and Communications System with one headset. Also, a Reverse gear has been added for those who don't like manually backing up their bikes.
Vegas Jackpot
The '09 Vegas Jackpot, Hammer S, and Hammer received the Next Generation Victory Freedom 106/6 treatment, which is a 106ci motor with Stage 2 cams and closed-loop fuel injection system and six-speed transmission with overdrive. Performance numbers jumped up to 97hp and 113 lb-ft of torque, according to Victory officials.
Victory Vision Street
Both the Street and the Tour are back with a few changes for 2009. A Reverse gear is available for both models and an improved gauge has been added for easier servicing and features enhanced LED backlighting and more distinct "redline" warning areas. Paint options are Solid Midnight Cherry, Solid Blue Ice, or Solid Black.
Victory Kingpin Low
A brand-new model for Victory is the Kingpin Low. The Low's seat height is 1 inch lower (25.2 inches) than the Kingpin and it comes with a solo saddle and no passenger pegs. The sidecovers are scalloped, making it 1-1/2 inches narrower than the Kingpin.
Arlen Ness Signature Series Vision
Arlen's limited-edition Vision has many blacked-out features: center console, dashboard, passenger handgrips, front access panel, inner fairing panels, and more, and features Arlen's custom paint scheme with his logo located above the taillight and EFI cover. This vision also comes with a shorter, Ness-designed adjustable windshield.
Cory Ness Signature SeriesVegas Jackpot
Cory's Landshark billet wheels feature machined highlights and a matching sprocket. Cory accessorized the Jackpot with plenty of Ness features: handgrips, mirrors, engine covers, foot controls, and hand levers.
Victory Hammer S
New wheels and paint are available for the '09 Hammer S. The Boardwalk Blue paint with white racing stripes stands out from the pack. Also, the Hammer S and Hammer have been fitted with the 106/6 powertrain, of which the S model has been calibrated to achieve peak performance. Over 220 Hammer model-family accessories are available.