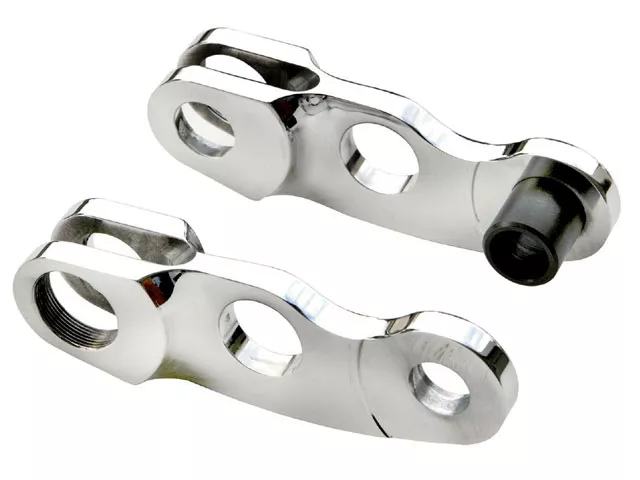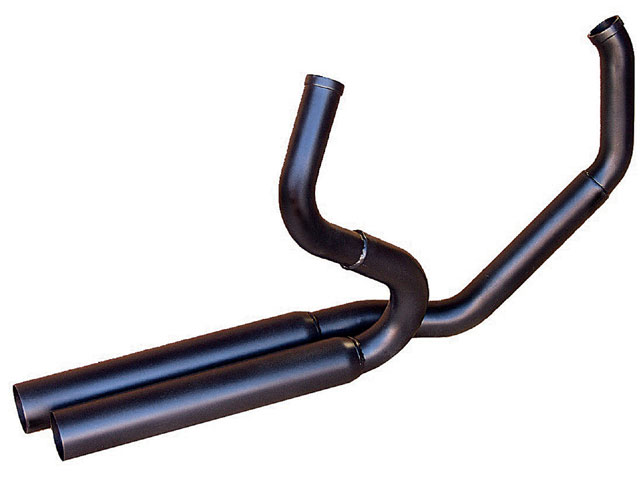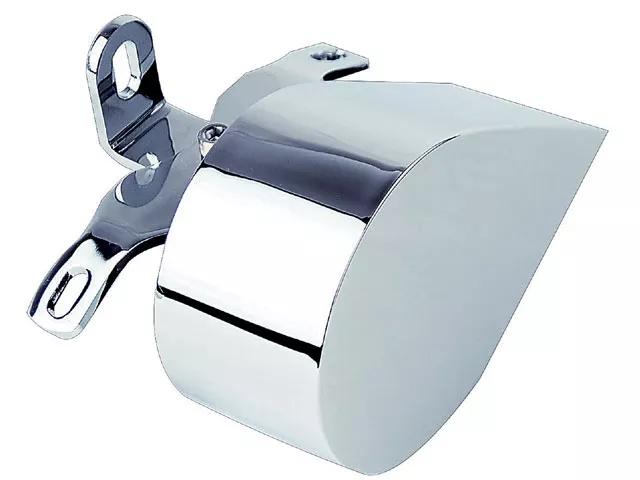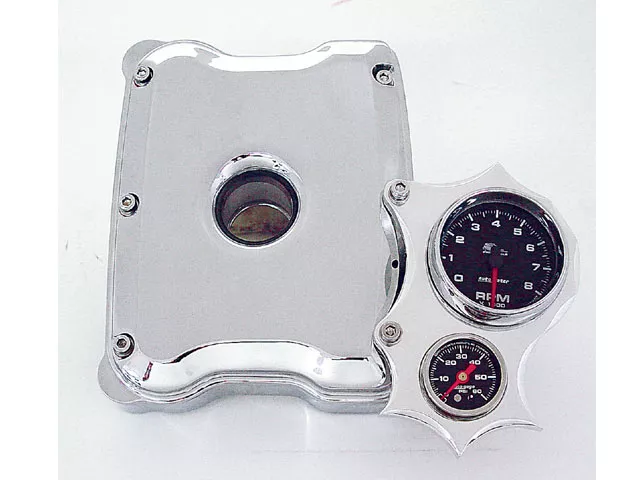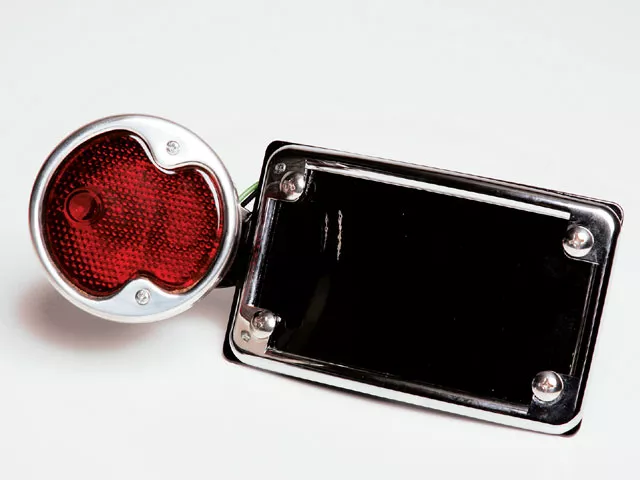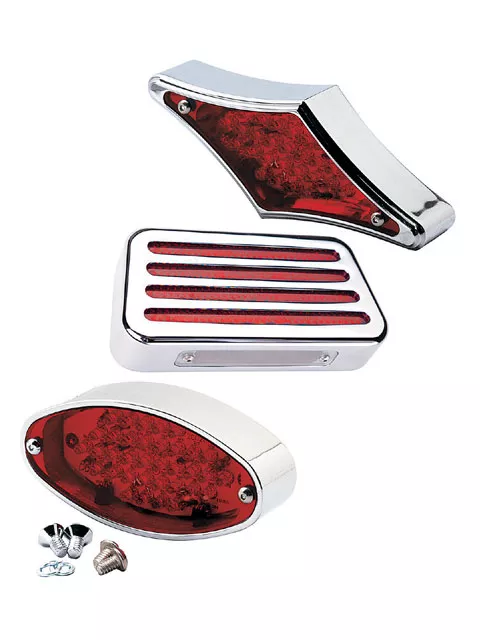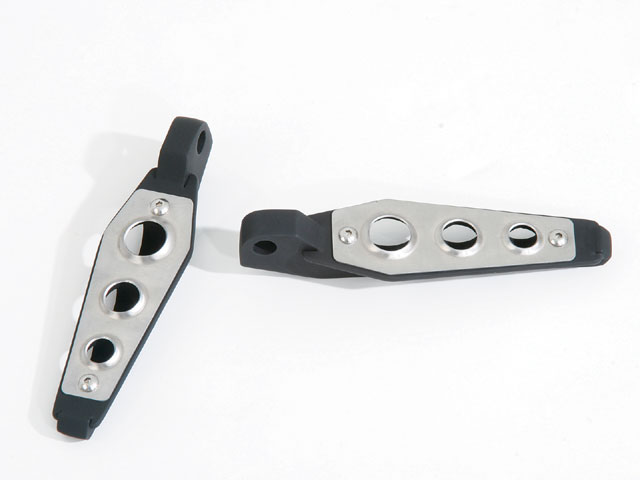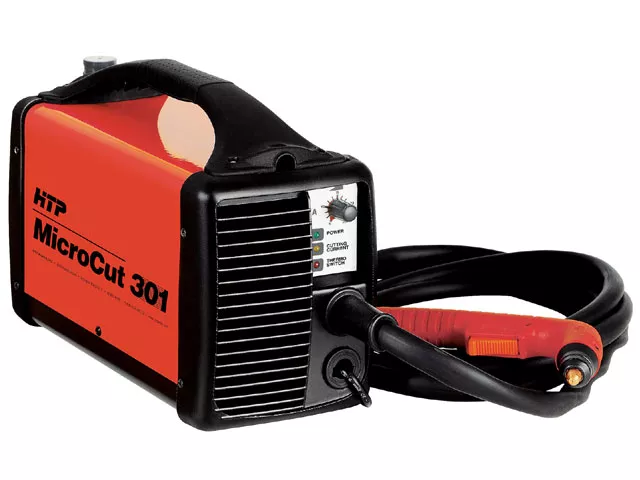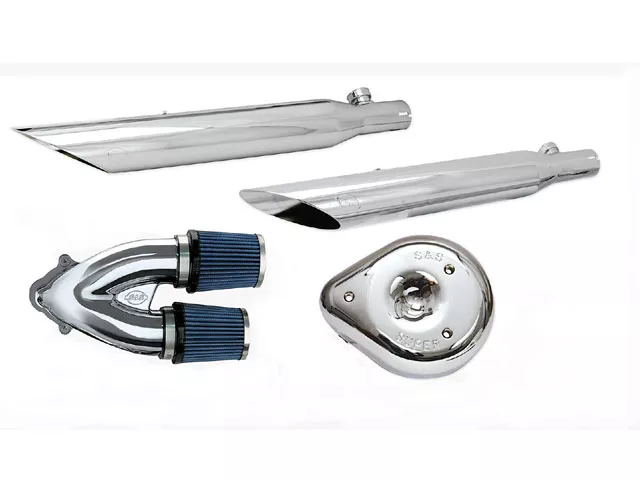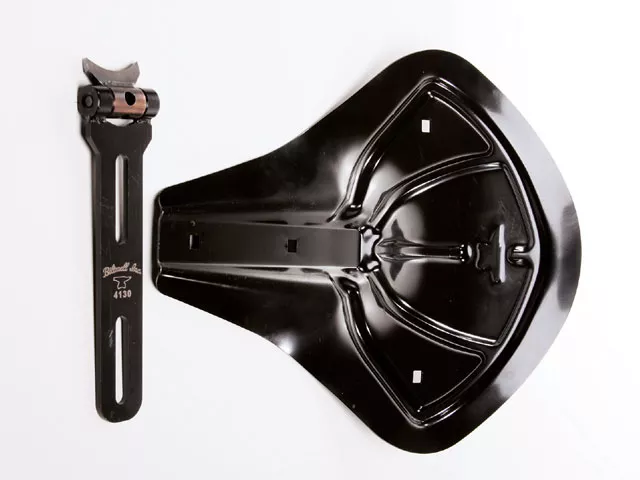 Kendon USA Dropped Rockers For H-D Springers $289.00
If it is serious attitude that you're looking for, Kendon USA might have the solution to your never-ending quest for style. These lowered rocker arms are machined from 6061-T6 aircraft quality billet aluminum. That's right, we said aircraft aluminum, so it must be high-tech, right? If it's a '97 and up Springer, these lowered rocker arms will bring the bike down one inch from the stock height.
Contact Kendon USA (714) 630-7144 www.kendonusa.com
Bassani Pipes Black Ceramic Pro Streets $659.00
Whether you're tearing through the neighborhood or taking a nice, leisurely ride on your Sporty, Softail, or Dyna, you still like the sound of a nice roar coming out of the tail pipes. The new Black Ceramic Pro Street pipes are made from 16-gauge steel with stepped heads in a slant or straight cut design featuring Bassani's tunable/replaceable flow-through baffle system.
Contact Bassani Pipes (866) 439-4287www.bassani.com
P.B. Choppers Coil Covers $442.99
Bling, a term used to describe the flashiness of an accoutrement, is the perfect adjective-even if it's not listed on dictionary.com-to describe the new coil covers from P.B. Choppers. They offer that extra little something to your S&S; or H-D Evolution motor, and come coated in chrome or black-nickel plated.
Contact MC Advantages (800) 726-9620 www.mcadvantages.com
Mid-Usa Rocker Cover Mounts $146.55
Ever dream of becoming a rock star, but it just didn't happen? Mid-USA, makers of over 7,500 parts for American-made iron, have just introduced their new Rocker Box Covers to fill the void of your broken dreams. Now you can ride down the road in rock star style. These new mounts feature a 2.690-inch opening for speedometer or tachometer gauges, and a 1.600-inch opening for oil or air pressure gauges.
Contact Mid-USA (800) 632-0024 www.mid-usa.com
Santa Clarita Choppers Custom Taillight $189.00
Attention classic car lovers! Santa Clarita Choppers has designed a taillight just for you. This custom duo-lamp taillight is an exact replica of 1928 to 1931 Ford Model As. Oh, and by the way, it also doubles as a license plate holder, but you probably already figured that one out from looking at the picture, didn't you? You smarty pants.
Contact Santa Clarita Choppers (800) 420-4240 www.santaclaritachoppers.com
Pro-One Tail Lights $62.95
If you're looking to get noticed when you tap the brakes, the new LED taillights from Pro-One are now available. The thing is, they're flying off of the shelves, so if you don't get your lazy butt off the couch, they'll be gone before you know it. All lights are finished in chrome and incorporate a license plate light. The Diamond model measures 4-7/8 inches wide x 2 inches high, the Oval is 4-3/4 inches high x 2-1/2 inches wide, and the Show Bike is 5 inches wide by 2-7/16 inches high.
Contact Pro-One (800) 884-4173 www.pro-one.com
West Coast Choppers LBC Footpegs $249.00
Your stock footpegs are practical, but ever since you bought your bike you've been looking for ways to dress it up. Why not fuse practical with style by adding some flavor to the equation with the new LBC Foot Pegs from Jesse James and his gang? These black pegs with polished stainless grip inserts fit most applications, and most importantly, they're badass. 'Nuff said!
Contact West Coast Choppers (562) 983-6666 www.westcoastchoppers.com
USA Weld Micro-Cut 301 Plasma Cutter $749.00
You're working your tail off in the garage, contorting and twisting sheetmetal to your specs while wondering why you don't have some kind of plasma cutter to make your life a little bit easier. USA Weld's Micro-Cut 301 Plasma Cutter is smaller than a breadbox…well, maybe not that small, but at 14 pounds it is plenty small to fit somewhere in your garage. Plus, with 25 amps of cutting power, you can quality-cut steel pieces at 5/16-inch or severance-cut 3/8-inch steel.
Contact USA Weld (800) 872-9353 www.usaweld.com
S&S; Quick Setup Kits For Late Model V-Twins $539.95
Always on the go, but looking for some kind of performance boost for your stock '03-'07 carbureted or fuel-injected V-Twin? The quick setup kits from S&S; will get you going with an increase of 10-12 horses in just a matter of minutes. The kit includes a set of slip-on mufflers (slash-cut or tapered), the iconic teardrop air cleaner, or you can go with the new Single-Bore Tuned Induction System, which is available in a chrome, black, or natural finish with a red or blue filter.
Contact S&S; Cycles (608) 627-1497 www.sscycles.com
Biltwell Seat Bracket Kit $44.00
The folks at Biltwell thought it would be a great idea to manufacture their new Seat Bracket Kit from 4130-aircraft-grade chromoly steel. With that kind of quality, you don't have to worry about flying out of your seat, because this bracket fits almost all of the mounting studs on solo seats. But if you're looking for a new seat kit altogether, you could try out the solo seat pan (pictured) to accompany your groovy new bracket.
Contact Biltwell (951) 699-1500 www.biltwellinc.com