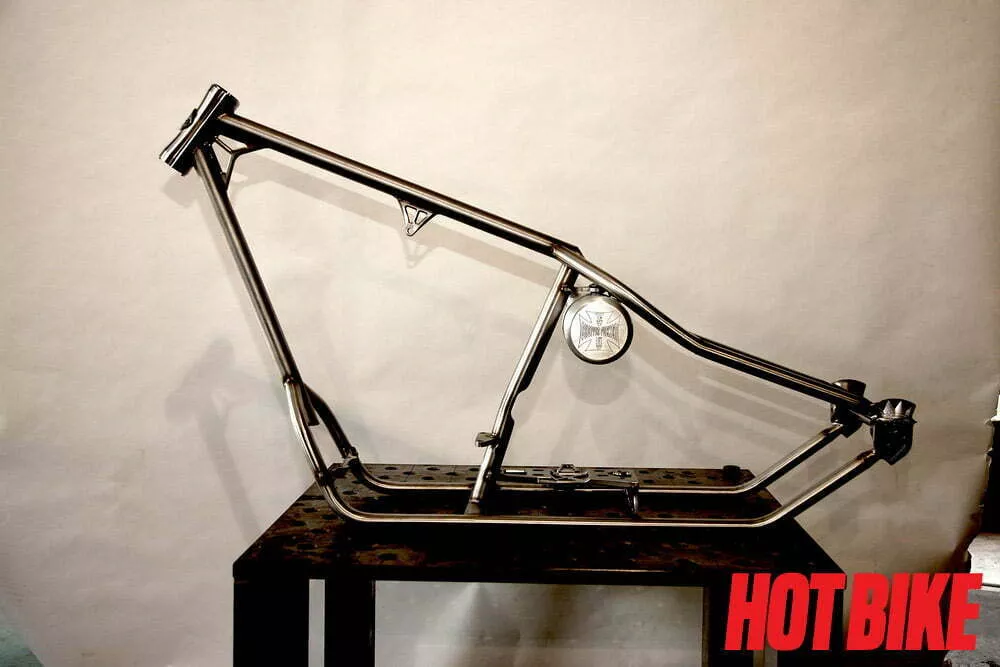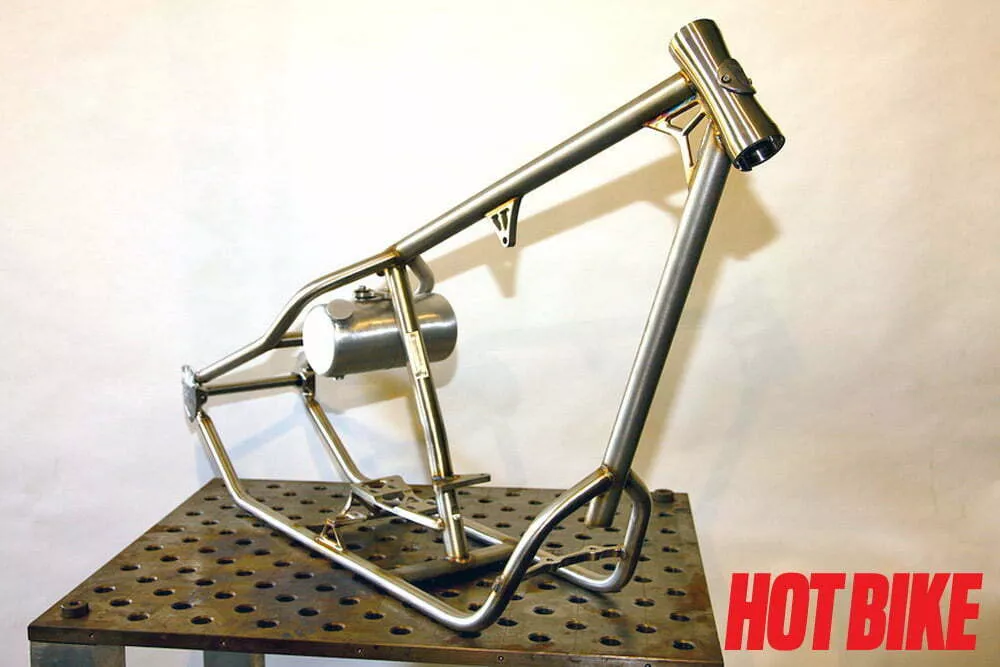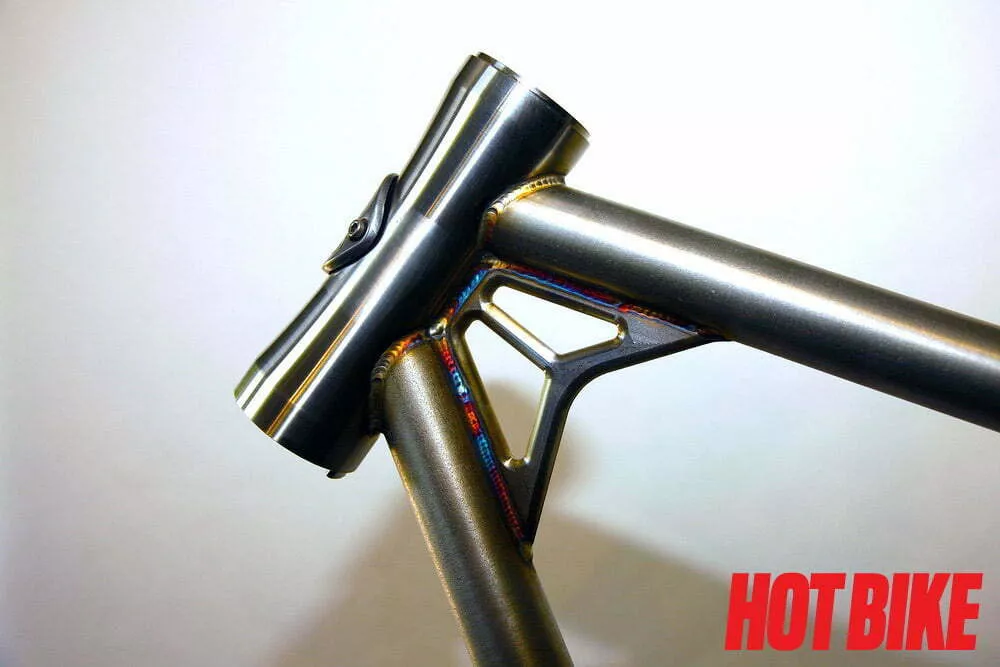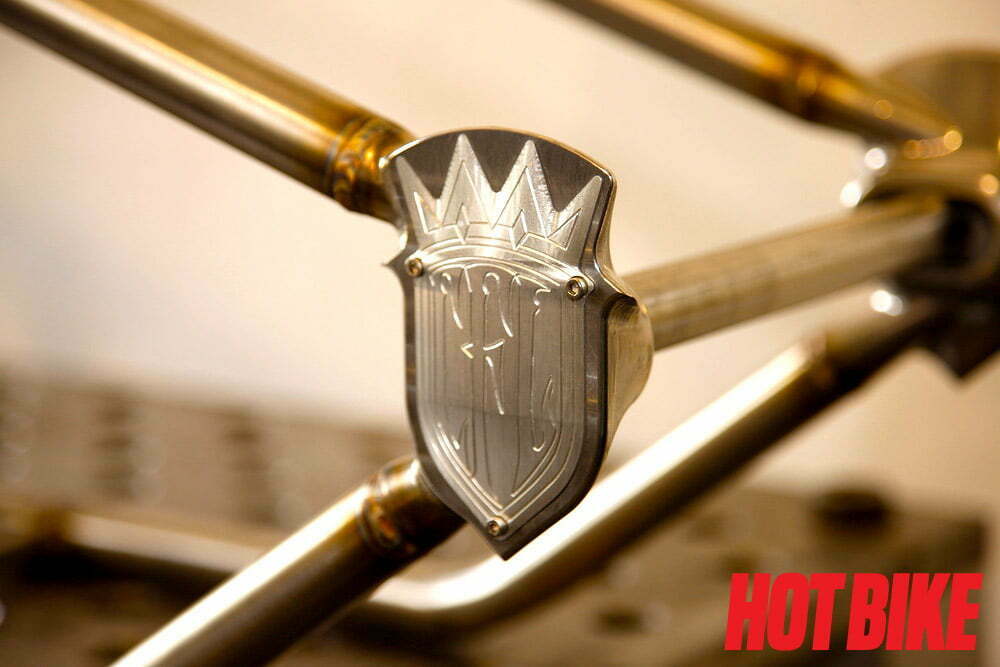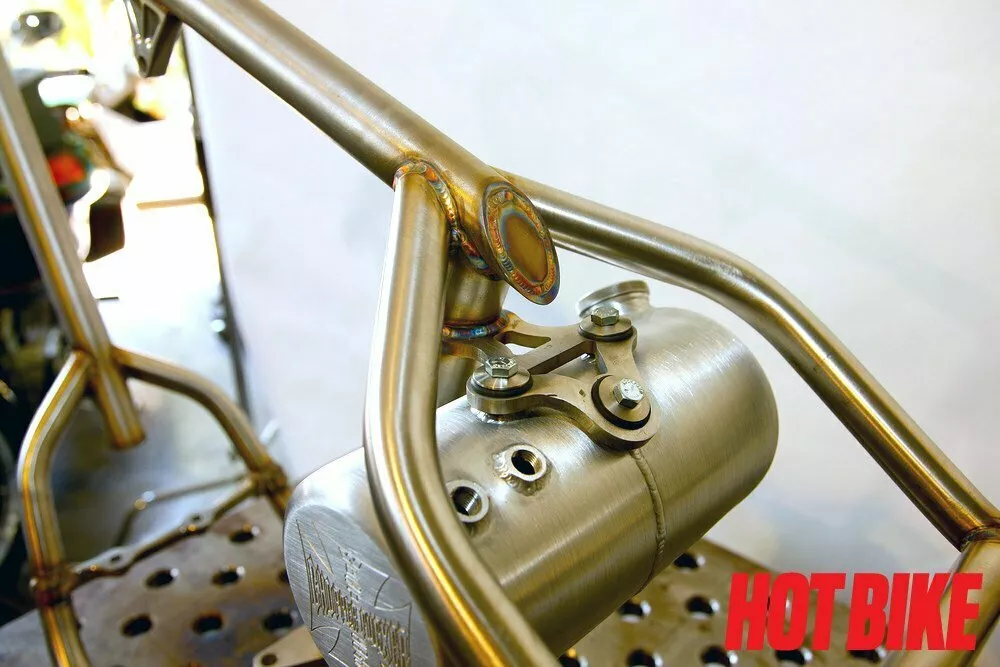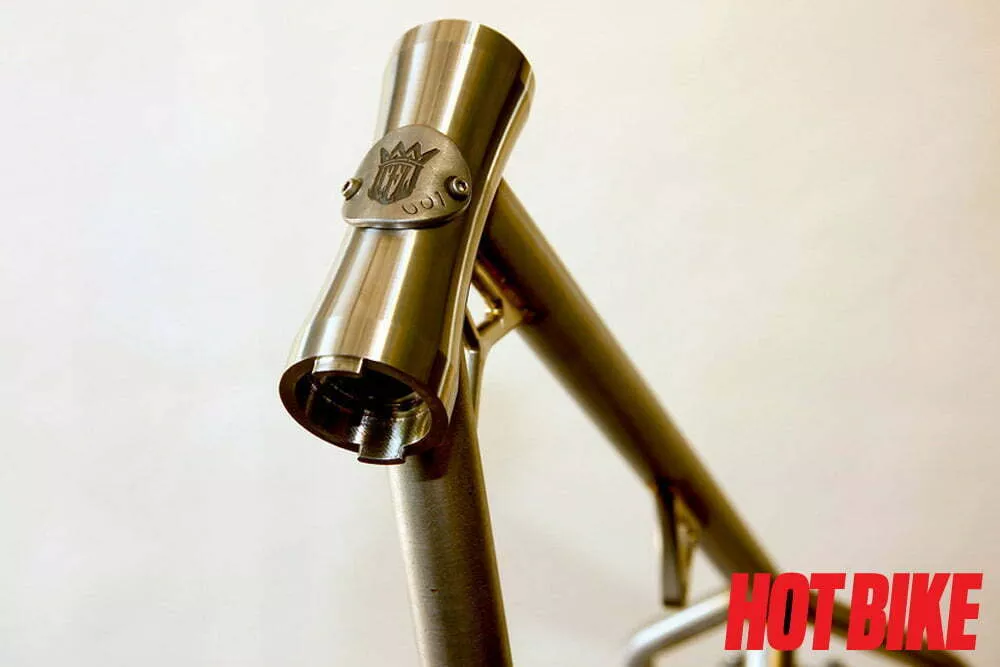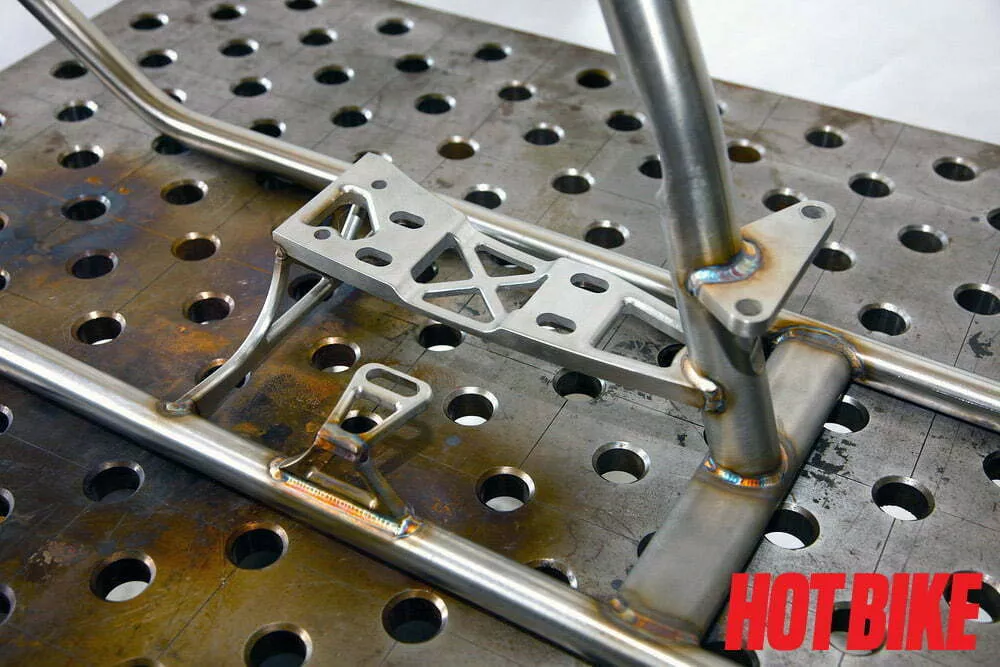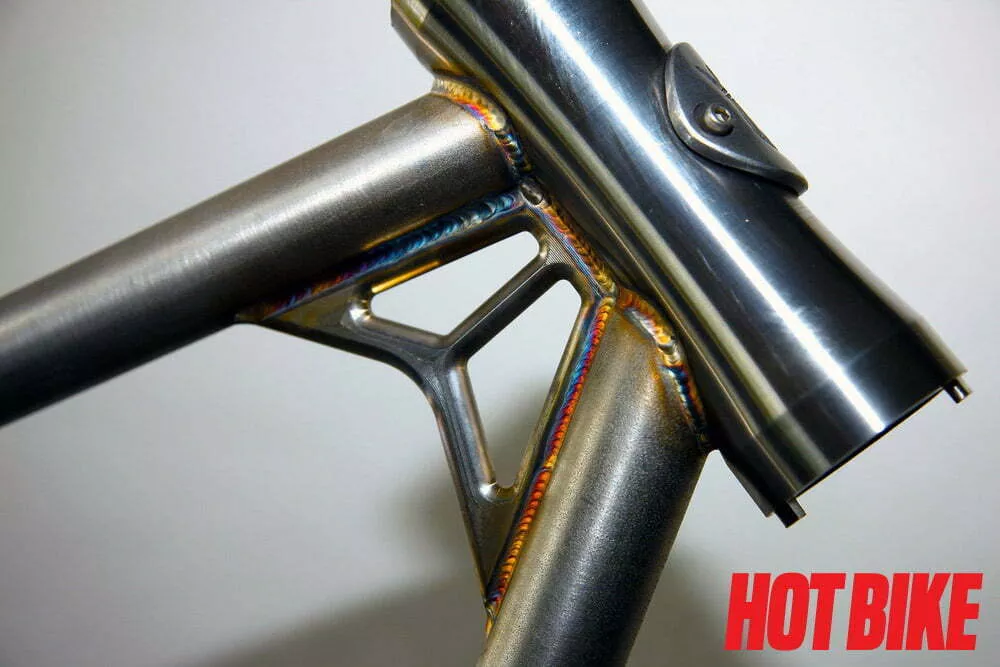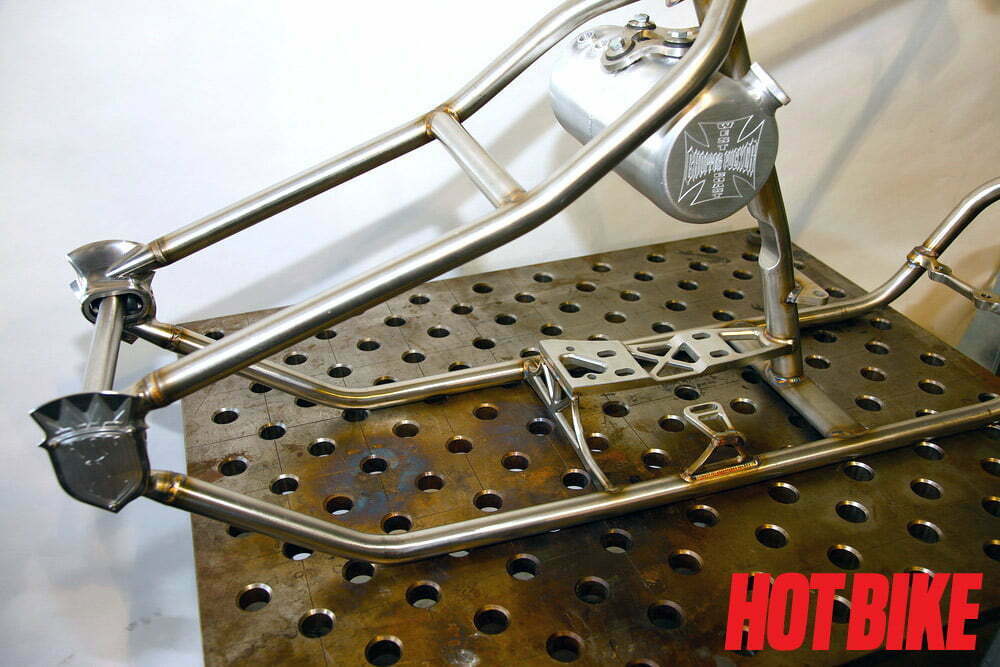 When the first West Coast Choppers CFL hit the street in 1997, it was a total game changer. Most aftermarket frame suppliers were building bikes in the vein of battleships using thick tubes, which were slagged together with high-heat arc welders. Nobody really thought about striking up a TIG welder, using quality materials, and building something that was a bit more performance-driven art until West Coast Choppers did it. With its patented drop seat design, spiderweb gussets, and beautiful oil tank, the CFL turned the motorcycle industry on its ear. And the rest, as they say, is history.
In 2008, Jesse James also blew the two-wheeled public's mind with the über-limited-edition CFL II. With its futuristic monocoque-looking triple box gusset sun frame, three-piece oil bag, integrated battery tray, and adjustable seat pan, that version of the CFL was very ahead of its time.
Now Jesse is back with yet another incarnation of the CFL, and it's one hunk of sweet stainless machinery. Yes, it is made out of stainless steel—a material with some pretty amazing tensile and yield strengths that possesses a corrosion resistance, far bettering the mild or chromoly steel used in most frame builds.
Jesse stated that he is not trying to reinvent the wheel, but he is taking West Coast Choppers to its next evolutionary step by using stainless steel tubing. Jesse is also redesigning all of the old and formerly chunky frame components as well. And he is doing so with the help of CNC machines controlled by Solidworks to create a sleek and slim frame. Yes, you can also add some major computer skills to the Vanilla Gorilla's long list of manufacturing and fabrication talents.
<div class="st-block quote text-
Notice: Undefined index: st_text_align in C:laragonwwwhotbike-importblocksquote.php on line 1
">
he is taking West Coast Choppers to its next evolutionary step by using stainless steel tubing
Jesse has found through trial and error that by slimming down and heat-treating his frames he can make a very light, yet strong, frame. This is done with much success among many sportbike frame manufacturers as well as being employed by a myriad of aerospace and automotive applications. And it is no secret the lighter a chopper is, the better it rides, and if the tubing and design of the frame can absorb some of those high-frequency road vibrations, it makes it even more fun to ride. "I like a good amount of positive flex [think airplanes, not noodles]," Jesse told us, "and the bikes I have been building as of late fit the bill nicely. With the inherent stiffness of stainless [steel] and its high strength I can build the CFL 3 with thinner-walled tubing and get the best of both worlds: a smooth-riding bike that is still really stout."
All of those CAD-designed and CNC-milled stainless steel parts, such as the upper and lower engine mounts, tranny mount, rear axle plates, and head tube, have an amazingly simplistic look to them. That's not to say they are simple to manufacture. Each CFL 3 frame has 35 hours of machine time in it before the tubing is ever cut or mocked up in the frame jig to be expertly welded by Jesse James himself.
The frame is 15 pounds lighter than the original CFL, has a 37-degree rake, is 1.5 inches up from stock, and has a beefy single downtube. The rear of the CFL 3 has a much narrower width of the original CFL, and it was designed to take a 530 chain or a 35mm belt with a 140–150 rear tire.
Up front, each one of the frames will have a blacksmithed head tube badge made from 1.5 stainless bar stock that is hammered out, hand serial numbered, and curved in a gigantic press by the name of "Gargantua" by Mr. Jesse James himself.
The CFL 3 will be sold in limited numbers as a kit, which includes a frame, oil tank, fork stop, one-inch rear axle, and a stainless rear fender. How much, you ask? Well, for all of that handmade stainless steel goodness and a major dose of Jesse James' brains, blood, and sweat, you are looking at $6,500. That doesn't sound too bad to us for a piece of rolling history. For more information, check out westcoastchoppers.com and stay tuned for Hot Bike's CFL3 bike build in the near future.