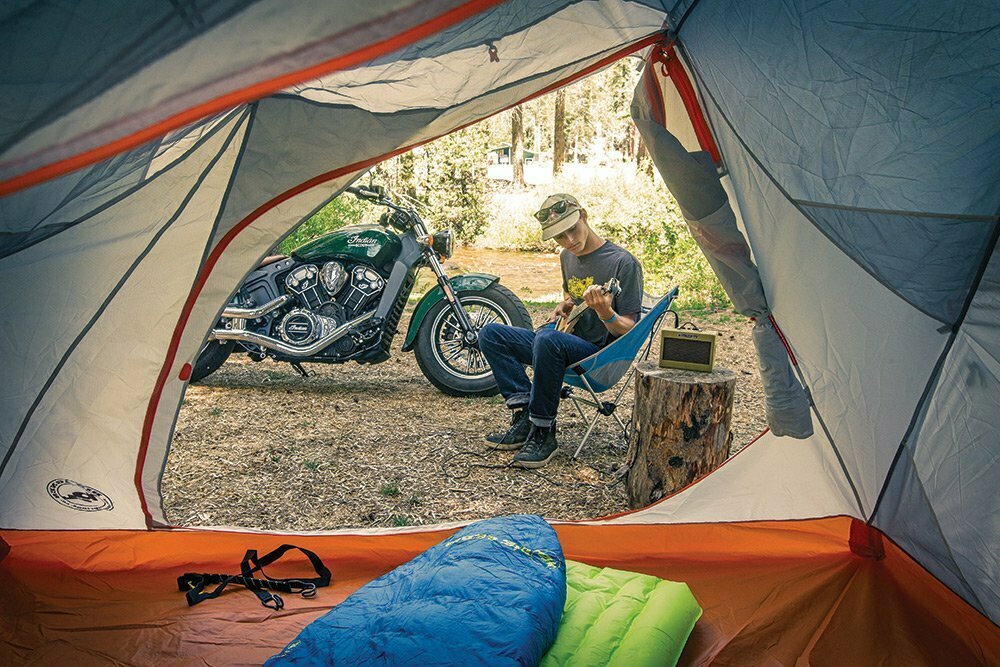 I'm kind of a diva when it comes to overnight lodging. I know what you're thinking, but I am what I am. Because I travel so much, I am always on the lookout for posh ­accommodations wherever I lay my head at night, even when camping. Which got me thinking: Is motorcycle "glamping" possible? It sure is.
We looked at some great new products from Big Agnes, a Colorado-based outdoor-gear manufacturer, for some help in accommodating our special needs. The whole goal was to acquire a great setup for riding to a remote location and parking it for a few days with my wife. So I had to stuff everything into one large duffel that we could strap to the back of the bike with ease. Thanks to Wolfman's extremely capable and waterproof duffel bag, we were able to do just that.
I have issues with confined spaces, so a little wiggle room is always better for me come bedtime. The Titan 4 mtnGLO tent is an incredibly durable four-person car camping tent, but it packs down small enough to fit in the Wolfman duffel for moto camping too. It features an external-pole design, which means it can be set up with just the fly as a group shade/shelter, or you can clip in the tent body for a more traditional zip-up camp tent. The pole system is strong, offers generous living space, and is big enough for four but great for long-term trips for two.
The AXL Air is an ­ultralight warm-weather pad that combines a high-tenacity patent-pending nylon rip-stop shell with internal minimalist construction for stability and comfort. With larger outer tubes, this pad keeps you cradled on top, while the built-in advanced heat-reflective ­technology helps maintain an optimal ­temperature while you sleep.
The Bolten SL 20 is a mummy-style bag that features PrimaLoft Gold ­Insulation Active technology with stretch fabric side panels so you can move more freely, bend your knees, and sleep on your side while the ­insulating properties still do their job.
The Expedition Dry Duffel is waterproof thanks to its heavy-duty vinyl construction with fully sealed radio-frequency-welded seams to help protect your gear, and stay stable on the bike. The roll-top design makes loading and unloading easier than traditional duffel bags. And with three sizes available, there's a size best for any purpose. For our efforts, we went with the large bag. Four compression straps and two mounting straps keep things tight on the bike. Easily strap it to your luggage rack for two-up moto camping, or on the rear passenger seat for a nice backrest when camping solo. The dual carrying handle and removable shoulder strap make off-bike transport easy.