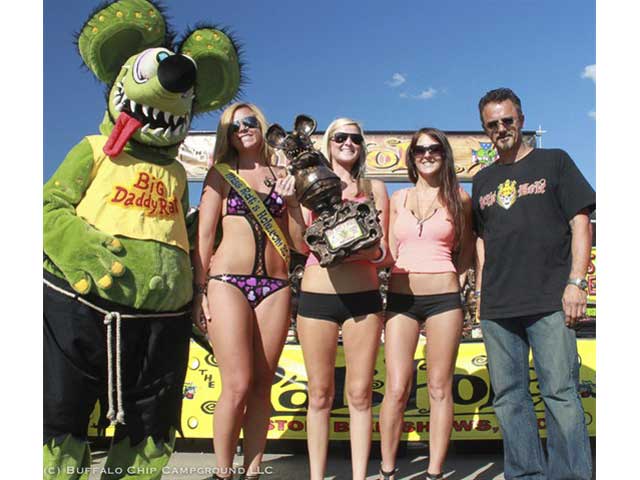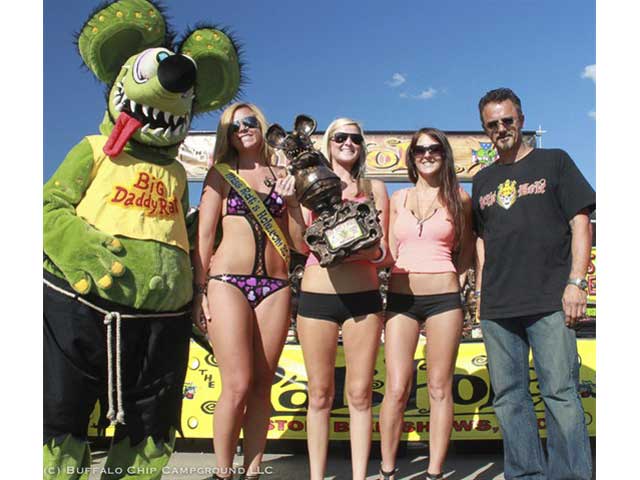 World Famous Rat's Hole Custom Chopper Show Featured at The Sturgis Buffalo Chip Buffalo Chip, S.D. (July 11, 2011) -- The iconic Rat's Hole Custom Chopper Show will be featured at the Legendary Buffalo Chip during the Sturgis Motorcycle Rally on August 11, 2011.
The show's sole ambition is to showcase the innovations and talents of motorcycle builders from all over the world. The show started in 1973 with a couple of bikes in an A&P; parking lot at the Run to the Sun in Daytona Beach and has morphed into an International phenomenon with shows in South Dakota, Germany, France, Sweden, Canada, Colorado, South Caroline and Italy.
Over the last 38 years, since the show's conception by Karl "Big Daddy Rat" Smith, careers have been made from having a bike featured on the main stage of the Rat's Hole Custom Chopper Show. Legendary designers such as Orange County Choppers, Dave Perewitz, Indian Larry, Cyril Huze and countless other industry icons have launched their careers as a result of the show's reputation and strong tradition of creativity and excellence. Now run by Smith's son, Ted Smith, it's attained icon status with features on American Choppers, the World Biker Build-Off on the Discovery Channel, the International Biker Build-off on the Speed Channel, Big, Big Bikes on the Discovery Channel and Born to Ride TV.
Legendary Buffalo Chip attendees will have the pleasure of examining the eye-candy of over 400 custom-designed, custom-built, customized, innovative bike creations, built by the best bike builders in the world at this year's Bike Week. The bikes will be judged in numerous categories including most unusual, unique/classics restored and unrestored, rat class, three wheeler, sporster radical, sportsbike and many others.
Bike entry registration is $35 and all bikes must fire at the gate. The event will be held near the Event Center and Michael Lichter's Exhibit inside the Buffalo Chip on August 11, 2011. Rally-going bike-o-philes will be able to examine the bikes for free during judging hours from 10 am to 4 pm. Awards will be presented at 5 pm. Trophies will be presented to all winners.
Come and be a part of one of the biggest events in Sturgis at the Legendary Buffalo Chip. Register your bike at www.ratshole.com or visit www.buffalochip.com to make your 2011 Sturgis Rally accommodations.
For thirty years the Legendary Buffalo Chip has proven itself as the heart of Sturgis Rally Week. Poised and ready to once again offer their visitors the complete biker experience, the Legendary Buffalo Chip has rounded up an enormous selection of biker-centric fun and festivities in addition to offering the summer's biggest and most authentic music experience of Rally Week. Reservations for multi-day passes or daily admissions are available online at BuffaloChip.com or by calling 605-347-9000 between 8 a.m. and 5 p.m. (MST) Monday through Friday.