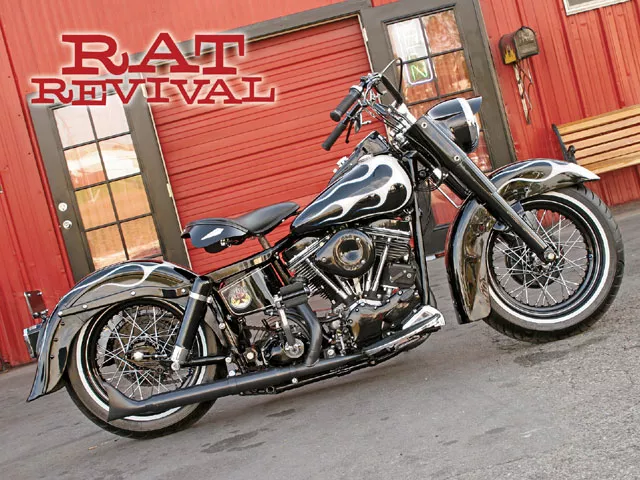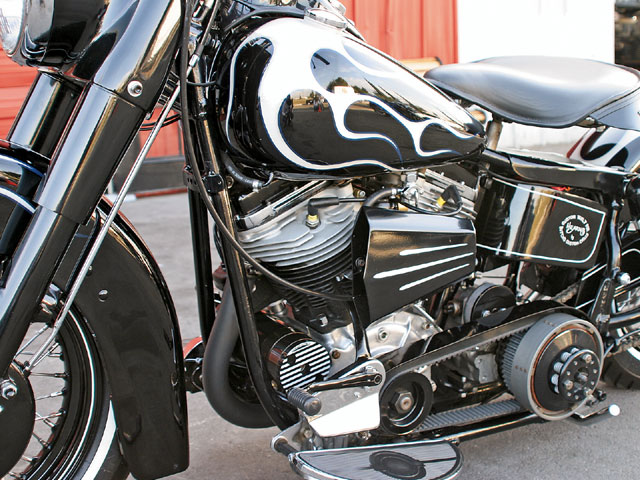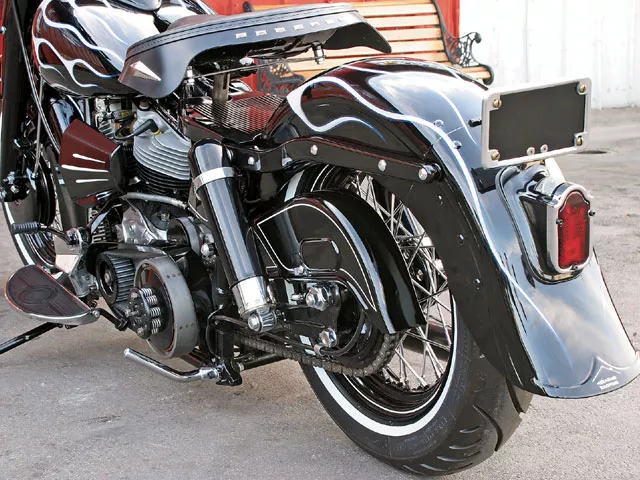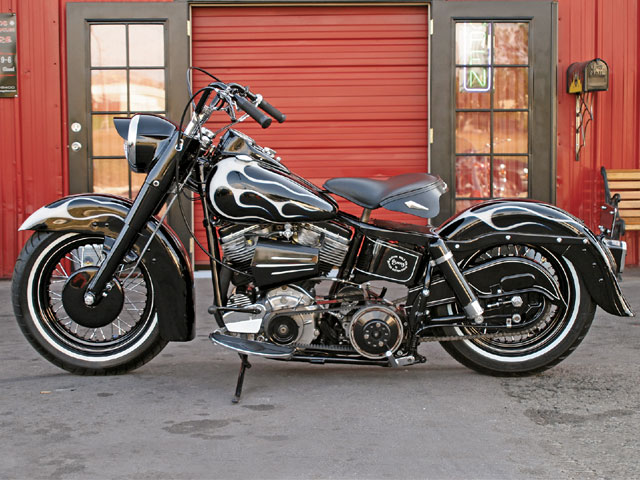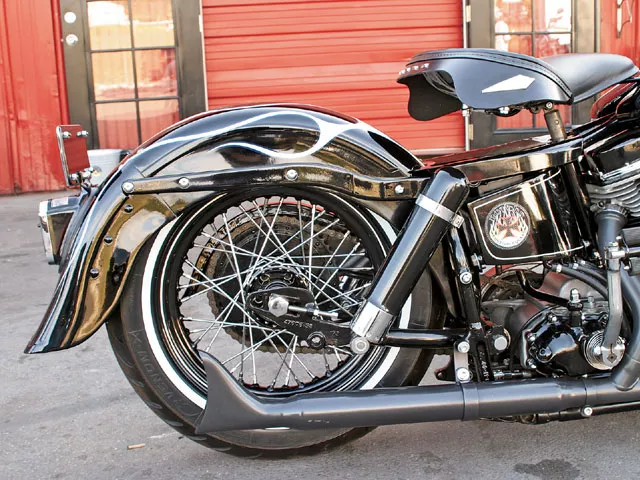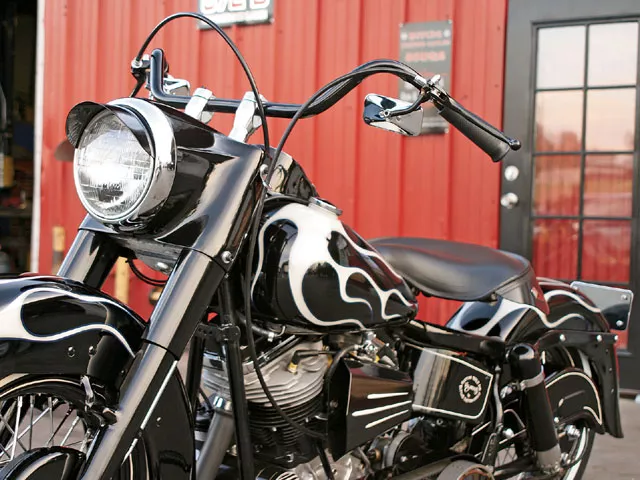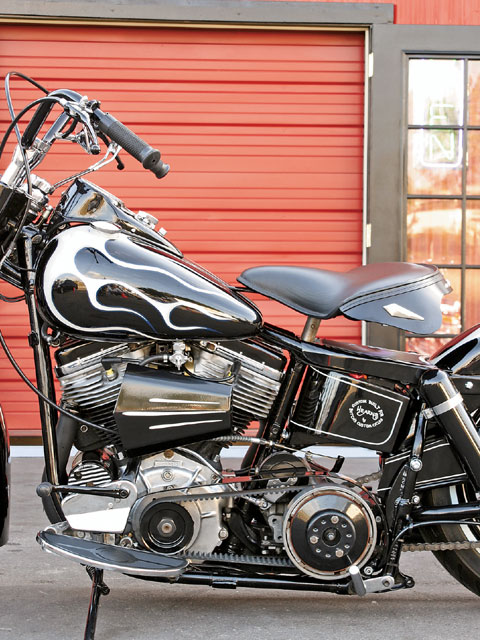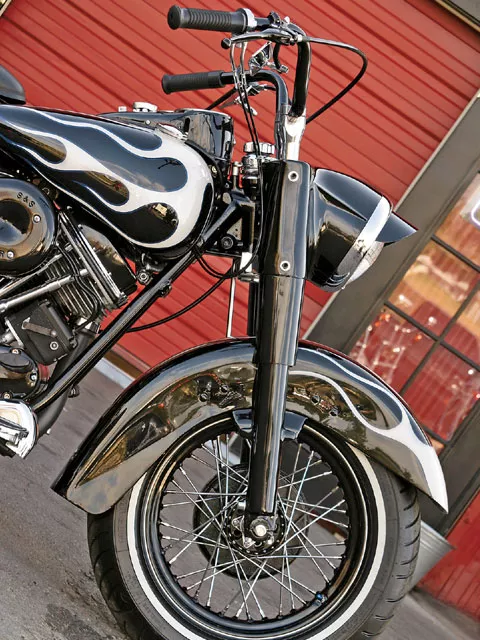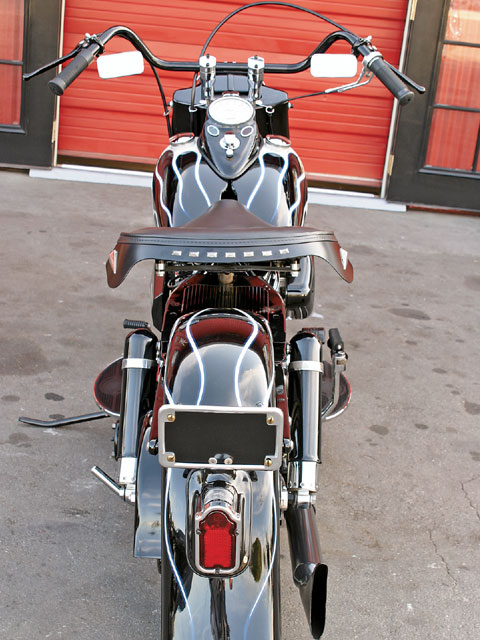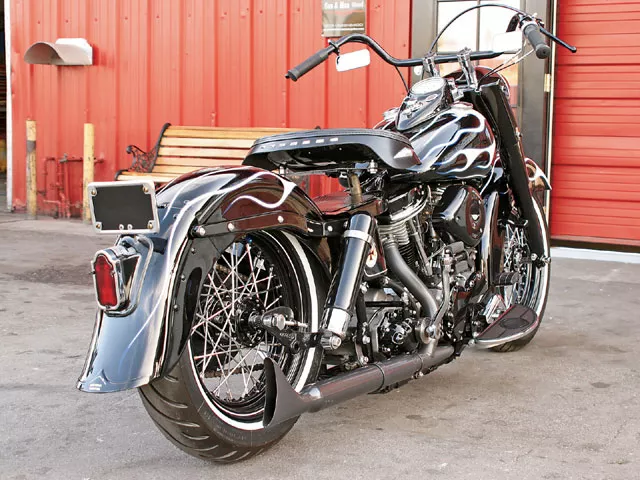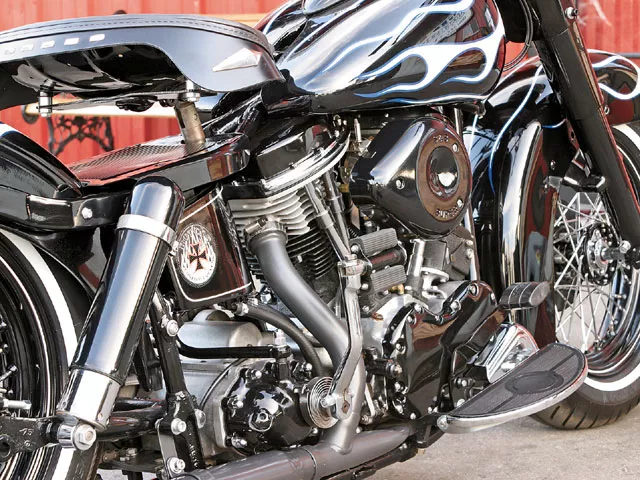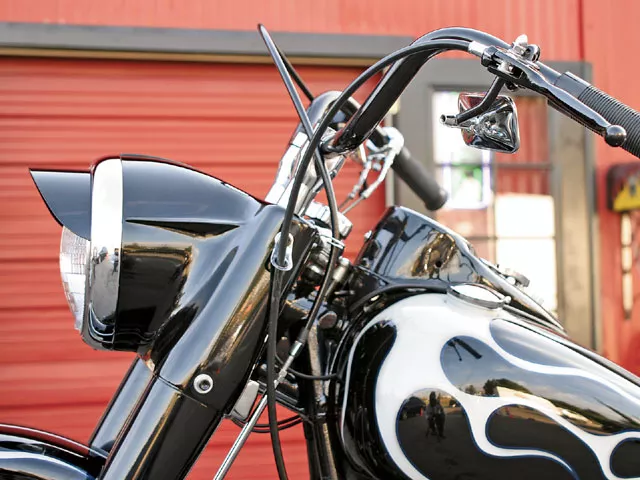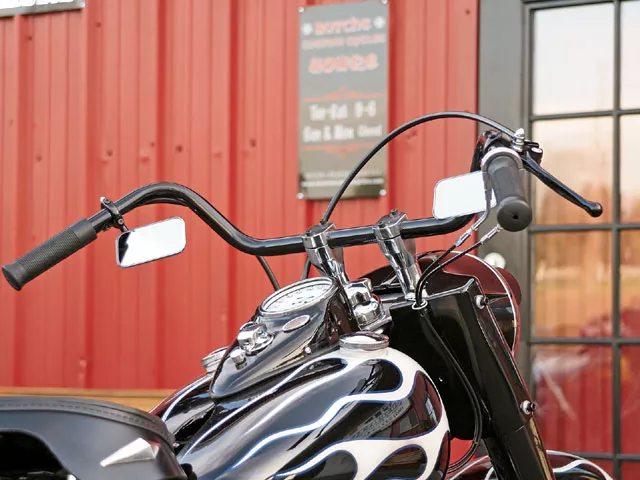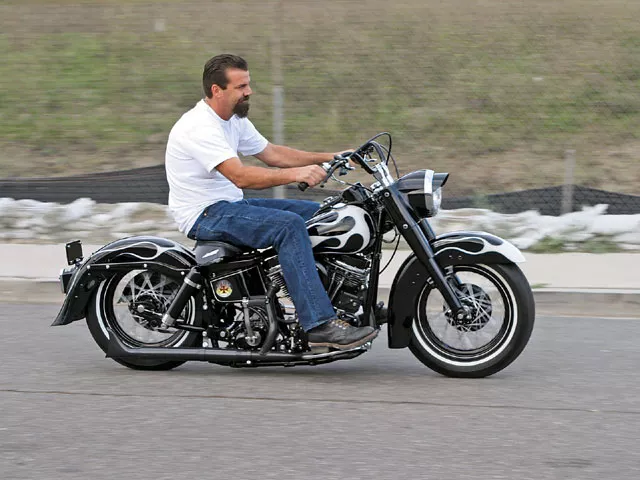 Ten years from now, someone checking out a neighborhood yard sale will reach down and grab this issue of HOT BIKE from a stack of old magazines and flip through the bike features. Chances are, they'll look closely at each of the custom motorcycles gracing these pages and get a good laugh at how dated some of them look. The big 300 rear tires without a trace of wear; the unfired big-inch mega-motors; and the wild metal sculptures serving as the frame, tank, and fenders are probably going to look a bit dated in retrospect. But that's OK; just like the goofy stuff built in the '60s and '70s, all concerned had a good time and made a little money while doing it.
Unlike the radical customs of today, many of which aren't produced from a platform manufactured by Harley-Davidson, the builders of yesterday's radical bikes depended on their ability to locate an old Harley as a donor.
For Glen Hearns of Simi Valley, CA, and his '65 Harley-Davidson FLH Electra Glide, it was perhaps the final-year panhead's undesirable configuration for chopping that saved it from the torch. Its first-year electric-start system required disturbing the flowing lines seen on earlier frames, and the panhead motor, with its bulky aluminum primary, was not in as much demand as a shovelhead motor.
Toward the end of the '70s, the trend to build radical show bikes for the street slowed considerably, leaving the core of serious riders content to settle for function over form. With a lowered demand for customizing, these were tough times for bike painters and shops selling non-essential accessories.
When we discussed Glen's '65 FLH with Butch Ewart, owner of Butchs Custom Cycles in Simi Valley, CA, and asked about his involvement with Glen's FLH as it appears today, he backtracked to the pair's high school days.
"It was 1979 when Glen found his '65," Butch told us. "He traded straight across for it with a '65 Mustang he used to get to school every day. Owning a pretty bike wasn't a concern to Glen; he just wanted to ride as much as possible. It always ran, but it would break down on runs to Laughlin. It never had a good paint job-he just rode the crap out of it."
It's kind of funny how a guy can run the snot out of his bike for 20 years or so and then, when he lets his kid just ride it a few times, the motor packs it in. Butch added, "Michael [Glen's son] took the panhead dirt riding and holed the pistons, along with burning some valves." It's likely the kid saved a few bucks and filled it up with regular gas before he rode. Glen called his old friend and asked if he could bring it by the shop and have the top end rebuilt. When Glen returned to Butch's shop to see how his trusty old pan was coming along, he discovered Butch had pulled it down to the bare frame. Glen got a little nervous, informing Butch he couldn't afford to put that kind of money into the '65. Butch told him not to worry about it; he had it covered.
Starting with the '65's bare Electra Glide frame, Butch focused on the areas prone to breaking and made the necessary welds and repairs. From there the frame was sent to J&P; Powder Coating in Chatsworth, CA, for the best paint job of its 40-year-old life. The pan's top end-originally slated as a stopping point-received additional porting and polishing before the valve seats were cut to accept Rowe intake and exhaust valves.
Beneath the reworked heads, the cylinders were bored and honed to accept JE forged pop-up pistons. From there Butch attached a set of S&S; rods suspended from a crankpin sandwiched between S&S; 80-inch stroker flywheels. On the ancillary side of things, Butch plugged in a Joe Hunt magneto driven off an Andrews "A"-grind cam, popping in JIMS lifters and Crane pushrods. Carburetion comes from the American standard S&S;' "E" series tucked behind an S&S; teardrop air cleaner.
In place of the first-year Electra Glide electric-start inner and outer primary, Glen's pan was set up with a Primo beltdrive. This time around, Butch stuffed in a new Barnett clutch to ensure the four-speed ratchet-lid tranny he rebuilt would shift as smoothly as possible for a transmission that was notorious for clunking through the gears.
Butch originally wanted to have a lot of the FLH's parts rechromed, but when Glen returned to Butch's Custom Cycles, he discovered that Butch had sent almost every part and piece of the '65 out for black-gloss powdercoating. The remaining fat-bob tanks and fenders were shipped north to Precision Metal Works in Oxnard, CA, where Will based them in gloss black and then finished them off with a burst of flames buried under clear urethane.
The mild custom Electra Glide Butch built for Glen has been completed for a while now. Glen told Butch he isn't going to pick up his '65 until he's finished construction on a locking glass room in his garage so he can stare at the bike without worrying about his kid sneaking it out and thrashing it. Ironically, after surviving for more than 40 years without meeting the cutting torch, the only weird trend that could possibly threaten the '65 now is a stock restoration.
Spec Sheet
| | |
| --- | --- |
| GENERAL | |
| OWNER | GLEN HEARNS |
| SHOP | BUTCH'S CUSTOM CYCLE (BCC) |
| PHONE | (805) 522-8400 |
| WEBSITE | WWW.BUTCHSCUSTOMCYCLES.COM |
| YEAR/MAKE/MODEL | '65/H-D/FLH |
| FABRICATION | BCC |
| ASSEMBLY | BCC |
| BUILD TIME | SIX MONTHS |
| | |
| --- | --- |
| ENGINE | |
| YEAR/TYPE/SIZE | '65/PANHEAD/{{{80}}}-INCH |
| BUILDER | BCC |
| CASES | H-D |
| FLYWHEELS | S&S; |
| RODS | S&S; |
| PISTONS | JE |
| CYLINDERS | H-D |
| HEADS | H-D |
| VALVES | ROWE |
| ROCKERS | H-D |
| ROCKER BOXES | H-D |
| PUSHRODS | CRANE |
| PUSHROD TUBES | H-D |
| CAM | ANDREWS |
| LIFTERS | JIMS |
| CARBURETOR | S&S; |
| AIR CLEANER | S&S; |
| IGNITION | JOE HUNT MAGNETO |
| EXHAUST | H-D |
| | |
| --- | --- |
| TRANSMISSION | |
| YEAR/TYPE | '65/FOUR-SPEED |
| CASE | H-D |
| GEARS | H-D |
| CLUTCH | BARNETT |
| PRIMARY DRIVE | PRIMO |
| | |
| --- | --- |
| FRAME | |
| YEAR/TYPE | '65/FLH |
| RAKE | STOCK |
| | |
| --- | --- |
| SUSPENSION | |
| FRONT | H-D |
| LENGTH | 2 INCHES UNDER |
| TRIPLE-TREES | H-D |
| REAR | |
| SWINGARM | H-D |
| SHOCKS | 2 INCHES UNDER |
| | |
| --- | --- |
| WHEELS, TIRES, AND BRAKES | |
| FRONT | H-D DRUM |
| BUILDER/SIZE | KELSEY-HAYES/16X3.5 |
| TIRE/SIZE | AVON/130/16 |
| REAR | H-D DRUM |
| | |
| --- | --- |
| FINISH/PAINT | |
| COLOR | BLACK |
| PAINTER | PRECISION METAL WORKS (WILL) |
| GRAPHICS | WILL |
| | |
| --- | --- |
| ACCESSORIES | |
| FRONT FENDER | H-D |
| REAR FENDER | H-D |
| GAS TANKS | H-D |
| OIL TANK | H-D |
| GAUGES | CCI |
| HANDLEBARS | H-D |
| MIRRORS | BCC |
| HAND CONTROLS | H-D |
| FOOT CONTROLS | H-D |
| FLOORBOARDS | H-D |
| HEADLIGHT | H-D |
| TAILLIGHT | H-D |
| TURN SIGNALS | NONE |
| LICENSE MOUNT | H-D |
| SEAT | H-D |