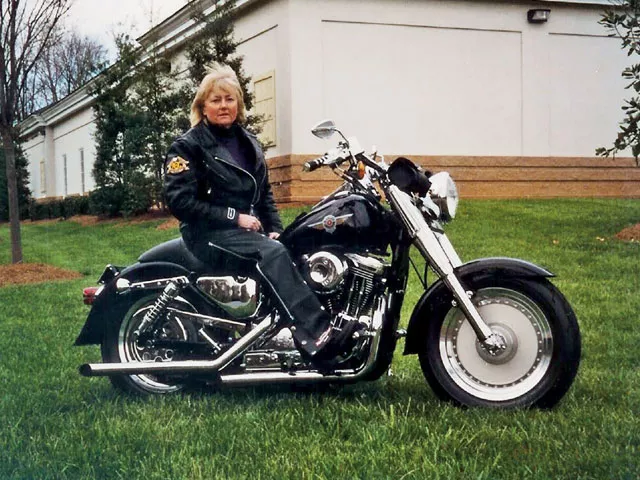 Here at HOT BIKE, we get a lot of rides-Harleys, hogs, whatever you want to call them-submitted by our readers. "Pick of the Pen" is an opportunity to dedicate a few pages to our favorite reader-submitted bike each month. This month's bike is from owner Gail Hamilton of Charlotte, NC.
Gail Hamilton, president and partner of Big City Thunder Inc., manufacturers of Thunder Monster exhaust baffles, spends most her time helping customers unleash great sound and performance from their motorcycles. However, when she's not working, she likes to ride in the Blue Ridge Mountains of North Carolina.
When choosing her latest motorcycle, Gail liked the Harley-Davidson Sportster for its performance and handling but was absolutely taken with the look of a Fat Boy. Essentially, what she was after was a blend of the two motorcycles. When she first came up with the concept to build the motorcycle, everyone strongly suggested that she just purchase a Fat Boy, which would have been less expensive and simpler. Not to be deterred, she knew what she wanted and assembled a talented and devoted team to help her achieve her dream. These are the results. We would like to add that there was more to the construction of the motorcycle from a mechanical standpoint than meets the eye.
The idea was not to take the bike over the top as a full-blown custom with wild paint and so on, but to keep it as much H-D as possible. The trick was that when you looked at the bike, your mind would first say, "Fat Boy," and then all of a sudden it would go, "Holy cow-it's a Sportster!"
An H-D dealer in New York called Cycle Stop machines a Fat Boy triple-tree to bolt a Fat Boy frontend onto a Sportster, as well as a kit to mount a Fat Boy tank and Fat Boy gauges and to relocate the coil. That kit actually got the project started, and from there the bike evolved. Chrome was added to give the motorcycle a custom look, but again not to go over the top. Since Gail didn't have the time required for a project of this scope, the job was farmed out to Harley-Davidson of Charlotte, NC, which took on the project with enthusiasm. The motorcycle rides and handles like a heavier bike and runs like a rocket.
| | |
| --- | --- |
| SPECS | |
| OWNER | GAIL HAMILTON |
| CITY/STATE | CHARLOTTE/NC |
| YEAR/MODEL | '98/SPORTSTER 1200 CUSTOM |
| BUILDER | H-D OF CHARLOTTE |
| ENGINE | H-D |
| CARB | MODIFIED CV WITHTHUNDERSLIDE KIT |
| PIPES | VANCE & HINESSTRAIGHT SHOTS |
| TRANSMISSION | H-D |
| FRONTEND | H-D FAT BOY |
| TANK | H-D FAT BOY |
| FENDERS | H-D FAT BOY |
| PAINTER/COLOR | H-D/BLACK |
| WHEELS | FAT BOY POLISHED |
| TIRES | AVON |
| CAMS | ANDREWS |
| IGNITION | SCREAMIN' EAGLE |
| SEAT | CORBIN |