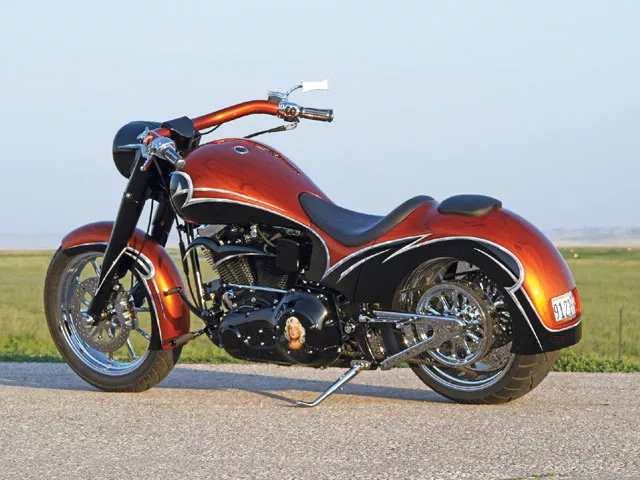 It's interesting how sometimes a simple phone call or comment can lead to a series of astounding events. This past August we were in the middle of putting this issue together when we had to cut bait and put our computer keypads on a two-week hibernation so we could blast out to the Black Hills of Sturgis for The Rally. For the next two weeks we had only two tasks at hand: Have a good time and find a cover bike.
When you've got 1,500 miles of pavement between you and your destination you have a lot to think about, and one thing that kept coming to mind was a phone call we had received a few weeks before from Colton Hardison of Hardison Metal Shaping in the Portland, OR, area. Colton had taken photos of some tanks he'd made and wanted to know if we'd be interested in some tech pieces utilizing his photos. During the discussion he also mentioned a '99 Fatboy he'd done some metalwork on for Darin Yoerger from Yakima, WA. Colton forwarded a couple of photos of the finished bike and gave us some insight as to what he did.
"Darin saw my metalwork at a show and brought his bike to me to build a tank for him. I mocked up a full-scale tank in foam on his frame to get a look. I feel extra time spent at the design and mock-up stage always pays off later. We tweaked the first design a bit and I got started shaping. The tank was fairly complex; it was recessed on the bottom for engine clearance and has the Dakota Digital gauge flush-mounted on top with a pocket hidden below it to house its electrical box. It's a big tank, but it really works well with everything else that's oversized on this bike," Colton said.
"I heavily modified the rear fender, adding a passenger seat, license plate box, and reverse curve areas to blend into the newly fabricated side covers and seat area. I was a bit unsure about his idea for the bars, but I really ended up liking them, especially how they ended up flowing with everything else that's fat on the bike. I shaped the air cleaner cover with stainless mesh inserts and a mounting system that uses no external fasteners. I really enjoyed working with Darin, and I have become good friends with him and his wife in the process," Colton said.
Before we got off the phone we told Colton we might be interested in the bike, but would have to set up a photoshoot with Darin when we got back from Sturgis. Ten minutes later Colton called and said Darin was so excited about possibly getting his bike featured in HOT BIKE that he and his wife Aimee had made the last-minute decision to head out to Sturgis.
We arrived in Sturgis on Saturday at the beginning of the rally, and spent Sunday evening checking out the amazing display of bikes at the AMD World Championships. While we were drooling over all the bikes, Darin spotted us in our HOT BIKE duds. After a quick handshake, the conversation quickly turned to more important matters. We wanted to see the bike in person, and Darin wanted to know when and where we could shoot. Darin and Aimee led us outside to the bike, and we were not disappointed; it was an awesome display of what a Harley-Davidson can be transformed into with the right vision, the right parts, and the right people working on the project. From front to rear, this was one portly, yet elegant Fat Boy. The bike commanded respect and instilled intimidation like a raging bull ready to charge. Burly 2-inch bars, a rotund 9.5-gallon gas tank (that's right-almost 10 gal. of fuel capacity), and a meaty 240 bringing up the rear, just about every aspect of this bike is big, yet its lines are still graceful and fluid.
As we stood there talking we asked Darin about some of the things Colton had told us about the build, and asked for more of the background of how the bike came to be. He said he had always wanted a Harley and finally decided to buy one in April of 1999 (the month before he was to marry Aimee) before it would be a "joint decision." He rode the bike pretty much bone stock until 2004, when he made a little comment about wanting a fat tire for his bike. That Christmas Aimee had a surprise for him in the shape of a 240mm Metzeler tire, and Darin's response was, "Baby, you don't even know what can of worms you just opened up." The next morning Darin got out of bed and told Aimee he was going to start tearing his bike down and she replied, "What do you mean, tear down?" With a sly grin on his face, Darin said, "Honey, you can't just put a 240 on the back of a stock bike!"
And out the door he went.
In a matter of hours, Darin had the bike torn down to the frame and carried it into the house, where he was promptly met by Aimee standing in the living room. Confused and concerned for her husband's mental health, Aimee quizzed him about his actions, to which Darin replied, "This is my bike, and it has to start at this stage if it is to be done right." All Aimee could stammer out was, "Do you know what you're doing?"
Darin just shrugged and said, "Have you ever heard of beginner's luck?"
"I knew when I tore my bike down I would have to do more than bolt-ons to transform what was already a beautiful bike into a bike that still said Harley-Davidson but had a more graceful flow to it. It is a Fat Boy, so I figured it needed to be fat, not obese, just fat and happy," Darin said.
Being a fan of Jim Nasi's work, Darin picked up a JNC swingarm, and front and rear fenders. But the bike still wasn't "fat" enough and didn't have the look he wanted, so that's when he contacted Colton. "I wanted a big, flowing tank to set the look for this Fat Boy, and after seeing Colton's work at a show I knew he was capable of doing it. I wanted the tank to sit low on the backbone so that when you looked from the side at the top of the motor you wouldn't be able to see through to the other side. After shaping some foam I looked at it and it wasn't quite there, it was too bubbly, so I asked him to flatten the top and then bring the sides in so that they would taper into the seat perfectly. I wanted to keep the frame as stock as possible; the only modifications I made were cutting the fender horns for the fat tire, notching under the seating area for the new oil filler cap, and welding on some new tank mounts. I also tried to keep it as clean as possible, you'll notice there's no exposed bolts for the rear fender, side panels, or air cleaner cover," Darin said.
Once the tank was set, the next task was making the oil tank disappear so the bike would flow from front to back. The oil tank filler neck was cut off and relocated to the center of the tank, then Colton worked his sheetmetal magic, blending the center of the bike into the rear fender. Speaking of the rear fender, although it's tough to see in some of the photos, Darin utilized two shops near his house-one with a water-jet machine, the other shop with a sign maker-to make some flame LEDs out of lexan that would be molded into the bottom of the fender.
Just when he thought he was in the clear and ready to put the bike together, Darin bolted up the 1-inch beach bars he had and realized their puny profile didn't go with the beefy look of the bike. "I was messing around in my garage and I came across some foam pipe insulation and put it over the bars. It was crazy, but it fit with the look of the bike, so I hauled over to Colton's and asked him to make me a set of 2-inch bars. Colton was having trouble shaping 2-inch bars out of thick material, so he came up with the idea to use 2-inch thin wall tubing as a cover over Darin's original bars. The tubing was bent and welded to the exact shape of Darin's 1-inch beach bars, then split down the middle lengthwise. Colton then placed the 1-inch bars inside the bottom half of the 2-inch tubing, welded in some internal supports, then placed the top half of the 2-inch tubing over the lower assembly (like a clamshell) and welded it all together. Colton didn't get it at first, but once they were finished he saw what I saw and liked them. They are big and stout like the rest of the bike. Colton did an awesome job with my ideas. If anyone needs an A+ job done, whether it's a tank to a full-on job like this, one I highly recommend him. Colton was able to make all my visions a reality, so give him a shout," Darin said.
Obviously the photoshoot went off without a hitch, and not only did Darin get his first bike build featured in Hot Bike, it also made the cover. But his beginner's luck didn't end there. While in Sturgis he entered the bike in the Metzeler show and Rat's Hole show and rolled away with first prize in his class from each.
"On our way home from Sturgis, Aimee turned to me and said, 'You got first place in two major bike shows and had your bike photographed for Hot Bike, what are you going to do now?' I just looked at her and said, 'You don't want to know, you better watch what you are asking me.'" Sounds to us like Aimee may have spurred Darin's interest to build another bike. If so, we can't wait to see what he comes up with next.
| | |
| --- | --- |
| SPEC SHEET | |
| GENERAL | |
| NAME | Darin Yoerger |
| SHOP | Hardison Metal Shaping |
| PHONE | (503) 936-1079 |
| YEAR/MAKE/MODEL | '99/H-D/Fatboy |
| FABRICATION | Hardison Metal Shaping |
| ASSEMBLY | Darin Yoerger/Bob Ross |
| BUILD/REBUILD TIME | 2 years as money allowed |
| | |
| --- | --- |
| ENGINE | |
| YEAR/SIZE | '99/80ci |
| TYPE | H-D |
| BUILDER | Bob Ross |
| CASES | H-D |
| FLYWHEELS | H-D |
| RODS | H-D |
| CYLINDERS | H-D |
| HEADS | H-D/Branch |
| VALVES | Branch |
| ROCKERS | H-D |
| ROCKER BOXES | H-D |
| PUSHRODS | Andrews |
| PUSHROD TUBES | H-D |
| CAM(S) | Andrews |
| LIFTERS | H-D |
| CARBURETOR | Mikuni HR42 |
| AIR CLEANER | Hardison Metal Shaping |
| IGNITION | Dyna 2000! |
| EXHAUST | Paul Yaffe |
| FINISH | Sumax |
| | |
| --- | --- |
| TRANSMISSION | |
| BUILDER/TYPE | H-D/five-speed |
| FINISH | Sumax |
| CASE | H-D |
| TOP/SIDE COVERS | H-D |
| CLUTCH | H-D |
| PRIMARY DRIVE | H-D |
| FINAL DRIVE | H-D |
| GEARS | H-D |
| | |
| --- | --- |
| FRAME | |
| YEAR/TYPE | H-D |
| RAKE | Stock |
| STRETCH | Stock |
| MOLDING | Hardison Metal Shaping |
| FINISH | Trick Shoppe |
| SWINGARM | Jim Nasi |
| | |
| --- | --- |
| SUSPENSION | |
| FRONT | |
| BUILDER | H-D |
| ****YEAR/TYPE** | '99/Fat Boy |
| MODIFICATIONS | Custom slider covers |
| TRIPLE TREES | H-D |
| REAR | |
| SHOCKS | H-D |
| | |
| --- | --- |
| WHEELS, TIRES, AND BRAKES | |
| FRONT | |
| SIZE/TYPE | 18×3.5/PM |
| TIRE MAKE/SIZE** | Metzeler/140 |
| CALIPER | PM |
| ROTOR | PM |
| REAR | |
| SIZE/TYPE | 18×8.5/Solid PM |
| TIRE MAKE/SIZE | Metzeler/240mm |
| CALIPER | PM |
| ROTOR | PM |
| | |
| --- | --- |
| FINISH/PAINT | |
| COLOR(S) | Orion Silver/Kandy Tangerine, HOK Black |
| PAINTER | The Trick Shoppe |
| GRAPHICS & ARTIST NAME | Bob Hill/Ron Crowe |
| MOLDING | The Trick Shoppe |
| POWDER COATING | Sumax |
| | |
| --- | --- |
| ACCESSORIES | |
| FRONT FENDER | Jim Nasi/Hardison Metal Shaping |
| REAR FENDER | Jim Nasi/Hardison Metal Shaping |
| FENDER STRUTS | Internal/Jim Nasi |
| GAS TANK∩ | Jim Nasi/Hardison Metal Shaping/Matt Hotch Cap |
| OIL TANK | H-D/Hardison Metal Shaping |
| GAUGES | {{{Dakota}}} Digital |
| HANDLEBARS | Hardison Metal Shaping |
| RISERS | H-D |
| MIRRORS | Ness |
| HAND CONTROLS | H-D/Joker Machine |
| FOOT CONTROLS | PM |
| FOOTPEGS | PM/Hardison Metal Shaping |
| HEADLIGHT | Tri Bar |
| TAILLIGHT | Flamed LED |
| TURN SIGNALS | LED |
| LICENSE MOUNT | Hardison Metal Shaping |
| SEAT | James Upholstery |
| ELECTRICAL | Darin Yoerger |